How to adjust the cutting straightness of NC hydraulic shears, following is the step by step method: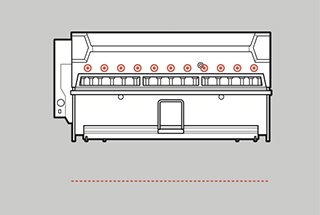 Method of use:
Adjust the blade gap according to plate thickness;
Adjust the profile modeling and clamping according to the width of the material to be cut;
Before NC hydraulic shears operation, empty run the machine for 1-3 times. Start cutting after everything confirmed no problem;
After cutting, should be able to ensure the surface straightness and parallelism requirements of the cutting edge, and to minimize the distortion of the plate in order to obtain high-quality workpieces.
The upper blade of the CNC shearing machine should be fixed on the tool holder and the lower blade should be fixed on the working table.
The working table is equipped with a ball carrier so that the sheet is not scratched when sliding on it.
The rear stop is used for sheet metal positioning and the position is adjusted by the motor.
The hold-down cylinder is used to press the sheet to prevent the sheet from moving during shearing.
The guard is a safety device to prevent accidental accidents.
Return generally by nitrogen, fast and small impact.
NC hydraulic shearing machine is suitable for cutting a variety of steel, copper, aluminum and non-metallic materials sheet underrated thickness, and must be no hard marks, welding slag, entrapped slag, welding seam, do not allow exceed sheet thickness.