In the production process of most assembly line equipment, the initial step involves processing individual components, followed by the assembly of the final product.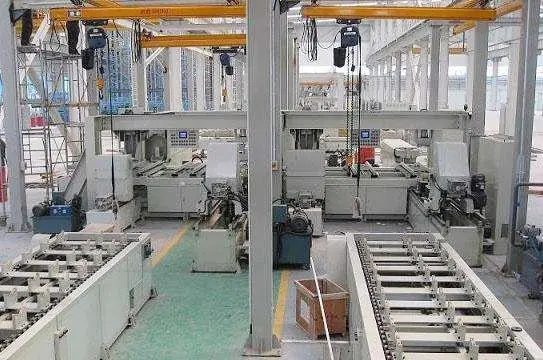 This type of production is not limited to the assembly line industry, but is also prevalent in the manufacture of other products.
The automated assembly line is a type of production equipment that specializes in various stages of product production, including assembly, inspection, marking, and packaging.
The automated assembly line is typically a cohesive system composed of conveyance equipment and specialized machinery. It is a highly automated assembly line that incorporates electromechanical, information, image, and network technologies.
Assembly line classification
Automated assembly lines can be categorized into the following types:
Automotive assembly line;
Motorcycle assembly line;
Bicycle assembly line;
Electric vehicle assembly line;
Assembly flow line.
Assembly line composition
Conveying equipment for automated assembly lines
Main assembly line equipment such as engine and front and rear axles
Various oil filling equipment
Factory inspection equipment
Various special (automobile) assembly line equipment
Assembly line application
Automated assembly lines are widely employed in industries such as hardware manufacturing, automotive production, electric vehicle manufacturing, motorcycle manufacturing, self-production, and machinery manufacturing.
Operational object and superiority
The objects of automated assembly line operations encompass the individual parts and components that constitute the final product. The output of the assembly line can be either finished or semi-finished.
This method of production is well-suited for products with a well-established design, high market demand, numerous assembly steps, and long-term production, such as bearings, gear transmissions, cigarettes, locks, food packaging, etc.
The advantages of using an automated assembly line include:
Stable performance;
Reduced labor requirements;
High productivity;
Significant decrease in the cost of producing a single unit;
Occupying less floor space, among others.
Structural principle
The structure of an automated assembly line closely resembles that of a manual assembly line.
In a manual assembly line, the operator is a worker who performs the assembly tasks. Conversely, in an automated assembly line, a series of automated assembly machines are used to carry out the various assembly processes.
In addition to the traditional straight line configuration, a circular form can also be utilized to minimize floor space usage. The flat top chain conveyor line, due to its ability to turn freely, is an ideal conveyor system for a circular production line.