The automatic lathe is a high-performance, high-precision, low-noise machine that uses a cam to control its machining program.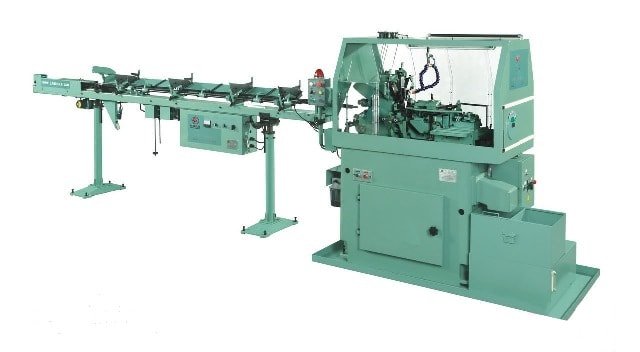 In addition, there are other types of automatic lathes such as CNC automatic lathes and pneumatic automatic lathes, as well as core-style automatic lathes. The fundamental feature of these machines is that they can continuously produce the same product for a long time after proper setting and training.
These automatic lathes are ideal for processing and manufacturing precision parts made of materials such as copper, aluminum, iron, and plastic. They are suitable for various industries, including instruments, watches, clocks, automobiles, motorcycles, bicycles, glasses, stationery, hardware and bathroom fixtures, electronics, connectors, computers, mobile phones, electromechanical, and military, to produce small parts in bulk, especially for complex parts.
Features
The machine tool is equipped with automatic processing, boasts a fast processing speed, can handle complex parts in a single operation, is accurate and reliable in its processing, features automatic feeding, automatic material shutoff, and offers high production efficiency.
Types
Precision Type
The precision automatic lathe can be classified into material-moving type and tool-moving type.
In the material-moving process, the workpiece is held in place by the clamp while the material moves forward and the tool remains stationary. The part is machined through the linear motion or rocking motion of the cutting tool.
In the tool-moving process, the workpiece is secured with a simple clamp, and the workpiece is machined by moving the cutting tool's front and rear.
The cam-controlled knife-type automatic lathe is equipped with five knives.
The tool holder is in the order of No. 1, No. 2, No. 3, No. 4, No. 5 knife.
Each set of tool holders can hold 1-2 knives.
No. 1 and No. 5 are for turning outer diameters, while Nos. 2, 3, and 4 are mainly used for grooving, chamfering, cutting, etc.
Two tail shafts, two drills, one tap and one die can be cut simultaneously, and simultaneous tapping, milling, die-cutting, embossing, etc. can be performed.
Complex parts can be processed in one operation without manual intervention. The outer circle, spherical surface, conical surface, arc surface, step, slotting, embossing, drilling, tapping, die-cutting processes can all be completed in one go.
High dimensional accuracy control: The machine tool spindle accuracy is up to 0.003mm, and the slider fine-tuning is controlled by a micrometer for size control accuracy of up to 0.005mm. The spindle speed is 2000-8000RPM.
The cutting knife-feeding amount can be controlled to a minimum of 0.005. The roughness of the parts (copper) can be as small as Ra0.04-0.08.
Automatic feeding: The feeding mechanism automatically feeds the spindle and the automatic parking alarm is triggered when processing is completed, achieving fully automated manufacturing without manual inspection.
The operator can run multiple machines at the same time.
High production efficiency: The machine uses cam control for the processing process. One machining process is completed with each revolution of the cam. The cam speed is adjustable from 1.0-36 rpm, and can process about 30 parts per minute depending on the machining parts.
With five knives that can be cut simultaneously, the machining efficiency is very high, surpassing that of general CNC computer lathes and instrument lathes.
Feeding automation and automatic cutting of cutting tools are controlled by cams.
Cam Type Automatic Lathe
Cam Type Automatic Lathe uses two types of cams:
One of them is cylindrical in shape. The cam is machined into various shapes on its end faces and then rotated. The rotation of the cam is transformed into a linear motion of the tool holder through a transmission link and rocker arm. This cam is referred to as a bowl cam and is mainly used for cutting the axial direction of the workpiece.
The other cam is circular plate-shaped. The outer circumference is machined into the desired shape, and then the rotary motion of the cam is transformed into a linear motion of the cutter through a transmission rod connected to the tool holder. This cam is mainly used for the radial cutting direction of the workpiece.
By combining the left and right and front and back movements of the two cams, the tool can be tilted or curved.
Long-Axis Automatic Lathe
The long-axis automatic lathe is an updated version of the traditional knife-type automatic lathe, with simplification and modification. It does not include a tapping part and has an extended material section, making it suitable for simple long-axis products without tapping.
The product length has been increased from the traditional 60mm to 400mm. The simplification of some functions reduces the overall cost, providing great convenience for customers with long-term simple long-axis products.
Simple Style Automatic Lathe
The simple style automatic lathe is based on the traditional knife-type automatic lathe and has been streamlined by removing the knife and tapping parts. It is suitable for producing simple products that do not require tapping.
As a result of the streamlining of certain functions, the overall cost is reduced. This provides a more cost-effective solution for customers who produce simple products on a long-term basis.
Programmable Air Pressure Type
The Program-Controlled Pneumatic Automatic Lathe is a type of pneumatic automatic lathe that replaces the traditional cam-type automatic lathe. Its control system is programmable, hence the name Program-Controlled Pneumatic Automatic Lathe.
This machine tool is equipped with 4 to 6 independent tool holders, each of which can hold multiple tools. The advance and retreat of the guide rail are controlled by a cylinder, with a specialized dampening cylinder used for steady speed control. This allows for seamless switching between fast forward, fast reverse, and slow, steady speeds.
All of the tool holders offer a variety of operating modes and combinations, allowing for most turning operations to be completed in a single work cycle. This machine tool is ideal for customers who require multiple varieties, specifications, medium to large batch sizes, and certain precision standards. It can process all types of ferrous and non-ferrous metals, as well as various engineering plastics.
The machine features four feeding modes: bar mode, material mode, manual feeding mode, and post-material feeding mode. All control of the machine tool is managed through microcomputer programming, with various operation modes and parameters selected through the operation panel knob or button setting mode.
The control system also has self-diagnostics and a comprehensive alarm function, ensuring safe and efficient operation.