The cylindrical grinding machine is designed for machining the outer surface of cylindrical and conical shaped workpieces, as well as the end surface of shoulders.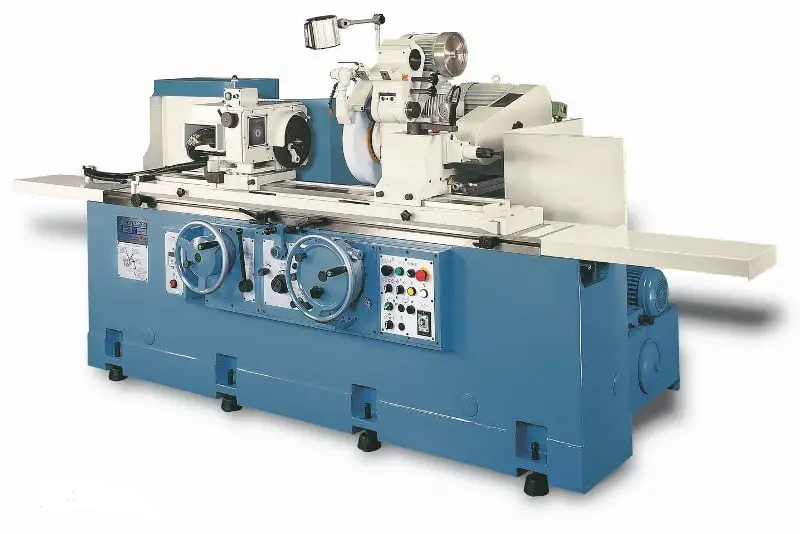 The main components of the cylindrical grinding machine include the bed body, front end, rear end, grinding head, and a transmission dust collecting device. The front end of the head and the adjustable angle of the grinding head make it possible to grind thimbles and special clamps for chamfering the top roller.
Introduction
In the 1830s, the United Kingdom, Germany, and the United States developed natural abrasive wheel grinding machines to accommodate the hardening and processing of parts such as watches, bicycles, sewing machines, and guns. These early grinders were constructed by adding grinding heads to off-the-shelf machine tools such as lathes and planers, but they were simple in design, low in rigidity, and prone to vibration during grinding, requiring a high level of skill from the operator.
Grinding machines use an abrasive tool to grind the surface of the workpiece. Most machines use high-speed rotating grinding wheels, while some use other abrasives such as whetstones and abrasive belts. Grinding machines can process materials with high hardness, such as hardened steel and hard alloys, as well as brittle materials like glass and granite. They are capable of producing high-precision surface roughness with minimal grinding, and can also perform high-efficiency grinding.
In 1876, the Universal Cylindrical Grinding Machine manufactured by the Brown-Sharp Company of the United States was showcased at the Paris Expo. It was the first machine with the basic characteristics of modern grinding machines, including a workpiece headstock and tailstock mounted on a reciprocating table and a box-shaped bed for increased rigidity with an internal grinding attachment. By 1883, the company had developed a grinding head mounted on a column and a worktable for a reciprocating surface grinder. The development of hydraulic transmission for artificial abrasives in the early 1900s greatly advanced the development of grinding machines.
With the growth of the modern industrial and automobile industries, various types of grinding machines have been introduced, including cylindrical internal grinding machines for machining cylinder blocks, crankshaft grinding machines, camshaft grinding machines, electromagnetic suction cup piston ring grinding machines, and more. In 1908, the automatic measuring device was applied to grinding machines. Over the next few decades, centerless grinders, double-face grinders, roll grinders, guide grinders, and honing and superfinishing machines were developed. By the 1950s, high-precision cylindrical grinding machines capable of mirror grinding were available. In the 1960s, a large-depth, slow-feed surface grinder with a grinding wheel speed of 60-80 m/sec was developed. The 1970s saw the widespread use of microprocessor digital control and adaptive control in grinding machines.
Today, the main types of grinding machines include cylindrical grinding machines, internal grinding machines, surface grinding machines, centerless grinding machines, and tool grinding machines. Cylindrical grinding machines are the most widely used and can machine a variety of cylindrical and conical outer surfaces, as well as shoulder end faces. The universal cylindrical grinding machine also has an internal grinding attachment for grinding inner and outer tapered surfaces with large tapers. However, these machines are less automated and are only suitable for small batch production and repair work. Internal grinding machines have high spindle speeds and can grind cylindrical and conical inner bore surfaces. They are mainly used for single and small batch production, with automatic and semi-automatic machines available for mass production that include an automatic work cycle and automatic measurement.
Surface grinding machines clamp the workpiece to a workbench or use electromagnetic attraction to fix it to an electromagnetic workbench, then grind the surface with the periphery or end face of the grinding wheel. Centerless grinding machines, also known as centerless cylindrical grinding machines, grind the outer circular surface of the workpiece as a positioning surface, with the workpiece located between grinding wheel guide wheels and supported by a pallet. These machines are highly efficient and easy to automate and are used in large quantities. Tool grinding machines are specifically designed for tool manufacturing, with various types available including universal tool grinding machines, drill bit grinding machines, broaching edge grinding machines, tool curve grinding machines, and more. These machines are mostly used in tool manufacturers' machinery manufacturing factories and tool workshops.
Abrasive belt grinding machines use fast-moving abrasive belts as grinding tools, with the workpieces supported by conveyor belts. They are several times more efficient than other grinding machines, with only a fraction of the power consumption. They are mainly used for processing large plates, heat-resistant and difficult-to-machine materials, and mass producing flat parts.
Specialized grinding machines are designed for grinding specific types of parts, such as crankshafts, camshafts, splined shafts, guide rails, blades, bearing raceways, and gear threads. In addition to these categories, there are also many types of honing machines, grinding machines, and coordinate grinding machines.
In conclusion, the development of grinding machines has been continuous, with innovations in design and technology leading to increased precision, efficiency, and automation. The wide variety of available types of grinding machines, from cylindrical to specialized, allows for the efficient processing of a diverse range of materials and components.
Working principle
The workpiece is supported between the head frame and tailstock tips and rotated by the head frame dial for circular feeding motion. The headstock and tailstock are mounted on the workbench for longitudinal reciprocating feed motion. The workbench is divided into two layers, with the upper layer able to be adjusted at a small angle for grinding conical surfaces. The wheel frame with a high-speed rotating grinding wheel performs lateral feed movement.
To reduce the length of the machine tool, large cylindrical grinding machines are typically fixed, with the grinding wheel frame performing both longitudinal reciprocating motion and lateral feeding motion. The precision of cylindrical grinding machines is generally roundness within 3 μm and surface roughness of Ra 0.63 to 0.32 μm. High precision cylindrical grinding machines can achieve roundness of 0.1 μm and surface roughness of Ra 0.01 μm.
Cylindrical grinding machine classification
The cylindrical grinding machine is categorized into three types: plunge-type, end-face, and universal.
Plunge-Type Cylindrical Grinding Machine
When the length of the workpiece's grinding part is shorter than the width of the grinding wheel, the wheel only needs to be fed in the transverse direction without moving in the axial direction relative to the workpiece. This results in high productivity of the machine.
End-Face Cylindrical Grinding Machine
The wheel frame is angled around the vertical axis, and the grinding wheel is trimmed into two faces parallel and perpendicular to the workpiece axis. This type of machine can grind the outer circle and shoulder end face of the workpiece simultaneously, making it ideal for mass production.
Universal Cylindrical Grinding Machine
This machine has an internal grinding attachment and is equipped with a grinding wheel frame and head frame that can be adjusted at an angle around the vertical axis. The spindle can also rotate on the head frame, in addition to the rotation of the dial. This type of grinding machine offers a wider processing range, can grind inner holes and inner and outer tapers with large tapers, and is suitable for small to medium batch and single piece production.
Furthermore, there are double grinding wheel cylindrical grinding machines and multi-grinding wheel external grinding machines that can grind two or more journals at the same time, making them suitable for mass production.
Structure
The main components of the machine include a bed, a front end, a rear end, a grinding head, a transmission dust collector, and others.
The front head and grinding head can be adjusted to different angles for grinding the thimble and top roller.
Special parts for chamfering, dynamic balance frames, and top roller detectors can be ordered by the customer as additional options.
Classification
Ordinary Cylindrical Grinding Machine
This is the most common type of cylindrical grinding machine, with a roughness value of Ra0.4.
CNC Cylindrical Grinding Machine
A CNC cylindrical grinding machine is pre-programmed according to processing requirements and controlled by a numerical information system. It is mainly used for grinding cylindrical and conical outer surfaces. CNC cylindrical grinding machines offer generalization, high modularity, precision, rigidity, efficiency, and adaptability.
High-Precision Cylindrical Grinding Machine
Compared to an ordinary cylindrical grinding machine, this type offers improved grinding efficiency and higher quality workpiece processing, reducing labor costs.
Ordinary Cylindrical Grinding Machine Models: M1320-520, M1320-750, M1332B-1000, M1332B-1500, M1332B-2000
Universal Cylindrical Grinding Machine Models: M1420-520, M1420-750, M1432B-1000, M1432B-1500, M1432B-2000
Characteristics
The spindle bearing of the grinding wheel adopts a tapered dynamic pressure bearing with oil wedge formation, ensuring high rigidity even at low speeds.
The wheel frame's guide rail utilizes a cross-roller design, and semi-automatic feed is achieved through a rotary oil cylinder mechanism.
The tailstock shafting boasts seamless stiffness, and the electrical and hydraulic boxes, as well as the cooling box, are separated from the machine tool.
The machine is equipped with a sophisticated grinding indicator and an effective coolant filter.
The head frame speed has AC variable frequency regulation for stepless speed control.
The electrical system uses a programmable logic controller (PLC) with self-diagnostic capabilities for convenient maintenance.
An automatic measuring instrument is available as an optional feature.
Application
Cylindrical grinding machines are primarily utilized for precision grinding of end faces, outer surfaces, and conical surfaces of shaft components. They are widely used in the automotive engine industry and are considered essential equipment in this field.
Additionally, these machines are suitable for the processing of shaft components with small batch sizes and high precision requirements in military, aerospace, and general precision machining workshops.
The cylindrical grinding machines have various applications, including:
Textile spinning industry, where they are used in the processing of top rollers in machines such as thick yarn machines, draw frame machines, combing machines, and texturing machines.
The manufacturing of office communication equipment, where they are used in the processing of rubber rollers in equipment such as fax machines, copiers, printers, and cutting plotters.
The printing, food, and pharmaceutical industries, where they are used in the processing of top rollers in automatic conveying devices and plastic processing.