What Is Double-Headed Stud?
A double-end stud (also known as a double-headed stud) is a cylindrical fastener with threads at both ends.
The diameter, length, and quantity of double-head studs should meet specific requirements, and the type and material of the stud are determined by the grade.
Commonly used double-head studs come in two varieties (also known as all-thread studs), with threads being either coarse or fine. Coarse standard threads are represented by M and nominal diameter, whereas fine threads are represented by M, nominal diameter, and pitch.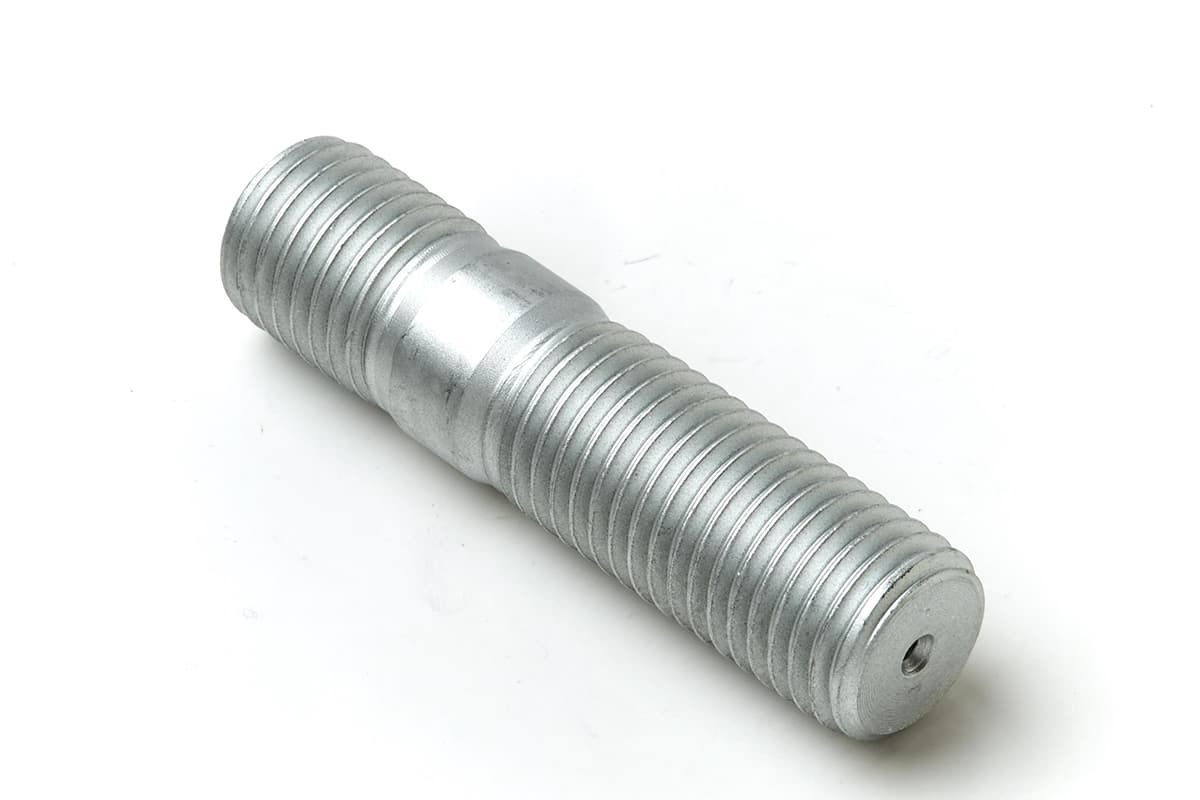 According to fastener standards, M36 bolts use coarse threads, while bolts with diameters of M36 and above can employ fine threads, with all pitches being 3.
Double-head studs with a bm=1d value are generally used for connections between two steel components; bm=1.25d and bm=1.5d studs are typically used for connections between cast iron and steel components; bm=2d studs are typically used for connections between aluminum alloy and steel components. The former type of component features internal threaded holes, while the latter type has through holes.
Equal-length double-head studs require both ends to thread into a nut and washer, and are used for two components with through holes. Weld studs are welded onto the surface of one component at one end, and the other end (threaded end) passes through the component with the through hole, then a washer is fitted and a nut is screwed on, connecting the two components into a single unit.
Double-headed bolts are manufactured in accordance with standards GB897-GB901, using materials such as Q235, 45#, 40Cr, 35CrMoA, and Q345D.
They come in sizes ranging from M3mm to M100mm, with length customization available based on user needs.
High-strength double-headed bolts are made from materials like 35#, 45#, 35CrMoA, 25Cr2MoV, 304, 316, 304L, 316L, 2H, 2HM, B7, B7M, B16, B8, B8M, and 8M.
They are widely used in industries such as power generation, chemical processing, oil refining, valve manufacturing, railways, bridge construction, steel structures, and automotive parts.
The function of double-headed bolts includes usage in mining machinery, bridges, automobiles, motorcycles, boiler steel structures, towers, large-span steel structures, and large buildings.
Double-Headed Stud Weight Chart
(Unit: kg/1000 pieces)
Diameter
M8
M10
M12
M14
M16
M18
Length
60
18.7
29.3
42.4
58.8
78.9
97.2
65
20.2
31.8
45.9
63.7
85.5
105.3
70
21.8
34.2
49.4
68.6
92.1
113.3
75
23.3
36.7
53
73.5
98.6
121.4
80
24.9
39.1
56.5
78.4
105.2
129.5
85
26.4
41.5
60
83.3
111.8
137.6
90
28
44
63.6
88.2
118.4
145.7
95
29.5
46.4
67.1
93.1
124.9
153.8
100
31.1
48.9
70.6
98
131.5
161.9
105
32.7
51.3
74.2
102.9
138.1
170
110
34.2
53.8
77.7
107.8
144.7
178.1
115
35.8
56.2
81.2
112.6
151.2
186.2
120
37.3
58.6
84.8
117.5
157.8
194.3
125
38.9
61.1
88.3
122.4
164.4
202.4
130
40.4
63.5
91.8
127.3
171
210.5
135
42
66
95.4
132.2
177.6
218.6
140
43.5
68.4
98.9
137.1
184.1
226.7
145
45.1
70.9
102.4
142
190.7
234.8
150
46.7
73.3
106
146.9
197.3
242.9
155
48.2
75.8
109.5
151.8
203.9
251
160
49.8
78.2
113
156.7
210.4
259.1
165
51.3
80.6
116.6
161.6
217
267.2
170
52.9
83.1
120.1
166.5
223.6
275.3
175
54.4
85.5
123.6
171.4
230.2
283.4
180
56
88
127.2
176.3
236.7
291.5
185
57.5
90.4
130.7
181.2
243.3
299.6
190
59.1
92.9
134.2
186.1
249.9
307.7
195
60.7
95.3
137.7
191
256.5
315.8
200
62.2
97.7
141.3
195.9
263
323.9
205
63.8
100.2
144.8
200.8
269.6
331.9
210
65.3
102.6
148.3
205.7
276.2
340
215
66.9
105.1
151.9
210.6
282.8
348.1
220
68.4
107.5
155.4
215.5
289.3
356.2
225
70
110
158.9
220.4
295.9
364.3
230
71.5
112.4
162.5
225.3
302.5
372.4
235
73.1
114.9
166
230.2
309.1
380.5
240
74.6
117.3
169.5
235.1
315.6
388.6
245
76.2
119.7
173.1
240
322.2
396.7
250
77.8
122.2
176.6
244.9
328.8
404.8
255
79.3
124.6
180.1
249.8
335.4
412.9
260
80.9
127.1
183.7
254.7
342
421
Diameter
M20
M22
M24
M27
M30
Length
60
122.6
151.1
177.6
229.5
280
65
132.8
163.6
192.3
248.7
303.3
70
143.1
176.2
207.1
267.8
326.6
75
153.3
188.8
221.9
286.9
350
80
163.5
201.4
236.7
306
373.3
85
173.7
214
251.5
325.2
396.6
90
183.9
226.6
266.3
344.3
419.9
95
194.2
239.2
281.1
363.4
443.3
100
204.4
251.8
295.9
382.5
466.6
105
214.6
264.3
310.7
401.7
489.9
110
224.8
276.9
325.5
420.8
513.3
115
235
289.5
340.3
439.9
536.6
120
245.3
302.1
355.1
459.1
559.9
125
255.5
314.7
369.9
478.2
583.3
130
265.7
327.3
384.7
497.3
606.6
135
275.9
339.9
399.5
516.4
629.9
140
286.1
352.5
414.3
535.6
653.2
145
296.3
365.1
429.1
554.7
676.6
150
306.6
377.6
443.9
573.8
699.9
155
316.8
390.2
458.7
592.9
723.2
160
327
402.8
473.5
612.1
746.6
165
337.2
415.4
488.3
631.2
769.9
170
347.4
428
503.1
650.3
793.2
175
357.7
440.6
517.9
669.5
816.6
180
367.9
453.2
532.7
688.6
839.9
185
378.1
465.8
547.5
707.7
863.2
190
388.3
478.3
562.2
726.8
886.6
195
398.5
490.9
577
746
909.9
200
408.8
503.5
591.8
765.1
933.2
205
419
516.1
606.6
784.2
956.5
210
429.2
528.7
621.4
803.3
979.9
215
439.4
541.3
636.2
822.5
1003.2
220
449.6
553.9
651
841.6
1026.5
225
459.8
566.5
665.8
860.7
1049.9
230
470.1
579
680.6
879.9
1073.2
235
480.3
591.6
695.4
899
1096.5
240
490.5
604.2
710.2
918.1
1119.9
245
500.7
616.8
725
937.2
1143.2
250
510.9
629.4
739.8
956.4
1166.5
255
521.2
642
754.6
975.5
1189.8
260
531.4
654.6
769.4
994.6
1213.2