1. Flight welding
Laser flight welding combines the advantages of remote welding, galvanometer and manipulator, with professional graphics processing software to realize instantaneous multi track welding in three-dimensional space.
It is mainly used in automobile body, seat and common auto parts.
In terms of materials, it can be used in all kinds of steel plate, cold rolled plate, aluminum alloy and other common materials.
It can also be used in composite materials, alloy materials, such as magnesium aluminum alloy and so on.
Fig. 1 Flight welding process
Flight welding experimental equipment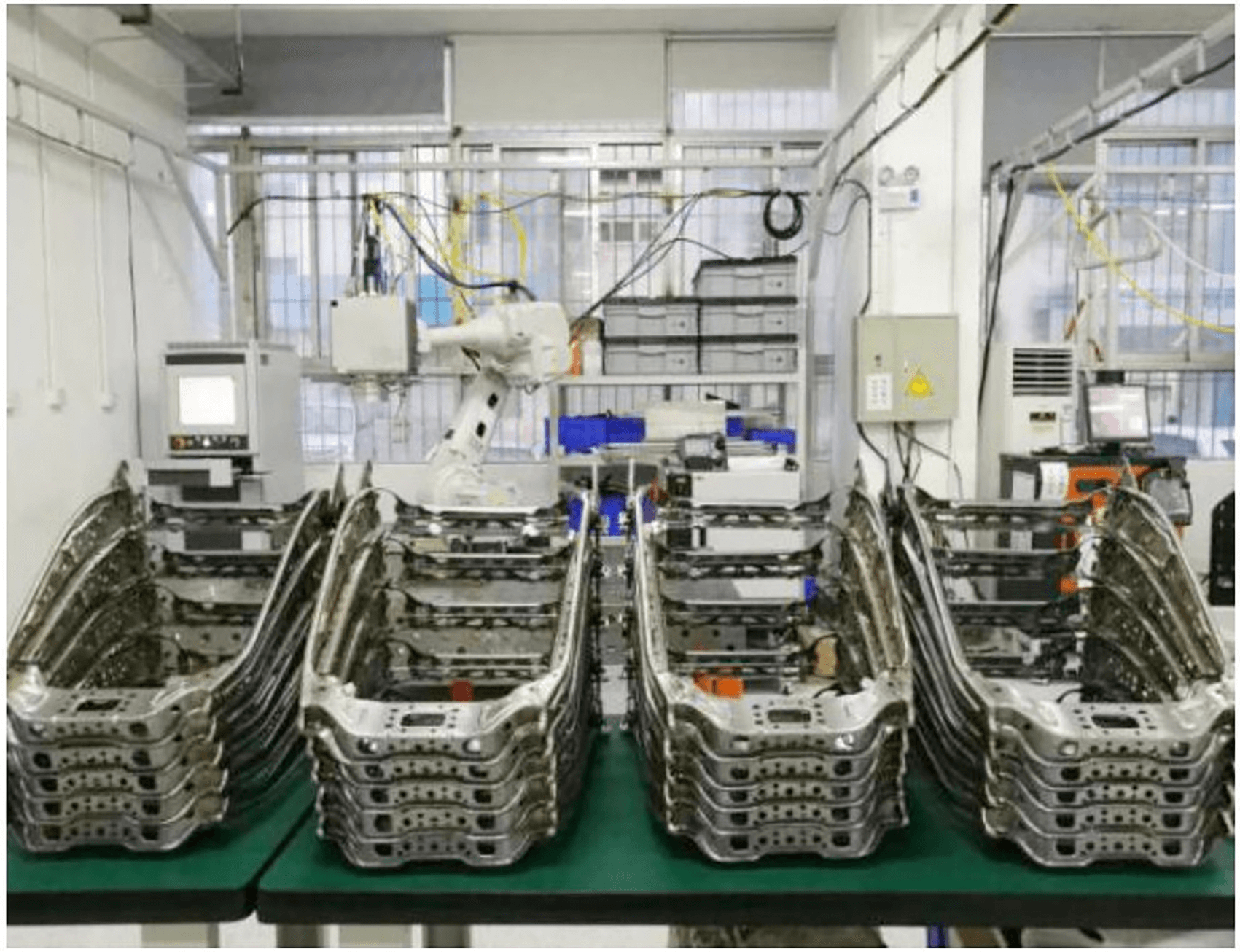 Fig. 2 Seat flight welding
Advantages:
Various forms of weld;
Various weld direction;
User defined weld/point distribution;
Optimization of stress distribution;
High speed spot welding, seam welding, lap welding, butt welding, fillet welding and lap welding;
The welding joint and robot are synchronized in real time to speed up the laser welding process;
Less floor space;
Less maintenance and logistics costs.
2. Spiral welding
A laser welding method of double wedge laser swing is realized by configuring a special wobble module on the welding joint.
When the welding joint moves, the focus spot will produce spiral weld.
It is mainly used in hinge welding, heat exchanger, tube heat exchanger, oil and gas thick pipe welding, flange welding and aluminum alloy welding, etc.

Fig. 3 Spiral welding track chart
Advantages:
Weld widening;
High processing repeatability/process stability;
Better weld formability;
The post-processing is simpler, and the surface of welded workpiece is smoother;
Excellent aluminum alloy welding ability.
3. Laser brazing
Laser brazing is to heat the filler metal to a temperature higher than the melting point of the filler metal and lower than the melting temperature of the base metal.
It uses liquid solder to wet the base metal, fill the joint gap and diffuse with the base metal to connect the weldment.
It is mainly used in the welding of aluminum body frame structure, such as the connection of top cover and case wall, door and other products.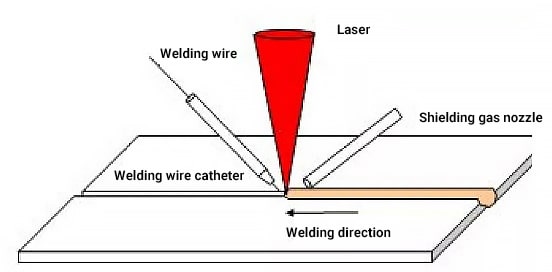 Brazing principle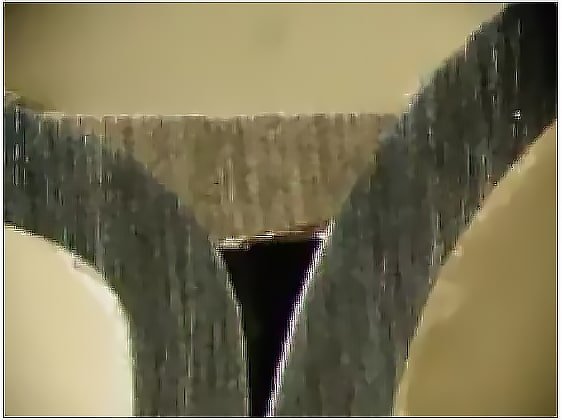 Brazing metallographic diagram
Advantages:
Reduce the defects of pure laser welding, such as pores, cracks and too large product fit gap;
Improve the weld strength and get a perfect weld bead;
Brazing is that the base metal does not melt, only the solder melts;
It is suitable for welding precise, complex components with different materials;
Small heat affected area and high compressive strength.
4. Laser wire filling welding
Laser filler metal welding is a kind of welding method which uses filler metal of the same or similar material as base metal to melt base metal and solder and condense to form weld.
It is mainly used in whole body structural parts and auto parts products.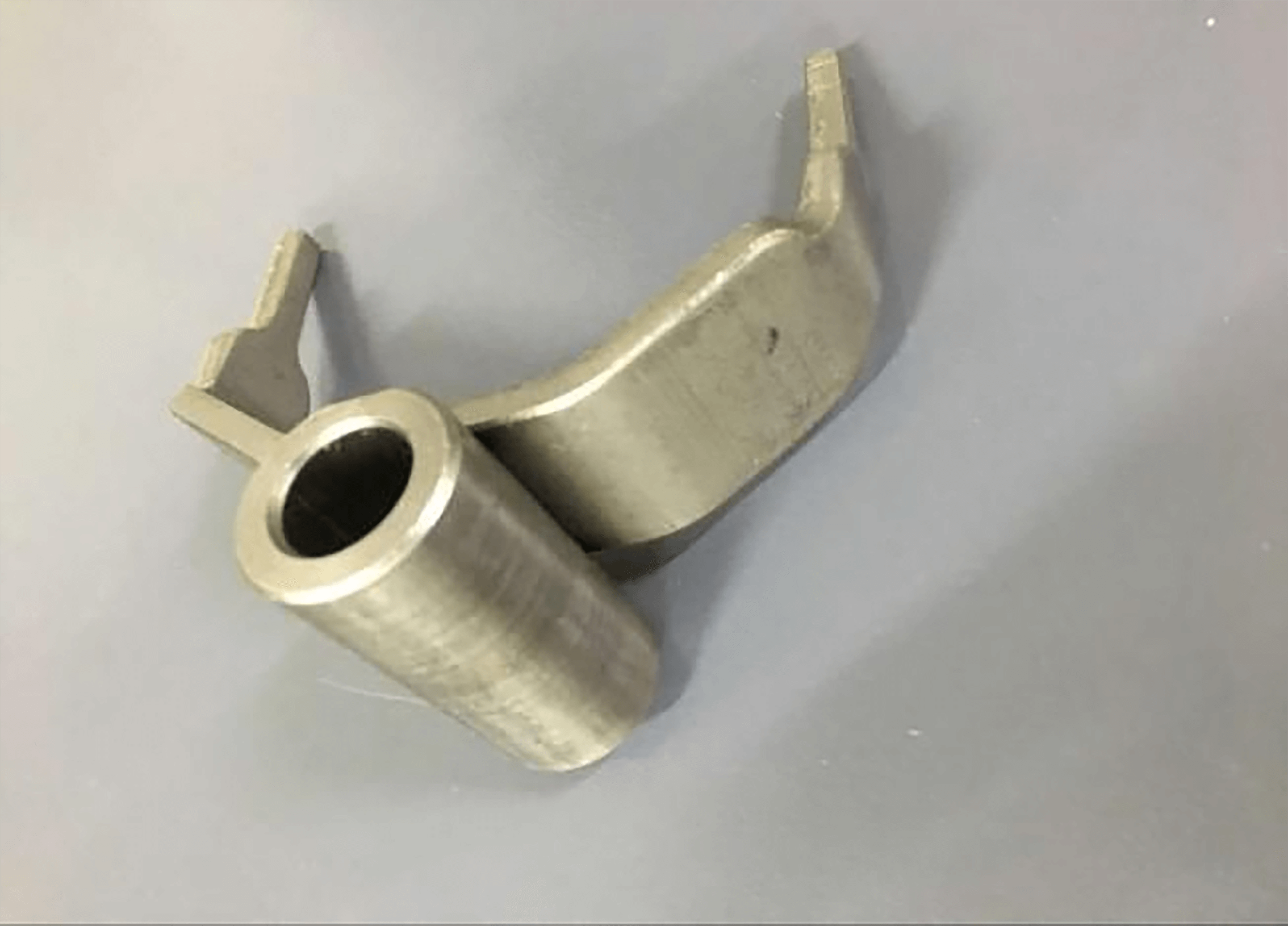 Fig. 4 Welding of automobile fork
Fig. 5 Welding metallographic diagram
Advantages:
Reduce the defects of pure laser welding, such as pores and cracks;
Increase the difference rate of welding products and allow slightly larger gap of welding products;
The welding base metal is melted and the welding strength is stronger than that of the base metal.
5. Swing brazing
Through ALO3, the functions of beam forming and seam tracking are integrated in the same equipment.
Filler wire can be used as mechanical sensor.
It is mainly used in laser welding of body in white, including laser brazing of roof cover, trunk cover and auto parts.
The fluctuation of parts and the error of fixture often increase the difficulty of laser brazing, which leads to the abnormal difficulty of laser welding debugging process.
But swing soldering can effectively adjust its own welding direction, seam tracking and focal length automatic compensation function.
This can make the laser beam easy to guide and focus, realize the transformation of all directions, high degree of automation, fast welding speed, high efficiency, so that it can maintain the welding quality.
ALO3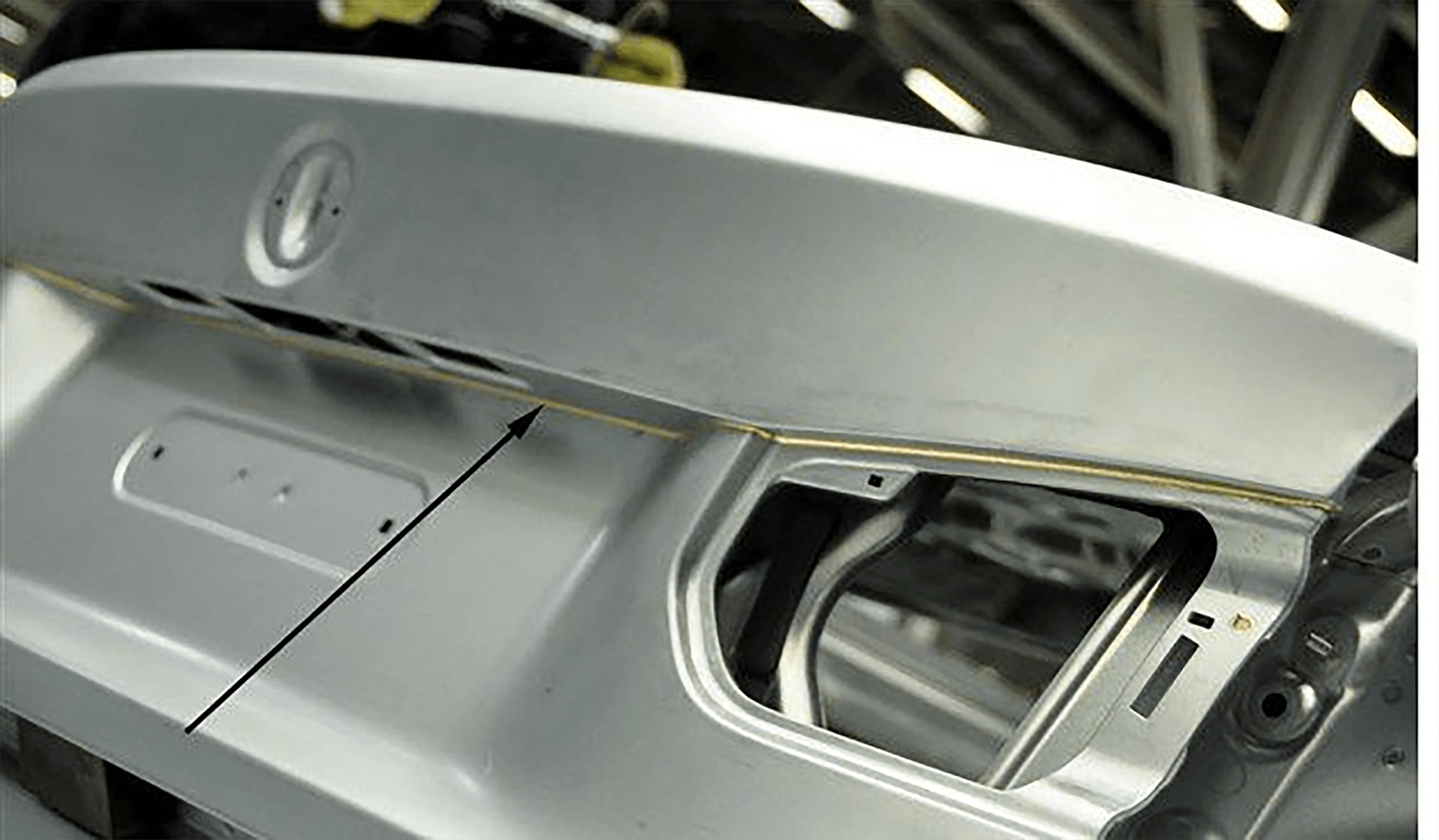 Fig. 6 Automotive tail door brazing
Sample brazing
Advantages:
Weld tracking, real-time judgment of workpiece weld trajectory;
According to the different deviation of different workpiece, XYZ three-way adaptive adjustment of welding trajectory can obtain good welding quality;
Improve the consistency rate of product welding.
6. Three spot brazing
A double spot module is added to the lens.
During welding, one beam is distributed into three beams by the three spot module in brazing optics, which provides a solution for brazing hot-dip galvanized steel plate.
The welding seam is smoother and does not crack.
It is mainly used in aluminum alloy brazing of body in white, laser brazing of roof cover and trunk cover, and automobile parts brazing.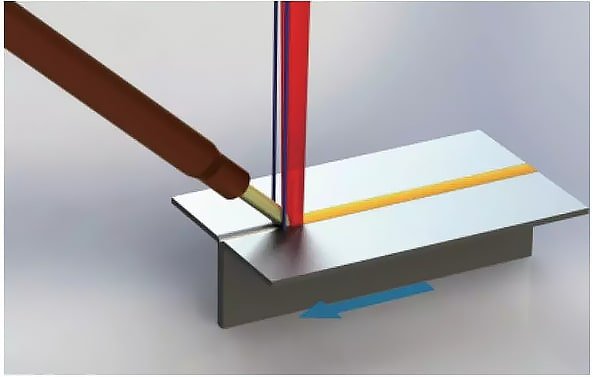 Principle of three spot brazing
Advantages:
More stable and reliable brazing process;
Faster speed;
Higher-strength;
Higher appearance and surface quality of hot dip galvanized sheet welding;
Online cleaning process;
Dynamic energy adjustment.
7. Multi wavelength hybrid welding
Multi-wavelength hybrid welding is first created by United-Win Laser.
It is to make the axes of two different wavelengths overlap in space by superposing two different wavelengths of laser.
The main band laser mainly carries out welding, and the sub band laser mainly preheat the welding wire and base metal, so as to reduce the cooling rate of molten metal in welding pool.
It is especially suitable for aluminum alloy, magnesium alloy, copper alloy, etc.
Hybrid welding beam
Advantages:
Reduce the content of pores;
Increase the stability of weld bead and increase welding efficiency;
Effective thermal stress relief can reduce cracks, improve weld strength and obtain weld bead with uniform appearance.
8. Conclusion
At present, the foreign technology and equipment is still in a leading position in laser industry, from laser host, and optical processing head, to chiller, power meter, welding monitoring, post welding detection, TCP calibrator and other auxiliary equipment. Domestic enterprises are fully catching up.
But in the field of laser welding application, China's technology is close to the international advanced level, and a number of high-quality enterprises have emerged.