The micro lathe is a bench-top lathe that can complete turning, drilling, and boring threads in both metric and imperial units.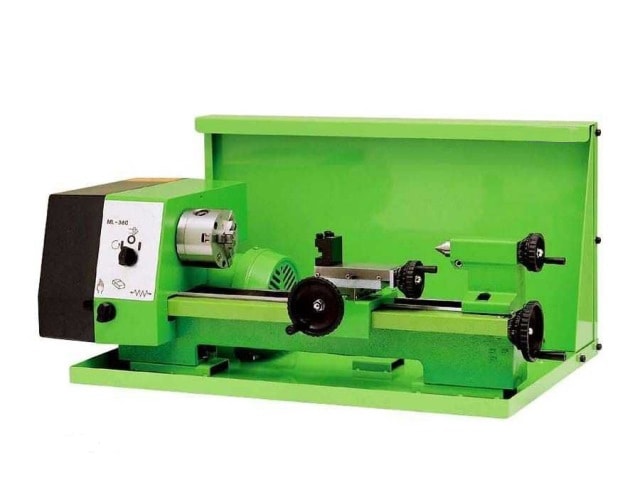 This equipment is suitable for processing both metal and non-metal parts, making it ideal for single-piece processing or small-volume production in various industries, including instruments, light industrial machinery, motorcycles, auto parts, car repair, home repair, and scientific research units.
Main feature
The machine offers longitudinal automatic cutting, capable of processing both male and female threads.
The joystick is conveniently located and enables flexible operation.
The machine's bed rail is wide and provides a high degree of rigidity.
An emergency stop switch is included for safety.
The CQ6132A spindle boasts a large aperture.
The base is standard and shipped as a single package.
The spindle belt tower wheel can be easily shifted.
Equipped with an intermediate pulley reducer, the machine delivers high torque at low speed.
Product Application
This machine is primarily utilized for processing diverse rotary surfaces and end faces of rotary bodies, such as turning both internal and external cylindrical surfaces, conical surfaces, ring grooves, and forming rotary surfaces, as well as turning end faces and various commonly used threads.
Moreover, if it is equipped with process equipment, it can also handle a wide range of special shapes. Additionally, the lathe can perform drilling, reaming, knurling, and other operations.
Processable product
45# steel, A3 steel, cast iron, copper, aluminum, plastic, bakelite, wood, etc.
Turning diameter of the bed: 330mm
Rotary diameter on the worktable: 185mm
Two tip distances: 510/610/915mm
Spindle diameter: 40mm
Spindle hole taper: MT5
Spindle speed / number of stages: 180 ~ 1930r / min / 8
Longitudinal stroke: 500/600/900mm
Lateral stroke: 170mm
Knife holder stroke: 85mm
Metric pitch / series: 0.5 ~ 3mm / 10
Inch pitch / series: 8 ~ 48t.p.i / 14
Longitudinal pass/level: 0.1~0.4mm/r/3
Motor power: 1.5kw (three-phase 380V) / 1.1kw (single-phase 220V)
Machine tool net weight / gross weight: 330 / / 380kg, 350 / 400kg, 390 / 450kg
Base net weight / gross weight: 58/70kg
Mainframe dimensions: 1430, 1540, 1845 × 680 × 515mm
Host package size: 1560, 1670, 2080 × 760 × 770mm
Base package size: 950 × 790 × 870mm
Standard configuration
Three-jaw chuck, tip, metric hanging wheel, hanging wheel cover, V-belt, pressure oil gun, adjustment tools, etc.