Looking for a comprehensive guide on rivet specifications? Look no further!
Our blog post has got you covered with detailed information on various types of rivets, including Semi Tubular Rivets, Truss Head Rivets, Flat Head Rivets, Countersunk Head Rivets, and Round Head Rivets.
With precise measurements and tolerances provided for each type, you'll be equipped with all the knowledge you need to make informed decisions about your rivet selection.
So, whether you're a DIY enthusiast or a professional in the manufacturing industry, read on to learn everything you need to know about rivet specifications.
1. Semi Tubular Rivets
Thin Round Head Rivets
JIS B1215
unit : mm
Nominal diameter
1.2
1.6
2
2.5
3
4
5
6
8
d
Basic size
1.2
1.6
2
2.5
3
4
5
6
8
Tolerance
+0.02
-0.05
+0.02
-0.06
+0.02
-0.08
+0.02
-0.10
+0.02
-0.12
+0.02
-0.15
D
Basic size
2.2
3
3.7
4.6
5.4
7.2
9
10.5
13.5
Tolerance
0
-0.3
0
-0.4
0
-0.5
0
-0.6
H
Basic size
0.3
0.4
0.6
0.9
1.1
1.4
1.8
2.1
2.8
Tolerance
±0.1
±0.15
 ±0.2
A
Basic size
0.8
1.1
1.3
1.7
2.1
2.8
3.5
4.2
5.6
Tolerance
±0.04
±0.05
±0.07
±0.1
±0.12
B
Basic size
1.1
1.4
1.8
2.3
2.7
3.6
4.5
5.4
7.2
Tolerance
±0.1
±0.15
±0.2
±0.25
±0.3
r
Max.
0.06
0.08
0.1
0.2
0.3
0.4
Truss Head Rivets
JIS B1215
unit : mm
d
Basic size
1.2
1.6
2
2.5
3
4
5
6
8
 
+0.02
-0.05
+0.02
-0.06
+0.02
-0.08
+0.02
-0.10
+0.02
-0.12
+0.02
-0.15
D
Basic size
2.7
3.6
4.5
5.6
6.6
8.8
11
13
17
0
-0.3
0
-0.4
0
-0.5
0
-0.6
H
Basic size
0.5
0.7
1
1.3
1.4
1.8
2.4
2.8
3.8
 
±0.1
±0.15
±0.2
A
Basic size
0.8
1.1
1.3
1.7
2.1
2.8
3.5
4.2
5.6
 
±0.04
±0.05
±0.07
±0.1
±0.12
B
Basic size
1.1
1.4
1.8
2.3
2.7
3.6
4.5
5.4
7.2
±0.1
±0.15
±0.2
±0.25
±0.3
r
Max.
0.06
0.08
0.1
0.2
0.3
0.4
0.5
0.6
Flat Head Rivets
JIS B1215
unit : mm
Nominal
diameter
1.2
1.6
2
2.5
3
4
5
68
d
Basic size
1.2
1.6
2
2.5
3
4
5
6
8
Tolerance
+0.02
-0.05
+0.02
-0.06
+0.02
-0.08
+0.02
-0.10-
+0.02
-0.12
+0.02
-0.15
D
Basic size
2.2
3
3.7
4.6
5.4
7.2
9
10.5
13.5
Tolerance
0
-0.3
0
-0.4
0
-0.5
0
-0.6
H
Basic size
0.3
0.4
0.6
0.9
1.1
1.4
1.8
2.1
2.8
Tolerance
±0.1
±0.15
±0.2
A
Basic size
0.8
1.1
1.3
1.7
2.1
2.8
3.5
4.2
5.6
Tolerance
±0.04
±0.05
±0.07
±0.1
±0.12
B
Basic size
1.1
1.4
1.8
2.3
2.7
3.6
4.5
5.4
7.2
Tolerance
±0.01
±0.15
±0.2
±0.25
±0.3
r
Max
0.06
0.08
0.1
0.2
0.3
0.4
Countersunk Head Rivets
B121
unit : mm
Nominal
diameter
2
2.5
3
4
5
6
8
d
Basic size
2
2.5
3
4
5
6
8
Tolerance
+0.02
-0.06
+0.02
-0.08
+0.02
-0.10
+0.02
-0.12
+0.02
-0.15
D
Basic size
4
5
6
8
10
12
16
Tolerance
0
-0.4
0
-0.5
0
-0.6
0
-0.7
0
-0.8
H
Approx
1
1.3
1.5
2
2.5
3
4
A

Basic size
1.3
1.7
2.1
2.8
3.5
4.2
5.6
Tolerance
±0.05
±0.07
±0.01
±0.12
B
Basic size
1.8
2.3
2.7
3.6
4.5
5.4
7.2
Tolerance
±0.15
±0.2
±0.25
±0.3
Round Head Rivets
JIS B1215
unit : mm
Nominal
diameter
1.2
1.6
2
2.5
3
4
5
6
8
d
Basic size
1.2
1.6
2
2.5
3
4
5
6
8
Tolerance
+0.02
-0.05
+0.02
-0.06
+0.02
-0.08
+0.02
-0.10
+0.02
-0.12
+0.02
-0.15
D
Basic size
2.2
3
3.7
4.6
5.4
7.2
9
10.5
13.5
Tolerance
0
-0.3
0
-0.4
0
-0.5
0
-0.6
H
Basic size
0.7
1
1.2
1.5
1.8
2.4
3
3.6
4.8
Tolerance
±0.1
±0.15
±0.2
A
Basic size
0.8
1.1
1.3
1.7
2.1
2.8
3.5
4.2
5.6
Tolerance
±0.04
±0.05
±0.07
±0.1
±0.12
B
Basic size
1.1
1.4
1.8
2.3
2.7
3.6
4.5
5.4
7.2
Tolerance
0.1
0.15
0.2
0.25
0.3
r
Max.
0.06
0.08
0.1
0.2 
0.3
0.4
Truss Head
ANSI B18.7 1972
unit : inch
Nominal
Size
B
C
D
J
K
Shank
Diameter
Head Diameter
Head
Thickness
Type S
Straight Hole Rivets
Hole
Dia at
End of rivet
Hole
Depth to
Start of
Apex
Max
Min
Max
Min
Max
Min
Max
Min
Nominal
0.061
0.061
0.058
0.13
0.12
0.019
0.015
0.044
0.039
0.046
0.089
0.089
0.085
0.192
0.182
0.026
0.02
0.068
0.062
0.064
0.123
0.123
0.118
0.286
0.276
0.038
0.03
0.09
0.084
0.094
0.146
0.146
0.141
0.318
0.306
0.045
0.035
0.107
0.1
0.126
0.188
0.188
0.182
0.381
0.369
0.065
0.055
0.141
0.134
0.155
Nominal Size
B
C
D
J
K
Shank
Diameter
Head Diameter
Head
Thickness
Type S
Straight Hole Rivets
Hole Dia at End
of rivet
Hole
Depth to
Start of
Apex
Max
Min
Max.
Edge
Sharp
Min.
Edge
Round
or Flat
Ref
Max
Min
Nominal
0.089
0.089
0.085
0.223
0.203
0.039
0.068
0.062
0.064
0.123
0.123
0.118
0.271
0.245
0.043
0.09
0.084
0.094
0.146
0.146
0.141
0.337
0.307
0.056
0.107
0.1
0.126
0.188
0.188
0.182
0.404
0.369
0.063
0.141
0.134
0.155
0.217
0.217
0.21
0.472
0.43
0.075
0.163
0.155
0.189
0.252
0.252
0.244
0.54
0.493
0.084
0.184
0.176
0.219
2. Cold Headed Rivets
Flat Head Rivets
JIS B 1213
Nominal
Diameter
Column 1
Column 2
Column 3
1
1.2
1.4
1.6
1.7
2
2.3
2.5
2.6
3
Shank
Diameter
(d)
Basic
dimension
1
1.2
1.4
1.6
1.7
2
2.3
2.5
2.6
3
Tolerances
+0.04
-0.02
+0.05
-0.02
+0.06
-0.02
+0.07
-0.02
+0.8
-0.02
+0.09
-0.02
+0.1
-0.03
+0.12
-0.03
Head
Diameter
(dg)
Basic
dimension
2
2.4
2.8
3.2
3.4
4
4.6
5.0
5.2
6
Tolerances
±0.3
0
±0.4
0
±0.5
0
±0.5
0 
Head
Height
(K)
Approx.
0.5
0.6
0.7
0.8
0.9
1
1.2
1.3
1.3
1.5
Nominal
Diameter
Column 1
Column 2
Column 3
3.5
4
4.5
5
6
8
10
12
13
14
Shank
Diameter
(d)
Basic
dimension
3.5
4
4.5
5
6
8
10
12
13
14
Tolerances
+0.14
-0.04
+0.16
-0.04
+0.18
-0.05
+0.2
-0.05
+0.24
-0.06
+0.32
-0.08
+0.4
-0.08
+0.48
-0.08
+0.5
-0.08
+0.56
-0.1
Head
Diameter
(dg)
Basic
dimension
7
8
9
10
12
16
16
19
21
22
Tolerances
±0.5
0
±0.6
0
±0.7
0
±0.8
0
Head
Height
(K)
Approx.
1.8
2
2.3
2.5
3
4
4
5
5
6
Small Size Round Head Rivets
Nominal
Diameter
Column 1
Column 2
Column 3
1
1.2
1.4
1.6
1.7
 2
2.3
2.5
2.6
Shank
Diameter
(d)
Basic
dimension
1
1.2
1.4
1.6
1.7
 2
2.3
2.5
2.6
Tolerances
+0.04
-0.02
+0.05
-0.02
+0.06
-0.02
+0.07
-0.02
+0.08
-0.02
+0.09
-0.02
+0.1
-0.03
Head
Diameter
(dk)
Basic
dimension
1.8
2.2
2.5
 3
 3.5
4
 4.5
Tolerances
±0.1
±0.15
Head
Height
(K)
Basic
dimension
0.6
0.7
0.8
1
1.2
1.4
1.6
Tolerances
±0.1
Nominal
Diameter
Column 1
Column 2
Column 3
3
3.5
4
5
Shank
Diameter
(d)
Basic dimension
3
3.5
4
5
Tolerances
+0.12
-0.03
+0.14
-0.04
+0.16
-0.04
+0.2
-0.05
Head
Diameter
(dk)
Basic dimension
5.2
6.2
7
 8.8
Tolerances
±0.2
±0.3
Head
Height
(K)
Basic dimension
1.8
2.1
2.4
3
Tolerances
±0.15
Thin Flat Head Rivets
JIS B 1213
Nominal
Diameter
Column 1
Column 2
Column 3
2
2.3
2.5
2.6
3
3.5
4
4.5
5
6
Shank
Diameter
(d)
Basic
dimension
2
2.3
2.5
2.6
3
3.5
4
4.5
5
6
Tolerances
+0.08 -0.02 
+0.09
-0.02 
+0.1
-0.03 
 +0.12 
-0.03 
 +0.14
-0.04 
+0.16
-0.04 
 +0.18
-0.05
+0.2 –0.05 
+0.24
-0.06 
Head
Diameter
(dg)
Basic
dimension
4
4.6
5.0
5.2
 6
 7
 8
 9
10
12
Tolerances
0
-0.3
0
-0.4
0
-0.5
Head
Height
(K)
Basic
dimension
0.7
0.8
0.9
1
1.1
1.3
1.5
1.6
2
Tolerances
+0.2
0
+0.3
0
+0.4
0
Pan Head Rivets
JIS B 1213
Nominal
Diameter
Column 1
Column 2
3
3.5
4
5
6
Shank
Diameter
(d)
Basic
dimension
3
3.5
4
5
6
Tolerances
+0.12
-0.03
+0.14
-0.04
+0.16
-0.04
+0.2
-0.05
+0.24
-0.06
Head
Diameter
(dg)
Basic
dimension
6
7
8
9.5
10.8
Tolerances
+0.3
-0.2
+0.4
-0.3
Head
Height
(K)
Basic
dimension
1.7
1.9
2.2
2.8
3.3
Tolerances
+0.2
-0.1
+0.3
-0.2

ANSI B18.1.1 1972
unit: inch
Nominal Size
or
Basic
Shank
Diameter
Shank
diameter
E
Flat Head
Flat Countersunk Head
Head
Diameter
A
Head
Height
H
Head
Diameter
A
Head
Height
H
Max
Min
Max
Min
Max
Min
Ref
1/16
0.062
0.064
0.059
0.140
0.120
0.027
0.017
0.118
0.110
0.027
3/32
0.094
0.096
0.090
0.200
0.180
0.038
0.026
0.176
0.163
0.040
1/8
0.125
0.127
0.121
0.260
0.240
0.048
0.036
0.235
0.217
0.053
5/32
0.156
0.158
0.152
0.323
0.301
0.059
0.045
0.293
0.272
0.066
3/16
0.188
0.191
0.182
0.387
0.361
0.069
0.055
0.351
0.326
0.079
7/32
0.219
0.222
0.213
0.453
0.427
0.080
0.065
0.413
0.384
0.094
1/4
0.250
0.253
0.244
0.515
0.485
0.091
0.075
0.469
0.437
0.106
9/32
0.281
0.285
0.273
0.579
0.545
0.103
0.085
0.528
0.491
0.119
5/16
0.312
0.316
0.304
0.641
0.607
0.113
0.095
0.588
0.547
0.133
11/32
0.344
0.348
0.336
0.705
0.667
0.124
0.104
0.646
0.602
0.146
3/8
0.375
0.380
0.365
0.769
0.731
0.135
0.115
0.704
0.656
0.159
13/32
0.406
0.411
0.396
0.834
0.790
0.146
0.124
0.763
0.710
0.172
7/16
0.438
0.443
0.428
0.896
0.852
0.157
0.135
0.823
0.765
0.186
Nominal Size
or
Basic
Shank
Diameter
Shank
diameter
E
Button Head
Pan Head
Head
Diameter
A
Head
Height
H
Head
Diameter
A
Head
Height
H
Max
Min
Max
Min
Max
Min
Max
Min
1/16
0.062
0.064
0.059
0.122
0.102
0.052
0.042
0.118
0.098
0.040
0.03
3/32
0.094
0.096
0.090
0.182
0.162
0.077
0.065
0.173
0.153
0.060
0.048
1/8
0.125
0.127
0.121
0.235
0.215
0.100
0.088
0.225
0.205
0.078
0.066
5/32
0.156
0.158
0.152
0.290
0.268
0.124
0.110
0.279
0.257
0.096
0.082
3/16
0.188
0.191
0.182
0.348
0.322
0.147
0.133
0.334
0.308
0.114
0.1
7/32
0.219
0.222
0.213
0.405
0.379
0.172
0.158
0.391
0.365
0.133
0.119
1/4
0.250
0.253
0.244
0.460
0.430
0.196
0.180
0.444
0.414
0.151
0.135
9/32
0.281
0.285
0.273
0.518
0.484
0.220
0.202
0.499
0.465
0.170
0.152
5/16
0.312
0.316
0.304
0.572
0.538
0.243
0.225
0.552
0.518
0.187
0.169
11/32
0.344
0.348
0.336
0.630
0.592
0.267
0.247
0.608
0.570
0.206
0.186
3/8
0.375
0.380
0.365
0.684
0.646
0.291
0.271
0.663
0.625
0.225
0.205
13/32
0.406
0.411
0.396
0.743
0.699
0.316
0.294
0.719
0.675
0.243
0.221
7/16
0.438
0.443
0.428
0.798
0.754
0.339
0.317
0.772
0.728
0.261
0.239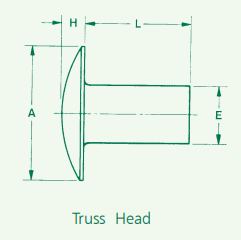 ANSI B18.1.1 1972
unit: inch
Nominal Size
or
Basic Shank
Diameter
Shank
diameter
E
Truss Head
Head
Diameter
A
Head
Height
H
Max
Min
Max
Min
Max
Min
3/32
0.094
0.096
0.090
0.226
0.206
0.038
0.026
1/8
0.125
0.127
0.121
0.297
0.277
0.048
0.036
5/32
0.156
0.158
0.152
0.368
0.348
0.059
0.045
3/16
0.188
0.191
0.182
0.442
0.422
0.069
0.055
7/32
0.219
0.222
0.213
0.515
0.495
0.080
0.066
1/4
0.250
0.253
0.244
0.590
0.560
0.091
0.075
9/32
0.281
0.285
0.273
0.661
0.631
0.103
0.085
5/16
0.312
0.316
0.304
0.732
0.702
0.113
0.095
11/32
0.344
0.348
0.336
0.806
0.776
0.124
0.104
3/8
0.375
0.380
0.365
0.878
0.848
0.135
0.115
13/32
0.406
0.411
0.396
0.949
0.919
0.145
0.123
7/16
0.438
0.443
0.428
1.020
0.990
0.157
0.135
Pop Rivets (RV-POP)
Rivet
Diameter
(D)
Grip Range
Typical Shell Length
(L)mm
Typical Rivet Clear-ance
(L1)mm
(in)
(mm)
(in)
(mm)
3/32″
2.4mm
1/16-1/8
1.6-3.2
5.5
7.5
3/32″
2.4mm
1/8-3/16
3.2-4.8
7.0
9.0
1/8″
3.2mm
Up to1/16
Up to 1.6
4.7
6.8
1/8″
3.2mm
1/16-1/8
1.6-3.2
6.3
8.4
1/8″
3.2mm
1/8-3/16
3.2-4.8
7.9
10.0
1/8″
3.2mm
3/16-1/4
4.8-6.4
9.5
11.6
1/8″
3.2mm
1/4-5/16
6.4-7.9
11.1
13.2
1/8″
3.2mm
5/16-3/8
7.9-9.5
12.7
14.8
1/8″
3.2mm
3/8 – 1/2
9.5 – 12.7
16.4
18.5
1/8″
3.2mm
1/2-5/8
12.7-15.9
20.1
22.2
5/32″
4.0mm
1/16
15.9-19.0
5.5
7.8
5/32″
4.0mm
1/16-1/8
1.6-3.2
7.1
9.4
5/32″
4.0mm
1/8-3/16
3.2-4.8
8.7
11.0
5/32″
4.0mm
3/16-1/4
4.8-6.4
10.3
12.6
5/32″
4.0mm
1/4-5/16
6.4-7.9
11.9
14.2
5/32″
4.0mm
5/16-3/8
7.9-9.5
13.5
15.8
5/32″
4.0mm
3/8-1/2
9.5-12.7
17.1
19.4
3/16″
4.8mm
Up to 1/16
Up to 1.6
6.3
8.9
3/16″
4.8mm
1/16-1/8
1.6-3.2
7.9
10.5
3/16″
4.8mm
1/8-3/16
3.2-4.8
9.5
12.1
3/16″
4.8mm
3/16-1/4
4.8-6.4
11.0
13.6
3/16″
4.8mm
1/4-5/16
6.4-7.9
12.6
15.2
3/16″
4.8mm
5/16-3/8
7.9-9.5
14.2
16.8
3/16″
4.8mm
3/8-1/2
9.5-12.7
17.9
20.5
3/16″
4.8mm
1/2-9/16
12.7-14.3
19.5
22.1
3/16″
4.8mm
1/2-5/8
12.7-15.9
21.1
23.7
3/16″
4.8mm
5/8-3/4
15.9-19.0
24.2
26.8
3/16″
4.8mm
3/4-7/8
19.0-22.2
27.4
30.0
3/16″
4.8mm
8/7-1
22.2-25.4
30.6
33.2
3/16″
4.8mm
1-3/8
25.4-34.9
36.0
38.6
1/4″
6.4mm
3/16-1/4
4.8-6.4
12.6
16.6
1/4″
6.4mm
1/4-3/8
6.4-9.5
15.8
19.8
1/4″
6.4mm
3/8-1/2
9.5-12.7
19.0
23.0
1/4″
6.4mm
1/2-5/8
12.7-15.9
22.1
26.1
1/4″
6.4mm
5/8-3/4
15.9-19.0
25.3
29.3
1/4″
6.4mm
3/4-7/8
19.0-22.2
28.4
32.4