Looking for the top CNC systems in the world? Look no further than this comprehensive guide to the leading brands and their key features.
From Japan's FANUC, with its highly reliable PowerMate 0 series, to Germany's Siemens SINUMERIK, with its modular structure and comprehensive software, these systems are designed to meet the needs of various machine tools and processing types.
Meanwhile, Mitsubishi's M700V series offers high-end nanometer control and 5-axis linkage, while HEIDENHAIN's contour machining system is built for workshop applications and easy-to-use dialogue format programming.
Bosch Rexroth's IndraMotion MTX takes things to the next level with high-speed Ethernet bus communication and real-time interconnection monitoring. And don't forget about France's NUM and Spain's FAGOR, both offering top-notch CNC systems for a range of applications.
Whether you're a precision machine tool manufacturer or just looking to upgrade your CNC system, this guide has everything you need to know about the top brands in the industry.
I. Top CNC Systems in the World
1. Japan FUNAC CNC system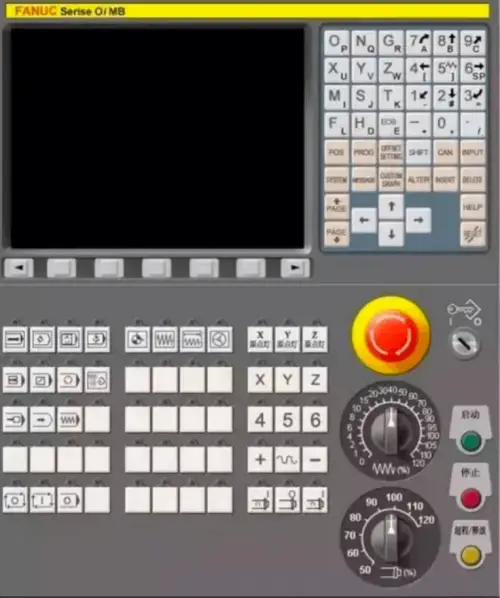 FANUC, based in Japan, is the world's leading company in the research, design, production, and sales of CNC systems, with a total of 4549 employees (as of September 2005) and 1,500 research and design specialists.
The five key characteristics of the FANUC CNC system include:
The highly reliable PowerMate 0 series, which is used to control 2-axis small lathes. It can be equipped with a CRT/MDI display with a clear screen, user-friendly operation, and Chinese display or a DPL/MDI display with a high performance-to-price ratio.
The popular CNC 0-D series, which includes the 0-TD for lathes, 0-MD for milling machines and small machining centers, 0-GCD for cylindrical grinders, 0-GSD for surface grinding machines, and 0-PD for punching machines.
The fully functional 0-c series, which includes the 0-TC for universal lathes and automatic lathes, 0-MC for milling machines, drilling machines, and machining centers, 0-GCC for internal and external cylindrical grinders, 0-GSC for surface grinding machines, and 0-TTC for double turret 4-axis lathes.
The high performance-to-price ratio 0i series, which has a comprehensive software function package capable of high-speed, high-precision processing, and includes a network function.
The ultra-small and compact CNC16i/18i/21i series control unit with a network function, integrated with an LCD display and equipped with network capabilities and ultra-high-speed serial data communication.
In conclusion, the FANUC standard series is the most complete CNC system in the world today.
2. German Siemens CNC system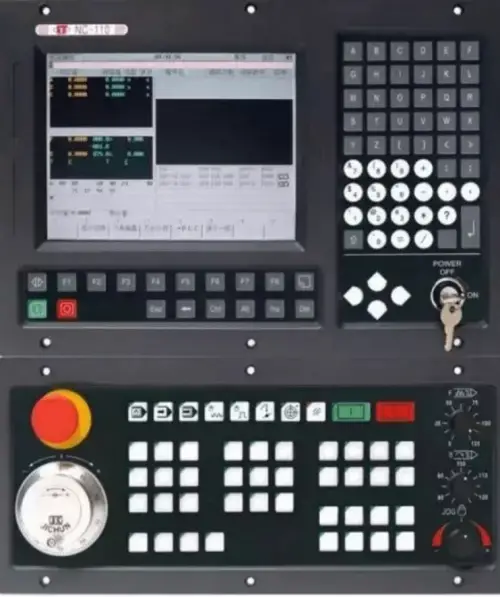 Siemens CNC System is a product of the Automation and Drive Group within the Siemens Group. The Siemens CNC system, SINUMERIK, has been developed over many generations and currently, there are mainly 802, 810, 840, and other types widely used.
The Siemens CNC device is designed with a modular structure that is cost-effective. It is equipped with a variety of software on standard hardware, making it capable of a variety of processing types and meeting the needs of various machine tools, resulting in a series of products.
In 1960 to 1964, the Siemens industrial CNC system was introduced to the market. From 1965 to 1972, Siemens introduced hardware based on transistor technology for lathes, milling machines, and grinders, building on the previous generation of CNC systems.
In 1973 to 1981, Siemens introduced the SINUMERIK 550 system. From 1982 to 1983, the SINUMERIK 3 system was launched, followed by the SINUMERIK 840C system from 1984 to 1994. From 1996 to 2000, Siemens introduced the SINUMERIK 840D system, SINUMERIK 810D system, and SINUMERIK 802D system.
The software includes safety integration functions related to humans and machines. ShopMill and ShopTurn provide graphical interface programming, helping operators get started quickly with minimal training. In 1964, Siemens registered the CNC system under the brand name SINUMERIK.
3. Japan's Mitsubishi CNC system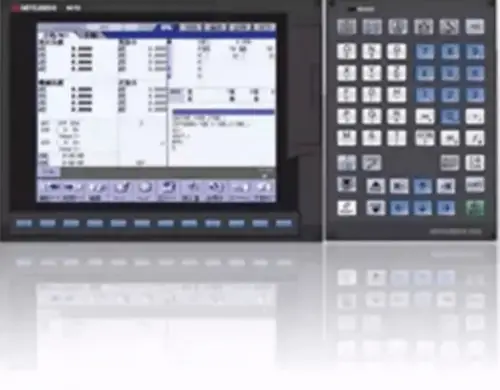 Mitsubishi has been dedicated to enhancing product performance. The FA product lineup encompasses programmable controllers (PLC), human-machine interfaces (HM), AC servo systems, inverters, industrial robots, and low-voltage power distribution products, which are highly sought after in Asia. The mechatronics business also involves providing electrical discharge machines and complete equipment for laser processing of blood. In order to further boost productivity, the new concept of FA integrated solutions is essential.
The widely used Mitsubishi CNC systems in the industry are: M700V series, M70V series, M70 series, M60S series, E68 series, E60 series, C6 series, C64 series, and C70 series. Among them, the M700V series is a high-end product that features a complete nanometer control system, high precision and high-grade processing, and supports 5-axis linkage, allowing for the processing of workpieces with complex surface shapes.
Industrial automation systems sales hold the first position within the Mitsubishi Group.
4. German HEIDENHAIN CNC system
HEIDENHAIN is a developer and manufacturer of high-quality linear and angle encoders, rotary encoders, digital readouts, and numerical controls. These products are widely used in precision machine tools, electronic component production and processing equipment, and independent machine systems, especially in the semiconductor and electronic manufacturing industries.
HEIDENHAIN's CNC system is a contour machining CNC system designed for workshop applications. It features an easy-to-use dialogue format programming language, which allows operators to write ISO standard processing programs on the machine tool. This system is suitable for milling machines and can control up to 12 axes.
The iTNC530 system comes with a hard disk that provides a 26G customer storage area, providing ample storage space to store a large number of programs, including those written offline.
It is worth noting that the Heidenheim factory in Berlin was destroyed during World War II in 1934.
5. German Rexroth CNC system
Bosch Rexroth, formerly the Rexroth in Germany and Bosch Automation Technology Department, became a wholly-owned subsidiary of the Bosch Group in 2001. Despite its ownership, it operates independently, offering industrial hydraulics, electronic transmission and control, linear transmission and assembly technology, pneumatic and hydraulic transmission services, and solutions for mobile machinery hydraulics.
The IndraMotion MTX is a CNC system developed by Bosch Rexroth. With its high-end MTX Advanced model, it can support up to 250 NC axes and 60 CNC channels. This CNC system is built on a scalable architecture and uses high-speed Ethernet bus communication (series 3), the Open Core Engineering (Open Core Engineering) platform, and OPCUA's M2M communication protocol. It is further enhanced by the Bosch OpCon MES manufacturing execution system platform, which allows for real-time communication and connection between people, equipment, and products, resulting in a highly flexible, personalized, and digitally intelligent manufacturing model.
The system also includes the intelligent Active Cockpit dynamic production management system, providing real-time interconnection monitoring, which greatly improves the efficiency of information exchange, production efficiency, product processing and production quality, accuracy of materials and procedures, and reduces material waste and inventory. In the Industry 4.0 era, Bosch Rexroth aims to make its CNC system a key player in the industry.
6. French NUM CNC system
NUM is a renowned international company based in France that specializes in the development and research of CNC numerical control systems. It is a subsidiary of Schneider Electric and is the second-largest supplier of CNC systems in Europe.
Technical Characteristics of NUM CNC System:
The NUM1020/1040 CNC system is a brand new product that was developed by NUM in 1995. It is a compact and fully functional 32-bit CNC system and is fully compatible with the NUM1060 series system, especially for 1 to 6-axis CNC machine tools.
The NUM1020T basic unit is specifically designed for the 2-4 axis CNC built-in programmable controller (PLC) with a 32-bit CPU VLSI CISC for milling machines. The NUM1040M basic configuration, on the other hand, is suitable for the CNC built-in programmable controller (PLC) with a 32-bit CPU CISC for milling machines, boring machines, and machining centers.
The NUM1060 modular, high-power multi-axis group CNC system is designed for metal processing (milling, turning, grinding), wood processing, and various gear cutting machines, special machine tools, and linear or rotary combined machine tools.
As a reminder, NUM is the second-largest CNC system supplier in Europe.
7. Spain FAGOR CNC system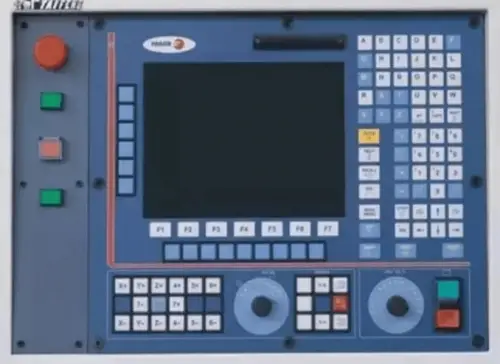 FAGOR AUTOMATION is a renowned professional manufacturer of CNC systems, digital displays (DRO), and grating measurement systems. It is a subsidiary of the Mondragon Group of Spain, established in 1972, with a focus on the development of machine tool automation.
CNC System Series Introduction:
The CNC 8070 is FAGOR's most advanced CNC system, blending CNC technology with PC technology. Its advanced hardware configuration and comprehensive software functions can meet current and future requirements. It can control up to 28 feed axes (linkages), 4 spindles, 4 tool magazines, and 4 execution channels.
The FAGOR 8050 series control system is a high-end system capable of realizing 6-axis 5 linkages, and is divided into three categories: lathe, milling machine (machining center), and high-end fool CNC system.
The FAGOR 800 series numerical control system is divided into two categories: lathe and milling machine (machining center).
The FAGOR 8025 series CNC system is the largest-selling mid-range CNC system in China.
FAGOR takes the "dummy" CNC system to a new level.
8. Japan MAZAK CNC system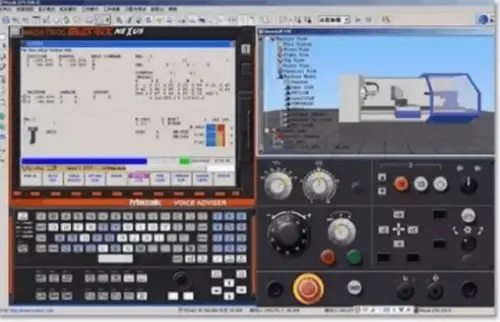 Yamazaki Mazak was founded in 1919 and is a leading producer of CNC lathes, composite turning and milling machining centers, vertical and horizontal machining centers, CNC laser systems, FMS flexible production systems, CAD/CAM systems, CNC devices, and production support software.
The Mazatrol Fusion 640 CNC system boasts a high-speed, high-performance 64-bit RISC CPU that provides advanced data processing capabilities for fast, efficient motion control. This system also features CNC and PC fusion technology, which is a world first and allows for networked and intelligent functions.
By connecting the CNC system directly to the internet, you can access 24/7 online maintenance services from Little Giant Machine Tool Co., Ltd.
The Mazatrol Fusion 640 CNC system's unique machining programming language, which utilizes artificial intelligence technology, includes an intelligent expert system with over 70 years of machining experience from MAZAK. This makes it extremely simple to write machining programs.
MAZAK is a global leader in intelligent CNC systems.
9. HNC
HNC is a well-known brand in China that specializes in the development and production of CNC systems with independent intellectual property rights. It offers a range of high, medium, and low-grade products, including the HNC 8 series high-end CNC system.
Dozens of these systems have been applied in national major special projects for high-end CNC machine tools. The performance of HNC's servo drive and spindle drive devices, which also have independent intellectual property rights, have reached the international advanced level.
The HNC-848 CNC device is an all-digital bus type high-end system designed to compete with foreign high-end CNC systems. It features a dual CPU module structure with an open architecture and NCUC industrial fieldbus technology with independent intellectual property rights.
The HNC-848 CNC device is equipped with advanced features such as multi-channel control technology, five-axis machining, high-speed and high-precision, turning and milling, and synchronous control. It features a 15-inch LCD screen and is mainly used in high-speed, high-precision, multi-axis, multi-channel vertical and horizontal machining centers, turning-milling complexes, and 5-axis gantry machine tools.
HNC is one of the few CNC system brands in China that offers high-end products and services.
10. CSK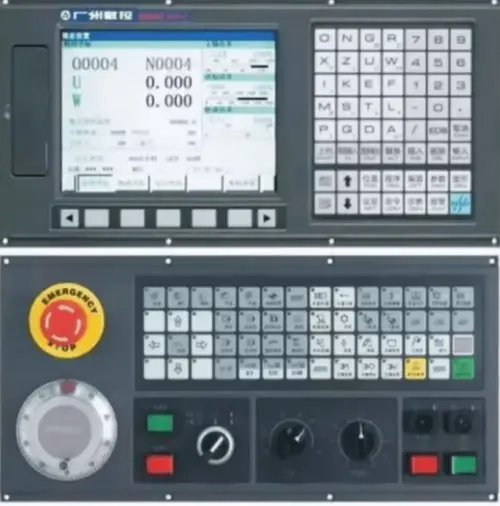 GSK is the leading research and development base for machine tool CNC systems in the country, boasting over 800 research and development personnel. With state-of-the-art production equipment and technological processes, GSK has achieved the top annual production and sales of CNC systems in the country for ten consecutive years.
GSK offers CNC systems for various fields, including lathes, drilling and milling machines, machining centers, grinders, and more. The GSK27 system, in particular, boasts nanometer-level control achieved through the use of multiple processors and a human-friendly human-computer interaction interface with configurable menus.
Designed with ergonomics in mind, the GSK27 system is more suited to the processing habits of operators and features an open software platform that can easily connect with third-party software. Additionally, its high-performance hardware supports up to 8 channels and 64-axis control.
II. Factors to Consider When Choosing a CNC System
As I researched the top CNC systems in the world, I discovered that there are several factors to consider when choosing the right one for your business. Here are some of the most important factors to keep in mind:
1. Precision and Accuracy
When it comes to CNC systems, precision and accuracy are crucial. Look for a system that offers high precision and accuracy in all aspects of its operation, including cutting, drilling, and milling. This will ensure that your parts are made to exact specifications and that you can maintain consistent quality over time.
2. Flexibility and Customization
Another important factor to consider is the flexibility and customization options of the CNC system. Look for a system that can handle a wide range of materials and can be customized to meet your specific needs. This will allow you to take on a wider range of projects and ensure that your system is optimized for your unique business requirements.
3. Ease of Use and Programming
Ease of use and programming is also critical when choosing a CNC system. Look for a system that is intuitive and easy to use, with a user-friendly interface and clear instructions. This will help you avoid costly mistakes and ensure that your team can operate the system efficiently and effectively.
IV. Cost and Value for Money
Finally, cost and value for money are important considerations when choosing a CNC system. Look for a system that offers a good balance between cost and value, with a reasonable price point and features that meet your business needs. Keep in mind that the cheapest option may not always be the best, as you may end up sacrificing quality or functionality in the long run.
Overall, choosing the right CNC system requires careful consideration of a range of factors. By focusing on precision and accuracy, flexibility and customization, ease of use and programming, and cost and value for money, you can find a system that meets your business needs and delivers high-quality results.