1. JASIC
Country: China
Founded: 2005
About the company:
Shenzhen JASIC Technology Co., Ltd. (Jushi Technology) is a R&D high-tech enterprise based on China and facing the international market.
After years of progressive practice and continuous experience in welding and cutting technology and equipment manufacturing, it has won recognition and trust from the industry and customers both at home and abroad.
For more than ten years, in the field of infrastructure and manufacturing, the company's products have been lucky to win in the bidding of landmark projects in many countries and regions, such as the Olympic Bird's Nest, Shenzhen Metro, PetroChina Pipeline, and provide services for project construction.
At the same time, the company has steadily expanded overseas markets, and its products have won the favor of dealers and users in more than 80 countries by virtue of their comprehensive advantages.
Thanks to the kindness of customers and the persistence of their colleagues, the company's business scale has achieved a compound growth rate of 34.9% since its establishment, with thousands of employees.
The company is well aware that to achieve sustainable development, the enterprise should be guided by the market and customer needs, and constantly strengthen its advantages and accumulate technical capabilities.
Therefore, the company continues to optimize manufacturing, increase investment in research and development, and layout the launch and upgrade preparation of iterative products.
"Honesty and pragmatism" is the consistent style of Christie Technology, and is also the fundamental concept for the steady growth and development of the enterprise.
The company looks forward to continuing to work with domestic and foreign suppliers and distributors to provide high-quality products and services to end customers and achieve their career success and quality life.
2. HG
Country: China
Founded: 1958
About the company:
Shanghai Hugong Welding Group is an industrial equipment enterprise group integrating R&D, production and investment.
With more than 60 years of experience in R&D and manufacturing of professional welding and cutting equipment, the Group is a listed enterprise on the main board of Shanghai Stock Exchange and a well-known enterprise in the welding equipment industry.
The company is mainly engaged in digital electric welding machine, high-power laser cutting machine, numerical control plasma cutting machine and robot system.
Since its establishment in 1958, the company has mastered core technology in welding power supply, welding process and cutting equipment through more than 60 years of accumulation, and has international competitiveness. Its products are sold to more than 110 countries and regions around the world.
3. Riland
Country: China
Founded: 2003
About the company:
Shenzhen Riland Industrial Co., Ltd. is a national high-tech enterprise that continues to focus on the R&D, manufacturing, sales and service of inverter welding and cutting equipment, welding automation products, welding accessories and protective equipment;
The company was listed on the Growth Enterprise Market of Shenzhen Stock Exchange in December 2010, and is a A-share listed company in the domestic inverter welding equipment industry (stock code: 300154);
The company has about 1000 employees, including about 200 technicians.
The company has four major brands, namely RILAND, RILON, HITRONIC and T&R, and (four brand series of more than 1O0 models) mainly engages in inverter DC manual arc welding machine, inverter argon arc welding machine, inverter semi-automatic gas shielded welding machine, inverter air plasma cutting machine, robot welding system integration, automatic welding trolley, digital intelligent welding equipment, efficient welding system, welding and cutting accessories Welding protective articles and other products.
The company is a technology driven enterprise.
As early as 987, Mr. Qiu Guang, the founder of the company, developed the inverter MOSFET manual arc welding equipment.
Later, the company launched a series of products such as inverter argon arc welding equipment, CO2 gas shielded welding equipment, inverter air plasma cutting machine, and pioneered the 100KHz frequency inverter technology, realizing the intensive and lightweight products.
Since its incorporation in 2003, the company has always maintained the core competitive advantage of "technological innovation", and has a strong R&D technology team and advanced R&D experimental equipment.
In October 2009, the company jointly built a "digital welding laboratory" with a national key laboratory of advanced welding and connection in the domestic welding field.
The company's R&D center has been successively recognized as the demonstration base for innovation and industrialization of small and medium-sized enterprises in Guangdong Province, Shenzhen Engineering Center and Bao'an District open R&D base;
The company is the drafting and formulation unit of national standards, and has participated in the formulation and modification of 21 national welding and cutting standards;
As of December 31, 2017, the company has 180 national patents within the validity period, including 27 invention patents, 90 utility model patents, 63 design patents, and 51 computer software copyrights.
The company's sales and service network covers more than 60 countries or regions in five continents, with nearly 100 overseas customers or distributors and more than 2000 domestic distributors.
4. Miller
Country: USA
Founded: 1929
About the company:
In 1929, Miller Electric Manufacturing Co., Ltd. was established in Appleton, Wisconsin, USA.
In 1993, it officially joined ITW Group and obtained the ISO international quality system certification.
Since 1998, it has entered a new round of innovation and technological innovation.
Typical innovations include wind tunnel technology application, input voltage adaptive technology, precise pulse and waveform control technology, etc.
In 2002, it became a welding equipment enterprise in the United States that obtained 1S09001:2000 certification.
Beijing Miller Electric Manufacturing Co., Ltd., a wholly-owned subsidiary of American ITW Group (linois Tool Works) and a world-famous industrial equipment manufacturer, was established in Beijing Economic and Technological Development Zone in August 2004.
It is mainly engaged in selling welding equipment and systems, wire feeders, welding materials, and providing engineering services such as equipment installation, commissioning, maintenance, technical consulting, technical services, and technical training.
Miller welding machine has maintained a good momentum of development since it entered China nearly 30 years ago, and has been widely used in aerospace, shipbuilding, containers, oil and gas pipelines, large steel structures, heavy machinery, petrochemical, non-ferrous metals and stainless steel products and other industrial manufacturing or production fields, enjoying a high reputation.
Beijing Miller not only produces Miller electric welding machine series products, but also provides users with extensive training services and after-sales support to better meet the needs of domestic customers.
It is constantly committed to providing Chinese customers with more high-quality product services and more perfect engineering solutions, and providing continuous support and services for the Chinese welding industry.
5. Esab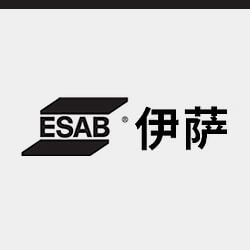 Country: Britain
Founded: 1904
About the company:
Esab is a world leading manufacturer of welding and cutting equipment and materials.
As a world leading manufacturing enterprise, based on its own knowledge and rich experience, and actively adopting the suggestions and opinions of consumers, Esab has built a world-renowned innovative equipment and solutions.
The history of Esab is the history of the welding industry.
In 1904, Oscar Kjellberg, the founder of Esab, developed the coated electrode and founded Esab.
Since then, Esab has helped the entire welding industry create its history with innovation and strict standards.
In the more than 100 years since the establishment of the company, Esab has been striving for innovative and progressive customer service, which has made Esab a leading supplier of welding products and advanced cutting systems in the world.
Esab Group belongs to Colfax Corporation.
In 2012,Esab was acquired by Colfa, one of the world's leading diversified industrial manufacturing companies.
Like Esab, Colfa focuses on customer concern and emphasizes continuous innovation and improvement.
Esab has been established for more than 100 years, and its business scope covers the global market.
Esab Group has branches in Europe, North America, South America, Asia Pacific and India.
Esab's subsidiaries or agents are almost all over the world, with sales and support teams in more than 80 countries and 26 manufacturing plants on four continents.
6. Huasheng Electromechanical
Country: China
Founded: 2001
About the company:
Anhui Huasheng Electromechanical Group Co., Ltd. is located in Jingxian County, the beautiful hometown of rice paper, covering an area of about 17000 square meters, with a registered capital of 100 million yuan.
The company has more than 20 technicians, more than 200 employees and more than 30 kinds of products.
In 2016, Anhui Huasheng Electromechanical Equipment Group Co., Ltd. was officially incorporated, mainly focusing on the research, development, production and sales of micro motors, cold welding technology and related products, and customizing welding automation solutions for customers.
The products are widely used in mold, casting, electrical appliances, medical, automotive, construction and other industries, involving a wide range of fields, and the products are sold at home and abroad.
Since its establishment, the company has developed and expanded rapidly.
It has successively passed 3C (National Compulsory Product Certification), 1S09001 Quality Management System, National Invention Patents and a number of utility model patents in the same industry, and is a national high-tech enterprise.
At the same time, the company has constantly introduced advanced technologies and development concepts, established a research and development center in Hefei, focused on the research and development of cold welding products, and ensured that the technical level is always at the forefront of the industry.
In 2017, the company further expanded the market, improved the after-sales service system, and successively set up branches in Shanghai, Changzhou, Zhengzhou, Guangdong, Shandong and other places to serve customers with a sincere attitude, standardized management, and high-quality products, truly becoming a cold welding expert around customers.
In December 2018, Watson Electromechanical was successfully listed on the provincial "Science and Technology Innovation Board" with the listing code of "701207", which marked that Watson Electromechanical officially entered the Chinese capital market.
In the future development process, Watson will always adhere to the business philosophy of "honesty, customer first, efficiency first, quality victory", take innovation as the driving force, use management to help development, use service to create benefits, use high-quality products and perfect after-sales service to sincerely carry out extensive cooperation with friends from all walks of life, and contribute to the continuous development and growth of China's cold welding machine industry.
7. Kende
Country: China
Founded: 2007
About the company:
Zhejiang Kende Electromechanical Co., Ltd. (formerly Zhejiang Kende Welding Equipment Co., Ltd.) is located at No. 2299, Shugang Avenue, Pengjie, Luqiao District, Taizhou City, Zhejiang Province.
It is a well-known enterprise in the welding equipment industry in China.
The company has three factories, namely Luqiao Pengjie and Linhai.
Pengjie main plant area of the company covers an area of 56202.8m, with a total building area of 43750m.
The company has nearly 600 employees.
There are nearly 58 technical R&D personnel.
The company has the right of import and export, and has the ability to produce 1.5 million sets of welding machines, cutting machines, chargers and other products annually.
Over the years, the company's products have been sold all over the world, and the accumulated production and sales volume, sales volume, export volume, and foreign exchange earning volume of the products are among the best in China's welding machine industry.
The company mainly produces various MMA manual arc welding machines, TIG argon arc welding machines, MIG/MAG gas shielded welding machines, spot welding machines, automatic submerged arc welding machines, air plasma arc cutting machines, battery chargers, electric, gas and fuel oil heaters, as well as accessories and parts of the above products.
The company's electric welding machine products can be widely used for metal welding and cutting in household (civil) and various industrial fields;
Charger products are widely used for charging batteries of various automotive products;
The heater is used for heating and drying indoor and outdoor in different occasions.
The company's product brands mainly include KENDE and KAISER.
The company's products are exported to the United States, Europe, South America, North America, Australia, Russia, Ukraine, the Middle East, Central Asia, East Asia, Southeast Asia and other countries and regions, and have enjoyed certain popularity and reputation in domestic and foreign welding equipment and other markets.
The company's knde brand products are accepted and well known by customers and users in the international and domestic markets with their high cost performance, high quality and good after-sales service.
The company has established and implemented GBT19,001:2008 quality management system, GB/T24,001:2004 environmental management system, GBT28,001:2011 occupational health and safety system, ERP management system and TPS on-site management system, effectively ensuring the good operation of the enterprise and product quality.
8. Anxingte
Country: China
About the company:
Chongqing Anxingte Electromechanical Equipment Co., Ltd. (hereinafter referred to as "Anxingte Cold Welding Machine") is a high-tech innovative enterprise specializing in the R&D, production and sales of cold welding machines.
It provides customers with various welding and repair solutions and is highly praised by customers.
At present, their main products include cold welding machine, stainless steel sheet cold welding machine, multi-function cold welding machine, precision repair welding machine, electric spark surfacing repair machine, mold coating machine, broken wire pusher, etc.
Anxing extra cold welding machine has small deformation after welding, no undercut, simple operation, and can be processed twice.
It is widely used in automotive, medical, advertising and decoration, food machinery, power, shipping, aerospace and other industries.
At present, the company has established a cooperative R&D mechanism with Tianjin University. The R&D team now has 1 associate professor, 3 senior engineers and dozens of other R&D technicians.
The products are sold to all parts of the country and European markets.
The company takes technology as the cornerstone, and takes excellent product quality and perfect after-sales service as the permanent power for the survival and development of the enterprise.
The company will uphold high-quality products, preferential prices and perfect services, and sincerely cooperate with new and old customers for common development.
9. Andeli
Country: China
Founded: 1985
About the company:
Founded in 1985, Andeli Group is a national non regional, cross industry large enterprise group with electrical as its core industry, integrating R&D, production, sales and investment.
There are 12 holding subsidiaries and more than 300 member supporting enterprises in Hunan, Qinghai, Zhejiang and the Middle East.
The factory covers an area of 178 mu, with more than 3000 employees.
The total assets are 667 million yuan, and the annual sales revenue is nearly 1 billion yuan.
Andeli Group has successively passed the IS09001 quality management system, ISO14001 environmental management system, OHSAS18001 occupational health and safety management system certification, metrological testing system, standardization system certification, CCC certification, TUV certification, KEMA certification, SEMKO certification, CB certification, CE certification and other international certifications.
With more than 1000 domestic sales outlets and 5 overseas offices, Andrei brand has a huge market and influence in the Middle East, and its sales performance and brand rank first.
More than 300 series of high and low voltage electrical appliances, complete sets of equipment, power transformers, instruments and meters, welding equipment, wires and cables, and more than 10000 specifications of products are well received by users.
A number of new products with independent intellectual property rights and intelligent electrical appliances are going to the market.
10. HB
Country: China
Founded: 2012
About the company:
Hongben Industry (Shanghai) Co., Ltd. is a high-tech enterprise specializing in the integration of research, development, production and sales of special cold welding and repair equipment.
The company has strong R&D strength and innovative technical ability in cold welding technology, and is one of the enterprises that have earlier contacted cold welding technology in China.
The company's products mainly include five product series: cold welding machine (precision repair welding machine), electric spark surfacing repair machine, portable breaking tap machine (portable electric spark machine), newly developed automatic chemical equipment series and wire feeder series.
In recent years, the products have been widely used in the mold industry, casting industry, machinery industry, sheet metal welding industry, power industry, maintenance industry, automobile industry, shipbuilding boiler industry, etc., becoming the helper of the metal industry and its ancillary industries.