1. Viking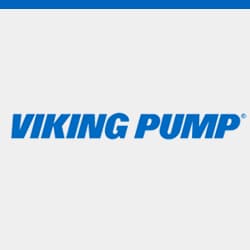 Country: USA
Founded: 1911
About the company:
Viking brand is the world leader in positive displacement pumps.
Since the establishment and invention of internal gear in 1911, with more than 100 years of industry experience, a variety of positive displacement pump solutions and global manufacturing centers, it has provided customized solutions and world-class services for fluid processing.
The full range of internal gear pumps, external gear pumps, sliding vane pumps and cam pumps can solve the pumping problem of any fluid in the process flow.
2. Maag
Country: Switzerland
Founded: 1913
About the company:
MAAG is one of the world's leading gear pump manufacturers, specializing in high-end chemical and industrial applications, polymer production and processing, and rubber production.
Plastics and chemicals can be processed efficiently through the Maag pump system.
MAAG gear pump shows its full potential under the difficult process conditions of high pressure, viscosity and temperature.
The MAAG filtration system can reliably clean the plastic melt in the production and extrusion process to ensure the purity and quality of the customer's final products.
As a part of the global MAAG Group, MAAG provides products and services support for the international plastics, pharmaceutical and chemical industries through its professional technical knowledge and high-quality systems in the production of polymers and other media.
3. Tuthill
Country: USA
About the company:
Tuthill Group is a family enterprise and multinational group headquartered in Chicago, the United States, with a history of 100 years.
Through nearly 100 years, it has provided fluid machinery and control equipment R&D, manufacturing and services in more than 150 industries, including petroleum and petrochemical, food and medicine, municipal environmental protection, energy and power, aerospace, shipbuilding, and engineering machinery, and has accumulated rich experience.
Tuthill Group covers five continents in the world, with more than 30 production bases.
Its branches are located in the United States, Canada, Argentina, Britain, Germany, France, Belgium, Italy, China, India, Singapore, Australia and other countries, and its business covers the world.
Tuthill training vacuum system:
Tuthill Texel Vacuum System is a modern manufacturing enterprise that has passed the 1SO9001 certification in Missouri, the United States, and has many manufacturing plants around the world, such as the United States, Britain, Argentina and China.
TVS has international famous brands: KINNEY vacuum pump and AF liquid ring vacuum pump. Founded in 1908, TVS is a professional manufacturer of vacuum equipment.
Tuthill fan system:
The main products of Tuthill's fan system are: Competitor Plus/SL; Equalizer DF/RM; PD Plus; QX; Vehicle mounted fans and other varieties.
The structural forms of fans are diversified.
Different types of fans can be selected for matching according to different working conditions of users.
They are widely used in municipal sewage treatment, tap water, chemical and petrochemical industries, pneumatic transmission, power, mining and other industries.
Tuthill Competitor SL/Equalizer RMI domestic fan is now available.
Tuthill gear pump system:
Tuthill Pump Group owns a series of international famous brands, including lubricating oil pump, HD rotary piston pump, GG pump and micro magnetic drive gear pump.
Tuthill pumps can provide different material choices, such as cast iron, cast steel, stainless steel, PPS engineering plastics, etc.
The product is suitable for long-term continuous operation under harsh conditions, including high viscosity and high temperature conditions with particles.
TPG's products are sold through the worldwide agent network or as original equipment components, and all customers of Tuthill UNITASIR Pump Group can enjoy high-quality after-sales service.
Tuthill Fluid Transmission and Metering System:
Tracing back to the source, Tuthill Tessil Fluid Transportation and Metering System (TTS) has been engaged in designing and producing fluid processing equipment since the 1960s, until now it has modern chemical plants in Indiana and Louisiana.
TS has become an advanced industrial supplier in the field of fast transportation of various fuels, agricultural and chemical products.
It has good products and applications in fluid distribution and filling (fuel, lubricating oil, hydraulic oil, pesticide, chemical liquid), clean refueling, high-precision flowmeter, high-precision flowmeter calibration system, etc.
4. Micropump
Country: USA
Founded: 1960
About the company:
Since 1960, from a humble garage to its headquarters in Vancouver, Washington, USA, it has set up sales offices in Europe and Asia – Microsoft – has always been a partner of world-famous companies.
Micropump moved from its founder's garage to its first manufacturing plant in Concord, California.
Today, we deliver products to customers around the world under the same roof.
Covering an area of 59000 square feet, the company has manufacturing, assembly, engineering, design, QA/QC, testing, transportation and other teams that work together to support the company's global customers.
In order to support customers around the world, they provide a global network of distributors and partners and a team of qualified professionals dedicated to serving customers, dedicated to customer care.
5. Kracht
Country: Germany
Founded: 1911
About the company:
KRACHT is the abbreviation of KRACHT GmbH.
It is a world famous professional manufacturer of fluid control, with business all over the world.
The company is engaged in the production and sales of hydraulic systems, hydraulic devices, hydraulic motors, hydraulic valves, hydraulic cylinders, proportional valves, butterfly valves, pressure reducing valves, pumps, gear pumps, centrifugal pumps, transfer pumps, low-pressure transfer pumps, high-pressure gear pumps, gear motors, flow meters, hydraulic accessories, hydraulic engines, etc.
6. RICKMEIER
Country: Germany
Founded: 1914
About the company:
RICKMEIER (Germany), founded in 1914, is a company mainly producing a series of industrial products such as pumps, valves, special products and liquid oil supply system equipment.
It provides gear pump products for various industrial applications, pressure relief valves and hydraulic systems.
The produced pumps can be used for oil, gas, lubricants and other medium fluids, and the sales regions are all over the world.
RICKMEIER products have outstanding quality, durability and artificial safety, and enjoy a high reputation worldwide.
7. Scherzinger
Country: Germany
Founded: 1937
About the company:
SCHERZINGER, Germany, was founded in 1937.
Ernst SCHERKINGER, the founder at that time, realized his idea of building a high-quality gear pump.
In 1959, he developed an internal gear pump based on the first fuel pump in Germany.
With the continuous expansion of Furtwangen base, SCHERZINGER began to enter the international market in 1964.
The gear pump designed and manufactured by SCHERZINGER runs naturally and has unique characteristics.
Pumps deliver various fluids to maintain global process operation.
Their mature technology and durable performance leave a deep impression on the world.
Quality is the focus of any SCHERZINGER.
Quality awareness is ubiquitous, for example, it already exists in the first conversation with customers, before the production of the first part.
As a dynamic and responsible process, quality requires SCHERZINGE to make its own commitment to all relevant parties that are constantly developing.
It is jointly established by all processes and process standardization.
SCHERZINGER has established its own quality management system to show its own high quality standards.
8. NOP
Country: Japan
Founded: 1919
About the company:
Nippon Oil Pump Co., Ltd. is the manufacturer of the internal meshing cycloidal gear pump which was invented earlier in the world.
Nippon Oil Pump Co., Ltd. has been providing high-performance cycloidal gear pumps to countries all over the world.
In the 1970s, NOP Group began to export products to neighboring South Korea and Taiwan.
In 2004, it set up a Chinese head office (ENOPI Oil Pump Trading (Shanghai) Co., Ltd.) in China, and began to officially export products to China. Now its customers have spread all over the country.
Nippon Oil Pump Co., Ltd. has played a solid role in providing high-quality industrial machinery and major parts of precision machinery, and has made contributions to the economic development of Asia.
With more than 80 years of oil pump production and sales history, as well as innovative development of products and strict quality standards, NOP has always maintained the world's advanced level in the era of rapidly changing competition.
The development and production of Trochoid cycloid pump, as the heart of industrial machinery, has built a group of experts trusted by the industry in NOP sales, technology development and production.
They are conducting continuous development and research in their respective fields for future needs.
9. Verder
Country: Britain
Founded: 1959
About the company:
Verder Group is a pump supplier established by Mr. Andre Verder in 1959.
Mr. Andre listens to customers' needs and provides them with high-quality and innovative products and technologies to serve the production process.
Adhering to the concept of customer first, Verde Group has developed rapidly.
In the next 30 years, Mr. Andre and his son Andrees expanded the sales territory of Verde Group to the United States, Japan, China, India and South Africa.
Today, Verder provides fluid processing equipment, solid sample processing equipment and analytical instruments for global high-quality enterprises.
The Verder Group has two business divisions: the Scientific Instrument Division provides high-tech laboratories and analytical equipment;
The Verder Division provides a variety of positive displacement pumps and solutions.
Verder Group has more than 40 trading and manufacturing companies, and Verder Group covers four continents.
In addition to its own sales network, Verder products are also sold around the world through an independent dealer network.
Since its establishment in 1959, the Verder Group has continued to grow and employs 1600 employees, with an annual sales volume of 300 million euros.
10. Teral
Country: Japan
Founded: 1918
About the company:
TERAL, founded in 1918, began to study the new industry field and technology of air and water, provide products and systems closely related to human beings, and show water to people in a better way.
TERAL mainly produces water pump related products and accessories;
Among them, faucets, valves, etc. can not only open the water source well, further exert its power, but also save energy.
Next, TERAL will further research and develop new technologies and systems to produce new power sources, so that the tools can be better applied to life.