1. Siemens
Country: Germany
Founded:1847
About the company:
Siemens AG is a technology company founded in 1847, with headquarters in Berlin and Munich, focusing on industry, infrastructure, transportation, and medical care. The company offers solutions in power generation, transmission and distribution, infrastructure, industrial automation, drive and software, through innovations in electrification, automation, and digitalization.
Siemens aims to provide efficient and energy-saving factories, flexible supply chains, intelligent buildings and power grids, cleaner and more comfortable transportation, and advanced medical systems, to make progress in technology and create value for customers. By integrating the real world with the digital world, Siemens empowers customers to drive industrial and market changes, helping billions of people to create every day together.
Siemens holds a majority stake in Siemens Healthcare, an important global medical technology supplier, and a minority stake in Siemens Energy, an important enterprise in the field of global power transmission and generation.
Siemens has a long history of business activities in China, dating back to 1872 when it provided the country with a pointer telegraph, a steam generator, and a tram. In 1985, Siemens signed a memorandum of comprehensive cooperation with the Chinese government, providing innovative technologies, excellent solutions, and products to support China's development.
Siemens is an indispensable part of China's society and economy, deeply integrated into China's new development pattern, and committed to making new contributions to China's sustainable economic and social development. The company values "taking responsibility bravely, pursuing excellence, and striving for innovation," and its strategic focus is on achieving customers, making science and technology promising, empowering people, and growing thinking. Siemens is committed to creating every day with science and technology, becoming an influential science and technology company in China.
2. Mitsubishi
Country: Japan
Founded:1921
Industrial automation
AC asynchronous motor, gear reducer, programmable controller (Q-PLC, FX-PLC, L-PLC), human-machine interface (HMI), frequency converter, tension control system, power distribution control products, motion controller and servo control system, numerical control system, laser processing machine, electric discharge processing machine, industrial robot, industrial sewing machine, Mitsubishi energy-saving data collection server, comprehensive category.
Power equipment
Transformers, transformer cooling equipment, switches, protection and control devices, power generation equipment, armored metal switchgear for power, intelligent substation solutions, others.
Electromechanical products for rail transit vehicles
Mechanical and electrical products for rail transit vehicles.
Society · Public System
Water treatment system, emergency power supply system, others.
Elevator/Escalator
Air conditioning cooling and heating system
Domestic air conditioners, domestic central air conditioners, multi connected/commercial air conditioners (CITYMULTI, Power Multi, Mm. SLIM, etc.), multi connected/commercial air conditioners (chillers), multi connected/commercial air conditioners (variable frequency refrigerators Cool Multi), total heat exchanger ventilation equipment Lossnay, small compressors.
Imaging equipment
DLP rear projection display wall, multimedia data projector, Diamond Vision LED display system, large size public LCD, desktop display, thermal sublimation printer.
Print/image sensing
Thermal print head/contact image sensor.
Semiconductor Device
Power device, microwave RF optical device/optical module.
Other products
Environmental information system, solar power generation system, regenerative braking, air jet dryer, comprehensive document management system ManedgeLeader, visual energy saving, other products.
About the company:
Mitsubishi was established in Japan in 1921, with a focus on research and development activities in advanced technologies and expertise. It has profound expertise in high-tech fields such as compressor automation frequency conversion control/power equipment, providing electromechanical products mainly in power equipment, communication equipment, industrial automation electronic components/household appliances.
The Mitsubishi Electric Group provides a variety of high-quality products and services, from semiconductors to large systems, for families, offices, factories, and social infrastructure.
The business philosophy of "One Mitsubishi Electric" aims to contribute to China's better future and create a better society. By promoting the "One Mitsubishi Electric" activity, the comprehensive strength of the Mitsubishi Electric Group will be improved.
Mitsubishi Electric will continue to prioritize customer feedback and contribute to the development of Chinese society through advanced technology and products in various fields, growing together with the country.
Mitsubishi Electric (China) Co., Ltd. (MEC), the Chinese head office of Mitsubishi Electric Co., Ltd., was established in October 1997. In addition to planning and filing China's strategy, MEC is also responsible for enterprise risk management, accounting and finance, human resources, public relations, legal affairs, information security, intellectual property, environmental protection, T, production technology, research and development, and other enterprise service support and comprehensive cooperation promotion of group companies in China.
The company follows the principle of paying attention to the site and taking quick action in terms of business implementation. It particularly emphasizes investigating and understanding the front-line situation, making quick judgments, and taking corresponding measures.
3. Omron
Country: Japan
Founded: 1933
About the company:
Omron Automation (China) Co., Ltd. is a multinational company that leads in industrial automation products and applies advanced technology.
As a vital part of Omron's global business, the company has established itself as a leader in the automation field.
In China, Omron Automation (China) Co., Ltd. has established R&D and production facilities, technical service and logistics bases, as well as sales companies in North, East, and South China. With over 40 offices covering the country, Omron Automation (China) Co., Ltd. provides direct services to its customers.
Leveraging its "sensing and control" technology, Omron uses its years of experience and profound understanding of the production site to constantly meet customers' pursuit of product diversification and high quality.
Moreover, Omron also provides guidance on environmental protection and production safety.
4. ABB
Country: Switzerland
Founded:1988
About the company:
ABB Group is one of the top 500 enterprises in the world. It is headquartered in Zurich, Switzerland and was formed in 1988 through the merger of two international enterprises with over 100 years of history: Sweden's ASIA Company and Switzerland's Bramble Farui Company. ABB Group is a leading manufacturer in the field of power and automation technology. It is a global technology leader committed to promoting social and industrial transformation to achieve a more efficient and sustainable future.
ABB integrates intelligent technology into electrical, robot, automation, motion control products, and solutions through software to continuously expand the technical boundaries and improve performance to new heights. With an outstanding history of over 130 years, ABB's business covers more than 100 countries and regions worldwide and employs 105,000 people.
The relationship between ABB and China dates back to 1907 when ABB provided China with a steam boiler. After years of rapid development, ABB has a full range of business activities in China, including R&D, manufacturing, sales, and engineering services. It has 27 local enterprises, 15,000 employees in nearly 130 cities, and online and offline channels in about 700 cities nationwide.
China is the second-largest market of ABB Group in the world, and more than 90% of ABB's sales revenue in China comes from locally manufactured products, systems, and services. As a technology leader in the digital field, ABB focuses on China's "new infrastructure" and continues to carry out strategic layout in key areas such as digitalization, industrial Internet, artificial intelligence, intelligent manufacturing, intelligent transportation, and intelligent energy infrastructure. It works with Chinese users and partners to inject sustained impetus into the digital transformation and upgrading of the industry.
5. Delta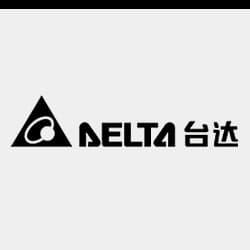 Country: China
Founded: 1971
About the company:
Delta was established in 1971 with a vision to provide power management and cooling solutions to the world. The company's development in Mainland China began in the Pearl River Delta region in the south.
In 1992, Delta set up the Zhongquan Electronics Factory in Shiyan Town, Dongguan City, Guangdong Province, and invested in and founded "Zhongda Telecom Co., Ltd." in Shanghai. This move was responsible for the construction of Delta's marketing and service network in Mainland China.
Over the past 20 years, Delta has expanded its presence in Mainland China, covering R&D, production, sales, and services. It currently has four major production bases in Dongguan, Guangdong, Wujiang, Jiangsu, Wuhu, Anhui, and Chenzhou, Hunan. Additionally, it has 23 R&D centers, more than 3000 R&D engineers, 49 operational outlets, and 73 service outlets, with over 50,000 employees in total.
Delta has continuously introduced effective, energy-saving, and reliable products and solutions by utilizing innovative technology, strengthening engineering R&D equipment, and sophisticated testing instruments. Its subsidiary, Zhongda Diantong, has a deep understanding of customers' operating environments and process needs and provides complete solutions for customers to create competitive advantages.
To meet customers' demand for uninterrupted operation, Zhongda Diantong offers customized, multi-dimensional pre-sales, in-sales services, and after-sales support with a well-trained technical service team, as well as complete branches, technical service, and maintenance outlets.
While Delta's revenue continues to grow, the company is also committed to practicing corporate social responsibility. It pays attention to energy management in its operation sites to improve energy efficiency and is dedicated to environmental protection. By combining its core competence, Delta actively participates in and sponsors various social public welfare activities, including environmental education, green building promotion, talent cultivation, academic research and development, and more.
6. Schneider
Country: France
Founded: 1936
About the company:
Schneider Electric SA is a global electrical enterprise headquartered in France, specializing in global energy efficiency management and automation. The company's sales volume in fiscal 2016 was 25 billion euros, and it employs over 160,000 people in more than 100 countries worldwide. Founded by the Schneider brothers in 1836, the company's headquarters are located in Rue, France.
Schneider Electric is committed to promoting digital transformation and serving the home, building, data center, infrastructure, and industrial markets. By integrating the world's advanced process and energy management technology, the company offers interconnected products, controls, software, and services from the terminal to the cloud to achieve integrated enterprise-level management.
Schneider Electric is a global enterprise with localization advantages, committed to promoting open technology and a partner ecosystem, and actively practicing the common values of meaning, inclusiveness, and empowerment.
In the 19th century, Schneider Electric was engaged in the steel industry, heavy machinery industry, and shipbuilding industry. In the 20th century, the company was involved in electric power and automation management. In the 170 years since its establishment, Schneider Electric has faced numerous challenges and made several major strategic choices. Today, the company has grown into an industry leader.
Schneider Electric Co., Ltd. provides overall solutions for the energy and infrastructure, industry, data center and network, buildings, and residential markets in more than 100 countries. It is at the advanced level in the industry in the energy and infrastructure, industrial process control, building automation, data center, and network markets and has strong market capacity in residential applications.
In FY2012, Schneider's total revenue worldwide reached 24 billion euros, with more than 140,000 employees in over 100 countries. With the successful development of its business in China, Schneider Electric is paying more attention to its development in China and is willing to contribute to China's opening up and modernization through further business cooperation.
7. Panasonic
Country: Japan
Founded:1918
About the company:
Panasonic, a comprehensive electronic technology enterprise group, began in 1918 and specializes in producing and selling various electrical products. The company operates in various fields, including household appliances, digital audio-visual electronics, office products, and aviation.
Panasonic entered the Chinese Mainland market in 1978 and has since developed its business activities in research and development, manufacturing, sales, service, logistics, and other aspects. As a global electronics manufacturer, Panasonic Group is engaged in producing, selling, and other business activities related to electrical products.
Panasonic Electric Appliances (China) Co., Ltd. was established in 1994 and became a sole proprietorship in 2002. The company is mainly responsible for sales and after-sales service activities for household appliances, systems, environment, components, and other commodities.
Matsushita Electric (China) Co., Ltd., an investment company in China, is also responsible for comprehensive and supporting activities such as talent training, finance, legal affairs, environmental protection, intellectual property rights, and quality management.
In January 2012, Panasonic Electric (China) Co., Ltd. absorbed and merged with Panasonic Electric (China) Co., Ltd., further expanding its business scope.
In April 2019, Panasonic Group established a regional business company, China Northeast Asia Company, which combines business and regional functions. The company is headquartered in Beijing, marking the first time Panasonic Group has established a business company outside Japan.
CNOOC Northeast Asia, from the perspective of local demand in China, aims to make contributions to the field of "living space" by integrating traditional home appliances and residential equipment and the field of "fresh food supply chain" with the core of the cold chain.
8. Rockwell
Country: USA
Founded: 1930
Industrial automation
Rockwell Automation (NYSE: ROK) is a global enterprise specializing in industrial automation and information technology, with a focus on helping its customers improve productivity and promote sustainable development around the world.
Headquartered in Milwaukee, Wisconsin, Rockwell Automation has approximately 23,000 employees and serves customers in over 80 countries.
Rockwell Automation entered China in 1988 and currently has over 2,000 employees there. It operates five training centers, one R&D center, one software development center, three OEM centers, and two production bases.
Rockwell Automation's integrated control and information platform serves as the foundation for intelligent, safe, and sustainable manufacturing, helping the manufacturing industry achieve its vision of intelligent manufacturing in the future, and improving decision-making and international competitiveness through interconnected enterprises.
Since 1998, Rockwell Automation has collaborated with over 70 domestic universities in China on the Mutual Encouragement project with the University of China. The project has established joint laboratories and donated a total of 256 million yuan worth of equipment, awards, and teaching grants.
The project is still ongoing.
9. Inovance
Country: China
Founded:2003
Products:
Our company offers a range of industrial automation products that cater to the intelligent equipment industry. These include various frequency converters, servo systems, control systems, industrial vision systems, sensors, high-performance motors, high-precision lead screws, and other core components, along with opto electromechanical integration solutions.
We also provide core components, complete machines, and solutions for the industrial robot field. These offerings include robot-specific control systems, servo systems, vision systems, high-precision lead screws, SCARA robots, six-joint robots, and more.
Our powertrain products cater to the new energy vehicles industry, encompassing a range of motor controllers, auxiliary power systems, high-performance motors, DCDC power supplies, and powertrain systems.
In addition, our traction and control systems serve the rail transit industry. Our range includes traction converters, auxiliary converters, high-voltage boxes, traction motors, TCMS, and more.
Lastly, our company provides industrial internet solutions for the post-equipment service market. These include industrial cloud, application development platforms, intelligent hardware, information management platforms, and more.
Our products have a wide range of applications across various industries, including new energy vehicles, elevators, air compressors, industrial robot manipulators, 3C manufacturing, lithium batteries, lifting, machine tools, metal products, wires and cables, plastics, printing and packaging, textile chemical fibers, building materials, metallurgy, coal mines, municipal, rail transit, and more.
About the company:
Shenzhen Huichuanchuan Technology Co., Ltd. has been focused on core technologies such as motor drive and control, power electronics, and industrial network communication since its establishment. They have adhered to technical marketing and industry marketing and provided customized solutions for "industrial control + process" for subdivided industries, promoting common growth for both enterprise value and customer value.
After 16 years of development, the company has evolved from a single inverter supplier to a supplier of opto-electromechanical integrated products and solutions.
The company specializes in the R&D, production, and sales of industrial automation and new energy-related products. They have mastered the core technologies of high-performance vector frequency conversion technology, vector frequency converter, servo system, programmable logic controller, encoder, permanent magnet synchronous motor, and other products, as well as the application technologies of new energy vehicles, elevators, lifting, injection molding machines, textiles, metal products, printing and packaging, air compressors, and other industries.
As of December 31, 2018, the company obtained 1120 patents and software copyrights (excluding those under application), including 260 invention patents, 570 utility model patents, 146 appearance patents, and 144 software copyrights.
In 2018, the company added 31 invention patents, 157 utility model patents, 42 appearance patents, and 15 software copyrights.
Huichuan Chuan Technology has more than 10 subsidiaries in Suzhou, Hangzhou, Nanjing, Shanghai, Ningbo, Changchun, Hong Kong, etc.
As of December 31, 2018, the company had 7769 employees, including 2006 personnel specializing in research and development, accounting for 25.82% of the total employees.
In order to continuously improve production capacity and promote the company's sustainable development, the construction of Suzhou Huichuan Phase II Project began on July 4, 2013.
The Suzhou Huichuan Phase II plant had a total investment of 600 million yuan, covering a total area of 200 mu and a total building area of 300000 square meters.
The Phase II plant construction includes a production workshop, research and development building, customer reception center, and other projects.
The production workshop has been in operation for two years since the beginning of construction and was formally put into operation on September 17, 2015.
The production workshop of Suzhou Huichuan Phase II Plant has met the demand of Huichuan for future development, greatly improved the company's production capacity, helped promote the company's sustainable development, and helped Huichuan take off for the second time.
10. XINJE
Country: China
Founded: 2008
About the company:
Wuxi XINJE Electric Co., Ltd. (XINJE) is a domestic enterprise that focuses on the research and development and application of industrial automation products. Since its establishment, the company has always pursued "independent innovation, speed, and pragmatism" as its purpose, striving to improve its R&D capabilities, product quality, and use new scientific and technological achievements to enhance its strength.
Through continuous active innovation and pioneering, XINJE has always been at the forefront of the industry. The company offers programmable logic controllers (PLCs), human-machine interfaces (HMIs), servo control systems, variable frequency drives, and other core products. It also provides cutting-edge products such as intelligent machine vision systems, teaching-based mechanical arms, robots, and a complete set of automation equipment, including information networks, which closely serve end customers. XINJE customizes more competitive industry segmentation solutions for the majority of equipment manufacturing enterprises, provides high-quality automation product solutions for high-quality equipment manufacturers, and constantly helps enterprises improve productivity, reduce costs, and achieve greater corporate benefits, promoting the common growth of enterprise value and customer value.
Currently, XINJE Electric has 40 offices and 170 dealers in China, covering all parts of the country. Overseas, it has one subsidiary and 20 agents covering Europe, America, Southeast Asia, the Middle East, and Africa. With a wider sales network, it has promoted many users around the world to provide various services, such as multi-directional demand for automation products, technical support, and personnel training.
XINJE Electric has more than 500 employees, an office building covering an area of 4000 square meters, an independent factory building covering an area of 20,000 square meters, a research and development center, two laboratories, and a training base, among other facilities. The company also collaborates with many universities to cultivate young and excellent technical talents.
XINJE is known for its exquisite and sincere approach and has made remarkable achievements with a positive team spirit. In December 2016, XINJE was successfully listed on the main board of the Shanghai Stock Exchange, with the stock code of 603416.