1. Viking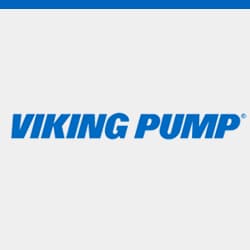 Country: USA
Founded: 1911
About the company:
Viking brand is the world leader in positive displacement pumps.
Since the establishment and invention of internal gear in 1911, with more than 100 years of industry experience, a variety of positive displacement pump solutions and global manufacturing centers, it has provided customized solutions and world-class services for fluid processing.
The full range of internal gear pumps, external gear pumps, sliding vane pumps and cam pumps can solve the pumping problem of any fluid in the process flow.
2. Netzschi
Country: Germany
About the company:
NETZSCHI (Lanzhou) Pump Industry Co., Ltd. (NLP), initially invested by NETZSCHI Group (60%) and Lanzhou Pump Factory (40%), was formally established in 1993.
At the beginning of 1999, NETZSCHI Group of Germany bought the shares of Lanzhou Water Pump General Factory, and NLP became a wholly-owned enterprise fully controlled by the German side.
The main product is NEMO pump, namely single screw pump.
NLP carries out the design, production, sales and service of single screw pump in strict accordance with the standards of NETZSCHI.
With the advanced technology and scientific management mode of Germany, and with the help of the internal SAP network management system of the computer and the advanced imported CNC rotor processing equipment, they have obtained the 1SO9001 quality management system certificate with high-quality products and good services.
Since NLP produced the first NEMO pump in China in 1994, it has developed more than 5000 customers. Due to its high-quality quality and after-sales service, "NETZSCH" and
the brand of "NEMO Pump" has been accepted by the majority of Chinese users and has become a first-class product recognized by everyone.
NETZSCHI products have solved the problem of difficult medium delivery in complex systems in China, and have developed into the leader of China's single screw pump industry.
In the past 20 years, NLP has gone through a continuous development process from small to large, from loss to profit.
The company is increasing at an average rate of 10-15% every year.
The number of employees has grown from the initial 13 to more than 300.
The per capita sales volume has reached more than 1 million yuan, ranking among the best in China's machinery industry.
The company has successively set up 32 offices and 16 after-sales service centers in large and medium-sized cities.
Its products are distributed in 31 provinces, municipalities, autonomous regions and municipalities directly under the Central Government, with a market share of more than 40%, and are exported to Asia Pacific regions and countries such as Thailand, India, Singapore, Malaysia, South Korea and Central Asian countries.
NETZSCHI (Lanzhou) Pump Industry Co., Ltd. has developed into a leader in China's screw pump industry.
3. Ebsray
Country: Australia
Founded: 1929
About the company:
Founded in the late 1930s, Ebsray is an industry expert in the technical design and manufacturing of regenerative turbines and positive displacement pumps, providing excellent quality, efficiency, innovation and reliability.
The company has a variety of material pumps to choose from, which are ideal solutions for liquefied petroleum gas, transportation, lubricating oil, asphalt, mining, wharf, industrial and military markets.
Ebsray is a product brand of PSG, a subsidiary of Dufour Group.
Ebsray is headquartered in Cromer, Australia, and has branches in Melbourne (Victoria) and Brisbane (Queensland).
In Ebsray, the company adheres to the concept of combining customer service with application engineering.
The company's application engineers are skilled and experienced, and can provide you with all-round support for your pumping requirements.
The company always adheres to the corporate culture of "customer first".
The company's S09001 quality management system ensures that all aspects of the whole process are implemented in accordance with strict management procedures and guidelines, and that the integrity and performance of products meet the specifications.
At the same time, the company abides by ATEX and other EU regulations, setting an example for the company to further expand the global market.
In addition to standard operation tests, certification and witness tests can also be carried out as required, including hydrostatic tests, performance tests and inspections.
4. Tuthill
Country: USA
About the company:
Tuthill Group is a family enterprise and multinational group headquartered in Chicago, the United States, with a history of 100 years.
Through nearly 100 years, it has provided fluid machinery and control equipment R&D, manufacturing and services in more than 150 industries, including petroleum and petrochemical, food and medicine, municipal environmental protection, energy and power, aerospace, shipbuilding, and engineering machinery, and has accumulated rich experience.
Tuthill Group covers five continents in the world, with more than 30 production bases.
Its branches are located in the United States, Canada, Argentina, Britain, Germany, France, Belgium, Italy, China, India, Singapore, Australia and other countries, and its business covers the world.
Tuthill training vacuum system:
Tuthill Texel Vacuum System is a modern manufacturing enterprise that has passed the 1SO9001 certification in Missouri, the United States, and has many manufacturing plants around the world, such as the United States, Britain, Argentina and China.
TVS has international famous brands: KINNEY vacuum pump and AF liquid ring vacuum pump. Founded in 1908, TVS is a professional manufacturer of vacuum equipment.
Tuthill fan system:
The main products of Tuthill's fan system are: Competitor Plus/SL; Equalizer DF/RM; PD Plus; QX; Vehicle mounted fans and other varieties.
The structural forms of fans are diversified.
Different types of fans can be selected for matching according to different working conditions of users.
They are widely used in municipal sewage treatment, tap water, chemical and petrochemical industries, pneumatic transmission, power, mining and other industries.
Tuthill Competitor SL/Equalizer RMI domestic fan is now available.
Tuthill gear pump system:
Tuthill Pump Group owns a series of international famous brands, including lubricating oil pump, HD rotary piston pump, GG pump and micro magnetic drive gear pump.
Tuthill pumps can provide different material choices, such as cast iron, cast steel, stainless steel, PPS engineering plastics, etc.
The product is suitable for long-term continuous operation under harsh conditions, including high viscosity and high temperature conditions with particles.
TPG's products are sold through the worldwide agent network or as original equipment components, and all customers of Tuthill UNITASIR Pump Group can enjoy high-quality after-sales service.
Tuthill Fluid Transmission and Metering System:
Tracing back to the source, Tuthill Tessil Fluid Transportation and Metering System (TTS) has been engaged in designing and producing fluid processing equipment since the 1960s, until now it has modern chemical plants in Indiana and Louisiana.
TS has become an advanced industrial supplier in the field of fast transportation of various fuels, agricultural and chemical products.
It has good products and applications in fluid distribution and filling (fuel, lubricating oil, hydraulic oil, pesticide, chemical liquid), clean refueling, high-precision flowmeter, high-precision flowmeter calibration system, etc.
5. Blackmer
Country: USA
Founded: 1930
About the company:
For more than a hundred years, Blackmer's international influence has been continuously enhanced and growing with its outstanding product performance, persistent innovation spirit, excellent service support, and commitment to customer satisfaction.
The brand was founded in Michigan, USA, and moved to Grand Rapids in 1925.
They are committed to providing customers and partners with innovative technologies and products, and actively changing the world while developing ourselves.
Before the 20th century, the rotary pump was generally considered as a "gear pump", which was mainly composed of two meshing gears.
The gear trapped the liquid between the gear teeth and the pump housing, forming a small seal chamber.
When the liquid rotated, the seal chamber sent the liquid out, forcing the liquid to flow out from the other side.
But in 1899, R.M. Blackmer put forward the design idea of sliding vane pump, which is very different from the principle of introducing old gears.
Contrary to the steady decline of the flow rate of the gear pump with the wear of the gear teeth, the loss of the sliding vane pump can be basically ignored.
When the blades are worn at the tip, they just move out of the rotor slot and maintain their original speed through self adjustment.
The emergence of automobiles has increased the country's demand for gasoline and oil, and the development prospect of the oil industry is promising.
This provides an opportunity for Blackmer to invent this exquisite pump, and this young company will expand with it.
The original Blackmer sliding vane pump has hundreds of models.
Today, Blackmer has promoted these pumps and other fluid and gas technologies to many applications in the fields of chemistry, energy, transportation, national defense, marine, general industry and oil and natural gas worldwide.
6. Taik
Country: Japan
Founded: 1956
About the company:
Taik Machinery (Qingdao) Co., Ltd. is located in the beautiful coastal city of Qingdao.
The company is a professional manufacturer of marine gear pumps, screw pumps and centrifugal pumps integrating production, sales and after-sales service.
Founded on September 9, 2005, it is wholly invested by Japan Taik Machinery Industry Co., Ltd. and covers an area of 40700, including 1300m for office buildings and 16000m for production workshops and warehouses.
The company has a casting workshop, a machining workshop, an assembly workshop, a testing workshop, etc., which is engaged in the production of pump series products.
There are 150 employees in the factory, including 4 permanent senior managers in Japan, 32 engineering and technical personnel (R&D personnel).
The main production equipment is 35 sets/set, including 12 sets of imported high, precision and sophisticated equipment and testing instruments.
The company's leading products are: marine gear pumps, screw pumps, centrifugal pumps, etc. designed and developed by Taik Machinery Industry Co., Ltd;
It has the characteristics and advantages of fast startup, high load, low noise, stable pump pressure, compact structure, small size, large power, high efficiency and low operating cost.
It is mainly applicable to engineering ships, marine engineering, port fluid machinery, etc.
The company has successively obtained the quality management system certificate (ISO9001:2015), CCS (China), NK (Japan), ANS (America), LR (Britain), BV (France) and other classification societies.
7. Flowserve
Country: USA
Founded: 1790
About the company:
Founded more than 200 years ago, Flowserve now has more than 300 offices worldwide, more than 17500 employees, including more than 180 quick response centers, to provide customers with after-sales parts and services.
In addition, Flowserve offers more than 100 pump models and a range of valves and seals.
Flowserve delivers, controls, and protects the flow of materials in the world's most critical industries – including oil and gas, renewable energy, chemicals, power generation, and water.
Based on its product line, engineering, project management and service expertise, Flowserve helps global customers solve the most critical flow control challenges.
Flowserve has an excellent product, engineering and after-sales service portfolio that can help customers achieve tangible business results: reduce operating costs, optimize performance, extend equipment life, reduce risk and improve productivity.
Flowserve is committed to providing global customers with excellent flow control solutions, making the world a better place and benefiting everyone.
8. Verder
Country: Britain
Founded: 1959
About the company:
Verder Group is a pump supplier established by Mr. Andre Verder in 1959.
Mr. Andre listens to customers' needs and provides them with high-quality and innovative products and technologies to serve the production process.
Adhering to the concept of customer first, Verde Group has developed rapidly.
In the next 30 years, Mr. Andre and his son Andrees expanded the sales territory of Verde Group to the United States, Japan, China, India and South Africa.
Today, Verder provides fluid processing equipment, solid sample processing equipment and analytical instruments for global high-quality enterprises.
The Verder Group has two business divisions: the Scientific Instrument Division provides high-tech laboratories and analytical equipment;
The Verder Division provides a variety of positive displacement pumps and solutions.
Verder Group has more than 40 trading and manufacturing companies, and Verder Group covers four continents.
In addition to its own sales network, Verder products are also sold around the world through an independent dealer network.
Since its establishment in 1959, the Verder Group has continued to grow and employs 1600 employees, with an annual sales volume of 300 million euros.
9. Hengsheng pumps
Country: China
Founded: 1973
About the company:
Hebei Hengsheng Pump Industry Co., Ltd. (formerly Botou Gear Pump General Factory) was founded in 1973 and transformed from a state-owned secondary enterprise into a joint-stock company in 1996.
The company is located at No. 88, Sanhe Road, Botou Economic Development Zone, 1km away from the exit of Beijing Shanghai Expressway (Nanpi), with superior geographical location and convenient transportation.
The company leads the R&D and production of fluid delivery products mainly based on industrial pumps, and the leading products are KCB, 2CY, YCB series gear pumps;
NYP series internal gear pump; G. D series single screw pump;
2WW, 2WH, 2WL series twin-screw pumps;
3G, SN series three screw pump;
5G series five screw pump;
With more than 30 series of pump products, such as CYZ, CLZ, CLH series centrifugal pumps, the company has independent research and development capabilities and can design fluid transmission schemes for users according to their working conditions.
The company has passed 1S09001 quality system certification since 1997;
GJB9001B-2009 National Military Standard Quality System Certification;
Two party certification of naval equipment quality management system;
Second level confidentiality qualification certification;
Scientific research and production license of weapons and equipment;
HSE, 1SO14,000 and OHSAS18,001 occupational health, safety and environmental management system certification and other honorary qualifications.
The company's products have been approved by CCS, BV of France, ABS of the United States, GL of Germany, DNV of Norway, LR of the United Kingdom, NK of Japan, KR of Korea and other classification societies.
A variety of self-developed products of the company have won national patents, and the series of products have reached the industrial and international advanced level.
For many years, the company's products have provided supporting products for large-scale engineering projects such as national defense ship manufacturing, oil field transmission hub, nuclear power unit, national grain reserve, and oil field west to east gas transmission.
In addition to meeting the requirements of domestic military products and supporting projects, their products have provided supporting products for more than a dozen countries, including Russia, Europe, America, Southeast Asia and the Middle East.
The company is capable of large-scale R&D and manufacturing, and has a team of professional R&D technology and process experts.
Sophisticated processing equipment is equipped with processing and testing equipment from Germany and Italy, laying a solid foundation for high-quality production.
Hebei Hengsheng Pump has a broad and profound corporate culture and enjoys a high reputation at home and abroad.
The company's marketing purpose is to provide users with fluid transportation solutions in the spirit of "focus, concentration and professionalism".
10. CTP
Country: China
Founded: 1956
About the company:
Tianjin Pump Industry Machinery Group Co., Ltd. (formerly Tianjin Industrial Pump General Factory) is a national backbone large-scale enterprise.
Founded in 1956, it is the birthplace of screw pumps and marine centrifugal pumps in China, and is also one of the professional manufacturers of screw pumps and marine centrifugal pumps with large scale, complete varieties, strong technical force, and advanced processing means.
The company mainly produces single, double and triple screw pumps;
Marine (land) centrifugal pump;
Self priming refueling pump;
There are more than 130 series, more than 600 varieties, more than 4000 specifications and models of general mechanical products such as gear pumps.
The products are widely used in petroleum, chemical industry, machinery, shipbuilding, metallurgy, environmental protection, power station, food and other industries.
Single, double and triple screw pumps;
Marine (land) centrifugal pump; Gear pump;
The spiral compressor products are manufactured by introducing advanced technologies from Germany and Japan, reaching the international level.
CTP has advanced processing equipment and powerful processing capacity of screw rotor.
At present, CTP can process various profile screw rotors with diameters of 10~630 mm and lengths of 90~6000 mm.
In 1994, CTP obtained the ISO9001 international quality standard certification in China's pump industry, and in 1997, it passed the GJB/Z9001 quality management system audit in China's general machinery industry and pump industry.
In 2007, it passed the GBT19001-2000 and GJB/9001A-2001 quality certification of China New Era Quality Certification Center.
In 2016, it passed the 1S014001:2004 Environmental Management System Certificate and the 0HSAS18001:2007 Occupational Health and Safety Management System Certificate.
CTP's quality assurance system operates reliably.
CTP has 60 years of experience in design and manufacturing.
Especially after introducing advanced foreign products in 1984, after more than 20 years of digestion, absorption and production, CTP has mastered the core technology of internationally advanced screw pumps, centrifugal pumps, gear pumps and other products.
In order to adapt to the electric system conditions in China, CTP has carried out the secondary development of Tiko centrifugal pump series products imported from Japan, which has expanded the application scope of this series of products.
On the basis of tracking international advanced similar products, CTP independently innovated and developed projects including HW series multiphase pumps and skid mounted systems;
HPW high-pressure twin-screw pump;
HTW high-temperature twin-screw pump;
SNHG high-pressure three screw pump;
3GW high-temperature three screw pump;
PW single screw pump blowdown device and other new products.
At present, the single screw pump, twin-screw pump, triple screw pump, centrifugal pump and gear pump produced by CTP are capable of replacing imported products and have strong international competitiveness.