Are you interested in the world of 3D technology? Do you want to know more about the most commonly used 3D modeling software and tools? Look no further!
In this article, we will delve into the exciting world of 3D modeling and highlight some of the most popular and powerful software programs used by professionals in various industries.
From Maya to 3DS Max, Rhino to ZBrush, and many more, we will explore the features and benefits of each software, making it easy for you to choose the right one for your needs.
So, let's dive in and discover the amazing world of 3D modeling!
1. General full function 3D design software
1.3DS Max
3D Studio MAX, commonly known as 3DS MAX, is a widely popular 3D modeling, animation, and rendering software. It is considered to be one of the easiest to use among its peers.
Initially, 3DS MAX was used in the production of computer games' animations. However, it later expanded its reach to the production of special effects in films and television shows, such as "X-Men" and "The Last Warrior".
2.Maya
Maya is ranked among the top 3D animation software in the world and is widely used in professional film and television advertisements, character animation, and film stunts.
With its advanced features, intuitive interface, and efficient workflow, Maya offers high production efficiency and realistic rendering capabilities.
As a high-end production software in the film industry, Maya is both expensive and renowned, and is the ideal tool for producers.
Mastering Maya can significantly enhance production efficiency and quality, allowing for precise character animation simulation and lifelike movie rendering.
Becoming proficient in Maya is a key step towards becoming a world-class animator.
3. Rhino
Rhinoceros, also referred to as Rhino, is a powerful 3D modeling software. Despite its simplicity, it should not be underestimated. Its basic operations are similar to those of AutoCAD, making it easier for beginners with an AutoCAD background to master.
Presently, Rhino is widely used in industries such as industrial design, architecture, furniture design, and shoe mold creation. It excels in product appearance modeling and is a valuable tool for professionals in these fields.
4.Zbrush
ZBrush is a renowned digital sculpting and painting software known for its robust features and user-friendly interface. The interface is intuitive and the workflow is seamless, providing artists with the freedom to unleash their creative potential. The software's functional combination, developed with practicality in mind, stimulates artistic expression and encourages artists to freely create.
ZBrush completely revolutionizes the traditional 3D design process, freeing artists from the constraints of mouse-based and parameter-reliant creation methods. It prioritizes respect for designers' creative inspiration and traditional working habits.
5.Google Sketchup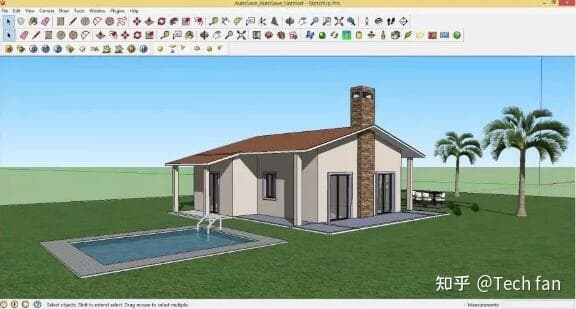 SketchUp is a suite of design tools that streamlines the design scheme creation process.
With its intuitive creation process, designers can effectively communicate their ideas and meet real-time customer needs.
SketchUp enables designers to directly visualize their designs on a computer.
It is an exceptional tool for creating 3D architectural designs.
SketchUp is a widely popular and user-friendly 3D design software.
The official website likens it to an electronic "pencil" for design.
Its main advantage is its ease of use and quick learning curve, making it accessible to everyone.
Moreover, users can directly export their 3D models created with SketchUp to Google Earth, which is a fantastic feature!
6.Poser
Poser is an outstanding software for 3D modeling of animals and humans, and for producing 3D human animation, developed by MetaCreations. With Poser, you can easily add hairstyles, clothing, accessories, and other embellishments to your 3D body shape, allowing for the display of people's creativity and design.
7.Blender
Blender is an open-source, cross-platform, all-in-one 3D animation production software that offers a comprehensive range of solutions for short film production, including modeling, animation, materials, rendering, audio processing, and video editing.
Designed for media professionals and artists worldwide, Blender can be used for 3D visualization and creating high-quality broadcast and movie videos.
Furthermore, its built-in real-time 3D game engine enables the creation of standalone 3D interactive content.
For those who enjoy 3D drawing, Blender provides an affordable way to bring their favorite 3D models to life. It supports various polygon modeling techniques and has powerful animation capabilities.
8.FormZ
FormZ is a highly acclaimed multi-purpose software for solid and plane modeling that boasts a range of extensive and unique 2D/3D shape processing and molding functions.
It is an effective tool for professionals, including architects, landscape architects, urban planners, engineers, animators and illustrators, as well as industrial and interior designers, who frequently work with 3D space and shape.
9. LightWave 3D
Lightwave3D, developed by NewTek, is a cost-effective 3D animation production software that is widely used in a variety of industries, including film, television, games, web pages, advertising, printing, and animation. It is known for its powerful features and is considered one of the few heavyweight options in the industry.
One of its key benefits is its ease of use, making it accessible for users of all skill levels. Additionally, it has extremely powerful functions for biological modeling and character animation.
The software's rendering module, which is based on advanced technologies such as ray tracing and radiosity, also sets it apart from others, as it results in almost perfect rendering quality.
10.C4D
The complete name of Cinema 4D, also known as C4D, is a 3D animation software developed by Maxon in Germany.
Cinema 4D is a well-established 3D software known for its top-level modeling, animation, and rendering capabilities.
It is a user-friendly 3D production software that is easy to learn and highly efficient, offering movie-level visual expression capabilities.
C4D's exceptional visual expression capabilities have made it a popular choice among visual designers.
Founded in Germany in 1989, this software has been around for over 30 years and continues to evolve and improve its functions.
C4D is highly sought after in the design field, and its technology is widely used in e-commerce design, graphic design, UI design, industrial design, and film and television production.
Many blockbuster movie characters have been modeled using C4D.
2. Industrial 3D design software
1.AutoCAD
AutoCAD, the flagship product of Autodesk, is widely used for creating two-dimensional drawings, detailed designs, and basic 3D designs. It has become a popular drawing tool around the world.
With its user-friendly interface, AutoCAD offers versatile operations that can be performed through an interactive menu or the command line. Additionally, its multi-document design environment makes it easy for non-technical users to learn and utilize the software quickly.
2.CATIA
CATIA is a high-end CAD/CAE/CAM integrated software developed by Dassault Systems S.A.
In the 1970s, the first user of CATIA was the world-renowned aerospace company, Dassault Aviation.
Today, CATIA's capabilities have been acknowledged by a variety of industries, with notable users including Boeing, BMW, Mercedes-Benz, and other well-known companies.
3.UG
Unigraphics NX (UG) is a high-end software product developed by Siemens. It offers digital modeling and verification capabilities for users to design and process their products. UG was initially utilized by McDonnell Douglas Aircraft Company and has since become one of the dominant 3D design applications in the mold industry.
4.Solidworks
SolidWorks is a product of Dassault Systems S.A, a company specializing in the development and sale of Windows-based mechanical design software.
SolidWorks helps designers to streamline the design process, improve accuracy, foster design innovation, and bring products to market faster.
It was the first 3D CAD system based on Windows and remains a leading and widely used solution in the industry due to its robust features and numerous components.
5.Pro/E
"Pro/Engineer" (often referred to as simply "Pro/E") is a suite of mechanical design and production software developed by American company PTC. It is widely utilized in a variety of industries, including automotive, aerospace, consumer electronics, mold making, toy manufacturing, industrial design, and machinery production.
6.Cimatron
Cimatron is a software developed by the Israeli company Cimatron (now a subsidiary of American 3D Systems).
The software is known for its flexible user interface, primarily used in the mold design and model processing fields.
It has gained widespread popularity in the global mold manufacturing industry.
Cimatron's team also developed a metal 3D printing software called 3Dxpert, which is based on the Cimatron software.
3Dxpert is the first metal 3D printing software that covers the entire design process, from design to final printing, and even post-processing CNC processing stages.
3. 3D engraving modeling software: brush type high-precision modeling software
1.ZBrush
The ZBrush software, developed by Pixologic, is a groundbreaking 3D design tool that gives artists the freedom to unleash their creativity without limitations.
With the ability to carve up to 1 billion polyggon models, the only limit to what artists can create in ZBrush is their imagination.
2.MudBox
Mudbox is a 3D sculpting and modeling software developed by Autodesk. It has its own unique strengths and weaknesses compared to ZBrush. Some users consider Mudbox to be even more advanced than ZBrush, making it a formidable rival.
3.MeshMixer
Autodesk has created Meshmixer, a brush-type 3D modeling tool that enables users to create 3D models by combining existing models through brush-like interaction, similar to the technology of Poisson fusion or Laplacian fusion. For example, users can create mixed 3D models such as a "bull's head and horse's face".
It is important to note that the latest version of Meshmixer also includes a new algorithm for optimizing 3D printing support.
4.3DCoat
3D Coat is a digital sculpture software developed in Ukraine.
Let's start by taking a closer look at the official introduction: 3D Coat is a software specifically designed for game artists.
It focuses on the intricate design of game models and combines real-time texture rendering and detailed carving capabilities for 3D models.
This software streamlines the detailed design process and allows for the creation of more content in a shorter amount of time.
By simply importing a low-precision model, 3D Coat can automatically generate UVs and produce normal maps, displacement maps, color maps, transparency maps, and highlight maps all at once.
5.Sculptris
Sculptris is a virtual modeling software that is built around the concept of modeling with clay. It's an ideal choice for users who want to create figurines.
6.Modo
Modo is a comprehensive 3D software that offers advanced capabilities in polygon subdivision surface modeling, sculpture, 3D painting, animation, and rendering. Developed and maintained by Luxology, LLC, the software boasts several cutting-edge technologies, such as support for N-gons (polygons with more than four sides), multi-level 3D painting, and edge weighting tools. It is compatible with both Apple's macOS and Microsoft Windows operating systems.
4. Photo based 3D modeling software
1.Autodesk 123D
Autodesk 123D Catch is a modeling software that focuses on capturing 3D models from photographs.
Users can take pictures of objects, people, or scenes from different angles using cameras or mobile phones, and then upload them to the cloud. The software leverages the power of cloud computing to quickly convert these digital photos into 3D models, complete with texture information.
We've tried it multiple times and found it to be very user-friendly. However, it should be noted that the generated 3D geometry may not be very detailed and the realism is mainly achieved through the textures. In some cases, the software may also fail to generate accurate geometry.
2. 3DSOM Pro
3DOM Pro is a software that creates 3D models from high-quality photographs. It can generate a 3D model from a picture of a real object and the resulting model can be displayed interactively on the web.
3. PhotoSynth
Microsoft has created a product called Photosynth, which is capable of processing large numbers of photos in a 3D manner. However, it should be noted that Photosynth does not actually generate a 3D model, but instead creates a virtual 3D environment based on the camera parameters and spatial relationships between the photos. This allows users to view the scene from different perspectives and positions. The scene displayed is constructed using the input photos.
5. 3D modeling software based on scanning (reverse design)
1.Geomagic
Geomagic, also known as "Jiemo," consists of several software products: Geomagic Studio, Geomagic Qualify, and Geomagic Plan.
Geomagic Studio is a highly utilized reverse engineering software that boasts the following features:
It significantly increases the production efficiency of creating perfect polygon and NURBS models when compared to traditional CAD software, particularly when dealing with complex shapes or free-form surfaces.
It can be seamlessly integrated with leading 3D scanning equipment and CAD/CAM software.
It can be utilized as a standalone application for rapid manufacturing or as an add-on to existing CAD software.
It is an essential tool for scientific research.
2.ImageWare
Imageware was developed by EDS, a company based in the United States, and was later acquired by Siemens PLM Software of Germany. It is now incorporated into the NX product line and is renowned as the leading reverse engineering software.
Imageware is widely utilized in the design and manufacturing industries, including the automobile, aviation, aerospace, consumer appliances, mold-making, computer components, and other sectors. This is due to its exceptional point cloud processing, surface editing, and class-A surface construction capabilities.
3. RapidForm
Rapidform is a reverse engineering software developed by Inus Company of South Korea. It offers a cutting-edge operational mode that can instantly convert point cloud data into seamless polygon surfaces, making it a highly efficient interface for 3D scanning data.
Rapidform is also the original equipment manufacturer (OEM) software for several 3D scanners. Our recently acquired Konica Minolta laser scanner range 7 has been reverse engineered with the use of Rapidform.
4.ReconstructMe
Reconstructme, developed by ProFactor, is a user-friendly and powerful 3D reconstruction software. It can scan real-time 3D scenes using Microsoft Kinect or ASUS Xtion, with Kinect Fusion as its core algorithm. The software allows for the completion of a full-color 3D scene in just a few minutes.
We tried Reconstructme and were pleased with the results. It also provides a graphical user interface through the use of the open-source Reconstructme SDK.
Note: Skanect, developed by Manctl in France, was the first 3D scanning software for the Mac platform. It also supports real-time 3D scanning with ASUS Xtion or Microsoft Kinect.
5.Artec Studio
The ARTec EVA, ARTec Spider, and other handheld structured light 3D scanners produced by ARTec are known for their lightweight design and ease of use. These products have become the preferred choice for scanning objects in various 3D experience halls.
After using the ARTec EVA, I found that it requires a certain level of skill to properly scan objects. Additionally, further processing using software such as data denoising, repair, smoothing, and hole filling may be necessary.
ARTec has also developed a software called ARTec Studio, which can be used with Microsoft Kinect, ASUS Xtion, and other manufacturers' somatosensory peripheral devices to transform them into 3D scanners.
With ARTec Studio, the Microsoft Kinect can be used to scan models and conduct post-processing tasks such as filling gaps, cleaning data, measuring, and exporting data. It is uncertain if the Kinect Fusion algorithm is utilized in this process.
6.PolyWorks
PolyWorks is a point cloud processing software developed by InnovMetric, based in Canada. It offers 3D measurement solutions for the engineering and manufacturing industries, including point cloud scanning, dimensional analysis and comparison, CAD modeling, and reverse engineering.
7. CopyCAD
"CopyCAD" is a robust reverse engineering software developed by the British company, Delcam. It has the ability to generate three-dimensional CAD models from existing parts or solid models. The software offers a comprehensive tool for creating CAD surfaces from digitized data. Furthermore, it has the capability to accept data from both coordinate measuring machine tools, tracking machine tools, and laser scanners simultaneously.
6. 3D modeling software based on sketch
1.SketchUp
SketchUp is a user-friendly 3D modeling software designed for the everyday user.
Creating a 3D model with SketchUp is similar to drawing on a piece of paper with a pencil.
The software has the ability to recognize the lines you draw and capture them automatically.
The modeling process is straightforward and clear; you draw lines into faces and then extend them to form bodies.
This is the most widely used method for constructing or modeling indoor scenes.
2.Teddy
Teddy is a 3D modeling software that creates interesting models by using free-form drawing strokes. It is a sketch-based program.
Please note that in order to use Teddy, you will need to have Java installed on your Windows machine.
3.EasyToy
EasyToy is a 3D modeling software that utilizes both sketch-based modeling and 3D drawing methods. Its user interface is user-friendly and the operations are straightforward, allowing users to easily create complex 3D models by combining a series of simple steps.
Compared to other 3D systems, EasyToy is easier to learn and use. It has a diverse range of applications, including toy design, graphics, animation, and education.
4.Magic Canvas
"Magic Canvas" is a software that enables interactive design of 3D scene prototypes from hand-drawn sketches. The software accepts simple 2D sketches of models within the scene as inputs for constructing the 3D environment. The system then automatically recognizes the matching model from its database based on the user's sketch input.
5.FiberMesh
Fibermesh is a unique mesh generation tool that allows you to create real geometry dynamically or add it as a new subtool to an existing model.
The options in the Fibermesh sub-palette can produce various shapes for fibers, hair, and even vegetation.
7. Other 3D modeling software
1. Human modeling software
When it comes to constructing mannequins and animations, the "Character Modeling Master," also known as the Poser software of MetaCreations, and the open-source MakeHuman software are the leading options.
Both of these software are built upon extensive anthropological morphological data, allowing for quick formation of facial and limb models for individuals of different ages and genders, as well as the ability to adjust specific body shapes.
They make the design of human body modeling, actions, and animations easy and efficient.
During my PhD, I utilized Poser for building mannequins for morphing, and found it to be a highly convenient tool.
2. Urban modeling software
CityEngine by ESRI, a company based in Canada, is the preferred software for 3D urban modeling. It enables users to quickly create 3D scenes using 2D data and streamline the planning and design process. The software has a wide range of applications in areas such as digital cities, urban planning, rail transit, pipeline design, architecture, game development, and film production.
One of the standout features of CityEngine is its seamless integration with ArcGIS, which allows for many existing basic GIS data to be easily transformed into 3D models without the need for conversion. This significantly reduces the time required to construct a 3D GIS system.
CityEngine was initially developed by Procedural, a company founded by the Pascal Mueller research group at ETH Zurich University. It was later acquired by ESRI.
3. Web 3D modeling tool
3D modeling software has been developed based on the web, utilizing tools that utilize WebGL. These tools allow for 3D modeling to be completed directly within the browser.
For instance, 3DTin and TinkerCAD, which was acquired by Autodesk, have user-friendly interfaces. They also have browser plugins, such as Chrome, which enable online creation of 3D models, storage in the cloud, and sharing within communities.
4. Other compact 3D modeling software
Most of these software programs are open-source, small in size, and completely free.
Multimedia workers and artists frequently use these small programs to create 3D works. Some of the most widely used software in this category include Blender, K-3D, Art of Illumination, Seamless 3D, Wings3D, and others.
Blender
K-3D
Art of Illusion
SOFTIMAGE|XSI Mod Tool
Zmodeler
TopMod3d
Google SketchUp 6
AutoQ3D Community – 3D Editor
Anim8or
Seamless3d
BRL-CAD
3DPlus
3D Canvas
eDrawings
link 3D
Minos
freeCAD
Bishop3D
K3DSurf
DesignWorkshop Lite
GDesign 2.0
Sweet Home 3D
trueSpace
Alibre Design Xpress
3DVia Shape
8. Virtual reality software and platform
Essentially, virtual reality software is not used for 3D modeling, but instead, it provides a virtual simulation of various sensory experiences such as vision, hearing, and touch for the generated 3D model and scene, allowing the user to immerse themselves in the environment.
There are many related software programs, but only a few commonly known ones were mentioned.
1. Virtools and Quest3D
Virtools from France and Quest3D from Act-3D of the United States are seasoned virtual reality production software.
In essence, they are real-time graphics engines that cater to industries and gaming, as well as integrated tools for 3D virtual and interactive technology.
These software allow artists without programming backgrounds to utilize the in-built behavior modules to quickly create a range of 3D products for various applications, such as the internet, computer games, multimedia, architectural design, interactive TV, education and training, simulations, and product displays. There is a plethora of online learning resources available.
2.Unity3D (U3D)
Unity3d (U3D), developed by Unity Technologies, is a rapidly emerging tool in recent years.
It is a comprehensive and professional virtual 3D and game engine.
Getting started with the production of virtual reality and 3D games is effortless with its intuitive operation, seamless interaction, and robust terrain rendering capabilities.
As a result, students can swiftly create 3D games using U3D. Therefore, we highly recommend learning how to use it.
3.Vega
Vega is a real-time visual simulation and virtual reality development engine created by MultiGen Paradigm. It offers a comprehensive C/C++ language Application Program Interface (API) for its users.
When used in conjunction with its graphical user interface software, Lynx, Vega allows for the rapid creation of diverse interactive 3D environments. This makes it an ideal choice for the development of 3D games and 3D scene roaming projects.
4. OSG (Open Scene Graph)
OpenSceneGraph (OSG) is an open-source application programming interface (API) based on the C++ platform. It allows developers to easily and efficiently create high-performance, cross-platform interactive graphics programs.
OSG defines a 3D scene as a series of objects in space and efficiently manages the scene. As an open-source and free solution, many 3D application software utilize OSG as their underlying infrastructure.
A few years ago, our company developed a denture software that selected OSG as its framework for managing 3D data, which greatly facilitated the development process.
However, for individuals without a design background, using OSG may not be straightforward. There are simple 3D software options available for educational purposes and personal enthusiasts.
1.Tinkercad
Tinkercad is a web-based 3D modeling tool with a user-friendly and attractive design interface. It's as easy to use as playing with building blocks, making it ideal for teenagers and children to create models.
A 3D printing enthusiast named Emily, who is not a native English speaker, used Tinkercad to design and print a winery. The results show that Tinkercad is capable of producing beautiful and intricate details, as well as high-quality appearance, as seen in the figure.
2.123D Design
123D Design allows you to create complex shapes by layering and modifying basic graphics, even if you don't have experience as a CAD modeling engineer.
3. 123D Sculpt
123D Sculpt is an iPad app that enables anyone with a creative inclination to effortlessly craft their own sculpture models.
4.123D Creature
With 123D Creation, you can create a wide range of biological models based on your imagination. Whether you want to create something that exists in reality or something that only exists in your mind, the possibilities are endless.
5.123D Make
123D Make allows you to convert three-dimensional models into two-dimensional patterns and then reproduce them using materials such as cardboard and wood. It can be used to create various objects such as art, furniture, sculptures, and other simple items.
6.123D Catch
With the power of cloud computing, digital photos can be efficiently transformed into lifelike 3D models. Whether captured with a point-and-shoot camera, mobile device, or advanced digital SLR, anyone can utilize 123D Catch to convert their photos into stunning 3D models. Furthermore, mobile phone applications have been introduced, allowing even mobile devices to be used as 3D scanners.