Looking for the top mechanical seal manufacturers in the world? Look no further than this comprehensive guide from MachineMfg. From established industry giants like John Crane and Flowserve, to innovative up-and-comers like YitongSeal, this list covers the top companies producing mechanical sealing systems and related products. With factories and offices spanning the globe, these companies are capable of meeting diverse demands for mechanical seals in industries ranging from oil and gas to pharmaceuticals and aerospace.
Learn about EagleBurgmann's extensive product line, including magnetic couplings and carbon floating ring seals, or discover SINOSEAL Holding's commitment to developing a "large seal industrial cluster." Colossus offers thousands of varieties of mechanical seals, and YitongSeal is dedicated to providing fluid seal products for various rotating equipment.
Whether you're looking for a trusted name in sealing technology or an innovative new solution, this guide has you covered. So why wait? Dive in and discover the top mechanical seal manufacturers in the world today.
Top Mechanical Seal Manufacturers
1. John Crane
Country: USA
Founded: 1917
About the company:
Founded in 1917, John Crane has over 200 factories in 47 countries worldwide. It is a leading designer, manufacturer, and supplier of mechanical sealing systems and related products, capable of meeting diverse demands for mechanical seals.
In China, John Crane (Tianjin) Co., Ltd. was established in 1988 as the holding company of John Crane International and the manufacturing base for its operations in the country. The company produces mechanical seal products that comply with both Chinese and international standards.
2. EagleBurgmann
Country: Japan
About the company:
Eagleburgerman is an international supplier of advanced industrial sealing technology. Its comprehensive product line includes mechanical seals, sealing auxiliary systems, magnetic couplings, carbon floating ring seals, expansion joints, sealing gaskets, packing seals, and multi-directional services, ensuring stability and safety in various industrial applications.
Eagleburgerman's sealing technology is widely used in the global oil and gas industry, refineries, petrochemical industry, chemical industry, pharmaceuticals, food processing, energy, water treatment, mining, paper making, aerospace, and other fields.
With a workforce of nearly 5800 employees, the company is committed to providing customers with innovative concepts, excellent solutions, and dedicated service, establishing Eagleburgerman as a trusted name in sealing technology. Its excellent quality, strong innovation, and broad range of products applicable to various industrial processes and applications make it a leader in the industry.
Eagleburgerman offers an extensive range of products, including mechanical seals, sealing auxiliary systems, magnetic couplings, carbon floating ring seals, expansion joints, sealing gaskets, packing seals, and various services.
As a joint venture between Germany's Kedebao Group and Japan's EKK Group, Eagleburgerman has access to all necessary resources, enabling strong cooperation between the company and its customers.
3. Flowserve
Country: USA
Founded: 1790
About the company:
Flowserve, founded over 200 years ago, has established over 300 offices worldwide, employs over 17,500 individuals, and maintains over 180 quick response centers to provide after-sales parts and services to its customers.
In addition to its extensive service offerings, Flowserve delivers a diverse range of products, including more than 100 pump models and a variety of valves and seals. Flowserve operates across various critical industries, including oil and gas, renewable energy, chemicals, power generation, and water, by providing flow control solutions that deliver, control, and protect the flow of materials.
Leveraging its exceptional product line, engineering, project management, and service expertise, Flowserve helps global customers address their most pressing flow control challenges. The company's portfolio of excellent products, engineering, and after-sales services enables customers to achieve tangible business results, such as reduced operating costs, improved performance, extended equipment life, lower risk, and increased productivity.
Flowserve remains committed to providing its global customers with high-quality flow control solutions that create a better world and benefit everyone.
4. SINOSEAL HOLDING
Country: China
Founded: 1978
About the company:
SINOSEAL Holding Co., Ltd. was founded in July 1978 as the Sealing Technology Research Institute of Sichuan Mechanical Research and Design Institute, one of the earliest units conducting sealing technology research in China.
The company, a domestic A-share listed firm in the mechanical seal industry (stock code: 300470), comprises four subsidiaries, including Youtec (Suzhou) Sealing Technology Co., Ltd., Dalian Huayang Sealing Co., Ltd., Sichuan Riji Sealing Parts Co., Ltd., and Zigong Xindi Pell Valve Co., Ltd.
In December 2019, in accordance with its strategy of diversified and international development, the company officially changed its name from "Sichuan Riji Seal Co., Ltd." to "SINOSEAL Holding Co., Ltd."
The company adheres to the enterprise spirit of "responsibility, innovation, openness, and farsightedness" and business philosophy of "capturing the market with technology and retaining customers with service." It remains steadfast in its commitment to developing the sealing business, strengthening the "SINOSEAL Holding" brand, nurturing talent, and innovating technology while pursuing an international path.
Through this unwavering dedication, the company aims to create a "large seal industrial cluster," expand its product and service offerings worldwide, and ultimately become a world-class fluid equipment supplier.
5. Colossus
Country: China
Founded: 1988
About the company:
Established on August 15, 1988, Dandong Group Co., Ltd. is a high-tech private enterprise specializing in the production of mechanical seals, magnetic drive pumps, various couplings, welded metal bellows, steam liquid full flow screw power machines, precision casting, and other series of products. The company offers thousands of varieties, including 18 invention patents and 40 utility model patents.
The company's products are not only sold domestically, but also exported to over 30 countries and regions such as the United States, Russia, Canada, the United Kingdom, Australia, and Indonesia. These products are widely used in petroleum, chemical, metallurgical, mining, aerospace, pharmaceutical, paper-making, nuclear power, and other fields. The bellows mechanical seal and magnetic drive pump are listed as provincial high-tech industrialization projects and included in the Torch Plan.
Dandong Group Co., Ltd. has been recognized as a high-tech enterprise. Its R&D center has been identified as a provincial enterprise engineering technology research center in Liaoning Province. Moreover, the company holds an import and export operation right granted by the Ministry of Foreign Trade and Economic Cooperation.
In 1996, the company obtained the ISO9002 quality system certification. In 2007, it successfully acquired the ISO14000 environmental management system and 18000 occupational health and safety management system certifications. Furthermore, in the same year, the company passed the API SpecQ1-2003 quality management system certification of the American Petroleum Association.
The company is committed to using scientific and technological innovation as the guide, leveraging corporate culture as the carrier, and aiming to create a century-old enterprise. It adheres to its fine traditions, strengthens enterprise management, and continuously stimulates the internal vitality of the enterprise. The company actively expands both domestic and foreign markets, striving to promote the sustainable and stable development of the enterprise and become a leading manufacturing enterprise in China and the world.
6. YitongSeal
Country: China
Founded: 2004
About the company:
Chengdu Yitong Seal Co., Ltd. is dedicated to providing fluid seal products for various rotating equipment, including compressors, pumps, and turbines. Its main business involves the R&D, design, production, and sales of dry gas seals, mechanical seals, carbon ring seals, and sealing auxiliary systems.
The company also provides customers with technical services throughout the entire product lifecycle, such as technical consulting, training, online monitoring, and fault diagnosis.
With an efficient R&D system, the company has the capability for continuous innovation and the strength to breakthrough key core technologies. It aims to solve sealing problems that may affect the long-term safe operation of equipment for end-users.
Through consistent investment in R&D, the company has gained expertise in critical core technologies covering fluid seal R&D, design, manufacturing, and testing, surpassing foreign competitors. Based on equipment characteristics in China's petrochemical and coal chemical industries, the company has tailored upgrades and expanded its application range accordingly.
After years of experience, the company has become a significant driver of domestic innovation and application promotion of dry gas seal technology.
Its products are widely used in various fields, including petrochemicals, coal chemicals, pipeline transportation, food, medicine, electricity, metallurgy, and more. The company has successfully completed supporting services for numerous large-scale projects.
For many years, the company has been the primary supplier of fluid seal products to Sinopec, PetroChina, and other major energy groups. The company's products provide a strong guarantee for customers' safe production and sustainable development.
7. Ningbo FLK Technology
Country: China
Founded: 1998
About the company:
The Hillman brand's sealing auxiliary system is primarily utilized in API682 standard series solutions (SPS203, SPS5020, SPS6042, etc.). The product line includes liquid storage tanks, cyclone separators, heat exchangers, and various monitoring instruments and switches that can be tailored to meet customer needs.
The company aims to offer customers dependable product solutions to ensure that mechanical seals operate in a secure, stable, and reliable environment. The Hillman brand's mechanical seals have become the preferred choice of many users by employing advanced design concepts, applying new developments in material research and development, and relying on the validation of numerous successful cases.
Through advanced manufacturing process testing, a stringent quality assurance system, and fast service support, the Hillman brand's products possess characteristics such as high reliability, stability, durability, and cost-effectiveness.
Ningbo FLK Technology Co., Ltd. is a professional enterprise focused on the R&D and manufacturing of engineering ceramics, utilizing high-tech and scientific management. The company is one of the leading producers of silicon carbide ceramic materials and products in China.
8. MY
Country: China
Founded: 1985
About the company:
Established in 1985, Miyou Group Co., Ltd. is located in Kunshan High Tech Development Zone. In 2008, the State Administration for Industry and Commerce approved the establishment of Miyou Group Co., Ltd., with a registered capital of 210 million yuan and total assets of 480 million yuan.
The company is a high-tech enterprise specializing in the development and production of complete sets of powder equipment manufacturing, high-temperature circulating ammonia gas protection airflow crushing production lines, container mixing and sealing integration, lithium battery high-temperature coating gold, nano lubricating mother liquor grease series products.
The company is dedicated to "harmonious communication and innovation." They recognize that "product quality is the life of close friends" and are committed to the service tenet of "trial before purchase and guaranteeing customer satisfaction." They aspire to become an exemplary equipment manufacturer in powder equipment manufacturing.
Miyou Group Co., Ltd. has established a comprehensive engineering equipment team that integrates scheme, design, manufacturing, production, sales, installation, sales, and service. They strive to provide better services for the industry and develop new safe, environmentally friendly, and energy-saving products.
9. LANDTEC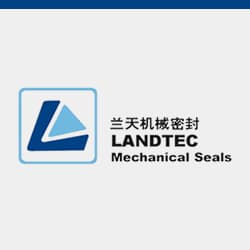 Country: China
Founded: 1988
About the company:
Zhejiang LANDTEC Mechanical Seals Co., Ltd. was established in July 1988, with its headquarters located in Wenzhou, Zhejiang Province. The company provides customers with comprehensive solutions, including services, to deal with the extraordinary and challenging working conditions they encounter.
Their 360 employees are committed to helping customers achieve safe production. The company provides high-quality, durable, and customized solutions for clients in the chemical industry, power generation, metallurgy, medicine, coal washing, and other industries.
Their solutions include mechanical seals, sealing systems, filtration systems, and other products, supported by a service network that spans across China. As human demand for energy and products continues to grow, customers must increase production while ensuring reliability, efficiency, stability, controllability, and environmental protection.
At Zhejiang Lantian, we take responsibility for helping our customers. We work closely with our clients, utilizing our professional technology, innovation spirit, strict quality standards, and responsible customer service to meet their requirements for reliability, efficiency, stability, and environmental protection.
Our development history at Zhejiang Lantian is marked by technological innovation with a focus on foresight. The company has two R&D centers in Tianjin and Beijing, which cater to the evolving needs of our customers and develop new sealing technology and system technology.
To better address our clients' product and service requirements, we have established a business center in Shijiazhuang.
With nearly 30 years of development, Zhejiang Lantian has achieved an advanced position in the fields of FGD and slurry pumps. Additionally, we have made great progress in other areas such as chemical process pumps, reaction gold, and more.
10. YH
Country: China
Founded: 1987
About the company:
Xi'an Yonghua Group Co., Ltd. was established in 1987, with its predecessor being Xi'an Xile (American EG&GSealol) Mechanical Seal Co., Ltd.
As a private high-tech enterprise, Xi'an Yonghua's leading product is the welded metal bellows mechanical seal. For many years, the company has leveraged its high-tech R&D strength to integrate resources and complement advantages, striving to accelerate its strategic transformation into a new manufacturing industry that is based on scientific and technological innovation and looks towards the future.
At Xi'an Yonghua, we are committed to becoming an international advanced supplier and service provider of fluid mechanical seal solutions. We are dedicated to the revitalization of the national industry and to realizing China's dream blueprint of "building a strong country with intelligence."
Xi'an Yonghua offers over 2,800 specifications in 8 categories, including the YH series welded metal bellows seal, spring seal, dry gas seal, nuclear power seal, and more. These range from low temperature series to high temperature series, from single to double end and series structure, and are suitable for various media and different operating environments. Xi'an Yonghua provides advanced fluid sealing solutions for a wide range of industries, including petroleum, chemical, chemical fiber, oil refining, textile, thermal power, nuclear power, papermaking, food, medicine, and more.
The company's marketing service system covers major countries and regions in Europe, America, Asia, and beyond.
Factors to Consider When Choosing a Mechanical Seal Manufacturer
When it comes to selecting a mechanical seal manufacturer, there are several factors to consider. As someone who has been in the industry for a while, I have learned that the quality and reliability of the products, customization options, pricing, and after-sales support are the key things to keep in mind.
Quality and Reliability
The quality and reliability of the mechanical seals are paramount. The manufacturer should have a reputation for producing high-quality products that can withstand the toughest conditions. Look for a company that uses advanced technology and materials to make their seals. It is also essential to ensure that the seals meet industry standards and regulations.
Customization
Every application is unique, and therefore, customization is crucial. A good manufacturer should have a wide range of mechanical seals of different types and sizes to suit your application's needs. They should also be able to customize the seals to meet your specific requirements.
Pricing
Pricing is always a consideration when choosing a manufacturer. While it is essential to look for competitive pricing, it is also necessary to ensure that the price reflects the quality of the product. Be wary of manufacturers who offer prices that are too good to be true. They may be cutting corners on quality, which can lead to more significant problems down the line.
After-Sales Support
After-sales support is critical when it comes to mechanical seals. You want a manufacturer who will stand behind their products and provide support when you need it. Look for a company that offers warranties, technical support, and assistance with installation and maintenance.
In conclusion, when selecting a mechanical seal manufacturer, it is essential to consider the quality and reliability of the products, customization options, pricing, and after-sales support. By taking these factors into account, you can ensure that you choose a manufacturer who will provide you with the best products and services for your application.