1. John Crane
Country: USA
Founded: 1917
About the company:
John Crane, founded in 1917, has more than 200 factories in 47 countries around the world.
It is the designer, manufacturer and supplier of the world's larger sealing systems and related products, and can meet various demands for mechanical seals.
John Crane (Tianjin) Co., Ltd., founded in 1988, is the holding company of John Crane International in China and the manufacturing base of John Crane International in China.
It produces mechanical seal products that meet the standards issued by China and international standards.
2. EagleBurgmann
Country: Japan
About the company:
Eagleburgerman is an international advanced supplier of industrial sealing technology.
Its mechanical seals, sealing auxiliary systems, magnetic couplings, carbon floating ring seals, expansion joints, sealing gaskets and packing seals, as well as multi-directional services are widely used to ensure stability and safety anytime and anywhere.
Eagleburgerman sealing technology is widely used in oil and gas industry, refinery, petrochemical industry, chemical industry, pharmacy, food processing, energy, water treatment, mining, paper making, aerospace and other fields worldwide.
With nearly 5800 employees, the Group is committed to providing customers with advanced concepts, excellent solutions and commitment to dedication, so that customers can rely on Eagleburgerman's sealing technology.
The excellent quality, strong innovation strength and a wide range of products applicable to various industrial processes and application fields make Igelbergman become a proofreader in the industry.
Eagleburgerman's product range is very wide, covering a full range of mechanical seals and sealing auxiliary systems, magnetic couplings, carbon floating ring seals, expansion joints, sealing gaskets and packing seals, as well as a variety of services.
As a joint venture between the German Kedebao Group and the Japanese EKK Group, Eagleburgerman has all the necessary resources to ensure a strong cooperative relationship between Eagleburgerman and its customers.
3. Flowserve
Country: USA
Founded: 1790
About the company:
Founded more than 200 years ago, Flowserve now has more than 300 offices worldwide, more than 17.500 employees, including more than 180 quick response centers, to provide after-sales parts and services to customers.
In addition, Flowserve offers more than 100 pump models and a range of valves and seals.
Flowserve delivers, controls and protects the flow of materials in the world's most critical industries, including oil and gas, renewable energy, chemicals, power generation and water.
Based on its product line, engineering, project management and service expertise, Flowserve helps global customers solve the most critical flow control challenges.
Flowserve has an excellent product, engineering and after-sales service portfolio that can help customers achieve tangible business results: reduce operating costs, optimize performance, extend equipment life, reduce risk and improve productivity.
Flowserve is committed to providing global customers with excellent flow control solutions, making the world a better place and benefiting everyone.
4. SINOSEAL HOLDING
Country: China
Founded: 1978
About the company:
The predecessor of SINOSEAL Holding Co., Ltd. is the Sealing Technology Research Institute of Sichuan Mechanical Research and Design Institute, which was founded in July 1978.
It is one of the units that carried out sealing technology research earlier in China.
It is an A-share listed company in the domestic mechanical seal industry (stock code: 300470).
In December 2019, according to the strategy of diversified and international development, the company was officially renamed from "Sichuan Riji Seal Co., Ltd." to "SINOSEAL Holding Co., Ltd.".
The company has four subsidiaries, Youtec (Suzhou) Sealing Technology Co., Ltd., Dalian Huayang Sealing Co., Ltd., Sichuan Riji Sealing Parts Co., Ltd. and Zigong Xindi Pell Valve Co., Ltd.
The company always adheres to the enterprise spirit of "responsibility, innovation, openness and farsightedness", adheres to the business philosophy of "occupying the market with technology and retaining customers with service", unswervingly develops the sealing business, strengthens the brand of "SINOSEAL Holding", unswervingly cultivates talents, innovates technology, unswervingly takes the international road, and makes new products and services spread all over the world, they will unswervingly build a "large seal industrial cluster" and strive to realize the vision of "becoming a world-class fluid equipment supplier".
5. Colossus
Country: China
Founded: 1988
About the company:
Established on August 15, 1988, Dandong Group Co., Ltd. is a high-tech private enterprise.
The company's leading products include mechanical seals, magnetic drive pumps, various forms of couplings, welded metal bellows, steam liquid full flow screw power machines, precision casting and other series, thousands of varieties.
The products not only cover the whole country, but also are exported to more than 30 countries and regions such as the United States, Russia, Canada, Britain, Australia, Indonesia, etc.
They are widely used in petroleum, chemical industry, metallurgy, mining, aerospace, pharmacy, paper making, nuclear power and other fields, and have successively obtained 18 invention patents and 40 utility model patents.
Bellows mechanical seal and magnetic drive pump are listed as provincial high-tech industrialization projects and included in the torch plan.
The company has been recognized as a high-tech enterprise, and the R&D center has been recognized as a provincial enterprise engineering technology research center in Liaoning Province, and has the import and export operation right granted by the Ministry of Foreign Trade and Economic Cooperation.
In 1996, the company passed the ISO9002 quality system certification.
In 2007, it passed the ISO14000 environmental management system and 18000 occupational health and safety management system certification, and in the same year, it successfully passed the API SpecQ1-2003 quality management system certification of the American Petroleum Association.
The company will adhere to scientific and technological innovation as the guide, corporate culture as the carrier, and the goal of creating a century old shop.
It will uphold the fine tradition, strengthen enterprise management, constantly stimulate the internal vitality of the enterprise, actively expand the domestic and foreign markets, and make efforts to promote the sustainable and stable development of the enterprise and make the company a manufacturing enterprise in China and the world!
6. YitongSeal
Country: China
Founded: 2004
About the company:
Chengdu Yitong Seal Co., Ltd. is committed to providing fluid seal products for all kinds of rotating equipment (mainly including compressors, pumps and gold).
Its main business is the R&D, design, production and sales of dry gas seals, mechanical seals, carbon ring seals and sealing auxiliary systems.
At the same time, it provides customers with technical services covering the whole life cycle of products, such as technical consulting, technical training, online monitoring, fault diagnosis, etc.
The company has established an efficient R&D system, and has the corresponding capacity for continuous innovation and the strength to break through key core technologies.
Solve the sealing problems that affect the long-term safe operation of equipment for end users.
Through continuous R&D investment, the company has mastered some of the key core technologies covering fluid seal R&D, design, manufacturing and testing, breaking the foreign attack, and has made targeted upgrades and expanded applications according to the characteristics of equipment in China's petrochemical and coal chemical industries.
After years of accumulation, the company has become the main driver of domestic dry gas seal technology innovation and application promotion.
Its products are widely used in petrochemical industry, coal chemical industry, pipeline transportation, food, medicine, electricity, metallurgy and other fields, and has completed supporting services for many large projects.
For many years, the company has been the main supplier of fluid seal products for Sinopec, PetroChina and other large energy groups, providing customers with safe production Sustainable development provides a strong guarantee.
7. Ningbo FLK Technology
Country: China
Founded: 1998
About the company:
The sealing auxiliary system of Hillman brand is mainly used in API682 standard series solutions (SPS203, SPS5020, SPS6042, etc.).
The products include liquid storage tank, cyclone separator, heat exchanger, etc.
At the same time, various instruments and switches for monitoring and alarm can be selected as required.
The company's goal is to provide customers with more reliable product solutions to ensure that mechanical seals operate in a safe, stable and long-term reliable environment.
The mechanical seal of the "Hillman" brand has become the brand of choice for a large number of users by using advanced design concepts, the application of new achievements in material research and development, and the verification of a large number of successful cases, through advanced manufacturing process testing means, strict quality assurance system, fast service support, etc., which makes the products have the characteristics of high reliability, high stability, long life, high cost performance, etc.
Ningbo FLK Technology Co., Ltd. is a professional engineering ceramics R&D and manufacturing enterprise relying on high-tech and scientific management, and is one of the leaders of silicon carbide ceramic materials and products in China.
8. MY
Country: China
Founded: 1985
About the company:
Miyou Group Co., Ltd., located in Kunshan High tech Development Zone, was founded in 1985 and approved by the State Administration for Industry and Commerce to establish Miyou Group Co., Ltd. in 2008, with a total registered capital of 210 million yuan and total assets of 480 million yuan.
The company is a high-tech enterprise specializing in the development and production of complete sets of powder equipment manufacturing, high-temperature circulating ammonia gas protection airflow crushing production line, container mixing and sealing integration, lithium battery high-temperature coating gold, nano lubricating mother liquor grease series products.
Friends always adhere to "harmonious communication, innovation";
Remember: "Product quality is the life of close friends";
Adhering to the service tenet of "trial before purchase, guarantee your satisfaction", they are committed to becoming a model of equipment manufacturers such as powder equipment manufacturing.
Their close friends have established a complete set of engineering equipment team that integrates scheme, design, manufacturing, production, sales, installation, sales and service, and will do our best to provide better services for the industry and provide new products that are safe, environmentally friendly and energy-saving!
9. LANDTEC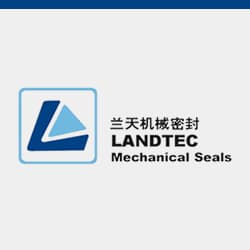 Country: China
Founded: 1988
About the company:
Zhejiang LANDTEC Mechanical Seals Co., Ltd. was founded in July 1988, and its headquarters is located in Wenzhou, Zhejiang Province.
They not only provide customers with products, but also provide customers with overall solutions, including services, to deal with the extraordinary and challenging working conditions encountered by customers.
To meet the challenges, their 360 employees can help customers achieve safe production.
The company provides high-quality, durable and customized solutions for customers in chemical industry, power generation, metallurgy, medicine, coal washing and other industries.
Their solutions include mechanical seals, sealing systems, filtration systems and other products, as well as a service network radiating throughout China.
With the growth of human demand for energy and products, our customers need to find a way to increase production on the premise of reliability, efficiency, stability, controllability and environmental protection.
It is our responsibility to help customers! We will work with our customers to meet their requirements for reliability, efficiency, stability and environmental protection with our professional technology and innovation spirit, strict quality standards and responsible customer service.
The technological innovation focusing on the foresight has been running through the development history of Zhejiang Lantian.
The company has two R&D centers in Tianjin and Beijing, which focus on the progressive needs of customers and develop new sealing technology and system technology.
The company has a business center in Shijiazhuang, focusing on customers' needs for products and timely services.
After nearly 30 years of development, Zhejiang Lantian has established an advanced position in the field of FGD and slurry pump.
At the same time, they have also made great progress in chemical process pumps, reaction gold and other fields.
10. YH
Country: China
Founded: 1987
About the company:
Xi'an Yonghua Group Co., Ltd. was founded in 1987, its predecessor is Xi'an Xile (American EG&GSealol) Mechanical Seal Co., Ltd.
Xi'an Yonghua is a private high-tech enterprise with welded metal bellows mechanical seal as the leading product.
Xi'an Yonghua adheres to its high-tech R&D strength for many years, realizes resource integration and complementary advantages, and is committed to accelerating the strategic transformation of Xi'an Yonghua into a new manufacturing industry based on scientific and technological innovation and looking forward to the future;
We are committed to becoming an international advanced supplier and service provider of fluid mechanical seal solutions;
Devoted to the revitalization of national industry;
It is committed to realizing China's dream blueprint of "building a strong country with intelligence".
Xi'an Yonghua has more than 2800 specifications in 8 categories, including YH series welded metal bellows seal, spring seal, dry gas seal, nuclear power seal, etc., from low temperature series to high temperature series, from single double end to series structure, which is suitable for various media and different operating environments, and provides advanced fluid sealing solutions for petroleum, chemical industry, chemical fiber, oil refining, textile, thermal power, nuclear power, paper making, food, medicine and other fields.
The company's marketing service system covers Europe, America, Asia and other major countries and regions in the world.