As a manufacturer or consumer of aluminum alloy ingots, it's essential to have a comprehensive understanding of their chemical composition. But with so many different types of alloys available, it can be overwhelming to navigate the vast array of information out there.
That's why we've compiled a chemical composition table of aluminum alloy ingots from various international standards, including JISH2211, JIS H2118, and U.K. BS1490.
In this blog post, we'll break down the information and provide insights to help you make informed decisions about which alloy is right for your specific application.
So, let's dive in and explore the world of aluminum alloy ingots together!
ALUMINUM ALLOY INGOT CHEMICAL COMPOSITION(%)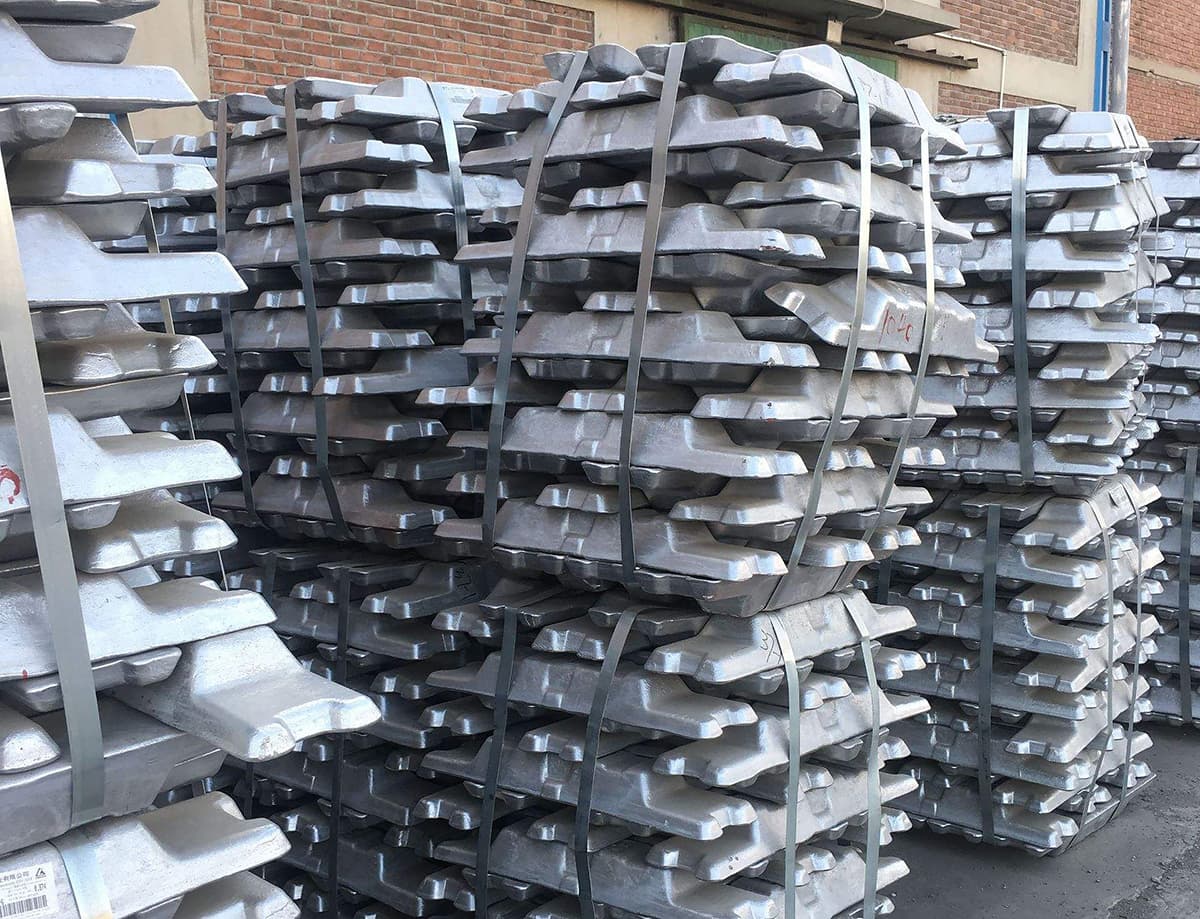 JISH2211:1999
| | | | | | | | | | | | | |
| --- | --- | --- | --- | --- | --- | --- | --- | --- | --- | --- | --- | --- |
| JISH2211:1999 | (Cu) | (Si) | (Mg) | (Zn) | (Fe) | (Mn) | (Ni) | (Ti) | (Pb) | (Sn) | (Cr) | (Al) |
| AC1A(AC1A.1) | 4.0-5.0 | 1.20Max | 0.15Max | 0.30Max | 0.50Max | 0.30Max | 0.05Max | 0.25Max | 0.05Max | 0.05Max | 0.05Max | BAL |
| AC1B(AC1B.1) | 4.2-5.0 | 0.3max | 0.2-0.35 | 0.10Max | 0.3Max | 0.10Max | 0.05Max | 0.05-0.35 | 0.05Max | 0.05Max | 0.05Max | BAL |
| AC2A(AC2A.1) | 3.0-4.5 | 4.0-6.0 | 0.25Max | 0.55Max | 0.7Max | 0.55Max | 0.30Max | 0.20Max | 0.15Max | 0.05Max | 0.15Max | BAL |
| AC2B(AC2B.1) | 2.0-4.0 | 5.0-7.0 | 0.50Max | 1.00Max | 0.8Max | 0.50Max | 0.35Max | 0.20Max | 0.20Max | 0.10Max | 0.20Max | BAL |
| AC3A(AC3A.1) | 0.25Max | 10.0-13.0 | 0.15Max | 0.30Max | 0.7Max | 0.35Max | 0.10Max | 0.20Max | 0.10Max | 0.10Max | 0.15Max | BAL |
| AC4A(AC4A.1) | 0.25Max | 8.0-10.0 | 0.35-0.6 | 0.25Max | 0.4max | 0.3-0.6 | 0.10Max | 0.20Max | 0.10Max | 0.05Max | 0.15Max | BAL |
| AC4B(AC4B.1) | 2.0-4.0 | 7.0-10.0 | 0.50Max | 1.00Max | 0.8Max | 0.50Max | 0.35Max | 0.20Max | 0.20Max | 0.10Max | 0.20Max | BAL |
| AC4C(AC4C.1) | 0.25Max | 6.5-7.5 | 0.25-0.4 | 0.30Max | 0.40Max | 0.60Max | 0.05Max | 0.20Max | 0.05Max | 0.05Max | 0.10Max | BAL |
| AC4CH(AC4H.1) | 0.10max | 6.5-7.5 | 0.3-0.45 | 0.10Max | 0.17Max | 0.10Max | 0.05Max | 0.20Max | 0.05Max | 0.05Max | 0.05Max | BAL |
| AC4D(AC4D.1) | 1.0-1.5 | 4.5-5.5 | 0.45-0.6 | 0.50Max | 0.50Max | 0.50Max | 0.30Max | 0.20Max | 0.10Max | 0.10Max | 0.15Max | BAL |
| AC5A(AC5A.1) | 3.5-4.5 | 0.70Max | 1.3-1.8 | 0.10Max | 0.60Max | 0.60Max | 1.7-2.3 | 0.20Max | 0.05Max | 0.05Max | 0.20Max | BAL |
| AC7A(AC7A.1) | 0.10Max | 0.20Max | 3.6-5.5 | 0.15Max | 0.25Max | 0.60Max | 0.05Max | 0.20Max | 0.05Max | 0.05Max | 0.15Max | BAL |
| AC7B(AC7B.1) | 0.10Max | 0.20Max | 9.5-11.0 | 0.10Max | 0.30Max | 0.10Max | 0.05Max | 0.20Max | 0.05Max | 0.05Max | 0.15Max | BAL |
| AC8A(AC8A.1) | 0.8-1.3 | 11.0-13.0 | 0.8-1.3 | 0.15Max | 0.70Max | 0.15Max | 0.8-1.5 | 0.20Max | 0.05Max | 0.05Max | 0.10Max | BAL |
| AC8B(AC4B.1) | 2.0-4.0 | 8.5-10.5 | 0.6-1.5 | 0.50Max | 0.80max | 0.6-1.5 | 0.1-1.0 | 0.20Max | 0.10Max | 0.10Max | 0.10Max | BAL |
| AC8C(AC8C.1) | 2.0-4.0 | 8.5-10.5 | 0.6-1.5 | 0.50Max | 0.80Max | 0.50Max | 0.50Max | 0.20Max | 0.10Max | 0.10Max | 0.10Max | BAL |
| AC9A(AC9A.1) | 0.5-1.5 | 22.0-24.0 | 0.6-1.5 | 0.20Max | 0.70Max | 0.50Max | 0.5-1.5 | 0.20Max | 0.10Max | 0.10Max | 0.10Max | BAL |
| AC9B(AC9B.1) | 0.5-1.5 | 18.0-20.0 | 0.5-1.5 | 0.20Max | 0.70Max | 0.50Max | 0.5-1.5 | 0.20Max | 0.10Max | 0.10Max | 0.10Max | BAL |
JIS H2118:2000
| | | | | | | | | | | | | |
| --- | --- | --- | --- | --- | --- | --- | --- | --- | --- | --- | --- | --- |
| JIS H2118:2000 | (Cu) | (Si) | (Mg) | (Zn) | (Fe) | (Mn) | (Ni) | (Ti) | (Pb) | (Sn) | (Cr) | (Al) |
| ADC1(AD1.1) | 1.00Max | 11.0-13.0 | 0.30Max | 0.50Max | 0.9Max | 0.30Max | 0.50Max | 0.30max | 0.20max | 0.10Max | – | BAL |
| ADC3(AD3.1) | 0.60Max | 9.0-10.0 | 0.45-0.60 | 0.50Max | 0.90Max | 0.30Max | 0.50Max | 0.30max | 0.15max | 0.10Max | – | BAL |
| ADC5(AD5.1) | 0.20Max | 0.30Max | 4.1-8.5 | 0.10Max | 1.10Max | 0.30Max | 0.10Max | 0.20max | 0.10max | 0.10Max | – | BAL |
| ADC6(AD6.1) | 0.10Max | 1.00Max | 2.6-4.0 | 0.40Max | 0.60Max | 0.4-0.6 | 0.10Max | 0.20max | 0.10max | 0.10Max | – | BAL |
| ADC10(AD10.1) | 2.0-4.0 | 7.5-9.5 | 0.30Max | 1.00Max | 0.9Max | 0.50Max | 0.50Max | 0.30max | 0.20max | 0.20Max | – | BAL |
| ADC10Z(AD10Z.1) | 2.0-4.0 | 7.5-9.5 | 0.30Max | 3.00Max | 0.9Max | 0.50Max | 0.50Max | 0.30max | 0.20max | 0.20Max | – | BAL |
| ADC12(AD12.1) | 1.5-3.5 | 9.6-12.0 | 0.30Max | 1.00Max | 0.9Max | 0.50Max | 0.50Max | 0.30max | 0.20max | 0.20Max | – | BAL |
| ADC12Z(AD12Z.1) | 1.5-3.5 | 9.6-12.0 | 0.30Max | 3.00Max | 0.9Max | 0.50Max | 0.50Max | 0.30max | 0.20max | 0.20Max | – | BAL |
| ADC14(AD14.1) | 4.0-5.0 | 16.0-18.0 | 0.50-0.65 | 1.50Max | 0.9Max | 0.50Max | 0.30Max | 0.30max | 0.20max | 0.30Max | – | BAL |
U.K.BS1490
| | | | | | | | | | | | | |
| --- | --- | --- | --- | --- | --- | --- | --- | --- | --- | --- | --- | --- |
| U.K.BS1490 | (Cu) | (Si) | (Mg) | (Zn) | (Fe) | (Mn) | (Ni) | (Ti) | (Pb) | (Sn) | (Cr) | (Al) |
| LM2 | 0.7-2.5 | 9.0-11.5 | 0.30Max | 2.00Max | 1.00Max | 0.50Max | 0.50Max | 0.20Max | 0.30Max | 0.20Max | – | BAL |
| LM4 | 2.0-4.0 | 4.0-6.0 | 0.15Max | 0.50Max | 0.80Max | 0.2-0.6 | 0.30Max | 0.20Max | 0.10Max | 0.10Max | – | BAL |
| LM5 | 0.10Max | 0.30Max | 3.0-6.0 | 0.10Max | 0.60Max | 0.3-0.7 | 0.10Max | 0.20Max | 0.05Max | 0.05Max | – | BAL |
| LM6 | 0.10Max | 10.0-13.0 | 0.10Max | 0.10Max | 0.60Max | 0.50Max | 0.10Max | 0.20Max | 0.10Max | 0.05Max | – | BAL |
| LM9 | 0.10Max | 10.0-13.0 | 0.2-0.6 | 0.10Max | 0.60Max | 0.3-0.7 | 0.10Max | 0.20Max | 0.10Max | 0.05Max | – | BAL |
| LM10 | 0.10Max | 0.25Max | 9.5-11.0 | 0.10Max | 0.35Max | 0.10Max | 0.10Max | 0.20Max | 0.05Max | 0.05Max | – | BAL |
| LM12 | 9.0-11.0 | 2.50Max | 0.2-0.4 | 0.80Max | 1.00Max | 0.60Max | 0.50Max | 0.20Max | 0.10Max | 0.10Max | – | BAL |
| LM13 | 0.7-1.5 | 10.0-12.0 | 0.8-1.5 | 0.50Max | 1.00Max | 0.50Max | 1.50Max | 0.20Max | 0.10Max | 0.10Max | – | BAL |
| LM16 | 1.0-1.5 | 4.5-5.5 | 0.4-0.6 | 0.10Max | 0.60Max | 0.50Max | 0.25Max | 0.20Max | 0.10Max | 0.05Max | – | BAL |
| LM18 | 0.10Max | 4.5-6.0 | 0.10Max | 0.10Max | 0.60Max | 0.50Max | 0.10Max | 0.20Max | 0.10Max | 0.05Max | – | BAL |
| LM20 | 0.40Max | 10.0-13.0 | 0.20Max | 0.20Max | 1.00Max | 0.50Max | 0.10Max | 0.20Max | 0.10Max | 0.10Max | – | BAL |
| LM21 | 3.0-5.0 | 5.0-7.0 | 0.1-0.3 | 2.00Max | 1.00Max | 0.2-0.6 | 0.30Max | 0.20Max | 0.20Max | 0.10Max | – | BAL |
| LM22 | 2.8-3.8 | 4.0-6.0 | 0.05Max | 0.15Max | 0.60Max | 0.2-0.6 | 0.15Max | 0.20Max | 0.10Max | 0.05Max | – | BAL |
| LM24 | 3.0-4.0 | 7.5-9.5 | 0.30Max | 3.00Max | 1.30Max | 0.50Max | 0.50Max | 0.20Max | 0.30Max | 0.20Max | – | BAL |
| LM25 | 0.10Max | 6.5-7.5 | 0.2-4.5 | 0.10Max | 0.50Max | 0.30Max | 0.10Max | 0.20Max | 0.10Max | 0.05Max | – | BAL |
| LM26 | 2.0-4.0 | 8.5-10.5 | 0.5-1.5 | 1.00Max | 1.20Max | 0.50Max | 1.00Max | 0.20Max | 0.20Max | 0.10Max | – | BAL |
| LM27 | 1.5-2.5 | 6.0-8.0 | 0.30Max | 1.00Max | 0.80Max | 0.2-0.6 | 0.30Max | 0.20Max | 0.20Max | 0.10Max | – | BAL |
| LM28 | 1.3-1.8 | 17.0-20.0 | 0.8-1.5 | 0.20Max | 0.70Max | 0.60Max | 0.8-1.5 | 0.20Max | 0.10Max | 0.10Max | 0.60Max | BAL |
| LM29 | 0.8-1.3 | 22.0-25.0 | 0.8-1.3 | 0.20Max | 0.70Max | 0.60Max | 0.8-1.3 | 0.20Max | 0.10Max | 0.10Max | 0.60Max | BAL |
| LM30 | 4.0-5.0 | 16.0-18.0 | 0.4-0.7 | 0.20Max | 1.10Max | 0.30Max | 0.10Max | 0.20Max | 0.10Max | 0.10Max | – | BAL |
ASTM B85-96
| | | | | | | | | | | | | |
| --- | --- | --- | --- | --- | --- | --- | --- | --- | --- | --- | --- | --- |
| ASTM B85-96 | (Cu) | (Si) | (Mg) | (Zn) | (Fe) | (Mn) | (Ni) | (Ti) | (Pb) | (Sn) | (Cr) | (Al) |
| A356.1 | 0.25Max | 6.5-7.5 | 0.25-0.45 | 0.35Max | 0.50Max | 0.35Max | – | 0.25Max | – | – | – | BAL |
| A356.2 | 0.10Max | 6.5-7.5 | 0.30-0.45 | 0.05Max | 0.12Max | 0.05Max | – | 0.20Max | – | – | – | BAL |
| A360 | 0.60Max | 9.0-10.0 | 0.4-0.6 | 0.50Max | 1.30Max | 0.35Max | 0.50Max | – | – | 0.15Max | – | BAL |
| A360.1 | 0.60Max | 9.0-10.0 | 0.45-0.6 | 0.40Max | 1.00Max | 0.35Max | 0.50Max | – | – | 0.15Max | – | BAL |
| A380.0 | 3.0-4.0 | 7.5-9.5 | 0.30Max | 3.00Max | 1.30Max | 0.50Max | 0.50Max | – | – | 0.35Max | – | BAL |
| A380.1 | 3.0-4.0 | 7.5-9.5 | 0.10Max | 2.90Max | 1.00Max | 0.50Max | 0.50Max | – | – | 0.35Max | – | BAL |
| A383 | 2.0-3.0 | 9.5-11.5 | 0.10Max | 3.00Max | 1.30Max | 0.50Max | 0.30Max | – | – | 0.15Max | – | BAL |
| A413.1 | 1.00Max | 11.0-13.0 | 0.10Max | 0.40Max | 1.00Max | 0.35Max | 0.50Max | – | 0.15Max | – | BAL | – |
| A413.2 | 0.10Max | 11.0-13.0 | 0.05Max | 0.05Max | 0.60Max | 0.05Max | 0.05Max | – | – | 0.05Max | – | BAL |
GB/T 15115-1994
| | | | | | | | | | | | | |
| --- | --- | --- | --- | --- | --- | --- | --- | --- | --- | --- | --- | --- |
| GB/T 15115-1994 | (Cu) | (Si) | (Mg) | (Zn) | (Fe) | (Mn) | (Ni) | (Ti) | (Pb) | (Sn) | (Cr) | (Al) |
| YL102 | 0.60Max | 10.0-13.0 | 0.05Max | 0.30Max | 1.20Max | 0.60Max | – | – | – | – | – | BAL |
| YL104 | 0.30Max | 8.0-10.5 | 0.17-0.30 | 0.30Max | 1.00Max | 0.2-0.5 | – | – | 0.05Max | 0.01Max | – | BAL |
| YL108 | 1.0-2.0 | 11.0-13.0 | 0.4-1.0 | 1.00Max | 1.00Max | 0.3-0.9 | 0.05Max | – | 0.05Max | 0.01Max | – | BAL |
| YL112 | 3.0-4.0 | 7.5-9.5 | 0.30Max | 1.20Max | 1.20Max | 0.50Max | 0.50Max | – | 0.10Max | 0.01Max | – | BAL |
| YL113 | 1.5-3.5 | 9.6-12.0 | 0.30Max | 1.00Max | 1.20Max | 0.50Max | 0.50Max | – | 0.10Max | 0.01Max | – | BAL |
| YL117 | 4.0-5.0 | 16.0-18.0 | 0.45-0.65 | 1.20Max | 1.20Max | 0.50MAX | 0.10Max | 0.10Max | – | – | – | BAL |
| YL302 | 0.10Max | 0.8-1.3 | 4.5-5.5 | 0.20Max | 1.20Max | 0.1-0.4 | – | 0.20Max | – | – | – | BAL |
EN 1706:199
EN 1706:199
(Cu)
(Si)
(Mg)
(Zn)
(Fe)
(Mn)
(Ni)
(Ti)
(Pb)
(Sn)
(Cr)
(Al)
ENAC-46000
2.0-4.0
8.0-11.0
0.05-0.55
1.20Max
1.30Max
0.55Max
0.55Max
0.25Max
0.35Max
0.25Max
0.15Max
BAL
[ALSi9Cu3(Fe)]
ENAC-46100
1.5-2.5
10.0-12.0
0.30Max
1.70Max
1.10Max
0.55Max
0.45Max
0.25Max
0.25Max
0.25Max
0.15Max
BAL
[ALSi11Cu2(Fe)]
ENAC-46200
2.0-3.5
7.5-9.5
0.05-0.55
1.20Max
0.80Max
0.15-0.65
0.35Max
0.25Max
0.25Max
0.15Max
–
BAL
(ALSi8Cu3)
ENAC-46500
2.0-4.0
8.0-11.0
0.05-0.55
3.00Max
1.30Max
0.55Max
0.55Max
0.25Max
0.35Max
0.25Max
0.15Max
BAL
[ALSi9Cu3(Fe,Zn)]
ENAC-47000
1.00Max
10.5-13.5
0.35Max
0.55Max
0.80Max
0.05-0.55
0.30Max
0.20Max
0.20Max
0.10Max
0.10Max
BAL
[ALSi12(Cu)]
ENAC47100
0.7-1.2
10.5-13.5
0.35Max
0.55Max
1.30Max
0.55Max
0.30Max
0.20Max
0.20Max
0.10Max
0.10Max
BAL
[ALSi12Cu1(Fe)]
ENAC-44300
0.10Max
10.5-13.5
–
0.15Max
1.00Max
0.55Max
–
0.15Max
–
–
–
BAL
[ALSi12(Fe)]
ENAC-43400
0.10Max
9.0-11.0
0.2-0.5
0.15Max
1.00Max
0.55Max
0.15Max
0.20Max
0.15Max
0.05Max
–
BAL
[AlSi10Mg(Fe)]
DIN226
2.0-3.5
8.0-11.0
0.1-0.5
1.20Max
1.20Max
0.1-0.5
0.30Max
0.15Max
0.20Max
0.10Max
–
BAL
UN
| | | | | | | | | | | | | |
| --- | --- | --- | --- | --- | --- | --- | --- | --- | --- | --- | --- | --- |
| UN | (Cu) | (Si) | (Mg) | (Zn) | (Fe) | (Mn) | (Ni) | (Ti) | (Pb) | (Sn) | (Cr) | (Al) |
| ZL101A | 0.10Max | 6.5-7.5 | 0.25-0.45 | 0.10Max | 0.20Max | 0.10Max | – | 0.08-0.2 | 0.03Max | 0.01Max | – | BAL |
| ZL102 | 0.30Max | 10.0-13.0 | 0.10Max | 0.10Max | 0.70Max | 0.50Max | – | 0.20Max | – | – | – | BAL |
| ZL104 | 0.10Max | 8.0-10.5 | 0.17-0.30 | 0.25Max | 0.60Max | 0.2-0.5 | 0.2-0.5 | 0.15Max | 0.05Max | 0.01Max | – | BAL |
| ZL106 | 1.0-1.5 | 7.5-8.5 | 0.3-0.5 | 0.20Max | 0.60Max | 0.3-0.5 | – | 0.1-0.25 | 0.05Max | 0.01Max | – | BAL |
| ZL107 | 3.5-4.5 | 6.5-7.5 | 0.10Max | 0.30Max | 0.50Max | 0.50Max | – | | 0.05Max | 0.01Max | – | BAL |
| ZL108 | 1.0-2.0 | 11.0-13.0 | 0.4-1.0 | 0.20Max | 0.70Max | 0.3-0.9 | 0.30Max | 0.20Max | 0.05Max | 0.01Max | – | BAL |
| ZL109 | 0.5-1.5 | 11.0-13.0 | 0.8-1.3 | 0.20Max | 0.70Max | 0.20Max | 0.8-1.5 | 0.20Max | 0.05Max | 0.01Max | – | BAL |
| ZL201 | 4.5-5.3 | 0.30Max | 0.05Max | 0.20Max | 0.30Max | 0.6-1.0 | 0.10Max | 0.15-0.35 | – | – | – | BAL |