What is pipe?
Steel having a hollow section whose length is much larger than the diameter or circumference is called pipe.
Types of pipe
According to the section shape, it can be divided into round, square, rectangular and special-shaped steel pipes;
According to the material, it is divided into carbon structural steel pipe, low alloy structural steel pipe, alloy steel pipe and composite steel pipe;
It is divided into steel pipes for transmission pipeline, engineering structure, thermal equipment, petrochemical industry, machinery manufacturing, geological drilling, high-pressure equipment, etc. according to the purpose;
According to the production process, it is divided into seamless steel pipe and welded steel pipe.
Among them, seamless steel pipes are divided into hot rolling and cold rolling (drawing), and welded steel pipes are divided into straight seam welded steel pipes and spiral seam welded steel pipes.
Steel pipe is not only used for conveying fluid and powdery solid, exchanging heat energy, manufacturing mechanical parts and containers, but also an economic steel.
The use of steel pipes to manufacture the building structure grid, struts and mechanical supports can reduce the weight, save 20-40% of the metal, and realize the industrialized and mechanized construction.
Manufacturing Highway Bridges with steel pipes can not only save steel and simplify construction, but also greatly reduce the area of protective coating and save investment and maintenance costs.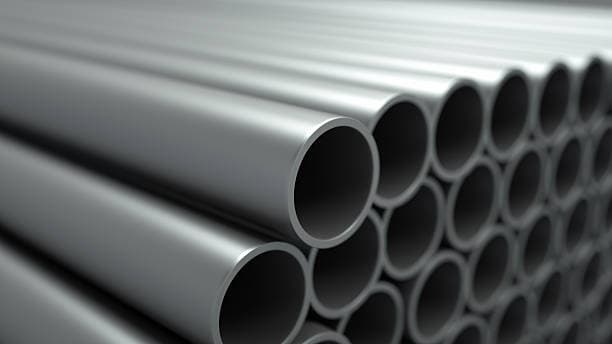 How to calculate pipe weight?
The calculation formula of pipe weight is:
W (kg / M) = 0.02466 * wall thickness * (outer diameter – wall thickness)
Pipe Weight Calculator
According to dimensions and weight per unit length of welded steel pipes (GB / T 21835-2008) and dimensions and weight per unit length of welded steel pipes (GB / T 17395-2008), the theoretical weight calculation method of circular steel pipes such as welded pipes and seamless pipes is the same.
In the market, steel pipes can be delivered according to theoretical weight or actual weight.
When the steel pipes are delivered according to the theoretical weight, the density of ordinary and precision steel pipes is 7.85g/cm3, and the density of other steel types is specified in the corresponding standards.
You can use the following steel pipe weight calculator to calculate the weight of different steel pipes.
Pipe Weight Chart
Pipes

No.

Nominal diameter

O.D.

Thicnkess

Weight

JDG pipe

1

16

15.7

1.2

0.43

2

20

19.7

1.2

0.55

3

25

24.7

1.2

0.70

4

32

31.6

1.2

0.90

5

40

39.6

1.2

1.14

6

50

49.6

1.2

1.43

7

16

15.7

1.6

0.56

8

20

19.7

1.6

0.71

9

25

24.7

1.6

0.91

10

32

31.6

1.6

1.18

11

40

39.6

1.6

1.50

12

50

49.6

1.6

1.89

KBG pipe

1

16

15.7

1.2

0.43

2

20

19.7

1.2

0.55

3

25

24.7

1.2

0.70

4

32

31.6

1.2

0.90

Conduit                   TC

1

16

15.87

1.6

0.56

2

20

19.05

1.6

0.69

3

25

25.4

1.6

0.94

4

32

31.75

1.6

1.19

5

40

38.1

1.6

1.44

6

50

50.8

1.6

1.94

Welded steel pipe

1

16

20.75

2.5

1.13

2

20

26.25

2.5

1.46

3

25

32

2.5

1.82

4

32

40.75

2.5

2.36

5

40

46

2.5

2.68

6

50

58

2.5

3.42

7

70

74

3

5.25

8

80

86.5

3

6.18

9

100

112

3

8.06

Water gas steel pipe

1

16

21.25

2.75

1.25

2

20

26.75

2.75

1.63

3

25

33.5

3.25

2.42

4

32

42.25

3.25

3.13

5

40

48

3.5

3.84

6

50

60

3.5

4.88

7

70

75.5

3.75

6.64

8

80

88.5

4

8.34

9

100

114

4

10.85

10

125

140

4.5

15.04

11

150

165

4.5

17.81

Galvanized steel pipe

1

15

2.75

1.33

2

20

2.75

1.73

3

25

3.25

2.57

4

32

3.25

3.32

5

40

3.50

4.07

6

50

3.50

5.17

7

70

3.75

7.04

8

80

4.00

8.84

9

100

4.00

11.50

10

125

4.50

16.85

11

150

4.50

22.29

Galvanized round steel

1

6

 

0.222

2

8

 

0.395

3

10

 

0.617

4

12

 

0.888

Galvanized flat steel

1

40*4

 

1.26

1

25*4

 

0.79