What is rectangular tube?
Rectangular tube is a light-weight thin-walled steel tube with hollow square section, also known as steel cold-formed section.
It is a section steel with square cross-sectional shape and size made of Q235 hot-rolled or cold-rolled steel strip or coil plate as the base material after cold bending and forming and then high-frequency welding.
In addition to the wall thickness thickening, the corner size and edge flatness of the hot-rolled extra thick wall square pipe reach or even exceed the level of the resistance welded cold formed square pipe.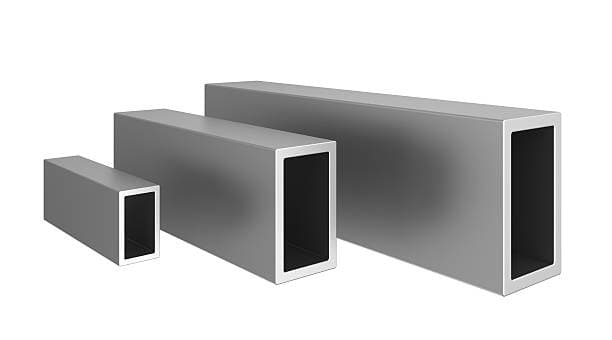 Types of rectangular tube
Steel pipes are divided into seamless steel pipes and welded steel pipes (seamless pipes), hot rolled seamless square pipes, cold drawn seamless square pipes, extruded seamless square pipes and welded square pipes.
The welded square pipe is divided into:
According to the process, it is divided into arc welding square pipe, resistance welding square pipe (high frequency and low frequency), gas welding square pipe and furnace welding square pipe;
According to the weld seam, it is divided into straight welded square pipe and spiral welded square pipe.
How to calculate the weight of rectangular tube?
The weight calculation formula of rectangular tube is:
2[(a-d-2r+π(r+d/2)/2+(b-d-2r+π(r+d/2)/2)x7.85d(kg)
a, b is the length and width of the rectangular tube (m), r is the arc radius of the four corners of the inner cavity of the tube (m), and d is the wall thickness (mm).
Rectangular Tube Weight Calculator
According to cold drawn special-shaped steel pipe (GB / T 3094-2012), the general length of rectangular steel pipe is 2000mm ~ 9000mm, and the supply can be delivered according to fixed length or double length.
In the market, rectangular steel pipes can be delivered according to actual weight or theoretical weight.
When delivered by theoretical weight, the density of steel pipe is 7.85g/cm3.
You can use the following rectangular steel pipe weight calculator to calculate the weight of rectangular steel pipe.
Rectangular Tube Weight Chart
Size (mm)

Weight

b1(length)

b2(width)

t(thickness)

kg/m

50

25

1.2

1.37

1.5

1.7

30

2.5

2.94

3

3.49

4

4.52

60

30

2.5

3.34

3

3.96

4

5.15

40

2.5

3.73

3

4.43

4

5.78

70

50

3

5.37

4

7.03

5

8.64

80

40

2.5

4.51

3

5.37

4

7.03

5

8.64

60

3

6.31

4

8.29

5

10.21

90

40

3

5.84

4

7.66

5

9.42

50

3

6.31

4

8.29

5

10.21

60

3

6.78

4

8.92

5

10.99

100

50

3

6.78

4

8.92

5

10.99

120

60

3

8.2

4

10.8

5

13.35

6

15.83

80

3

9.14

4

12.06

5

14.92

6

17.71

140

80

4

13.31

5

16.48

6

19.59

150

100

4

15.2

5

18.84

6

22.42

8

29.39

160

80

4

14.57

5

18.05

6

21.48

8

28.13

180

100

4

17.08

5

21.2

6

25.25

8

33.16

200

100

4

18.34

5

22.77

6

27.13

8

35.67