What is H beam steel?
H-section steel is a kind of economic section high-efficiency profile with more optimized section area distribution and more reasonable strength weight ratio.
It is named after its section is the same as the English letter "H".
Since all parts of H-shaped steel are arranged at right angles, H-shaped steel has been widely used for its advantages of strong bending resistance, simple construction, cost saving and light structure weight in all directions.
The section shape of H-shaped steel is similar to the economic section profile of the capital Latin letter H, which is also called universal steel beam, wide edge (edge) I-beam or parallel flange I-beam.
The cross-section of H-shaped steel usually includes two parts, i.e. web and flange edge.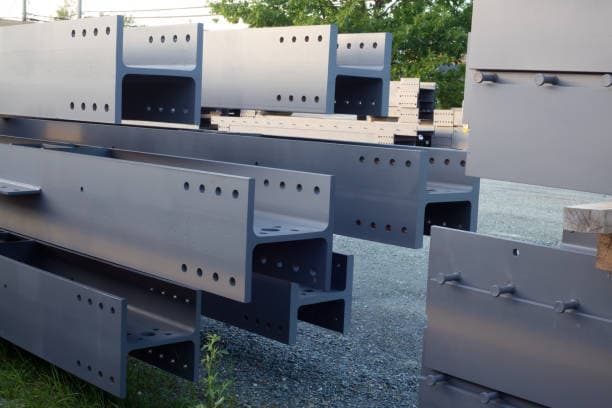 Types of H beam steel
There are many product specifications of H-beam, and the classification methods are as follows.
(1) According to the flange width of the product, it is divided into wide flange, middle flange and narrow flange H-beam.
The flange width B of wide flange and middle flange H-section steel is greater than or equal to the web height H.
The flange width B of the narrow flange H-shaped steel is about half of the web height H.
(2) It is divided into H-shaped steel beam, H-shaped steel column, H-shaped steel pile and H-shaped steel beam with extremely thick flange according to product use.
Sometimes, parallel leg channel steel and parallel flange T-shaped steel are also included in the scope of H-shaped steel.
Generally, narrow flange H-section steel is used as beam material, and wide flange H-section steel is used as column material.
Therefore, it is also called beam type H-section steel and column type H-section steel.
(3) According to the production mode, it is divided into welded H-beam and rolled H-beam.
(4) According to the size specification, it is divided into large, medium and small H-shaped steel.
Generally, products with a web height h of more than 700mm are called large, those with a web height of 300-700mm are called medium, and those with a web height of less than 300mm are called small.
By the end of 1990, the world's largest H-section steel had a web height of 1200mm and a flange width of 530mm.
Internationally, the product standards of H-beam are divided into British system and metric system.
The United States, Britain and other countries adopt the British system, while China, Japan, Germany and Russia adopt the metric system.
Although the units of measurement used in the British system and the metric system are different, the specifications of H-section steel are mostly expressed in four dimensions, i.e. web height h, flange width b, web thickness d and flange thickness t.
Although there are different ways to express the size of H-beam in the world, the size range and tolerance of the products produced are not different.
H Beam Steel Weight Calculator
According to dimension, shape, weight and allowable deviation of hot rolled H-section and T-section steel (GB / T 11263-2005), hot rolled H-section steel is divided into wide flange H-section steel (HW), medium flange H-section steel (HM), narrow flange H-section steel (HN) and thin-wall H-section steel (HT).
The market generally delivers according to theoretical weight or actual quantity.
The deviation between the theoretical weight and the actual weight of a single H-beam shall not exceed – 6% ~ + 6%.
You can use the following H-beam weight calculator to calculate the weight of the H-beam.
H Beam Steel Weight Chart
Category

Spec.

Weight
kg/m

Section area
mm2

HW

100*100*6*8

17.2

21.9

125*125*6.5*9

23.8

30.31

150*150*7*10

31.9

40.55

175*175*7.5*11

40.3

51.43

200*200*8*12

50.5

64.28

200*204*12*12

56.7

72.28

250*250*9*14

72.4

92.18

#250*255*14*14

82.2

104.7

#294*302*12*12

85

108.3

300*300*10*15

94.5

120.4

300*305*15*15

106

135.4

344*348*10*16

115

146

350*350*12*19

137

173.9

388*402*15*15

141

179.2

394*398*11*18

147

187.6

400*400*13*21

172

219.5

400*408*21*21

197

251.5

414*405*18*28

233

296.5

428*407*20*35

284

361.4

458*417*30*50

415

529.3

498*432*45*70

605

770.8

HM

148*100*6*9

21.4

27.25

194*150*6*9

31.2

39.76

244*175*7*11

44.1

56.24

294*200*8*12

57.3

73.03

340*250*9*14

79.7

101.5

390*300*10*16

107

136.7

440*300*11*18

124

157.4

482*300*11*15

115

146.4

488*300*11*18

129

164.4

582*300*12*17

137

174.5

588*300*12*20

151

192.5

594*302*14*23

175

222.4

HN

100*50*5*7

9.54

12.16

125*60*6*8

13.3

17.01

150*75*5*7

14.3

18.16

175*90*5*8

18.2

23.21

198*99*4.5*7

18.5

23.59

200*100*5.5*8

21.7

27.57

248*124*5*8

25.8

32.89

250*125*6*9

29.7

37.87

298*149*5.5*8

32.6

41.55

300*150*6.5*9

37.3

47.53

346*174*6*9

41.8

53.19

350*175*7*11

50

63.66

400*150*8*13

55.8

71.12

396*199*7*11

56.7

72.16

400*200*8*13

66

84.12

450*150*9*14

65.5

83.41

446*199*8*12

66.7

84.95

450*200*9*14

76.5

97.41

500*150*10*16

77.1

98.23

496*199*9*14

79.5

101.3

500*200*10*16

89.6

114.2

506*204*11*19

103

131.3

596*199*10*15

95.1

121.2

600*200*11*17

106

135.2

606*200*12*20

120

153.3

692*300*13*20

166

211.5

700*300*13*24

185

235.5

792*300*14*22

191

243.4

800*300*14*26

210

267.4

890*299*15*23

213

270.9

900*300*16*28

243

309.8

912*302*18*34

286

364