What is I beam?
I-beams, also referred to as universal beams, are long steel beams with an I-shaped cross-section. They come in two varieties: ordinary I-beams and light I-beams. These beams have an I-shaped cross-section and are used as structural elements in construction.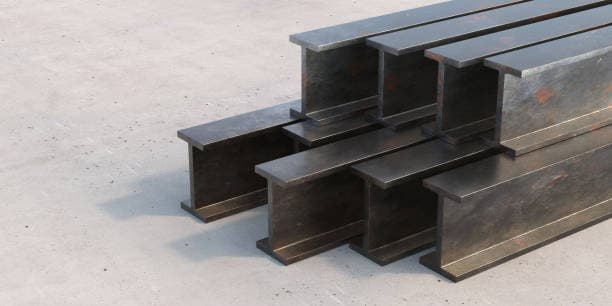 Types of I beam
I-beams are primarily divided into three categories: ordinary I-beams, light I-beams, and wide flange I-beams.
Classification of I-beams is based on the height ratio of the flange to the web, resulting in four categories: wide, medium, narrow, and wide flange I-beams.
The specifications of ordinary and light I-beams range from 10 to 60 centimeters in height.
Light I-beams have a narrow flange and thin web, making them lighter in weight compared to other I-beams of the same height.
Wide flange I-beams, also known as H-beams, are characterized by two parallel legs without any incline within the legs. They are considered an economical form of section steel and are produced using a four-high universal mill, hence the name "universal I-beam.
National standards have been established for ordinary and light I-beams.
According to the dimensional, shape, weight, and allowable deviation specifications outlined in GB/T 706-2008 for hot-rolled section steel, the typical length of hot-rolled I-beams ranges from 5 to 19 meters.
In the market, I-beams are usually delivered based on either actual weight or theoretical weight. The deviation between the theoretical weight and actual weight of an I-beam must not exceed a range of -5% to +3%.
An I-beam weight calculator can be used to determine the weight of an I-beam.
Related Tool: Steel Weight Calculator
I Beam Steel Weight Chart
Weight table of hot rolled ordinary I-beam
Model
Size(mm)
Sectional area
Weight
h
b
d
t
r1
cm²
kg/m
10
100
68
4.5
7.6
3.3
14.3
11.2
12.6
126
74
5
8.4
3.5
18.1
14.2
14
140
80
5.5
9.1
3.8
21.5
16.9
16
160
88
6
9.9
4
26.1
20.5
18
180
94
6.5
10.7
4.3
30.6
24.1
20a
200
100
7
11.4
4.5
35.5
27.9
20b
200
102
9
11.4
4.5
39.5
31.1
22a
220
110
7.5
12.3
4.8
42
33
22b
220
112
9.5
12.3
4.8
46.4
36.4
25a
250
116
8
13
5
48.5
38.1
25b
250
118
10
13
5
53.5
42
28a
280
122
8.5
13.7
5.3
55.45
43.4
28b
280
124
10.5
13.7
5.3
61.05
47.9
32a
320
130
9.5
15
5.8
67.05
52.7
32b
320
132
11.5
15
5.8
73.45
57.7
32c
320
134
13.5
15
5.8
79.95
62.8
36a
360
136
10
15.8
6
76.3
59.9
36b
360
138
12
15.8
6
83.5
65.6
36c
360
140
14
15.8
6
90.7
71.2
40a
400
142
10.5
16.5
6.3
86.1
67.6
40b
400
144
12.5
16.5
6.3
94.1
73.8
40c
400
146
14.5
16.5
6.3
102
80.1
45a
450
150
11.5
18
6.8
102
80.4
45b
450
152
13.5
18
6.8
111
87.4
45c
450
154
15.5
18
6.8
120
94.5
50a
500
158
12
20
7
119
93.6
50b
500
160
14
20
7
129
101
50c
500
162
16
20
7
139
109
56a
560
166
12.5
21
7.3
135.25
106.2
56b
560
168
14.5
21
7.3
146.45
115
56c
560
170
16.5
21
7.3
157.85
123.9
63a
630
176
13
22
7.5
154.9
121.6
63b
630
178
15
22
7.5
167.5
131.5
63c
630
180
17
22
7.5
180.1
141
Weight table of hot rolled light I-beam
Model
Size(mm)
Sectional area
Weight
h
b
d
t
r1
cm²
kg/m
10
100
68
4.5
7.6
3.3
14.3
11.2
12.6
126
74
5
8.4
3.5
18.1
14.2
14
140
80
5.5
9.1
3.8
21.5
16.9
16
160
88
6
9.9
4
26.1
20.5
18
180
94
6.5
10.7
4.3
30.6
24.1
20a
200
100
7
11.4
4.5
35.5
27.9
20b
200
102
9
11.4
4.5
39.5
31.1
22a
220
110
7.5
12.3
4.8
42
33
22b
220
112
9.5
12.3
4.8
46.4
36.4
25a
250
116
8
13
5
48.5
38.1
25b
250
118
10
13
5
53.5
42
28a
280
122
8.5
13.7
5.3
55.45
43.4
28b
280
124
10.5
13.7
5.3
61.05
47.9
32a
320
130
9.5
15
5.8
67.05
52.7
32b
320
132
11.5
15
5.8
73.45
57.7
32c
320
134
13.5
15
5.8
79.95
62.8
36a
360
136
10
15.8
6
76.3
59.9
36b
360
138
12
15.8
6
83.5
65.6
36c
360
140
14
15.8
6
90.7
71.2
40a
400
142
10.5
16.5
6.3
86.1
67.6
40b
400
144
12.5
16.5
6.3
94.1
73.8
40c
400
146
14.5
16.5
6.3
102
80.1
45a
450
150
11.5
18
6.8
102
80.4
45b
450
152
13.5
18
6.8
111
87.4
45c
450
154
15.5
18
6.8
120
94.5
50a
500
158
12
20
7
119
93.6
50b
500
160
14
20
7
129
101
50c
500
162
16
20
7
139
109
56a
560
166
12.5
21
7.3
135.25
106.2
56b
560
168
14.5
21
7.3
146.45
115
56c
560
170
16.5
21
7.3
157.85
123.9
63a
630
176
13
22
7.5
154.9
121.6
63b
630
178
15
22
7.5
167.5
131.5
63c
630
180
17
22
7.5
180.1
141