What is L-shaped steel?
L-shaped steel, also known as angle steel, is a new profile produced to meet the needs of large-scale ship construction.
When the height of section steel is the same as that of the abdomen, the section coefficient and rigidity of L-section steel are larger than that of spherical flat steel;
Under the same section coefficient, increase the storage capacity of the ship and improve the economic efficiency.
In addition, at the same section coefficient, the thickness of L-shaped steel panel is slightly thinner than that of spherical flat steel, which is conducive to improving the quality of the weld.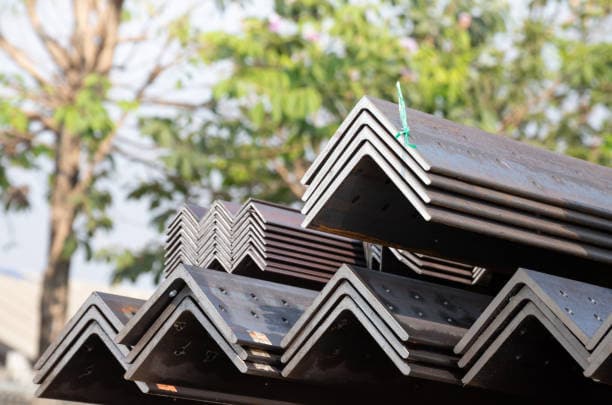 Type of L beam steel
It is mainly divided into equal angle steel and unequal angle steel, of which unequal angle steel can be divided into equal thickness on unequal sides and unequal thickness on unequal sides.
L Beam Steel (Angle Steel) Weight Calculator
According to dimension, shape, weight and allowable deviation of hot rolled section steel (GB / T 706-2008), the length of hot rolled L beam steel is usually 5m-19m.
Generally, it can be delivered according to actual weight or theoretical weight in the market. The deviation between theoretical weight and actual weight of L beam steel shall not exceed – 5% ~ 3%.
You can use the L beam steel weight calculator below to calculate the weight of the L beam steel.
L Beam Steel Weight Chart
Theoretical weight table of equilateral angle steel
Spec.(Length*Thickness)
mm
Weight
(kg/m)
20*3
0.89
20*4
1.15
25*3
1.12
25*4
1.46
30*3
1.37
30*4
1.79
36*3
1.66
36*4
2.16
36*5
2.65
40*3
1.85
40*4
2.42
40*5
2.98
45*3
2.09
45*4
2.74
45*5
3.37
45*6
3.99
50*3
2.33
50*4
3.06
50*5
3.77
50*6
4.46
56*3
2.62
56*4
3.45
56*5
4.25
56*8
6.57
63*4
3.91
63*5
4.82
63*6
5.72
63*8
7.47
63*10
9.15
70*4
4.37
70*5
5.4
70*6
6.41
70*7
7.4
70*8
8.37
75*5
5.82
75*6
6.91
75*7
7.98
75*8
9.03
75*10
11.09
80*5
6.21
80*6
7.38
80*7
8.53
80*8
9.66
80*10
11.87
90*6
8.35
90*7
9.66
90*8
10.95
90*10
13.48
90*12
15.94
100*6
9.37
100*7
10.83
100*8
12.28
100*10
15.12
100*12
17.9
100*14
20.61
100*16
23.26
110*7
11.93
110*8
13.53
110*10
16.69
110*12
19.78
110*14
22.81
125*8
15.5
125*10
19.13
125*12
22.7
125*14
26.19
140*10
21.49
140*12
25.52
140*14
29.49
140*16
33.39
160*10
24.73
160*12
29.39
160*14
33.99
160*16
38.52
180*12
33.16
180*14
38.38
180*16
43.54
180*18
48.63
200*14
42.89
200*16
48.68
200*18
54.4
200*20
60.06
200*24
71.17
Theoretical weight table of unequal angle steel
Spec.(Length*Thickness)
mm
Weight
(kg/m)
25*16*3
0.91
25*16*4
1.18
32*20*3
1.17
32*20*4
1.52
40*25*3
1.48
40*25*4
1.94
45*28*4
1.69
45*28*5
2.2
50*32*3
1.91
50*32*4
2.49
56*36*3
2.15
56*36*4
2.82
56*36*5
3.47
63*40*4
3.19
63*40*5
3.92
63*40*6
4.64
63*40*7
10
70*45*4
3.57
70*45*5
4.4
70*45*6
5.22
70*45*7
6.01
75*50*5
4.81
75*50*6
5.7
75*50*8
7.43
75*50*10
9.1
80*50*5
5
80*50*6
5.93
80*50*7
6.85
80*50*8
7.75
90*56*5
5.66
90*56*6
6.72
90*56*7
7.76
90*56*8
8.78
100*63*6
7.55
100*63*7
8.72
100*63*8
9.88
100*63*10
12.1
100*80*6
8.35
100*80*7
9.66
100*80*8
10.9
100*80*10
13.5
110*70*6
8.35
110*70*7
9.66
110*70*8
10.9
110*70*10
13.5
125*80*7
11.1
125*80*8
12.6
125*80*10
15.5
125*80*12
18.3
140*90*8
14.2
140*90*10
17.5
140*90*12
20.7
140*90*14
23.9
160*100*10
19.9
160*100*12
23.6
160*100*14
27.2
160*100*16
30.8
180*110*10
22.3
180*110*12
26.5
180*110*14
30.6
180*110*16
34.6
200*125*12
29.8
200*125*14
34.4
200*125*16
39
200*125*18
43.6