I. Introduction to the W-Series American Standard H-Beam
The American standard H-beam complies with the ASTM standard, with three main quality grades: A36, A572, and A992.
For instance, the A36 and A572 materials represent carbon structural steel, while A992 is a low alloy steel.
The American standard H-beam is a high-performance profile with an optimized cross-sectional area and a more reasonable strength-to-weight ratio, named after its H-shaped cross-section.
Due to its right-angled arrangement in all parts, the H-beam exhibits strong bending resistance, simple construction, cost-effectiveness, and lightweight structure, making it widely applicable.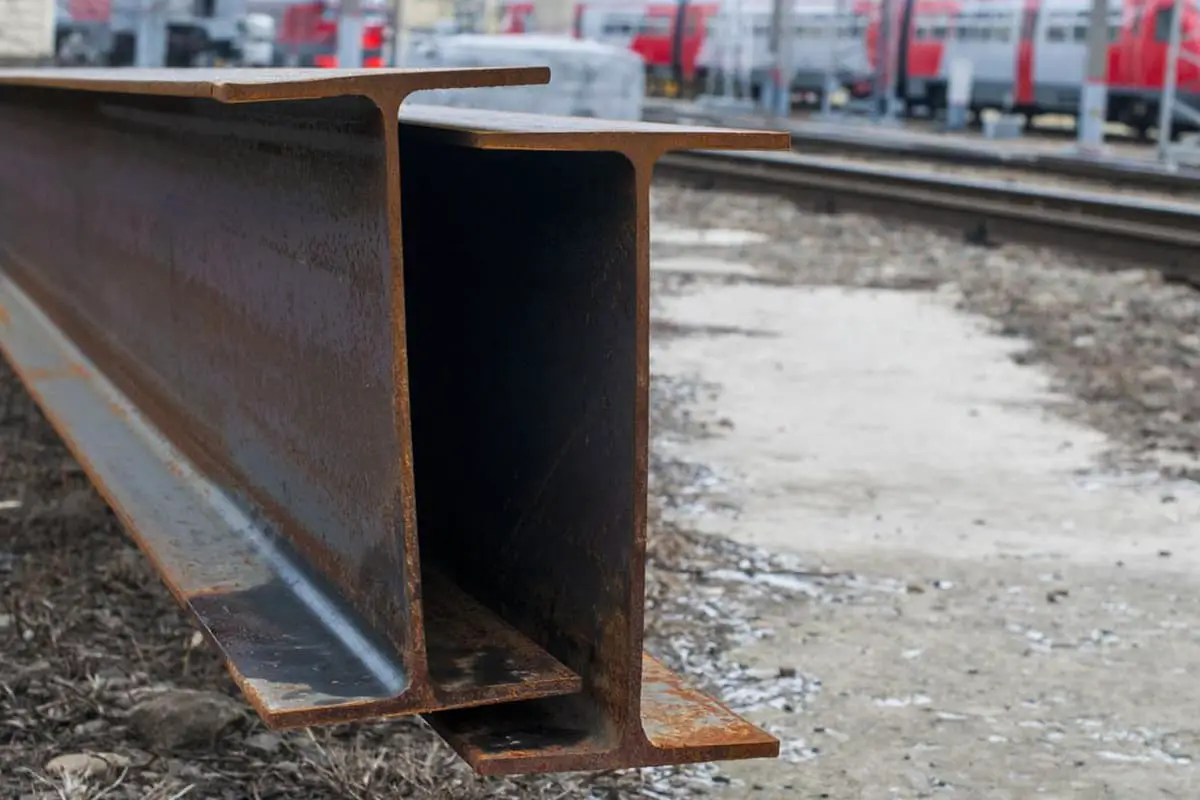 II. Chemical Composition of the W-Series American Standard H-Beam
C: 0.27~0.35;
Si: 0.93~1.20;
Ni: ≤0.029;
Cu: ≤0.025;
Mn: 0.80~1.10;
S: ≤0.025;
P: ≤0.026;
Cr: 0.75~1.20;
III. Deoxidation and Alloying Performance of W-Series American Standard H-Beam Steel
The process involves releasing the molten steel when its temperature and composition meet the specifications for the steel type being refined. During steel tapping, caution must be taken to prevent slag from entering the ladle.
The additives used to adjust the temperature, composition, and deoxidation of the molten steel are added to the ladle or the stream of steel during tapping, also known as deoxidation alloying.
IV. Purpose of Normalizing the American Standard H-Beam:
1) To relieve the internal stress of the material
2) To adjust the hardness of the material (generally to increase) with a slight reduction in plasticity
This is to prepare for subsequent processing. It has a similar effect to annealing, but is aimed at improving efficiency and reducing cost.
V. Wide Flange H-Beam Weight Chart
DESIGNATION
DIMENSION 
WT
PAINT AREA 
kg/M
SM/M
W36×300
933.20×423.04×24.00/42.67
446.45 
3.559 
×280
927.61×421.51×22.48/39.88
416.68 
3.541 
×260
921.00×420.37×21.34/36.58
386.92 
3.523 
×245
916.43×419.35×20.32/34.29
364.60 
3.510 
×230
911.86×418.34×19.30/32.00
342.28 
3.497 
×210
931.93×309.37×21.08/34.54
312.51 
3.101 
×194
926.85×307.72×19.43/32.00
288.70 
3.085 
×182
922.78×306.71×18.42/29.97
270.84 
3.072 
×170
918.72×305.56×17.27/27.94
252.99 
3.060 
×160
914.65×304.80×16.51/25.91
238.10 
3.049 
×150
910.59×304.17×15.88/23.88
223.22 
3.038 
×135
902.97×303.53×15.24/20.07
200.90 
3.020 
W33×241
868.17×402.84×21.08/35.56
358.65 
3.348 
×221
861.82×401.45×19.69/32.39
328.88 
3.329 
×201
855.47×399.92×18.16/29.21
299.12 
3.311 
×152
850.65×293.75×16.13/26.80
226.20 
2.876 
×141
845.82×292.99×15.37/24.38
209.83 
2.864 
×130
840.49×292.35×14.73/21.72
193.46 
2.850 
×118
834.64×291.59×13.97/18.80
175.60 
2.836 
W30×211
785.88×383.67×19.69/33.40
314.00 
3.106 
×191
779.27×382.02×18.03/30.10
284.24 
3.087 
×173
773.18×380.62×16.64/27.05
257.45 
3.069 
×132
769.87×267.84×15.62/25.40
196.44 
2.611 
×124
766.32×267.08×14.86/23.62
184.53 
2.601 
×116
762.76×266.57×14.35/21.59
172.63 
2.592 
×108
757.68×266.07×13.84/19.30
160.72 
2.580 
×99
753.11×265.43×13.21/17.02
147.33 
2.568 
W27×178
706.37×357.76×18.42/30.23
264.89 
2.844 
×161
700.79×356.11×16.76/27.43
239.59 
2.826 
×146
695.45×354.71×15.37/24.77
217.27 
2.810 
×114
693.17×255.78×14.48/23.62
169.65 
2.409 
×102
688.09×254.38×13.08/21.08
151.79 
2.394 
W27×94
683.77×253.75×12.45/18.92
139.89 
2.383 
×84
678.43×252.98×11.68/16.26
125.01 
2.369 
W24×162
635.00×329.06×17.91/30.99
241.08 
2.586 
×146
628.40×327.66×16.51/27.69
217.27 
2.567 
×131
621.79×326.52×15.37/24.38
194.95 
2.550 
×117
616.20×325.12×13.97/21.59
174.11 
2.533 
×104
611.12×323.85×12.70/19.05
154.77 
2.518 
×94
617.47×230.25×13.08/22.23
139.89 
2.156 
×84
612.14×229.11×11.94/19.56
125.01 
2.141 
×76
607.57×228.35×11.18/17.27
113.10 
2.129 
×68
602.74×227.71×10.54/14.86
101.19 
2.116 
×62
603.00×178.82×10.92/14.99
92.27 
1.921 
×55
598.68×177.93×10.03/12.83
81.85 
1.909 
W21×147
560.32×317.75×18.29/29.21
218.76 
2.392 
×132
554.48×315.98×16.51/26.29
194.44 
2.373 
×122
550.67×314.71×15.24/24.38
181.56 
2.360 
×111
546.35×313.44×13.97/22.23
165.19 
2.346 
×101
542.54×312.17×12.70/20.32
150.30 
2.334 
×93
549.15×213.87×14.73/23.62
138.40 
1.954 
×83
544.32×212.22×13.08/21.21
123.52 
1.938 
×73
539.50×210.69×11.56/18.80
108.64 
1.922 
×68
536.70×210.06×10.92/17.40
101.20 
1.914 
×62
533.15×209.30×10.16/15.62
92.27 
1.904 
×57
534.92×166.50×10.29/16.51
84.82 
1.736 
×50
529.08×165.86×9.65/13.59
74.41 
1.722 
×44
524.76×165.10×8.89/11.43
65.48 
1.710 
W18×119
481.84×286.13×16.64/26.92
177.09 
2.108 
×106
475.74×284.48×14.99/23.88
157.74 
2.089 
×97
472.19×283.08×13.59/22.10
144.35 
2.077 
×86
467.11×281.69×12.19/19.56
127.98 
2.061 
×76
462.53×280.29×10.80/17.27
113.10 
2.046 
×71
469.14×193.93×12.57/20.57
105.66 
1.714 
×65
466.09×192.79×11.43/19.05
96.73 
1.703 
×60
463.30×191.90×10.54/17.65
89.29 
1.694 
×55
459.99×191.26×9.91/16.00
81.85 
1.685 
×50
456.95×190.37×9.02/14.48
74.41 
1.675 
×46
458.72×153.92×9.14/15.37
68.46 
1.533 
W18×40
454.66×152.78×8.00/13.34
59.53 
1.520 
×35
449.58×152.40×7.62/10.80
52.09 
1.509 
W16×100
431.04×264.80×14.86/25.02
148.82 
1.921 
×89
425.45×263.27×13.34/22.23
132.45 
1.904 
×77
419.61×261.49×11.56/19.30
114.59 
1.885 
×67
414.78×259.97×10.03/16.89
99.71 
1.869 
×57
417.32×180.85×10.92/18.16
84.82 
1.558 
×50
413.00×179.58×9.65/16.00
74.41 
1.544 
×45
409.70×178.69×8.76/14.35
66.97 
1.534 
×40
406.65×177.67×7.75/12.83
59.53 
1.524 
×36
402.84×177.42×7.49/10.92
53.57 
1.515 
×31
403.35×140.34×6.99/11.18
46.13 
1.368 
×26
398.53×139.70×6.35/8.76
38.69 
1.356 
W14×730
569.47×454.41×77.98/124.71
1086.35 
2.957 
×665
549.66×448.31×71.88/114.81
989.62 
2.893 
×605
531.37×442.34×65.91/105.66
900.33 
2.832 
×550
514.10×436.88×60.45/97.03
818.49 
2.776 
×500
497.84×432.05×55.63/88.90
744.08 
2.724 
×455
483.11×427.61×51.18/81.53
677.11 
2.677 
×426
474.22×424.05×47.63/77.09
633.95 
2.645 
×398
464.57×421.39×44.96/72.26
592.29 
2.615 
×370
455.17×418.47×42.04/67.56
550.62 
2.584 
×342
445.52×415.54×39.12/62.74
508.95 
2.553 
×311
434.85×412.24×35.81/57.40
462.82
2.519 
×283
425.20×409.19×32.77/52.58
421.15
2.487 
×257
416.05×406.27×29.85/48.01
382.46
2.457 
×233
407.42×403.61×27.18/43.69
346.74
2.429 
×211
399.29×401.32×24.89/39.62
314.00 
2.404 
×193
393.19×399.03×22.61/36.58
287.21 
2.383 
×176
386.59×397.51×21.08/33.27
261.92 
2.363 
×159
380.49×395.35×18.92/30.23
236.62 
2.342 
×145
375.41×393.70×17.27/27.69
215.78 
2.326 
×132
372.36×374.02×16.38/26.16
196.44 
2.241 
×120
367.79×372.62×14.99/23.88
178.58 
2.224 
×109
363.73×370.97×13.34/21.84
162.21 
2.211 
×99
359.66×369.95×12.32/19.81
147.33 
2.199 
W14×90
356.11×368.81×11.18/18.03
133.93 
2.187 
×82
363.47×257.30×12.95/21.72
122.03 
1.756 
×74
359.92×255.78×11.43/19.94
110.12 
1.743 
×68
356.62×254.89×10.54/18.29
101.19 
1.733 
×61
352.81×253.87×9.53/16.38
90.78 
1.721 
×53
353.57×204.72×9.40/16.76
78.87 
1.526 
×48
350.27×203.96×8.64/15.11
71.43 
1.516 
×43
346.96×203.07×7.75/13.46
63.99 
1.506 
×38
358.14×171.96×7.87/13.08
56.55 
1.404 
×34
355.09×171.32×7.24/11.56
50.60 
1.395 
×30
351.54×170.94×6.86/9.78
44.64 
1.387 
×26
353.31×127.64×6.48/10.67
38.69 
1.217 
×22
349.00×127.00×5.84/8.51
32.74 
1.206 
W12×336
427.23×339.98×45.09/75.06
500.02 
2.214 
×305
414.53×336.17×41.28/68.71
453.89 
2.174 
×279
402.59×333.76×38.86/62.74
415.20 
2.140 
×252
391.41×330.33×35.43/57.15
375.02 
2.104 
×230
382.27×327.53×32.64/52.58
342.28 
2.075 
×210
373.63×324.87×29.97/48.26
312.51 
2.047 
×190
365.25×321.82×26.92/44.07
282.75 
2.018 
×170
356.36×319.28×24.38/39.62
252.99 
1.990 
×152
348.23×316.99×22.10/35.56
226.20 
1.964 
×136
340.61×314.96×20.07/31.75
202.39 
1.941 
×120
333.25×312.93×18.03/28.07
178.58 
1.918 
×106
327.41×310.39×15.49/25.15
157.74 
1.896 
×96
322.83×308.86×13.97/22.86
142.86 
1.881 
×87
318.26×307.98×13.08/20.57
129.47 
1.868 
×79
314.45×306.83×11.94/18.67
117.56 
1.856 
×72
311.15×305.82×10.92/17.02
107.15 
1.846 
×65
307.85×304.80×9.91/15.37
96.73 
1.835 
×58
309.63×254.25×9.14/16.26
86.31 
1.636 
×53
306.32×253.87×8.76/14.61
78.87 
1.628 
×50
309.63×205.23×9.40/16.26
74.41 
1.440 
×45
306.32×204.34×8.51/14.61
66.97 
1.430 
×40
303.28×203.33×7.49/13.08
59.53 
1.420 
×35
317.50×166.62×7.62/13.21
52.09 
1.301 
W12×30
313.44×165.61×6.60/11.18
44.64 
1.289 
×26
310.39×164.85×5.84/9.65
38.69 
1.280 
×22
312.67×102.36×6.60/10.80
32.74 
1.035 
×19
308.86×101.73×5.97/8.89
28.27 
1.025 
×16
304.55×101.35×5.59/6.73
23.81 
1.015 
×14
302.51×100.84×5.08/5.72
20.83 
1.008 
W10×112
288.54×264.54×19.18/31.75
166.67 
1.635 
×100
281.94×262.64×17.27/28.45
148.82 
1.614 
×88                                                                  
275.34×260.73×15.37/25.15
130.96 
1.594 
×77
269.24×258.83×13.46/22.10
114.59 
1.574 
×68
264.16×257.30×11.94/19.56
101.19 
1.558 
×60
259.59×256.03×10.67/17.27
89.29 
1.543 
×54
256.29×254.76×9.40/15.62
80.36 
1.532 
×49
253.49×254.00×8.64/14.22
72.92 
1.523 
×45
256.54×203.71×8.89/15.75
66.97 
1.328 
×39
251.97×202.82×8.00/13.46
58.04 
1.315 
×33
247.14×202.18×7.37/11.05
49.11 
1.303 
×30
265.94×147.57×7.62/12.95
44.64 
1.122 
×26
262.38×146.56×6.60/11.18
38.69 
1.111 
×22
258.32×146.05×6.10/9.14
32.74 
1.101 
×19
260.10×102.11×6.35/10.03
28.27 
0.929 
×17
256.79×101.85×6.10/8.38
25.30 
0.921 
×15
253.75×101.60×5.84/6.86
22.32 
0.914 
×12
250.70×100.58×4.83/5.33
17.86 
0.904 
W8×67
228.60×210.31×14.48/23.75
99.71 
1.298 
×58
222.25×208.79×12.95/20.57
86.31 
1.280 
×48
215.90×205.99×10.16/17.40
71.43 
1.256 
×40
209.55×204.98×9.14/14.22
59.53 
1.239 
×35
206.25×203.71×7.87/12.57
52.09 
1.227 
×31
203.20×203.07×7.24/11.05
46.13 
1.219 
×28
204.72×165.99×7.24/11.81
41.67 
1.073 
×24
201.42×164.97×6.22/10.16
35.72 
1.063 
×21
210.31×133.86×6.35/10.16
31.25 
0.956 
W8×18
206.76×133.35×5.84/8.38
26.79 
0.947 
×15
205.99×101.98×6.22/8.00
22.32 
0.820 
×13
202.95×101.60×5.84/6.48
19.35 
0.812 
×10
200.41×100.08×4.32/5.21
14.88 
0.801 
W6×25
162.05×154.43×8.13/11.56
37.20 
0.942 
×20
157.48×152.91×6.60/9.27
29.76 
0.927 
×15
152.15×152.15×5.84/6.60
22.32 
0.913 
×16
159.51×102.36×6.60/10.29
23.81 
0.728 
×12
153.16×101.60×5.84/7.11
17.86 
0.713 
×9
149.86×100.08×4.32/5.46
13.39 
0.700 
W5×19
130.81×127.76×6.86/10.92
28.27 
0.773 
×16
127.25×127.00×6.10/9.14
23.81 
0.763 
W4×13
105.66×103.12×7.11/8.76
19.35 
0.624