With the ongoing advancements in industrial automation, an increasing number of manufacturers opt to purchase sheet metal equipment, such as CNC press brake machines and CNC shearing machines, equipped with an automatic and intelligent CNC system.
It is important to note that different CNC systems are suitable for the production of varying standard products and come with a wide range of prices. Hence, for manufacturers, choosing the right CNC system can greatly assist with efficient mass production of their products.
This article will focus on the press brake (hydraulic bending machine) as an example and provide a brief overview of the dedicated CNC system for this particular machine. The aim is to give manufacturers who are in the market for a CNC press brake a preliminary understanding of the CNC system.
Related reading: Press Brake Buyer's Guide
The numerical control system can be divided into:
NC- Numerical Control
CNC- Computer Number Control.
In the CNC system of a bending machine, a digital control system refers to one in which the manufacturer has programmed the system and the buyer cannot modify the program. On the other hand, a computer numerical control (CNC) system allows the buyer to edit the program based on their operational needs before bending and make any necessary changes.
Compared to digital control systems, CNC systems offer greater convenience. In essence, the NC digital control system is the first generation of CNC systems, while the CNC computer numerical control system is an upgraded version.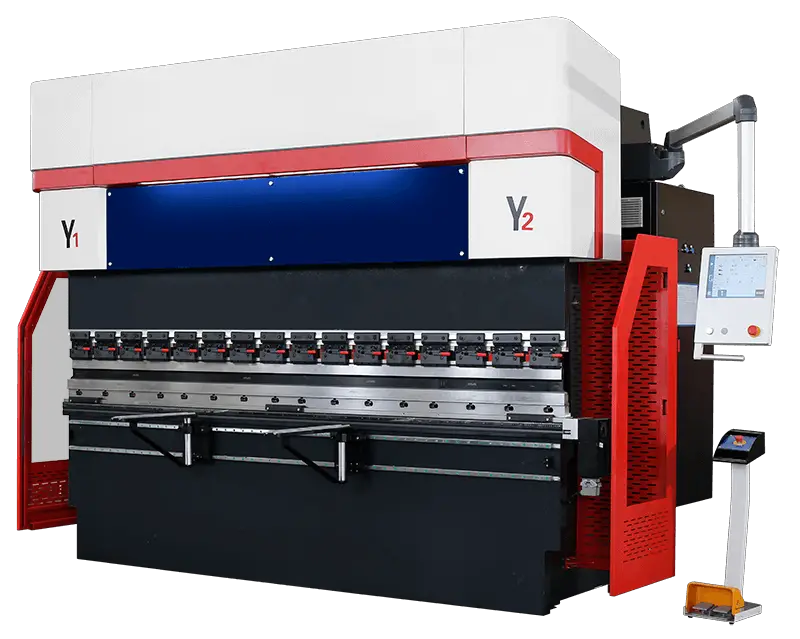 The upgraded version of the system has several advantages over its previous version.
(1) The computer numerical control (CNC) system is based on a computer operating system, which makes it easy to operate and requires no specialized skills to use. The operating system is also user-friendly and can be learned quickly with simple training, enabling workers to start working efficiently in no time.
On the other hand, traditional digital control systems are more demanding on the operator, requiring a deep understanding of every machine function and precise operation.
(2) The CNC system of the numerical control bending machine allows for multiple programming and has a storage function. The larger the storage capacity of the system, the more programs the machine can store.
For instance, the ESA S500 series controller used on the CNC bending machine has a 20GB hard disk that can store at least 2 million programs and a 256M U disk that can store at least 50,000 programs. Each program can contain hundreds of bending steps.
If a manufacturer needs to bend a variety of different specifications or workpieces with complex manufacturing processes, it's better to choose a CNC system to complete batch production in the shortest time possible. Digital control systems do not have any storage capabilities.
(3) The bending machine equipped with a computer numerical control (CNC) system produces workpieces with better quality and higher precision than those produced by a bending machine using a digital control system.
(4) The user-friendly operating system of the CNC system allows workers to operate it for shorter periods of time and enables continuous operation 24 hours a day.
Compared to traditional digital control systems, CNC systems offer several advantages. However, CNC systems are generally more expensive, leading to higher prices for CNC bending machines.
Despite the higher cost, the value of a CNC system is much higher in terms of production efficiency.
With increasing competition in the global market and the demand for workpieces that meet diverse customer needs with high efficiency, precision, and standards, the advantages of a CNC press brake are becoming more prominent. It is able to meet the ever-changing market demand and is seen as the future trend.
For guidance on choosing between a NC type and CNC type press brake, you can refer to the following post for more information.
Related reading: How To Choose Hydraulic Press Brake (NC vs CNC)