When choosing industrial aluminum profiles, the amount of deformation is an important criterion.
Using the following formula, it is easy to calculate the deformation produced by the aluminum profile under its own weight and applied forces.
M – Linear Density of Aluminum Profile (kg/cm3)
F – Load (N)
L – Unsupported Length of Aluminum Profile (mm)
E – Elastic Modulus (70000N/mm2)
I – Moment of Inertia (cm4)
Z – Section Modulus (cm3)
g = 9.81N/kg
δ=Deformation (mm)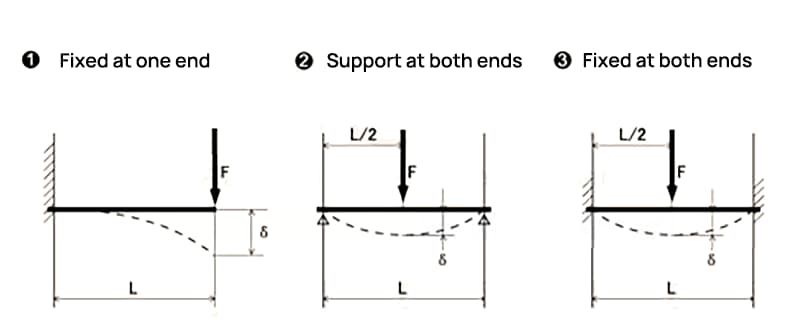 1. Calculation of aluminum profile deformation under static load conditions:
2. Calculation of the deformation of aluminum profiles under no-load conditions:

3. Maximum allowable bending stress for aluminum profiles:

4. Calculation Example
Select APS-10-4545 aluminum profile, length L=500mm
Load F=800N (1Kgf=9.81N)
Supported at both ends.
Deformation Amount Calculation: