1. SMC
Country: Japan
Founded:1959 
About the company:
SMC is a world famous manufacturer of pneumatic components. Founded in 1959, the company is headquartered in Tokyo, Japan.
At first, SMC was a company mainly engaged in manufacturing "sintered metal industrial filter" filter element by powder metallurgy.
After decades of continuous efforts and innovation, SMC's product categories were gradually enriched, and it was trusted by countless users relying on its excellent quality.
Today, SMC has developed into a global leader in the pneumatic industry.
The name "SMC" (SinteredMetal Company, which means "sintered metal company"), which was established in the early days of the company, has been used for many years because of its reputation in the world, and has become a global unified company name.
In 1994, SMC (China) Co., Ltd. was established in Beijing.
After more than 20 years of continuous development, SMC has become an enterprise with a nationwide marketing network and widely recognized products and services in the industry.
In 2021, in order to comprehensively improve domestic customer service and build a new pattern of sustainable development, SMC China carried out a group reorganization, and SMC Automation Co., Ltd. was officially established.
SMC Automation Co., Ltd. is mainly responsible for the marketing activities in Chinese Mainland, and has set up branches in Beijing, Shanghai and Guangzhou to manage the marketing agencies in their respective jurisdictions, and strive to provide professional and timely services and technical support to customers across the country.
At present, SMC has more than 120 directly affiliated business outlets and more than 300 authorized agents nationwide, and has cooperated with some e-commerce platforms in recent years.
2. AirTAC
Country: China
Founded: 1988
Products: Cylinder, solenoid valve, pressure switch
About the company:
Headquartered in Taipei and founded in Taiwan in 1988, AirTAC International Group is a world-renowned professional pneumatic equipment supplier/manufacturer;
It mainly produces pneumatic execution, control, processing components and various auxiliary components.
Its products are widely used in automotive, machinery manufacturing, metallurgy, electronic technology, environmental treatment, light industry and textile, ceramics, medical devices, food packaging and other automation industries.
Research and development centre
The R&D center of Yadeke International Group is located in Ningbo. The building area of the R&D center is 10527 square meters
Sales Center
The domestic sales center is located in Ningbo, Zhejiang, with a floor area of 30000 square meters.
The sales headquarters for the European region, ATC (ltalia) S.R.L., is located in Milan, Italy.
The sales headquarters in Southeast Asia – AIRTAC INTERNATIONAL (SINGAPORE) PTE. LTD. is located in SINGAPORE.
AIRTAC INDUSTRIAL (MALAYSIA) SDN.BHD. is located in Johor City, Malaysia.
Yataka Co., Ltd. is located in East Osaka, Japan.
Airtac Industrial Co., Ltd. is located in Beilan Province, Thailand.
AIRTAC USA CORPORATION is located in Houston, USA.
Production base
At present, Yadeke has three large production bases in Ningbo, Zhejiang, Foshan, Guangdong and Tainan, Taiwan.
Ningbo Yadeke (No. 1 Factory) has a building area of 240000 square meters and 23 standard workshops.
Ningbo Yadeke (No. 2 Factory) now has a building area of 180000 square meters, and 16 standard plants have been put into use.
Guangdong Yadeke has a building area of 45000 square meters and 3 standard workshops.
Taiwan Yadeke has a building area of 180000 square meters and seven standard workshops.
Logistics Centre
There are logistics centers in Kunshan, Jiangsu and Huizhou, Guangdong.
Yadeke (Jiangsu) covers an area of 20000 square meters.
Guangdong Yadeke intelligent building area is 40000 square meters.
3. Festo
Country: Germany
Founded:1925  
About the company:
Founded in 1925, Festo is a leading manufacturer in the field of automation technology and a global market leader in industrial technology training.
The company is headquartered in Eislingen, Germany.
Festo Group operates in 200 industries worldwide, providing leading pneumatic and electric drive technologies and comprehensive solutions for factory automation and process automation to more than 300000 customers.
Fisto's business in China began in 1985.
In 1993, it officially entered China, established Festo (China) Co., Ltd., and settled in Jinqiao, Pudong, Shanghai.
After more than 30 years of deep cultivation in the Chinese market, Fisto has continuously expanded its investment in China, with comprehensive development in production, research and development, and sales.
It provides the Chinese market with pneumatic and electric drive technologies and comprehensive solutions for factory automation and process automation, mainly serving the automotive, electronic and light assembly industries, food and beverage packaging, water/sewage treatment, biotechnology/pharmacy and other industries.
At the same time, Festo Teaching and Training Department provides more than 600 enterprises and institutions, universities, vocational colleges and training bases in Greater China with an overall solution for industrial training – from laboratory construction to course system construction, and can provide qualification certification and employment guidance for students.
As the official partner of the World Skills Competition, Festo provides professional technical training and support for the competition.
Recently, the company has more than 2000 employees in Greater China.
4. Chelic
Country: China
Founded:1986
Products: Air source processing elements, control valves, all kinds of air cylinders, auxiliary elements, vacuum elements, air pressure modular elements and electric control elements
About the company:
Taiwan Chelic Co., Ltd. was established in 1986, and the company was established in Xinbei City, Taiwan.
At present, the main production bases are Taiwan Xinbei Factory and Shanghai Songjiang Factory.
Its products are widely used in various production automation equipment, testing equipment, packaging equipment, processing machines, maintenance equipment and plant automation.
With the brand of "CHELIC", it has a place in the automation industry.
Recently, it has a distribution base all over the world and is a supplier of OEM and ODM of major well-known automation manufacturers at home and abroad.
5. CKD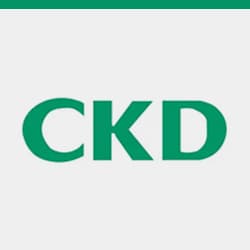 Country: Japan
Founded:1943 
Products: Automation machinery (lamp manufacturing, CCFL, LED manufacturing equipment, drug blister packaging equipment, secondary battery winding machine, three-dimensional solder printing substrate tester); Pneumatic control system (FRL air source processing parts, pneumatic change-over valves, cylinders and other accessories); Fluid control system (multi-media solenoid valve, gas control valve, motor valve, special valve for analytical instrument, special valve for cutting fluid control, special valve for high vacuum, special valve for gas and natural gas LPG, high purity chemical liquid valve, process gas valve) and labor-saving system (DD-MOTOR, clearance turntable)
About the company:
CKD is a pneumatic company invested by Japan CKD Co., Ltd., which mainly manufactures three pieces of air source treatment, cylinders, solenoid valves and other automatic products.
Xikai Li (China) Co., Ltd. is a wholly-owned enterprise established by Japan CKD Co., Ltd. in China and a global group enterprise.
The company is located in Wuxi New Area. As a leader among Japanese enterprises developing business in Wuxi, the specific development history of the company is as follows: "Wuxi Pneumatic Technology Research Institute" was established in 1987.
Later, in 1992, the joint venture "Wuxi Pneumatic Industry Co., Ltd." was established.
In 2001, the sales company "Xikaili (Shanghai) Machinery Co., Ltd." was established.
In 2003, a manufacturing factory was established, which is now Xikaili (China) Co., Ltd.
CKD China is a wholly-owned enterprise invested by CKD Co., Ltd., which mainly produces automatic machinery.
Labor saving machinery, pneumatic control components and other products.
As a large-scale production base of the Group overseas, the Company has been committed to manufacturing high-quality and efficient products since its inception.
The new factory built in 2013, adhering to the concept of warmth, environmental protection and people-oriented, has set up a development headquarters as the second development base of CKD to carry out product manufacturing with the same quality in Japan and in line with the Chinese market.
It is a comprehensive factory integrating production, sales, components and automation equipment.
6. KOGANEI
Country: Japan
Founded:1934 
Products: KOGANEI high-performance pneumatic component cylinder, swing cylinder, pneumatic claw, solenoid valve, manual valve, check valve, vacuum valve generator, suction cup, various cylinders, magnetic dryer, pressure regulating valve, pressure valve, KOGANEI static remover, static tester
About the company:
KOGANEI, founded in 1934, is mainly engaged in the manufacturing and sales of pneumatic components and related products, the manufacturing of oxygen resin components and the manufacturing of centralized oil feeding lubricating devices.
KOGANEI provides products and services that are safe, reassuring and loved by customers based on their positions and views, and serves as the basis for all work.
In KOGANEI, in order to continuously and effectively carry out quality management and promote quality improvement activities, it obtained 1S09001:2000 certification and implemented it.
KOGANEI has established branches and business offices in 26 countries and regions in the world.
Shanghai KOGANEI International Trade Co., Ltd. is a subsidiary of Japan KOGANEI Co., Ltd., which was registered in Shanghai Waigaoqiao Free Trade Zone in 2004.
Its main business is the sales of Japanese KOGANEI imported products and Chinese local (Shanghai Jiading) products in China.
After 10 years of efforts in China, we have set up 6 branches (Shanghai, Beijing, Wuxi, Suzhou, Shenzhen and Guangzhou) and 9 locations.
7. Norgren
Country:
Founded: 
Products: Cylinder, air handling element, connector, Pressure switch, valve
About the company:
Norgren is a manufacturer in the field of motion and fluid control technology.
It provides excellent solutions for all fields pursuing speed and engineering stability to improve the productivity and efficiency of customers' equipment.
As an enterprise, Norgren aim to understand the challenges facing our customers.
Then by combining itsr products, talents and expertise, we can provide excellent services and solutions.
Norgren helps customers improve the performance of products in this way.
Norgren realize this advantage through a series of high-quality products, close cooperation with customers and strong ability to solve problems, and guarantee local delivery through the global technical support network around the world.
Norgren's global team consists of key account managers and more than 400 experienced engineers, many of whom are experts in key industry fields.
It recruits and cultivates talents in the industry, and provide good opportunities for training and contacting excellent products and technologies of world enterprises.
Experience has provided it with skills, confidence and expertise to better meet customer needs, help it deeply understand the challenges faced by customers, and provide perfect solutions.
Norgren has a global manufacturing capability and technology center, focusing on developing and strictly testing new high-quality products to meet the needs of precision industry and applications.
Norgren helps customers around the world to improve production linearity and reduce downtime and energy consumption.
Its product lines include IMI Norgren, IMl Buschjost, IMI FAS, IMI Herion and IMI Maxseal.
Their value has been fully proved in many years of practical application, and they have become trusted brands in the field of fluid and motion control.
Through innovation and new product development plans, we have made these product lines continue to grow.
Because of this, Norgren can help customers solve the huge engineering challenges stably, safely and efficiently.
By investing in robust project management systems and localized lean production, Norgren has provided the world's outstanding manufacturing, sales and services to 50 countries around the world.
In addition, with the integrated supply chain and fast sales services, Norgren has the systems, processes and support needed to deliver high-quality products and after-sales services anytime, anywhere and in a timely manner.
As a member of IMIPLC International Engineering Group, Norgren has sales and service networks in 50 countries and production bases in the United States, Germany, China, the United Kingdom, Switzerland, the Czech Republic, Mexico and Brazil.
Norgren also provides support for this through global technology centers and CFD design and R&D testing facilities.
In addition, Norgren also employs a professional team composed of field engineers, industry experts and key account managers – focusing on providing customers with quality services.
8. Parker
Country: USA
Founded: 1918 
About the company:
Founded in 1918, Parker Hannifin is a diversified manufacturer of global transmission and control technologies and systems, providing design solutions for various automotive, industrial and aviation markets.
The company focuses on customer needs. Parker has unique engineering expertise and a wide range of core technologies to overcome some challenging engineering problems in the world.
By building partnerships with customers, the company helps them significantly improve productivity and profitability.
Parker Hannifin is a global motion control manufacturing company, providing products and user services.
The company has more than 1400 production lines of components and systems, which are distributed in more than 1000 industrial and aviation fields in motion control.
Parker Hannifin is a manufacturer that provides customers with hydraulic, pneumatic and electromechanical motion control solutions.
The company has a sales network, with more than 7500 distributors serving 400000 customers around the world.
Parker Hannifin has entered China for more than 20 years. In 1990, Parker Hannifin established an office in China.
The factories in China include: Shanghai Dannison Hydraulic Parts Co., Ltd. (Parker Hannifin), Parker Hannifin Fluid Connector (Qingdao) Co., Ltd., Parker Sperm Pressure (Tianjin) Co., Ltd., Shanghai Gumei Sealing Products Factory, Wuxi Lekeli Factory, etc.
Parker has extensive engineering expertise in many areas of transmission and control technology, including aerospace, environmental control, electric machinery, filtration, fluid and gas processing, hydraulics, pneumatics, process control, and sealing and shielding.
Parker Hannifin China, founded in the 1980s, is one of the three foreign joint ventures established earlier since China's opening up and foreign direct investment.
It has more than 2000 product lines in China, covering more than 50 markets, and provides enterprises with nine technical solutions and services, including aerospace, environmental control, electromechanical, filtering, fluid and gas treatment, hydraulic, pneumatic, process control, and sealing.
Product applications and solutions mainly involve diesel engines, wind power generation, shipbuilding, marine exploration, steel, engineering machinery, high-speed railway and factory automation. Parker Hannifin China is headquartered in Shanghai.
9. Rexroth
Country: Germany
Founded:1978
About the company:
As one of the world-renowned transmission and control technology suppliers, Bosch Rexroth is committed to providing efficient, powerful and safe intelligent motion solutions for various machinery and system equipment.
The company has rich project experience in the fields of walking machinery application, machinery application and engineering, factory automation, etc., and with its intelligent components, customized solutions and services, it creates a perfect application environment for the realization of the interconnected industry.
At the same time, Bosch Rexroth also provides customers with various interfaces of hydraulic, electronic transmission and control, gear, linear transmission and assembly technology, software and the Internet of Things.
Since entering the Chinese market in 1978, Bosch Rexroth has established production bases in Beijing, Wujin and Xi'an.
10. JEIPC
Country: China
Founded:1999 
About the company:
Ningbo JEIPC is a well-known manufacturer specializing in the production of pneumatic components in China.
It is the first in the industry to pass ISO9001 quality system certification and CE certification;
It is the director unit of Pneumatic Branch of China Hydraulic and Pneumatic Seal Industry Association and the president unit of the 4th Fenghua Pneumatic Industry Association.
The company was founded in 1999. The existing factory covers an area of 40 mu and the factory covers an area of 50000 square meters.
It is a modern garden factory integrating R&D, production, procurement, materials, marketing and office work.
There are more than 360 employees, and professional and technical management personnel account for one fourth of the total number of employees.
"Ningbo Jiaerling Pneumatic Mechanical Engineering Technology Center" and "Zhejiang Provincial High tech Enterprise Research and Development Center" have been established successively, equipped with three coordinate measuring instrument, three-dimensional projector, high-precision flow testing platform, pneumatic component comprehensive testing platform and other large-scale professional testing equipment, with independent R&D and design capabilities.
The enterprise adopts the first-class CNC machine tools at home and abroad, such as full CNC machining centers and high-speed automatic lathes, as well as the automatic assembly line of the pilot head and the automatic assembly line of the solenoid valve.
The key seals, magnetic materials and lubricating grease are imported with original packaging from Japan or Germany.
The perfect EP management system and advanced equipment become the guarantee of high-quality products.
The company has the ability to "produce 700000 sets of pneumatic components and complete sets of equipment annually".
The company has successively presided over and participated in the preparation and revision of 22 national standards and industrial standards, such as "basic dimensions, installation dimensions and accessory dimensions of cylinders with a diameter of 32mm to 320mm with detachable pneumatic belts".
At present, the company has 48 invention patents, utility model patents and appearance patents related to pneumatic technology.
The company provides solenoid valves for the "Bird's Nest" project of the main stadium of the 2008 Beijing Olympic Games and the water supply and drainage system of the "Water Cube Natatorium", as well as the environmental protection recycling system for the 2010 Shanghai "World Expo".
Over the years, the company has cooperated with Airtec, a famous German manufacturer of pneumatic components, to carry out in-depth strategic cooperation in product research and development, sales, processing technology, employee training, etc.
JEIPC strives to be a "good pneumatic force in China".
The products are not only popular in China, but also exported to more than 50 countries and regions in Europe, the United States, the Middle East, Southeast Asia, etc.
It is one of the enterprises that exported pneumatic components earlier and more, enjoying good reputation and high status in the pneumatic industry.