Looking for the top servo motor manufacturers in the world? Look no further than this comprehensive guide from MachineMfg.
This article provides an in-depth look at the top three servo motor manufacturers in Japan: Yaskawa, Mitsubishi, and Panasonic.
With over 100 years of combined experience in the industry, these companies have established themselves as leaders in the field of electromechanical products. From motor frequency converters to industrial robots and more, Yaskawa, Mitsubishi, and Panasonic offer a wide range of high-quality products and services to meet the needs of customers around the world.
Whether you're in the market for AC servo motors, direct drive motors, linear motors, or actuators, these companies have you covered. With a focus on innovation, reliability, and customer satisfaction, Yaskawa, Mitsubishi, and Panasonic are sure to exceed your expectations.
So why wait? Read on to learn more about these top servo motor manufacturers and discover which one is right for you.
Top Servo Motor Manufacturers
1. Yaskawa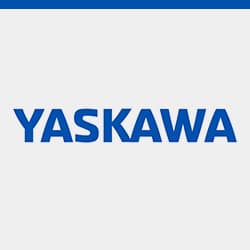 Country: Japan
Founded:1915
About the company:
Yaskawa is a well-known manufacturer of transmission products that was founded in Japan in 1915. The company focuses on research and development, design, production, and sales of motor products with drive control, motion control, robot system engineering at its core.
The company's main products include motor frequency converter industrial robots and other motor products. Since its establishment, Yaskawa Electric Machinery Co., Ltd. has been committed to the rapid development of the global industry and the realization of human dreams.
Yaskawa Electric Co., Ltd. centers on the four major undertakings of drive control, motion control, robot, and system engineering to make contributions to the development of industry and society. Through leading quality and technology, the company provides the world with inverter-driven products that contribute to environmental protection, support a comfortable life, and improve the efficiency and productivity of industrial machinery.
Since Yaskawa Electric proposed the term "Mechatronics" in 1969, the company has been committed to combining electrical products and machinery. Since the launch of the transistor inverter (VS-616T) in 1974, the company has focused on meeting customer needs and providing innovative products without compromising on quality.
In 2017, the company launched a new series of inverters, including the high-performance multi-function inverter GA7O0 and the multi-function inverter CH700. These new inverters inherit the high quality that Yaskawa is proud of and provide suitable solutions to customers' problems with the concept of versatility, ease of use, and reliability.
The AC servo "Σ series" integrates YASKAWA's electromechanical integration and covers AC servo motors, direct drive motors, linear motors, and actuators suitable for customers' machinery. This product line is committed to contributing to the high-speed and high functionality of customers' machinery.
Yaskawa Robot "YASKAWA" is active in various industries around the world, such as auto parts, machines, motors, metals, and logistics. The company believes that robots useful for human beings can expand the possibilities of the future. To replace complex work such as difficult assembly, Yaskawa has developed the Motoman new century double-arm robots and put them on the market worldwide.
With the concept of "providing solutions," Yaskawa's multi-functional robot focuses on customer communication and dialogue to provide appropriate solutions for a wider range of needs and a variety of problems. The company also implements full-line support for the FA.CM system.
As an enterprise providing overall solutions, Yaskawa Electric Machinery (China) Co., Ltd. has been committed to contributing to China's industrial advancement since its establishment. The company continuously provides world-renowned products and technologies to the Chinese market.
As a pilot enterprise of motor control, Yaskawa Motor has reliable motion control technology to meet the needs of the world. In the future, the company will continue to take "serving human needs and protecting the Earth's environment" as its mission and work together with everyone.
2. Mitsubishi
Country: Japan
Founded:1921
Industrial automation
AC asynchronous motor, gear reducer, programmable controller (Q-PLC, FX-PLC, L-PLC), human-machine interface (HMI), frequency converter, tension control system, power distribution control products, motion controller and servo control system, numerical control system, laser processing machine, electric discharge processing machine, industrial robot, industrial sewing machine, Mitsubishi energy-saving data collection server, comprehensive category.
Power equipment
Transformers, transformer cooling equipment, switches, protection and control devices, power generation equipment, armored metal switchgear for power, intelligent substation solutions, others.
Electromechanical products for rail transit vehicles
Mechanical and electrical products for rail transit vehicles.
Society · Public System
Water treatment system, emergency power supply system, others.
Elevator/Escalator
Air conditioning cooling and heating system
Domestic air conditioners, domestic central air conditioners, multi connected/commercial air conditioners (CITYMULTI, Power Multi, Mm. SLIM, etc.), multi connected/commercial air conditioners (chillers), multi connected/commercial air conditioners (variable frequency refrigerators Cool Multi), total heat exchanger ventilation equipment Lossnay, small compressors.
Imaging equipment
DLP rear projection display wall, multimedia data projector, Diamond Vision LED display system, large size public LCD, desktop display, thermal sublimation printer.
Print/image sensing
Thermal print head/contact image sensor.
Semiconductor Device
Power device, microwave RF optical device/optical module.
Other products
Environmental information system, solar power generation system, regenerative braking, air jet dryer, comprehensive document management system ManedgeLeader, visual energy saving, other products.
About the company:
Mitsubishi was founded in Japan in 1921 with a focus on research and development in advanced technologies. It has expertise in high-tech fields such as compressor automation frequency conversion control/power equipment and mainly provides electromechanical products in areas including power equipment, communication equipment, industrial automation, electronic components, and household appliances.
The Mitsubishi Electric Group provides a wide range of high-quality products and services from semiconductors to large systems for families, offices, factories, and social infrastructure.
The business philosophy of "One Mitsubishi Electric" aims to contribute to China's better future and create a better society. By promoting the "One Mitsubishi Electric" activity, the comprehensive strength of the Mitsubishi Electric Group in China will be improved.
Mitsubishi Electric will continue to value the voice of its customers and contribute to the development of Chinese society through advanced technology and products in various fields, growing together with the community.
Established in October 1997, Mitsubishi Electric (China) Co., Ltd. (MEC) serves as the Chinese head office of Mitsubishi Electric Co., Ltd. MEC is responsible for planning and filing China's strategy, enterprise risk management, accounting and finance, human resources, public relations, legal affairs, information security, intellectual property, environmental protection, T, production technology, research and development, and other enterprise service support, as well as promoting comprehensive cooperation among group companies in China.
When implementing business plans, the company prioritizes paying attention to the front-line situation and taking quick action. MEC also emphasizes investigating and understanding the front-line situation, making quick judgments, and taking corresponding measures.
3. Panasonic
Country: Japan
Founded:1918
About the company:
Panasonic was founded in 1918 and is a comprehensive electronic technology enterprise group that specializes in the production and sales of various electrical products. Its industries include household appliances, digital audio-visual electronics, office products, aviation, and many other fields.
Panasonic entered mainland China in 1978 and, after 40 years of development, its business activities have expanded to involve research and development, manufacturing, sales, service, logistics, and other aspects. As a global electronics manufacturer, Panasonic Group engages in the production, sales, and other business activities of various electrical products.
Panasonic Electric Appliances (China) Co., Ltd. was established in 1994 and became a sole proprietorship in 2002. It is primarily responsible for the sales and after-sales service activities of household appliances, systems, environment, components, and other commodities.
As an investment company in China, Matsushita Electric (China) Co., Ltd. is responsible for carrying out comprehensive and supporting activities such as talent training, finance, legal affairs, environmental protection, intellectual property rights, and quality management.
In January 2012, Panasonic Electric (China) Co., Ltd. absorbed and merged Panasonic Electric (China) Co., Ltd., further expanding its business scope.
In April 2019, Panasonic Group established a regional business company – China Northeast Asia Company, which combines business and regional functions. Headquartered in Beijing, this is the first time that Panasonic Group has established a business company outside Japan.
From the perspective of local demand in China, CNOOC Northeast Asia will contribute to the field of "living space," integrating traditional home appliances and residential equipment, as well as the field of "fresh food supply chain" with the core of the cold chain.
4. Siemens
Country: Germany
Founded:1847
About the company:
Siemens AG, founded in 1847, is a technology company headquartered in Berlin and Munich, focusing on industry, infrastructure, transportation, and medical care. It provides innovative solutions in power generation, transmission and distribution, infrastructure, industrial automation, drive and software, based on electrification, automation, and digitalization.
Siemens aims to make technological progress and create value for its customers, by delivering more energy-efficient and eco-friendly factories, flexible supply chains, intelligent buildings and power grids, clean transportation, and advanced medical systems. By integrating the real world with the digital world, Siemens empowers customers to drive industrial and market changes, helping billions of people create together each day.
Siemens holds a majority stake in Siemens Healthcare, an important global medical technology supplier shaping the future of the medical industry. Additionally, it holds a minority stake in Siemens Energy, an essential enterprise in the field of global power transmission and generation.
Siemens has a long-standing history in China, tracing back to 1872 when it delivered a pointer telegraph, a steam generator, and a tram. In 1985, Siemens signed a memorandum of comprehensive cooperation with the Chinese government. The company has been providing comprehensive support to China's development with innovative technologies, excellent solutions, and products.
Siemens' 50 years of unswerving spirit of cooperation and innovation, along with its hundred years of perseverance rooted in China, have made it an indispensable part of China's society and economy. The company will continue to deeply integrate into China's new development pattern, face the future, and make new contributions to China's sustainable economic and social development.
With the values of "taking responsibility bravely, pursuing excellence, and striving for innovation" and the strategic focus of "achieving customers, making science and technology promising, empowering people, and growing thinking", Siemens is committed to creating every day with science and technology and becoming an influential science and technology company in China.
5. Rexroth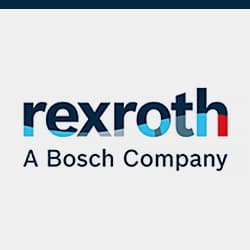 Country: Germany
Founded: 2001
About the company:
Bosch Rexroth is a leading global supplier of transmission and control technology, resulting from the merger of Bosch Automation Technology Department and Rexroth in 2001. Since entering the domestic market in 1978, the company has focused on providing intelligent motion solutions for various machinery and system equipment.
As a renowned transmission and control technology supplier, Bosch Rexroth is dedicated to delivering efficient, powerful, and safe intelligent motion solutions for machinery and system equipment. The company has extensive project experience in walking machinery applications, machinery applications and engineering, and factory automation. With its intelligent components, customized solutions, and services, it creates an ideal application environment for the realization of the interconnected industry.
Bosch Rexroth provides customers with various interfaces of hydraulic and electronic transmission and control, gear, linear transmission and assembly technology, software, and the Internet of Things. Moreover, the company has established production bases in Beijing, Wujin, and Xi'an since its inception in the Chinese market.
6. Inovance
Country: China
Founded:2003
Products:
The company offers industrial automation products that serve the field of intelligent equipment. These include various frequency converters, servo systems, control systems, industrial vision systems, sensors, high-performance motors, high-precision lead screws, and other core components. The company also provides optoelectromechanical integration solutions.
The company offers core components, complete machines, and solutions that serve the industrial robot field. These include robot-specific control systems, servo systems, vision systems, high-precision lead screws, SCARA robots, six-joint robots, and more.
The company provides powertrain products that serve the field of new energy vehicles. These include various motor controllers, auxiliary power systems, high-performance motors, DCDC power supplies, and powertrain systems.
The company offers traction and control systems that serve the rail transit field. These include traction converters, auxiliary converters, high-voltage boxes, traction motors, TCMS, and more.
The company provides industrial internet solutions that serve the post-equipment service market. These include industrial cloud, application development platforms, intelligent hardware, information management platforms, and more.
The company's products find widespread application in new energy vehicles, elevators, air compressors, industrial robot manipulators, 3C manufacturing, lithium batteries, lifting equipment, machine tools, metal products, wires and cables, plastics, printing and packaging, textile chemical fibers, building materials, metallurgy, coal mines, municipal services, rail transit, and other industries.
About the company:
Since its establishment, Shenzhen Huichuanchuan Technology Co., Ltd. has always focused on core technologies such as motor drive and control, power electronics, and industrial network communication. The company has adhered to technical and industry marketing and provided customized solutions of "industrial control+process" for subdivided industries, enabling the common growth of enterprise and customer values.
After 16 years of development, the company has transformed from a single inverter supplier to a supplier of opto-electromechanical integrated products and solutions.
The company specializes in the R&D, production, and sales of industrial automation and new energy-related products. It has mastered core technologies such as high-performance vector frequency conversion, vector frequency converters, servo systems, programmable logic controllers, encoders, permanent magnet synchronous motors, and other products. Additionally, it has developed application technologies for new energy vehicles, elevators, lifting, injection molding machines, textiles, metal products, printing and packaging, air compressors, and other industries.
As of December 31, 2018, the company had obtained 1,120 patents and software copyrights (excluding those under application), including 260 invention patents, 570 utility model patents, 146 appearance patents, and 144 software copyrights.
In 2018, the company added 31 invention patents, 157 utility model patents, 42 appearance patents, and 15 software copyrights.
Huichuan Chuan Technology has over 10 subsidiaries located in Suzhou, Hangzhou, Nanjing, Shanghai, Ningbo, Changchun, Hong Kong, and other regions.
As of December 31, 2018, the company had 7,769 employees, with 2,006 personnel specializing in research and development, accounting for 25.82% of the total employees.
To continuously improve production capacity and promote sustainable development, the construction of Suzhou Huichuan Phase II Project began on July 4, 2013.
The Suzhou Huichuan Phase II plant has a total investment of 600 million yuan, covering an area of 200 mu and a total building area of 300,000 square meters.
The Phase II plant construction includes a production workshop, research and development building, customer reception center, and other projects.
The production workshop has been formally operational for two years since the beginning of construction, and was formally put into operation on September 17, 2015.
The production workshop of Suzhou Huichuan Phase II Plant has met the demand of Huichuan for future development of the site, greatly improved the company's production capacity, helped promote the company's sustainable development, and enabled Huichuan to take off for the second time.
7. Lenze
Country: Germany
Founded:1947
About the company:
The Lenze Group has the necessary capabilities to offer services and supply chains worldwide. Despite significant growth, the company remains flexible and provides personalized advice to customers while supporting them in implementation.
This family business combines the benefits of international enterprises with a "sincere affinity" for customers, providing practical added value and contributing to Lenze's success. Currently, Lenze Group employs over 3000 people worldwide.
For more than 60 years, Lenze's core competitiveness has been in the drive and automation system, positioning the company as one of the industry's most innovative enterprises. Moreover, Lenze Group provides customers with a complete product system at all stages of mechanical development.
Lenze established its Beijing office in China in 1997 and entered the market officially. The company is committed to expanding its business continuously in China and establishing a stable market.
In 2007, Lenze Group set up a wholly-owned subsidiary, Lenze (Shanghai) Transmission System Co., Ltd., in Shanghai, China. The company has built a production base and logistics center in the heavy equipment area of Shanghai Lingang New City and has established sales offices in 12 locations throughout the country. This enables Lenze to respond promptly to the needs of the Chinese market and efficiently provide high-quality products, including Lenze standard and customized products, control systems, and drive shafts.
Lenze China has over 60 regional sales and technical engineers with rich industry experience and application knowledge, providing professional support to users. The service department of Lenze China offers a range of services, including product maintenance, improvement, and technical support.
8. Schneider
Country: France
Founded: 1936
About the company:
Schneider Electric SA is a global electrical enterprise headquartered in France that specializes in global energy efficiency management and automation. Founded by the Schneider brothers in 1836, the company's headquarters are located in Rueil-Malmaison, France.
With more than 160,000 employees in over 100 countries around the world, the Group's sales volume in fiscal 2016 was 25 billion euros. Schneider Electric is committed to promoting digital transformation and serving the home, building, data center, infrastructure, and industrial markets.
Through the integration of advanced process and energy management technology, Schneider Electric's interconnected products, controls, software, and services run through the entire business life cycle, achieving integrated enterprise-level management.
The company has a global presence with localization advantages and is committed to promoting an open technology and partner ecosystem, while actively practicing the values of meaning, inclusiveness, and empowerment.
Over its 170-year history, Schneider Electric has faced numerous challenges and made several strategic choices, growing into an industry leader. The company has a rich history, starting with its engagement in the steel, heavy machinery, and shipbuilding industries in the 19th century and moving into electric power and automation management in the 20th century.
Schneider Electric provides overall solutions for the energy and infrastructure, industry, data center and network, buildings, and residential markets in more than 100 countries. The company is at an advanced level in the energy and infrastructure, industrial process control, building automation, and data center and network markets and has a strong market capacity in residential applications.
In FY2012, Schneider Electric's total revenue reached 24 billion euros, with more than 140,000 employees in over 100 countries. With its successful business development in China, Schneider Electric pays more attention to its development in China and is willing to contribute to China's opening up and modernization through further business cooperation.
9. Omron
Country: Japan
Founded: 1933
About the company:
Omron Automation (China) Co., Ltd. is a multinational company that leads in industrial automation products and applies advanced technology. As a part of Omron's global business, it has become a leader in the field of automation.
In China, Omron Automation (China) Co., Ltd. has established R&D and production, technical service, logistics bases, and sales companies in North China, East China, and South China. With over 40 offices across the country, Omron Automation (China) Co., Ltd. provides direct services to customers.
Omron uses its "sensing and control" technology, which is based on years of experience and profound understanding of the production site, to constantly meet customers' pursuit of product diversification and high quality. Moreover, Omron provides advice on environmental protection and production safety.
10. Delta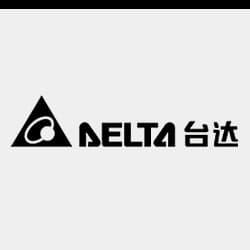 Country: China
Founded: 1971
About the company:
Delta was established in 1971 to provide power management and cooling solutions globally. Its roots in China began in the Pearl River Delta region in the south.
In 1992, following the trend, Delta set up the Zhongquan Electronics Factory in Shiyan Town, Dongguan City, Guangdong Province. The same year, "Zhongda Telecom Co., Ltd." was invested and founded in Shanghai, responsible for building Delta's marketing and service network in mainland China.
For over two decades, Delta has deepened its roots in mainland China with operations covering R&D, production, sales, and services.
Currently, Delta has four major production bases located in Dongguan, Guangdong, Wujiang, Jiangsu, Wuhu, Anhui, and Chenzhou, Hunan. Additionally, there are twenty-three R&D centers with more than 3000 R&D engineers, 49 operational outlets, and 73 service outlets employing over 50,000 people.
Delta continues to introduce effective, energy-saving, and reliable products and solutions with innovative technology, continuous strengthening of engineering R&D equipment, and sophisticated testing instruments.
Delta's subsidiary, Zhongda Diantong, also understands the customer's operating environment and process needs, proposing complete solutions to create competitive advantages for customers.
To meet customers' demand for uninterrupted operation, Zhongda Diantong provides customized, multi-dimensional pre-sales, in-sales services, and after-sales support with a well-trained technical service team, complementing its complete branches, technical service, and maintenance outlets.
As Delta's revenue continues to grow, it practices corporate social responsibility, focusing on environmental protection, energy management, and improving energy efficiency at its operation sites.
Delta actively participates in and sponsors various social public welfare activities such as environmental education, green building promotion, talent cultivation, academic research and development, and others, leveraging the enterprise's core competence.
Factors to Consider When Choosing a Servo Motor Manufacturer
As I researched the top servo motor manufacturers, I realized that selecting the best manufacturer can be a daunting task, especially for those who are not familiar with the industry. In this section, I will discuss the factors that you should consider when choosing a servo motor manufacturer.
Quality of Products
When selecting a servo motor manufacturer, the quality of their products should be your top priority. You need to ensure that the servo motors you purchase are reliable, durable, and efficient. To evaluate the quality of their products, you should consider the following:
Materials: The manufacturer should use high-quality materials to ensure that their products can withstand harsh environments and heavy loads.
Testing and Certifications: The manufacturer should test their products thoroughly and have certifications that prove their products meet industry standards.
Warranty: The manufacturer should offer a warranty that covers any defects or malfunctions that may occur.
Customer Support
The manufacturer's customer support is another crucial factor to consider. You need to ensure that you can get help and support whenever you need it. To evaluate their customer support, you should consider the following:
Responsiveness: The manufacturer should respond promptly to your inquiries and provide helpful solutions.
Technical Support: The manufacturer should have a team of experts who can provide technical support and help you troubleshoot any issues.
Training: The manufacturer should offer training to help you understand their products and use them effectively.
Cost
The cost of the servo motors is also an important factor to consider. You need to ensure that you get the best value for your money. To evaluate the cost, you should consider the following:
Price: The manufacturer should offer competitive prices that are in line with industry standards.
Total Cost of Ownership: The manufacturer should help you calculate the total cost of ownership, including maintenance, repairs, and energy consumption.
Discounts and Rebates: The manufacturer should offer discounts and rebates that can help you save money.
Customization Options
Finally, you should consider the customization options that the manufacturer offers. You need to ensure that you can get servo motors that meet your specific needs. To evaluate their customization options, you should consider the following:
Design Flexibility: The manufacturer should offer design flexibility that allows you to customize the servo motors to your specific requirements.
Lead Time: The manufacturer should provide a reasonable lead time for customized products.
Prototyping: The manufacturer should offer prototyping services that allow you to test the customized products before placing a large order.
In conclusion, when choosing a servo motor manufacturer, you should consider the quality of their products, customer support, cost, and customization options. By evaluating these factors, you can select a manufacturer that meets your needs and provides you with the best value for your money.
Future of Servo Motors
Advancements in Technology
I believe that servo motors will continue to evolve with advancements in technology. As technology continues to develop, servo motors will become more precise, efficient, and powerful. For example, the development of artificial intelligence and machine learning will allow servo motors to adapt to changing conditions and optimize their performance.
Emerging Markets
In my opinion, emerging markets will play a significant role in the future of servo motors. As more countries develop their manufacturing industries, the demand for servo motors will increase. This presents an opportunity for servo motor manufacturers to expand their operations and tap into new markets.
Sustainability
I think that sustainability will be a key consideration for servo motor manufacturers in the future. As environmental concerns become more pressing, manufacturers will need to develop more sustainable products. This could involve using more eco-friendly materials, reducing energy consumption, and minimizing waste.
Overall, I believe that the future of servo motors is bright. With advancements in technology, emerging markets, and a growing focus on sustainability, servo motors will continue to play a critical role in a wide range of industries.