The steel plate with the pattern on the surface is called the checkered stel plate, and its pattern is in the shape of lentil, diamond, round bean and flat circle.
Lentils are the most common in the market.
The checkered plate has many advantages, such as beautiful appearance, anti-skid ability, enhanced performance and steel saving.
It is widely used in transportation, architecture, decoration, equipment surrounding floor, machinery, shipbuilding and other fields.
Generally speaking, the user does not have high requirements on the mechanical properties of the checkered plate.
Therefore, the quality of the checkered plate is mainly manifested in the pattern formation rate, pattern height and pattern height difference.
The thickness commonly used in the market varies from 2.0-8mm, and the width is 1250 and 1500mm.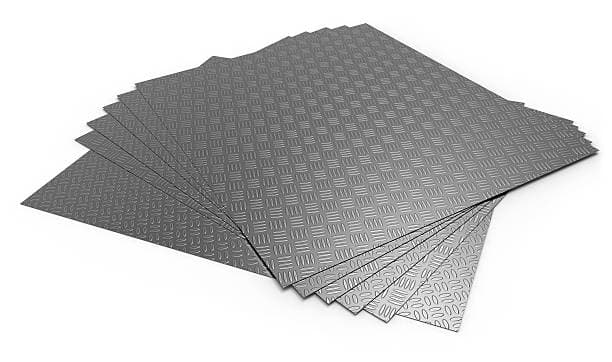 Checkered Steel Plate Weight Calculator
You can use the following checkered steel plate weight calculator to calculate the weight of the chequered plate.
For the aluminum checkered plate weight calculation, you can use this formula:
W = length(m)×width(mm)×thickness (mm)×0.00296
Checkered Steel Plate Weight Chart
Basic thickness
Allowable deviation
Weight (kg/m²)
mm
mm
Diamond
Lentil
Round bean
2.5
±0.3
21.6
21.3
21.1
3
±0.3
25.6
24.4
24.3
3.5
±0.3
29.5
28.4
28.3
4
±0.4
33.4
32.4
32.3
4.5
±0.4
38.6
38.3
36.2
5
0.4
42.3
40.5
40.2
5
-0.5
42.3
40.5
40.2
5.5
0.4
46.2
44.3
44.1
5.5
-0.5
46.2
44.3
44.1
6
0.5
50.1
48.4
48.1
6
-0.6
50.1
48.4
48.1
7
0.6
59
58
52.4
7
-0.7
59
58
52.4
8
0.6
66.8
65.8
56.2
8
-0.8
66.8
65.8
56.2