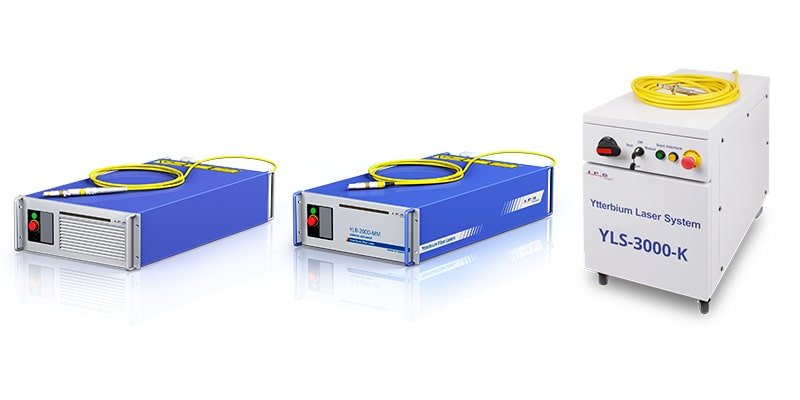 Remarks:
1. Blue color means simple sharp or low requirement can be cut in a short scale, it's a little bit difficult
2. Red color means the sample cutting is ok, but can not be used for batch cutting
3. For IPG3000W or higher power, we sincerely recommend you to use Nitrogen when cutting thin carbon steel to enhance the cutting efficiency.
Material
Thickness
(mm)
IPG
1000
IPG
1500
IPG
2000
IPG
2000
IPG
3000
IPG
4000
IPG
6000
Core Dia
50um
100um
50um
100um
100um
100um
100um
(m/min)
Carbon Steel
(O2)

1

7.0-9.0

7.0-11.0

7.0-12.0

7.0-12.0

7.0-12.0

8.0-12.0

8.0-12.0

2

5.0-6.0

5.0-6.5

5.0-6.5

5.0-6.5

5.0-7.0

5.0-7.5

5.0-7.5

3

2.5-3.0

2.8-3.8

3.0-4.6

3.0-4.6

3.5-5.0

3.8-5.0

3.8-5.0

4

2.0-2.4

2.5-3.2

2.8-4.0

2.8-4.0

3.0-4.2

3.5-4.5

3.5-4.5

5

1.5-1.8

1.8-2.5

2.2-3.2

2.2-3.2

2.5-3.6

3.0-3.8

3.0-3.8

6

1.4-1.6

1.6-2.2

2.0-2.8

2.0-2.8

2.4-3.0

2.6-3.2

2.6-3.2

8

1.0-1.2

1.1-1.5

1.4-2.0

1.4-2.0

1.8-2.4

2.0-2.5

2.0-2.5

10

0.75-0.85

1.0-1.2

1.1-1.4

1.1-1.4

1.2-1.8

1.8-2.1

1.8-2.1

12

0.6-0.7

0.9-1.0

0.9-1.2

0.9-1.2

1.0-1.5

1.0-1.5

1.0-1.5

16

0.60-0.75

0.60-0.75

0.7-0.85

0.7-0.85

0.7-0.85

20

Can't Cutting

0.4-0.5

0.6-0.75

0.6-0.75

0.6-0.75

22

0.50-0.65

0.55-0.65

0.55-0.65

25

0.4-0.6

0.4-0.6

0.4-0.6

Stainless Steel
(N2)

1

15-18

10.0-15.0

35.0-50.0

20.0-28.0

35.0-50.0

45.0-55.0

45.0-55.0

2

4.5-6.0

5.0-7.0

10.0-15.0

9.0-13.0

15.0-23.0

18.0-27.0

20.0-35.0

3

2.0-2.4

3.0-4.0

5.0-7.0

4.0-6.5

7.0-11.0

10.0-15.0

15.0-20.0

4

1.0-1.5

2.0-2.8

3.5-4.5

3.0-4.5

4.0-6.0

5.0-7.5

10.0-14.0

5

0.75-0.85

1.2-1.7

1.8-2.5

1.8-2.5

2.5-4.0

4.0-5.0

8.0-12.0

6

0.7-1.0

0.7-0.8

1.2-1.8

2.0-3.2

3.0-4.0

6.0-8.0

8

0.5-0.7

0.5-0.6

0.7-1.0

1.2-1.8

1.5-2.6

3.5-4.0

10

0.5-0.6

0.7-0.9

0.7-1.3

1.8-2.2

12

0.3-0.4

0.4-0.6

1.2-1.5

14

0.3-0.5

0.8-1.2

16

0.3-0.5

0.6-0.8

20

0.3-0.4

Aluminum Alloy
(N2)

1

10.0-15.0

30.0-45.0

13.0-25.0

30.0-38.0

35.0-40.0

45.0-55.0

2

5.0-6.0

10.0-15.0

7.0-10.0

12.0-16.0

13.0-22.0

20.0-30.0

3

2.5-3.5

5.0-7.0

4.0-6.0

6.5-8.0

7.0-13.0

13.0-18.0

4

1.4-2.0

3.5-5.0

2.5-3.5

3.5-5.0

4.0-5.5

10.0-12.0

5

0.8-1.0

2.0-3.0

1.4-1.8

2.5-3.5

3.0-4.0

5.0-8.0

6

0.5-0.6

1.5-2.0

0.8-1.2

1.8-3.0

2.2-3.5

4.0-6.0

8

0.5-0.6

0.6-0.8

0.9-1.3

0.9-1.6

2.0-3.0

10

0.4-0.7

0.55-1.0

1.0-1.9

12

0.3-0.45

0.4-0.6

0.8-1.4

16

0.3-0.4

0.6-0.9

Copper
(N2)

1

8.0-12.0

12.0-18.0

10.0-16.0

20.0-32.0

25.0-30.0

45.0-55.0

2

3.5-5.0

6.0-8.5

6.0-8.0

9.0-11.0

10.0-13.0

25.0-35.0

3

1.5-2.2

2.5-4.0

2.5-4.0

4.0-6.0

5.0-6.5

12.0-18.0

4

1.0-1.2

1.5-1.8

1.6-2.2

3.0-4.5

3.0-5.2

8.0-10.0

5

0.6-0.8

0.8-1.2

0.9-1.2

1.5-2.0

2.0-3.0

4.5.0-6.0

6

0.4-0.5

0.4-0.7

1.0-1.6

1.4-2.0

3.0-4.0

8

0.5-0.6

0.7-0.8

1.6-2.2

10

0.2-0.3

0.8-1.2

Stainless Steel
(High pressure air)

1

35.0-50.0

20.0-28.0

35.0-50.0

45.0-55.0

45.0-55.0

2

10.0-15.0

9.0-12.0

15.0-23.0

18.0-27.0

20.0-35.0

3

5.0-7.0

4.0-6.0

7.0-11.0

10.0-15.0

15.0-20.0

4

3.5-4.5

3.5-4.0

4.0-6.5

5.0-6.5

10.0-14.0

5

1.8-2.5

1.5-2.0

2.5-4.0

3.5-5.0

8.0-12.0

6

0.7-0.8

1.0-1.2

2.0-3.2

3.0-4.5

6.0-8.0

8

1.2-1.8

1.5-2.6

3.5-4.0

10

0.7-0.9

0.6-1.2

1.8-2.2

12

1.2-1.5

Aluminum Alloy
(Air)

1

30.0-45.0

13.0-25.0

35.0-50.0

45.0-55.0

45.0-50.0

2

10.0-16.0

7.0-12.0

12.0-20.0

18.0-27.0

20.0-30.0

3

5.0-7.0

4.0-6.0

6.5-9.0

9.0-14.0

13.0-18.0

4

3.5-5.0

2.5-4.0

4.0-5.5

4.5-6.5

10.0-12.0

5

2.0-3.0

1.4-1.8

2.5-3.5

3.5-5.0

5.0-8.0

6

1.2-2.0

0.8-1.5

1.8-3.0

3.0-4.0

4.0-6.0

8

0.9-1.3

1.5-2.0

2.0-3.0

10

0.7-0.8

0.5-0.8

1.0-1.9

Copper
(Air)

1

18-28.0

13.0-22.0

25.0-36.0

18.0-35.0

35.0-45.0

2

8-12.0

6.0-10.0

7.0-10.0

10.0-15.0

15.0-30.0

3

1.5-2.5

2.5-5.0

5.0-6.0

6.0-7.5

10.0-15.0