I. Classification of Profiles
1. Simple Section Steel
① Square steel – hot-rolled square steel, cold-drawn square steel;
② Round steel – hot-rolled round steel, forged round steel, cold-drawn round steel
③ Wire rod;
④ Flat steel;
⑤ Spring flat steel;
⑥ Angle steel – equal angle steel, unequal angle steel;
⑦ Triangle steel
⑧ Hexagonal steel;
⑨ Bow-shaped steel;
⑩ Elliptical steel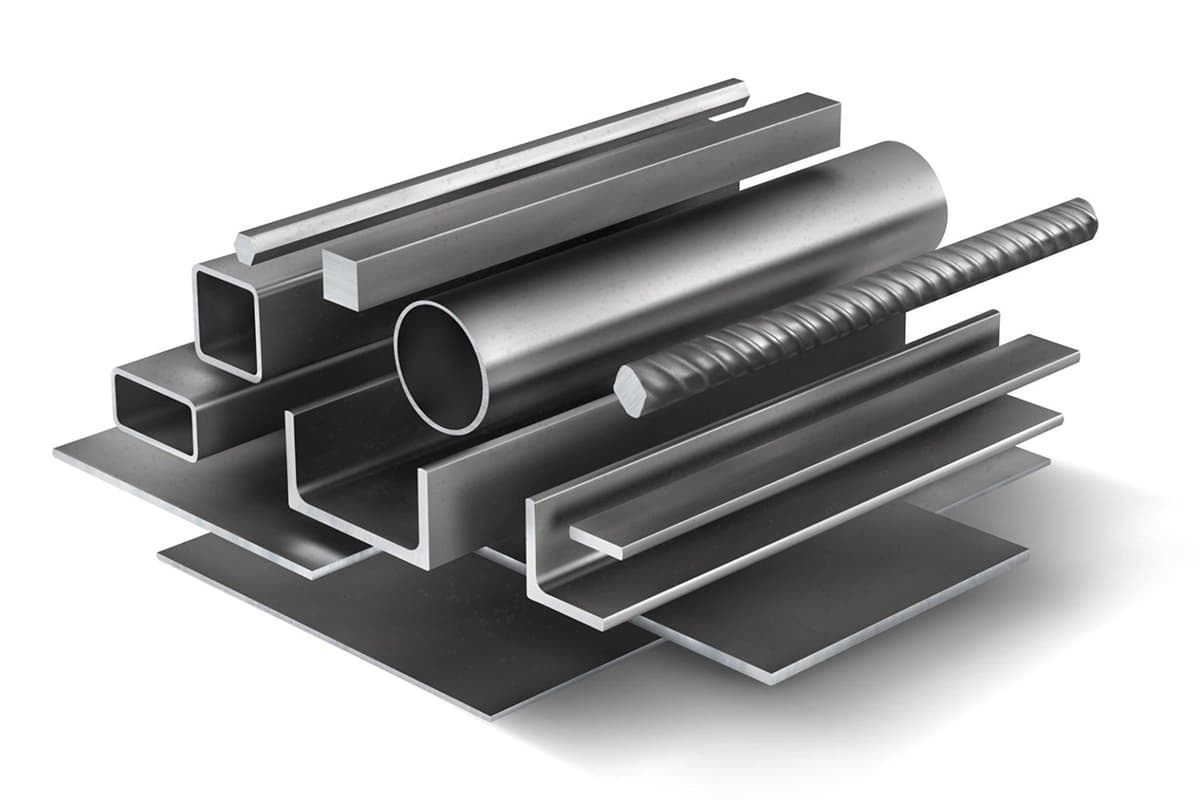 2. Complex Section Steel
① I-beam – ordinary I-beam, light I-beam
② Channel steel – hot-rolled channel steel (ordinary channel steel, light channel steel), bent channel steel
③ H-beam (also known as wide-leg I-beam)
④ Steel rail – heavy rail, light rail, crane rail, other special rails
⑤ Window frame steel
⑥ Steel sheet piles
⑦ Bent section steel – cold-formed steel, hot-formed steel
⑧ Others
II. Classification of Large, Medium, and Small Sections in Structural Steel
| | | | |
| --- | --- | --- | --- |
| Profiles | Large | Medium-sized | Small-sized |
| I-beam | Height ≥ 180mm | Height<180mm | / |
| Channel steel | Height ≥ 180mm | Height<180mm | / |
| Equilateral angle steel | Edge width 2160mm | Edge width 50-140mm | Edge width 20-45mm |
| Unequal angle steel | Edge width ≥ 160 × 100mm | Edge width 140 × 90-50 × 32mm | Edge width ≤ 45 × 28mm |
| Round steel | Diameter ≥ 90mm | Diameter 38-80mm | Diameter 10-36mm |
| Square steel | Edge width 290mm | Edge width 50-75mm | Edge width 10-25mm |
| Flat steel | Width ≥ 120mm | Width 60-100mm | Width 12-55mm |
| Threaded steel | / | Diameter ≥ 40mm | Diameter 10-36mm |
| Rivet steel | / | / | Diameter 10-22mm |
| Others | Special shaped steel: track shoes, steel sheet piles, etc | Special shaped steel, composite flat steel for small agricultural tools, etc | Special shaped steel, agricultural tool steel, window frame steel, etc |
III. Wire Rods
These primarily refer to hot-rolled round steel of 5-9mm diameter and thread steel under 10mm. Most are supplied in coil form via a coiling machine, also known as coil bar or coiled round.
Wire rods are mainly used as reinforcement in reinforced concrete, welding structure components, or for further processing (such as wire drawing, stapling, etc.) as raw materials.
According to the steel distribution directory, wire rods include ordinary low-carbon steel hot-rolled coil bars, welding coil bars, blasting wire coil bars, quenched thread coil bars, and high-quality coil bars.
The most widely used wire rod is the ordinary low-carbon steel hot-rolled coil bar, also known as ordinary wire rod. It is hot-rolled from Q195, Q215, Q235 ordinary carbon steel, with a nominal diameter of 5.5-14.0mm.
Generally, each coil weighs between 100-200kg. Currently, no-twist high-speed wire rod mills are frequently used for rolling, followed by controlled cooling after rolling. The diameter ranges from 5.5-22.0mm, with the maximum coil weight reaching up to 2500kg.
Ordinary wire rods are primarily utilized in construction, wire drawing, packaging, welding rods, and the manufacturing of bolts, nuts, rivets, etc. High-quality wire rods are only supplied as hot-rolled coil bars of high-quality carbon structural steel, such as 08F, 10, 35Mn, 50Mn, 65, 75Mn, etc. They serve as raw materials for steel wires and other metal products, and other structural components, with other high-quality steel rolled into wire rods.
Customarily, anything above 8mm is classified as high-quality profile, while anything below 8mm is classified as a metal product. In addition to strength requirements for wire rods, cold bending tests, size checks, etc., are carried out based on their uses. The surface should not have defects such as cracks, folds, scabs, pits, delamination, and inclusions.
IV. Hot Rolled Ribbed Rebar
1. Types and Specifications
The designation of hot rolled ribbed rebar is formed by the initials HRB and the minimum yield point of the grade. H, R, and B respectively stand for Hot rolled, Ribbed, and Bars. There are three grades of hot rolled ribbed rebar: HRB335 (old grade 20MnSi), HRB400 (old grades 20MnSiV, 20MnSiNb, 20MnTi), and HRB500.
2. Vanadium Grade III Threaded Rebar
① Promising Market Prospects for Vanadium Grade III Threaded Rebar
The new Vanadium Grade III Threaded Rebar (20MnSiV, 400Mpa), which incorporates alloys such as vanadium, niobium, and titanium during production, boasts higher strength, better toughness, superior welding performance, and good seismic resistance compared to ordinary Grade II Threaded Rebar.
In the construction markets of developed countries such as Europe, Grade III Threaded Rebar constitutes 80% of the total threaded rebar volume. High-strength Vanadium Grade III Threaded Rebar usage has reached 80-90% in countries like the UK, Germany, Australia, and Japan.
Introduced in China in 1995 by the former Ministry of Metallurgy and Ministry of Construction, the new Grade III Threaded Rebar technical specifications have been incorporated into the national standard GBJ10-89 "Concrete Structure Design Specifications".
It has been implemented since January 1, 1997 and successfully applied in high-rise buildings, large power stations, bridges, tunnels, airports, and other engineering projects, demonstrating vast market potential. The Ministry of Construction aimed for the new Grade III Rebar to reach 50% of the total threaded rebar volume by 2002, and 80% by the end of the "10th Five-Year Plan".
However, due to insufficient promotion, its usage is still significantly lower than the old Grade II 335Mpa ordinary threaded rebar. Therefore, vigorous promotion and marketing for the new Grade III Threaded Rebar is required.
② Advantages of Vanadium Grade III Threaded Rebar
A. Economical: Owing to its high strength, the new Grade III threaded rebar saves 10-15% of steel compared to Grade II, thereby reducing the construction cost.
B. High Strength and Good Toughness: Micro-alloying treatment yields a yield point above 400Mpa and tensile strength above 570Mpa, each 20% higher than Grade II threaded rebar.
C. Anti-Seismic: Vanadium rebar exhibits superior bend resistance, aging resistance, and low-cycle fatigue performance, rendering it far superior to Grade II threaded rebar in seismic resistance.
D. Weldable: With a carbon content ≤0.54%, it offers excellent weldability, accommodating a variety of welding methods with simple and convenient processes.
E. Convenient Construction: The new Grade III threaded rebar enlarges the construction gap, ensuring both construction convenience and quality.
V. Hot-Rolled H-Steel
1. Representation of Hot-Rolled H-Steel
H-steel is categorized into wide flange H-steel (HK), narrow flange H-steel (HZ), and H-steel pile (HU). Its representation is: Height H × Width B × Web Thickness t1 × Flange Thickness t2.
For example, H-steel Q235, SS400 200×200×8×12 represents a wide flange H-steel with a height of 200mm, width of 200mm, web thickness of 8mm, and flange thickness of 12mm, with its grade being Q235 or SS400.
2. Advantages of Hot-Rolled H-Steel
H-steel is a new type of economical construction steel. Its section shape is economical and reasonable, with excellent mechanical properties. It extends uniformly at every point on the section during rolling, has little internal stress, and compared to ordinary I-beam steel, it has a larger section modulus, lighter weight, and the advantage of saving metal, which can reduce the weight of the building structure by 30-40%.
Due to its parallel inner and outer sides of the legs and right-angle leg ends, assembling it into components can save up to 25% of welding and riveting work. It is commonly used in large structures that require large shear capacity and good section stability (such as factories, high-rise buildings, etc.), as well as bridges, ships, hoisting and transport machinery, equipment foundations, brackets, foundation piles, and more.
VI. Cold-Formed Steel
Cold-formed steel is an economical, lightweight, thin-walled steel material, also known as steel cold-formed profile or cold-formed profile. It is formed by bending hot-rolled or cold-rolled strip steel into various cross-sectional shapes and sizes. Cold-formed steel exhibits the following characteristics:
1. Economical and rational cross-section, material-saving. The cross-sectional shape of cold-formed steel can be designed according to needs, with a reasonable structure and a higher sectional coefficient per unit weight compared to hot-rolled steel.
Under the same load, the weight of the components can be reduced, saving materials. When used in building structures, cold-formed steel can save 38-50% of the metal compared to hot-rolled steel, and when used in agricultural machinery and vehicles, it can save 15-60% of the metal. This facilitates construction and reduces overall costs.
2. Diverse varieties, capable of producing cold-formed steel profiles of uniform wall thickness and complex cross-sectional shapes that are difficult to produce using general hot-rolling methods, as well as cold-formed steel made of different materials.
3. The product surface is smooth and attractive, with precise dimensions, and the length can be flexibly adjusted according to needs. They are supplied entirely according to size or multiple sizes, improving material utilization.
4. The production process can be coordinated with punching and other operations to meet different needs.
Cold-formed steel comes in a variety of types. From a cross-sectional perspective, there are open, semi-closed, and closed types. The main products include cold-formed channel steel, angle steel, Z-shaped steel, cold-formed corrugated steel sheet, square tube, rectangular tube, electric welding special-shaped steel pipe, roller shutter door, etc.
The typically produced cold-formed steel is less than 6mm in thickness and less than 500mm in width. The products are widely used in industries like mining, construction, agricultural machinery, transportation, bridges, petrochemicals, light industry, and electronics.
VII. High-Quality Profiles
High-quality profiles are shapes made from premium steel, categorized into hot-rolled (forged), cold-drawn (pulled), and other varieties.
Hot-rolled (forged) high-quality profiles include carbon structural steel, carbon tool steel, alloy structural steel, spring steel, stainless steel, bearing steel, alloy tool steel, mold steel, and high-speed tool steel.
Cold-drawn (pulled) high-quality profiles include carbon structural steel, carbon tool steel, alloy structural steel, spring steel, stainless steel, bearing steel, alloy tool steel, high-speed tool steel, free-cutting steel, cold heading steel, and S/5A. S/5A is a product often used for making artillery shells and bullet tips.
Other varieties are specialized high-quality profiles, including hollow steel, oxygen cylinder material, cold heading steel, industrial pure iron, hot-rolled free-cutting steel, D60, S/5A, F18, F11, and more. The latter few are military-grade materials.
High-quality profile steel comes in various sizes, with round and square steel classified by spec range, such as 8-10mm, 11-15mm, 18-20mm, 205-245mm. Flat steel is classified by cross-sectional area into large, medium, and small flats. Hexagonal steel is not classified by range.
However, the range of high-quality profile steel cannot replace specific specs, which should be provided in the documentation. High-quality profile specs are simple, with the majority being round steel. Additionally, square steel, flat steel, hexagonal steel, hollow steel, and special shapes are available.
The dimensional deviations of hot-rolled (forged) high-quality round, square, and hexagonal steel come in ordinary precision and higher precision. Cold-drawn profiles have more accurate dimensions and smoother surfaces, some of which are further polished or ground.
Round steel with refined surfaces through polishing or grinding is called bright steel. High-quality profiles are rarely used as is. They often undergo further processing and heat treatment at the user's facility. Therefore, in addition to ensuring the chemical composition, it's crucial to guarantee the mechanical properties after heat treatment.