What Is Washer?
A washer is a component that sits between the connected part and the nut.
Typically, it is a flat metal ring used to protect the surface of the connected part from being scratched by the nut and to distribute the pressure exerted by the nut on the connected part.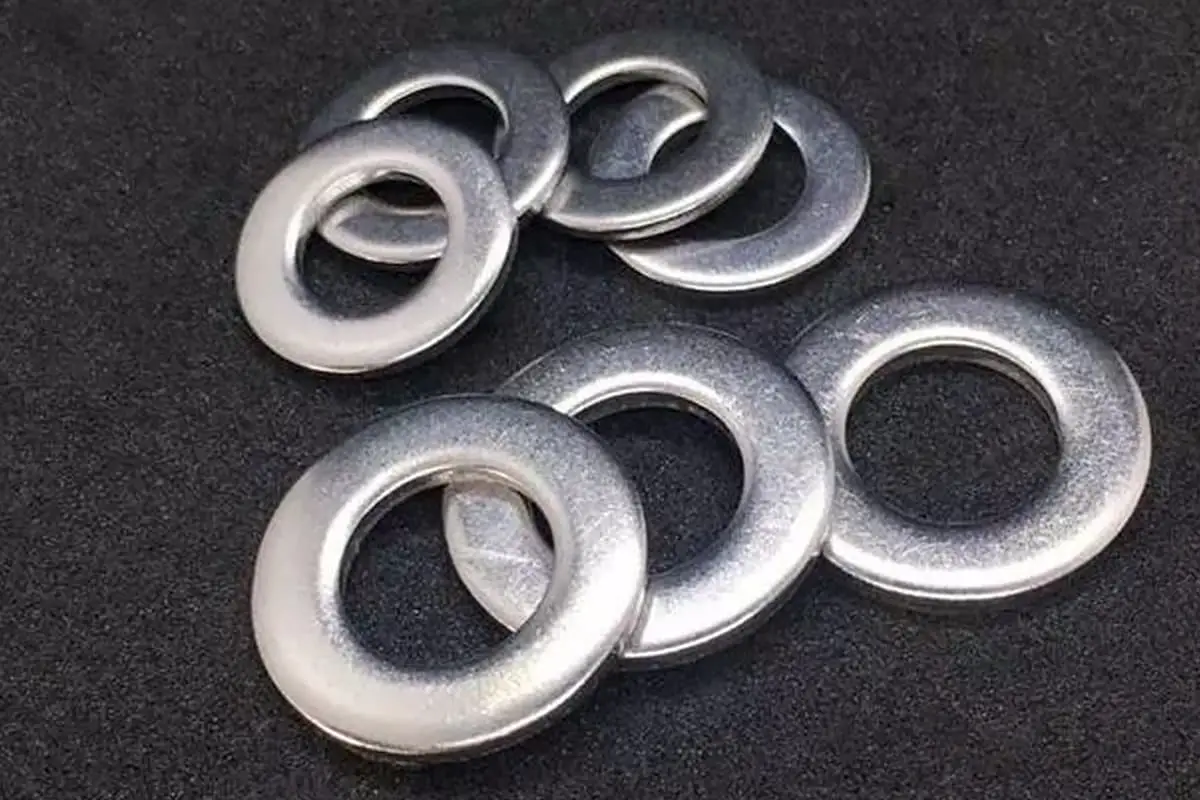 Washers are classified into:
flat washers – Class C
large washers – Classes A and C
extra-large washers – Class C
small washers – Class A
flat washers – Class A
flat washers – beveled type – Class A
high-strength washers for steel structures
spherical washers, conical washers
square sloped washers for I-beams
square sloped washers for channels
standard type spring washers
light-duty spring washers
heavy-duty spring washers
internal tooth lock washers
internal serrated lock washers
external tooth lock washers
external serrated lock washers
single ear stop washers
double ear stop washers
external tongue stop washers
stop washers for round nuts.
Washer Specifications and Weight Charts
1. Specification and weight chart for sloped washers
Nominal Diameter (Thread Diameter)
d
B
H
GB852-66 I-beam square sloped washer
GB853-66 Channel square sloped washer
H1
Weight per thousand (Kg)
H1
Weight per thousand (Kg)
6
7
16
2
4.7
5
3.6
4
8
9
18
2
5
6
3.8
5
10
11
22
2
5.7
10
4.2
6
12
13
28
2
6.7
15
4.8
14
16
17
35
2
7.7
25
5.4
19
-18
20
40
2
9.7
66
7
48
20
22
40
3
9.7
60
7
32
-22
24
40
3
9.7
65
7
37
24
26
50
3
11.3
100
8
62
-27
29
50
3
11.3
104
8
90
30
32
60
3
13
180
9
130
36
38
70
3
14.7
250
10
200
2. Specification and weight chart for spring washers
Nominal Diameter (Thread Diameter)
d
GB859-66 Light-duty
GB93-66
S
b
Weight per thousand (Kg)
S(b)
Weight per thousand (Kg)
4
4.1
0.8
1.2
0.13
1.2
0.18
5
5.1
1
1.2
0.19
1.6
0.41
6
6.2
1.2
1.6
0.36
2
0.75
8
8.2
1.6
2
0.8
2.5
1.53
10
10.2
2
2.5
1.56
3
2.82
12
12.3
2.5
3.5
3.41
3.5
4.63
-14
14.3
3
4
5.39
4
6.85
16
16.3
3.2
4.5
7.36
4
7.75
-18
18.3
3.5
5
10
4.5
11
20
20.5
4
5.5
14.1
5
15.2
-22
22.5
4.5
6
18.9
5
16.5
24
24.5
4.8
6.5
23.7
6
26.2
-27
27.5
5.5
7
32.3
6
28.2
30
30.5
6
8
45.4
6.5
37.6
36
36.6
–
–
–
7
51.8
42
42.6
–
–
–
8
78.7
48
49
–
–
–
9
114
3. Specification and weight chart for flat washers
Nominal Diameter (Thread Diameter)
d
D
S
Weight per thousand (Kg)
Small washers
Washers
Large circle washers
Small washers
Washers
Large circle washers
Small washers
Washers
Large circle washers
4
4.2
8
10
12
0.5
1
1.2
0.14
0.51
0.89
5
5.5
10
12
14
0.8
1.5
1.5
0.35
1.05
1.46
6
6.5
12
14
18
0.8
1.5
1.5
0.5
1.42
2.51
8
8.5
16
18
22
1
1.5
2
1.12
2.33
4.9
10
10.5
18
22
28
1
2
3
1.32
3.98
12.1
12
12.5
22
25
35
1.5
2
3
3.25
5.76
18.7
-14
14.5
25
28
38
1.5
3
4
3.84
10.61
29.8
16
16.5
28
32
45
2
3
4
6.31
13.9
42.3
-18
19.5
30
35
50
2
3
4
6.44
15.9
51.7
20
21
35
38
55
2.5
4
5
11.99
24.71
79.2
-22
23
38
42
60
2.5
4
5
14
30.44
94.4
24
25
40
45
65
2.5
4
6
15
34.51
131
-27
28
–
50
70
–
5
6
–
52.87
150
30
31
–
55
80
–
5
6
–
63.59
198
36
38
–
76
–
–
6
–
–
117.6
–
42
44
–
80
–
–
6
–
–
165.1
–
48
50
–
90
–
–
8
–
–
276.1
–