In this article, we present a list of relevant parameters for IPG and Raycus lasers, including the cutting thickness, cutting speed, auxiliary gas, focus, pressure, and cutting head size.
The listed IPG lasers include power outputs of 1000W, 1500W, 2000W, 3000W, 4000W, 6000W, and 8000W, among others.
For the parameters of the Raycus laser, its maximum power can reach up to 30,000W.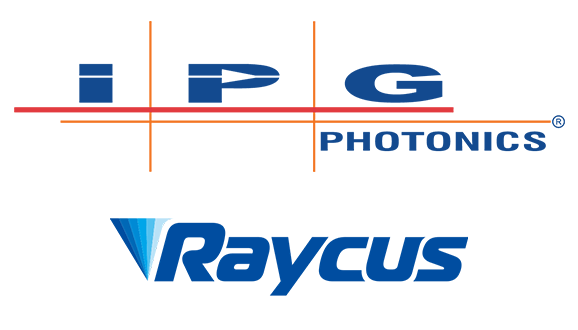 The metals that can be cut with these lasers include mild steel, stainless steel, and aluminum. The parameters listed are officially provided by IPG and Raycus and are considered authoritative.
However, in actual usage, it may be necessary to adjust the parameters based on specific conditions. We hope this information will be helpful to you.
IPG 1000W(50um) Cutting Table
Material
Thickness
(mm)
Power
(W)
Speed
(m/min)
Focus
(mm)
Pressure
(bar)
Nozzle
(mm)
MS(O2)
1
1000
9
2
2
1.0
2
1000
5.5
2
2
1.0
3
1000
3
2
0.5
1.0
4
1000
2.7
2
0.5
1.0
5
1000
2.1
2
0.5
1.0
6
1000
1.5
2
0.4
1.5
8
1000
1.1
2
0.5
2.5
10
1000
0.85
2
0.4
2.5
12
1000
0.6
2.5
0.4
3.0
SS(N2)
1
1000
25
-0.5
12
2.0
2
1000
9
-1
14
2.0
3
1000
3
-1.5
14
2.0
4
1000
1.5
-2.5
14
2.5
5
1000
1.1
-3
14
2.5
6
1000
0.5
 
 
 
AL(N2)
1
1000
25
-0.5
10
1.5
2
1000
6
-1
14
2.0
3
1000
2
-1
16
2.0
IPG 1500W(50um) Cutting Table
Material
Thickness
(mm)
Power
(W)
Speed
(m/min)
Focus
(mm)
Pressure
(bar)
Nozzle
(mm)
MS(O2)
1
1500
9
2.5
2.5
1.0
2
1500
5.6
2.5
2
1.0
3
1500
3.5
3
0.6
1.0
4
1500
3
2.5
0.6
1.0
5
1500
3
3
0.6
1.0
6
1500
2.3
2.5
0.5
1.2
8
1500
1.4
2.5
0.5
2.5
10
1500
1.2
2.5
0.5
3.0
12
1500
1.1
2.5
0.5
3.0
14
1500
0.8
2.5
0.5
3.5
SS(N2)
1
1500
32
0.5
10
2.0
2
1500
12
0.5
12
2.0
3
1500
4.5
0
12
2.0
4
1500
2.6
-0.5
14
2.0
5
1500
1.6
-1
15
2.5
6
1500
0.9
-1.5
16
2.5
AL(N2)
1
1500
25
0.5
10
1.5
2
1500
8
0.5
12
2.0
3
1500
4
0.5
14
2.5
4
1500
2.5
0
15
2.5
5
1500
1.1
0
15
2.5
6
1500
1
0
16
2.5
BRASS(N2)
1
1500
20
-2.5
10
2.0
2
1500
8
1
12
2.0
3
1500
2.5
0.5
12
2.5
4
1500
1.5
0.5
12
2.5
5
1500
0.7
-3.5
16
2.5
6
1500
0.35
0
16
3.0
COPPER(O2)
1
1500
14
0.5
7
2.0
2
1500
4.3
0.5
7
2.0
3
1500
1.9
0
9
3.0
4
1500
0.5
-1
10
3.0
IPG 2000W(100um) Cutting Table
Material
Thickness
(mm)
Power
(W)
Speed
(m/min)
Focus
(mm)
Pressure
(bar)
Nozzle
(mm)
MS(O2)
1
1200
9
3
3
1.0
2
1200
5.7
3
3
1.0
3
1500
3
3
0.5
1.0
3(fast cutting)
2000
3.2
4
0.6
1.0
4
1500
2.8
3
0.5
1.0
4(fast cutting)
2000
3
4
0.6
1.0
5
1600
2.2
3
0.5
1.0
5(fast cutting)
2000
2.6
4
0.6
1.0
6
1600
2
3
0.5
1.0
6(fast cutting)
2000
2.5
4
0.6
1.0
8
1500
1.3
3
0.5
2.5
10
1500
1.1
3
0.5
3.0
12
1500
0.9
3
0.5
3.0
14
1800
0.85
4
0.5
3.5
16
2000
0.75
4
0.5
4.0
SS(N2)
1
2000
35
0.5
10
1.5
2
2000
10
0
12
2.0
3
2000
6
-1
12
2.0
4
2000
3.2
-1.5
14
2.0
5
2000
1.8
-2.5
15
2.5
6
2000
1
-3.5
16
3.0
8
2000
0.6
-4.5
16
3.0
10
2000
0.4
-5.5
16
3.0
AL(N2)
1
2000
30
1.5
10
1.5
2
2000
8
1.5
12
2.0
3
2000
4
1
14
2.5
4
2000
2.5
0.5
15
2.5
5
2000
1.9
0.5
15
2.5
6
2000
1
0.5
16
2.5
8
2000
0.55
-1
16
2.5
IPG 3000W(100um) Cutting Table
Material
Thickness
(mm)
Power
(W)
Speed
(m/min)
Focus
(mm)
Pressure
(bar)
Nozzle
(mm)
MS(O2)
1
1200
9
2.5
3
1.0
2
1200
6
2.5
2.5
1.0
3
1500
3.2
2.5
0.4
1.0
3(fast cutting)
3000
3.6
3.5
0.6
1.0
4
1500
3
2.5
0.5
1.0
4(fast cutting)
3000
3.4
3.5
0.6
1.0
5
1800
2.5
2.5
0.5
1.0
5(fast cutting)
3000
3.2
3.5
0.6
1.0
6
1800
2.3
2.5
0.5
1.0
6(fast cutting)
3000
2.8
3.5
0.6
1.0
8
1500
1.3
2.5
0.5
2.5
8(fast cutting)
3000
2.3
3.5
0.6
1.0
10
1500
1.1
2.5
0.5
2.5
12
1800
1
2.5
0.5
3.0
14
1800
0.85
3
0.5
3.5
16
2000
0.75
3
0.5
4.0
18
2000
0.7
3
0.5
4.0
20
2000
0.65
3
0.5
4.0
SS(N2)
1
3000
55
0
10
1.5
2
3000
20
-0.5
12
2.0
3
3000
8
-1.5
12
2.0
4
3000
4.5
-2
14
2.5
5
3000
3
-2.5
14
2.5
6
3000
2
-3
16
3.0
8
3000
1.2
-4.5
16
3.0
10
3000
0.8
-6.5
16
3.0
12
3000
0.5
-7.5
14
4.0
SS(AIR)
1
3000
55
0
8
1.5
2
3000
20
-0.5
8
2.0
3
3000
8
-1.5
10
2.0
4
3000
4.5
-2
12
2.5
5
3000
3.5
-2.5
12
2.5
6
3000
2.4
-3
12
3.0
8
3000
1.5
-4.5
12
3.0
10
3000
0.95
-6
12
3.0
12
3000
0.6
-7
12
3.0
AL(N2)
1
3000
50
0.5
10
1.5
2
3000
20
-0.5
12
2.0
3
3000
8
-1.5
12
2.5
4
3000
4
-1.5
14
2.5
5
3000
2.8
-2.5
14
2.5
6
3000
1.7
-3
14
2.5
8
3000
1.1
-2.5
15
3.0
10
3000
0.75
-3
16
3.0
12
3000
0.45
-3
16
3.0
AL(AIR)
1
3000
50
0.5
8
1.5
2
3000
20
-0.5
8
2.0
3
3000
8
-1
10
2.0
4
3000
4
-2
10
2.5
5
3000
2.8
-2
10
2.5
6
3000
1.8
-2.5
12
2.5
8
3000
1.1
-3
12
3.0
10
3000
0.95
-3
12
3.0
12
3000
0.6
-3
12
3.0
IPG 4000W(100um) Cutting Table
Material
Thickness
(mm)
Power
(W)
Speed
(m/min)
Focus
(mm)
Pressure
(bar)
Nozzle
(mm)
MS(O2)
1
1200
10
2
3
1.0
2
1200
6
2
1.5
1.0
3
1200
3.2
2
0.4
1.0
3(fast cutting)
2000
3.8
3
0.5
1.0
4
1500
3
2
0.4
1.0
4(fast cutting)
2500
3.4
3
0.5
1.0
5
2000
2.8
2
0.5
1.0
5(fast cutting)
3000
3.2
3
0.5
1.0
6
2000
2.5
2
0.5
1.0
6(fast cutting)
4000
2.8
3
0.6
1.0
8
1500
1.3
2
0.4
2.5
8(fast cutting)
4000
2.5
3
0.7
1.0
10
1500
1.1
2
0.4
2.5
12
1500
1
2
0.4
3.0
14
1800
0.85
2.5
0.5
3.5
16
1800
0.8
2.5
0.5
4.0
18
2000
0.7
2.5
0.4
4.0
20
2000
0.65
2.5
0.5
4.0
SS(N2)
1
4000
50
-0.5
10
1.5
2
4000
18
-0.5
12
2.0
3
4000
9
-1.5
12
2.0
4
4000
5.5
-2.5
12
2.0
5
4000
4.5
-3.5
14
2.5
6
4000
3.2
-4
14
2.5
8
4000
1.9
-5
15
3.0
10
4000
1.3
-6.5
16
3.0
12
4000
0.8
-7.5
18
3.5
14
4000
0.6
-8.5
18
4.0
16
4000
0.45
-10
18
4.0
SS(AIR)
1
4000
50
-0.5
8
1.5
2
4000
23
-0.5
10
2.0
3
4000
10
-1.5
10
2.0
4
4000
7
-2.5
10
2.5
5
4000
5
-3.5
10
2.5
6
4000
3.6
-4
12
2.5
8
4000
2.3
-5
12
3.0
10
4000
1.6
-6.5
12
3.0
12
4000
1.1
-7.5
12
3.5
14
4000
0.8
-8.5
12
4.0
16
4000
0.6
-10
12
4.0
AL(N2)
1
4000
50
-0.5
10
1.5
2
4000
18
-0.5
12
2.0
3
4000
10
-1.5
14
2.0
4
4000
5.5
-2.5
14
2.5
5
4000
4.2
-2.5
14
2.5
6
4000
2.5
-3
14
2.5
8
4000
1.6
-3.5
16
3.0
10
4000
1
-3.5
16
3.0
12
4000
0.75
-4
16
3.5
14
4000
0.6
-4
16
3.5
16
4000
0.45
-4
16
4.0
18
4000
0.35
-4
16
4.0
AL(AIR)
1
4000
55
-0.5
10
1.5
2
4000
17
-1
10
2.0
3
4000
8.2
-1.5
10
2.0
4
4000
5.5
-2.5
12
2.5
5
4000
3.8
-3.5
12
3.0
6
4000
2.4
-4
12
3.0
8
4000
1.2
-4
12
3.5
10
4000
0.8
-4.5
12
4.0
12
4000
0.7
-4.5
12
4.0
14
4000
0.55
-5.5
12
4.0
16
4000
0.45
-5.5
12
4.0
IPG 6000W(100um) Cutting Table
Material
Thickness
(mm)
Power
(W)
Speed
(m/min)
Focus
(mm)
Pressure
(bar)
Nozzle
(mm)
MS(O2)
1
1200
10
2
3
1.0
2
1200
6
2
1.5
1.0
3
1200
3.2
2
0.4
1.0
3(fast cutting)
2000
3.8
3
0.5
1.0
4
1500
3
2
0.4
1.0
4(fast cutting)
2500
3.4
3
0.5
1.0
5
2000
2.8
2
0.5
1.0
5(fast cutting)
3000
3.2
3
0.5
1.0
6
2000
2.5
2
0.5
1.0
6(fast cutting)
4000
2.8
3
0.6
1.0
8
1500
1.3
2
0.4
2.5
8(fast cutting)
4000
2.5
3
0.7
1.0
10
1500
1.1
2
0.4
2.5
10(fast cutting)
4500
2.1
3
0.8
1.2
12
1500
1
2
0.4
3.0
12(fast cutting)
5000
1.9
3
0.8
1.2
14
2200
0.85
2.5
0.5
3.5
16
2200
0.8
2.5
0.5
4.0
18
2200
0.7
2.5
0.4
4.0
20
2200
0.65
2.5
0.5
4.0
SS(N2)
1
6000
70
0
12
1.5
2
6000
36
-1
12
2.0
3
6000
18
-1
12
2.5
4
6000
13
-1.5
12
2.5
5
6000
7.8
-3
14
2.5
6
6000
6.3
-3.5
14
2.5
8
6000
3.8
-4
16
3.0
10
6000
2.1
-6.5
14
3.5
10.1
6000
2.2
-6.5
14
3.5
12
6000
1.5
-8.5
14
3.5
12.1
6000
1.5
-7.5
14
3.5
14
6000
1
-9
14
3.5
16
6000
0.8
-10.5
18
3.5
16.1
6000
0.8
-10.5
20
3.5
18
6000
0.55
-12.5
20
4.0
18.1
6000
0.5
-11.5
15
5.0
20
6000
0.4
-10
22
4.0
SS(AIR)
1
6000
75
0
10
1.5
2
6000
40
-0.5
10
2.0
3
6000
18
-1
10
2.5
4
6000
14
-1.5
10
2.5
5
6000
8
-3
10
2.5
6
6000
7.2
-3.5
10
2.5
8
6000
4
-4.5
10
3.0
10
6000
2.5
-6.5
12
3.5
12
6000
1.5
-8
12
3.5
14
6000
1
-9
12
4.0
16
6000
0.7
-11
12
4.0
AL(N2)
1
6000
80
0
10
1.5
2
6000
30
-0.5
12
2.0
3
6000
16
-1
14
2.0
4
6000
10
-2.5
14
2.5
5
6000
8
-3
14
2.5
6
6000
5.5
-3
14
2.5
8
6000
2.5
-3.5
16
3.0
10
6000
1.3
-4
16
3.0
12
6000
0.9
-4.5
16
3.5
14
6000
0.8
-4.5
16
4.0
16
6000
0.7
-4.5
16
4.0
18
6000
0.6
-5
16
4.0
20
6000
0.45
-5
16
4.0
AL(AIR)
1
6000
80
-0.5
10
1.5
2
6000
35
-1
10
2.0
3
6000
16
-1.5
12
2.0
4
6000
10
-3
12
2.5
5
6000
8
-4
12
2.5
6
6000
5.5
-4
12
2.5
8
6000
3
-4.5
12
3.5
10
6000
1.5
-5
12
3.5
12
6000
1
-5.5
12
3.5
IPG IPG8000W Cutting Table
Material
Thickness
(mm)
Speed
(m/min)
Focus
(mm)
Pressure
(BAR)
Power
(W)
Nozzle
(mm)
MS(O2)
1
11
3.5
2.5
1200
1
2
6.5
3.5
2.5
1200
1
3(FAST)
4.2
5
0.6
3000
1
3
3.2
3.5
0.5
1800
1
4(FAST)
3.8
5
0.6
4000
1
4
3
3.5
0.5
1800
1
5(FAST)
3.7
5
0.6
4000
1
5
2.7
3.5
0.5
1800
1
6(FAST)
3.3
5
0.6
4000
1
6
2.2
3.5
0.5
1800
1
8(FAST)
2.7
6
0.7
4000
1
8
1.3
3.5
0.5
1800
2.5
10(FAST)
2.1
6
0.7
4000
1
10
1.2
3.5
0.5
1800
3
12(FAST)
1.6
6
0.7
4000
1.25
12
1.1
3.5
0.5
2000
3
14
0.95
4
0.5
2000
3.5
16
0.85
4
0.5
2000
4
18
0.75
4
0.5
2000
4
20
0.65
5
0.5
2000
4
22
0.6
5
0.5
2000
4
MS(N2)
1
70
0
12
8000
1.5
2
31
-0.5
12
8000
2
3
24
0
14
8000
2.5
4
18
-2
14
8000
2.5
5
12
-2.5
14
8000
2.5
6
8
-3
14
8000
3
8
5
-4
16
8000
3
SS(N2)
1
75
0
10
8000
1.5
2
40
-1
10
8000
2
3
27
0
14
8000
3
4
20
-0.5
14
8000
3
5
13
-2
14
8000
3
6
7.5
-4
14
8000
4
8
5
-5.5
14
8000
4
10
3.5
-7
14
8000
4
12
2.7
-8.5
14
8000
4
14
1.9
-11
14
8000
4
16
1.4
-13
15
8000
4
18
1.1
-14.5
16
8000
BOOSTERCUT 5mm
20
0.85
-16
18
8000
BOOSTERCUT 5mm
25
0.45
-17
20
8000
BOOSTERCUT 5mm
30
0.2
-18
20
8000
BOOSTERCUT 5mm
SS(AIR)
1
80
0
10
8000
1.5
2
45
-0.5
10
8000
2
3
28
0
10
8000
2
4
22
-1
10
8000
3
5
15
-2.5
10
8000
3
6
11
-3
10
8000
3
8
7
-4
10
8000
3
10
4.5
-5
10
8000
3
12
3.5
-6
10
8000
3
14
2.2
-10
12
8000
3
16
1.8
-12
12
8000
3
18
1.4
-13
12
8000
3
20
1.1
-14
12
8000
3
25
0.55
-16
12
8000
4
AL(N2)
1
70
-0.5
10
8000
1.5
2
40
-1
14
8000
3
3
30
-1
14
8000
2.5
4
20
-3
14
8000
2.5
5
15
-3
14
8000
3
6
9
-3.5
14
8000
3
8
4
-4
14
8000
4
10
3
-5
14
8000
4
12
2
-5
16
8000
4
14
1.3
-5
18
8000
4
16
1.2
-5
18
8000
4
18
1.1
-5
18
8000
4
20
0.9
-5
18
8000
4
22
0.7
-5
18
8000
4
25
0.5
-5
18
8000
4
30
0.3
-5
18
8000
4.5
AL(AIR)
1
70
0
10
8000
1.5
2
50
0
10
8000
2
3
40
0
10
8000
3
4
25
-1
10
8000
3
5
15
-2
10
8000
3
6
10
-4
12
8000
3
8
2.5
-4.5
12
8000
4
10
1.6
-5.5
12
8000
4
12
1
-6
12
8000
4
BRASS(N2)
1
65
-0.5
12
8000
2
2
35
-0.5
12
8000
2
3
20
-0.5
14
8000
2.5
4
15
-1
12
8000
2.5
5
10
-2
14
8000
2.5
6
8
-2.5
14
8000
2.5
8
4.5
-3.5
14
8000
2.5
10
3
-5
14
8000
3
12
2
-6.5
14
8000
4
COPPER(O2)
1
50
-1.5
8
8000
2
2
25
-2.5
8
8000
2
3
16
-3.5
8
8000
2
4
10
-4.5
8
8000
2.5
5
6
-5.5
8
8000
2.5
6
4
-6.6
8
8000
3
8
2
-8.5
8
8000
3
Raycus 3000W (Single mode) Laser Cutting Table
Material
Thickness
[mm]
Speed
[m/min]
Power [W]
Gas
Pressure [bar]
Nozzle
[mm]
Focus
[mm]
Cutting Height
[mm]
Mild Steel
1
28-35
3000
N2/Air
10
1.5S
0
1
2
16-20
3000
10
2.0S
0
0.5
Mild Steel
2
3.8-4.2
2100
O2
1.6
1.0D
+3
0.8
3
3.2-3.6
2100
0.6
1.0D
+4
0.8
4
3-3.2
2400
0.6
1.0D
+4
0.8
5
2.7-3
3000
0.6
1.2D
+4
0.8
6
2.2-2.5
3000
0.6
1.2D
+4
0.8
8
1.8-2.2
3000
0.6
1.2D
+4
0.8
10
1-1.3
3000
0.6
1.2D
+4
0.8
12
0.9-1
2400
0.6
3.0D
+4
0.8
14
0.8-0.9
2400
0.6
3.0D
+4
0.8
16
0.6-0.7
2400
0.6
3.5D
+4
0.8
18
0.5-0.6
2400
0.6
4.0D
+4
0.8
20
0.5-0.55
2400
0.6
4.0D
+4
0.8
22
0.5
2400
0.6
4.0D
+4
0.8
Stainless Steel
1
28-35
3000
N2
10
1.5S
0
0.8
2
18-24
12
2.0S
0
0.5
3
7-10
12
2.5S
-0.5
0.5
4
5-6.5
14
2.5S
-1.5
0.5
5
3-3.6
14
3.0S
-2.5
0.5
6
2-2.7
14
3.0S
-3
0.5
8
1-1.2
16
3.5S
-4.5
0.5
10
0.5-0.6
16
4.0S
-6
0.5
Aluminum
1
25-30
3000
N2
12
1.5S
0
0.8
2
15-18
12
2.0S
0
0.5
3
7-8
14
2.0S
-1
0.5
4
5-6
14
2.5S
-2
0.5
5
2.5-3
16
3.0S
-3
0.5
6
1.5-2
16
3.0S
-3.5
0.5
8
0.6-0.7
16
3.5S
-4
0.5
Brass
1
20-28
3000
N2
12
1.5S
0
0.8
2
10-15
12
2.0S
0
0.5
3
5-6
14
2.5S
-1
0.5
4
2.5-3
14
3.0S
-2
0.5
5
1.8-2.2
14
3.0S
-2.5
0.5
6
0.8-1
16
3.0S
-3
0.5
Raycus 3300W Laser Cutting Table
Material
Thickness
[mm]
Speed
[m/min]
Power
[W]
Gas
Pressure
[bar]
Nozzle
[mm]
Focus
[mm]
Cutting Height
[mm]
Mild Steel
1
25-30
3300
N2/Air
10
1.5S
0
1
2
10-12
3300
10
2.0S
-1
0.5
Mild Steel
2
4.5-5
1800
O2
1.6
1.2D
+3
0.8
3
4-4.5
1800
0.6
1.2D
+3
0.8
4
3.2-3.6
2400
0.6
1.2D
+3
0.8
5
3-3.2
2400
0.6
1.2D
+3
0.8
6
2.2-2.5
3300
0.6
1.2D
+3
0.8
8
1.8-2.2
3300
0.6
1.2D
+3
0.8
10
1.1-1.3
1800-2200
0.5
3.0D
+2.5
0.8
12
0.9-1.1
1800-2200
0.5
3.5D
+2.5
0.8
14
0.8-0.9
2200-3300
0.5
3.5D
+2.5
0.8
16
0.7-0.8
2200-3300
0.5
4.0D
+2.5
0.8
18
0.65-0.7
2200-3300
0.5
4.0D
+2.5
0.8
20
0.55-0.65
2200-3300
0.6
4.0D
+3
0.8
22
0.5-0.55
2200-3300
0.6
4.0D
+3
0.8
Stainless Steel
1
25-30
3300
N2
10
1.5S
0
0.8
2
10-13
12
2.0S
-1
0.5
3
5-7
12
2.5S
-1.5
0.5
4
4-5
14
2.5S
-2
0.5
5
3-4
14
2.5S
-2.5
0.5
6
2-3
14
3.0S
-3
0.5
8
0.8-1.2
16
3.5S
-4
0.5
10
0.6-0.8
16
4.0S
-5
0.5
Alumimum
1
20-25
3300
N2
12
1.5S
0
0.8
2
10-15
12
2.0S
-1
0.5
3
6-8
14
2.0S
-1.5
0.5
4
4-5
14
2.0S
-2
0.5
5
2-3
16
3.0S
-2.5
0.5
6
1.5-2
16
3.0S
-3
0.5
8
0.6-0.8
16
3.5S
-4
0.5
Brass
1
18-22
3300
N2
12
1.5S
0
0.5
2
10-12
12
2.0S
-1
0.5
3
4-5
14
2.5S
-1.5
0.5
4
2-3
14
3.0S
-2
0.5
5
1.5-2
14
3.0S
-2.5
0.5
6
1-1.3
16
3.0S
-3
0.5
Raycus 4000W Laser Cutting Table
Material
Thickness
[mm]
Speed
[m/min]
Power
[W]
Gas
Pressure
[bar]
Nozzle
[mm]
Focus
[mm]
Cutting Height
[mm]
Mild Steel
1
28-35
4000
N2/Air
10
1.5S
0
1
2
12-15
4000
10
2.0S
-1
0.5
3
8-12
4000
10
2.0S
-1.5
0.5
Mild Steel
3
4-4.5
1800
O2
0.6
1.2D
+3
0.8
4
3-3.5
2400
0.6
1.2D
+3
0.8
5
2.5-3
2400
0.6
1.2D
+3
0.8
6
2.5-2.8
3000
0.6
1.2D
+3
0.8
8
2-2.3
3600
0.6
1.2D
+3
0.8
10
1.8-2
4000
0.6
1.2D
+3
0.8
12
1-1.2
1800-2200
0.5
3.0D
+2.5
0.8
14
0.9-1
1800-2200
0.5
3.5D
+2.5
0.8
16
0.7-0.9
2200-2600
0.5
3.5D
+2.5
0.8
18
0.6-0.7
2200-2600
0.5
4.0D
+2.5
0.8
20
0.55-0.65
2200-2600
0.5
4.0D
+3
0.8
22
0.5-0.6
2200-2800
0.5
4.5D
+3
0.8
25
0.5
2400-3000
0.5
5.0D
+3
0.8
Stainless Steel
1
30-40
4000
N2
10
1.5S
0
0.8
2
15-20
12
2.0S
-1
0.5
3
10-12
12
2.0S
-1.5
0.5
4
6-7
12
2.5S
-2
0.5
5
4-4.5
14
2.5S
-2.5
0.5
6
3-3.5
14
3.0S
-3
0.5
8
1.5-1.8
14
3.0S
-4
0.5
10
1-1.2
16
4.0S
-5
0.5
12
0.8
16
4.0S
-6
0.5
Aluminum
1
25-30
4000
N2
12
1.5S
0
0.6
2
16-20
12
2.0S
-1
0.5
3
10-13
14
2.0S
-1.5
0.5
4
6-7
14
2.5S
-2
0.5
5
4-5
14
2.5S
-2.5
0.5
6
2.5-3
16
3.0S
-3
0.5
8
1-1.3
16
3.0S
-4
0.5
10
0.8
16
3.5S
-5
0.5
Brass
1
25-28
4000
N2
12
1.5S
0
0.6
2
12-15
12
1.5S
-1
0.6
3
7-8
14
2.0S
-1
0.6
4
4-5
14
2.5S
-2
0.5
5
2.5-3
14
3.0S
-2
0.5
6
2-2.5
16
3.0S
-2.5
0.5
8
0.8-1
16
3.0S
-4
0.5
Raycus 6000W Laser Cutting Table
Material
Thickness [mm]
Speed [m/min]
Power [W]
Gas
Pressure [bar]
Nozzle [mm]
Focus [mm]
Cutting Height [mm]
Mild Steel
1
30-45
6000
N2/Air
12
1.5S
0
1
2
20-25
12
2.0S
-1
0.5
3
12-14
14
2.0S
-1.5
0.5
4
7-8
14
2.0S
-2
0.5
5
5-6
16
3.0S
-2.5
0.5
6
4.5-5
16
3.5S
-3
0.5
Mild Steel
3
3.5-4.2
2400
O2
0.6
1.2E
+3
0.8
4
3.3-3.8
2400
0.6
1.2E
+3
0.8
5
3-3.6
3000
0.6
1.2E
+3
0.8
6
2.7-3.2
3300
0.6
1.2E
+3
0.8
8
2.2-2.5
4200
0.6
1.2E
+3
0.8
10
2.0-2.3
5500
0.6
1.2E
+4
0.8
12
0.9-1
2200
0.6
3.0D
+2.5
0.8
12
1.9-2.1
6000
0.6
1.2E
+5
0.8
14
0.8-0.9
2200
0.6
3.5D
+2.5
0.8
14
1.4-1.7
6000
0.6
1.4E
+5
1
16
0.8-0.9
2200
0.6
4.0D
+2.5
0.8
16
1.2-1.4
6000
0.6
1.4E
+6
1
18
0.65-0.75
2200
0.6
4.0D
+2.5
0.8
18
0.8
6000
0.6
1.6S
+12
0.3
20
0.5-0.6
2400
0.6
4.0D
+3
0.8
20
0.6-0.7
6000
0.6
1.6S
+13
0.3
22
0.45-0.5
2400
0.6
4.0D
+3
0.8
22
0.5-0.6
6000
0.6
1.6S
+13
0.3
25
0.5
2400
0.5
5.0D
+3
1
25
0.4-0.5
6000
0.6
1.8S
+14
0.3
Stainless Steel
1
30-45
6000
N2
10
1.5S
0
0.8
2
25-30
12
2.0S
-1
0.5
3
15-18
12
2.5S
-1.5
0.5
4
10-12
14
2.5S
-2
0.5
5
7-8
14
3.0S
-2.5
0.5
6
4.5-5
15
3.0S
-3
0.5
8
3.5-3.8
15
3.0S
-4
0.5
10
1.5-2
15
3.5S
-6
0.5
12
1-1.2
16
3.5S
-7.5
0.5
14
0.8-1
16
4.0S
-9
0.5
16
0.5-0.6
18
4.0S
-10.5
0.5
18
0.4-0.5
20
5.0S
-11
0.3
20
0.2-0.35
20
5.0S
-12
0.3
Aluminum Alloy
1
35-45
6000
N2
12
1.5S
0
1
2
20-25
12
2.0S
-1
0.5
3
14-16
14
2.5S
-1.5
0.5
4
8-10
14
2.5S
-2
0.5
5
5-6
14
3.0S
-3
0.5
6
3.5-4
16
3.0S
-3
0.5
8
1.5-2
16
3.0S
-4
0.5
10
1-1.2
18
3.5S
-4.5
0.5
12
0.6-0.7
18
4.0S
-5
0.5
14
0.4-0.6
18
4.0S
-5
0.3
16
0.3-0.4
20
5.0S
-8
0.3
Brass
1
30-40
6000
N2
12
1.5S
0
1
2
18-20
12
2.0S
-1
0.5
3
12-14
14
2.5S
-1
0.5
4
8-9
14
3.0S
-1.5
0.5
5
5-5.5
14
3.0S
-2
0.5
6
3.2-3.8
16
3.0S
-2.5
0.5
8
1.5-1.8
16
3.5S
-3
0.5
10
0.8-1
16
3.5S
-3
0.5
12
0.6-0.7
18
4.0S
-4
0.3
Copper
1
25-30
6000
O2
14
2.0S
-0.5
1
2
15-18
14
2.0S
-1
0.5
3
8-10
12
2.0S
-2
0.5
4
5-6
12
2.0S
-2
0.5
5
3-4
10
2.5S
-3
0.5
6
1.5-2
10
2.5S
-3
0.5
Raycus 8000W Laser Cutting Table
Material
Thickness [mm]
Speed [m/min]
Power [W]
Gas
Pressure [bar]
Nozzle [mm]
Focus [mm]
Cutting Height [mm]
Mild Steel
1
35-45
8000
N2 / Air
12
1.5S
0
1
2
30-35
12
2.0S
0
0.5
3
20-25
13
2.0S
-1
0.5
4
15-18
13
2.5S
-1.5
0.5
5
10-12
13
2.5S
-2
0.5
6
8-9
13
2.5S
-2
0.5
8
5-5.5
13
3.0S
-3
0.5
Mild Steel
8
2.3-2.5
4000
O2
0.6
1.2E
+4
0.8
10
2.3
6000
0.6
1.2E
+6
0.8
12
1.8-2
7500
0.6
1.2E
+7
0.8
14
1.6-1.8
8000
0.6
1.4E
+8
0.8
16
1.4-1.6
0.6
1.4E
+9
0.8
20
1-1.2
0.6
1.6E
+9
0.8
22
0.6-0.65
0.7
1.8E
+9
0.8
25
0.3-0.45
0.7
1.8E
+10
0.8
30
0.2-0.25
1.3
1.8E
+11
1.2
40
0.1-0.15
1.5
1.8E
+11.5
1.2
Stainless Steel
1
40-50
8000
N2
10
2.0S
0
1
2
30-35
12
2.0S
0
0.5
3
20-24
13
2.0S
0
0.5
4
12-15
12
2.0S
-1
0.5
5
9-10
15
2.5S
-1
0.5
6
7-8
8
3.5B
-2
0.5
8
4-5
7
5.0B
-2
0.5
10
3-3.5
5
5.0B
-3
0.5
12
2-2.5
6
6.0B
-4
0.5
14
1.5-2
6
7.0B
-6
0.3
16
1-1.5
6
7.0B
-8
0.3
18
0.8-1
14
5.0B
-9
0.5
20
0.6-0.8
6
7.0B
-11
0.3
25
0.3-0.4
6
7.0B
-13
0.3
30
0.15-0.2
10
7.0B
+8
0.3
Stainless Steel
1
35-50
8000
Air
10
2.0S
0
1
2
30-35
10
2.5S
0
0.5
3
22-25
10
2.5S
0
0.5
4
14-16
10
3.5B
0
0.5
5
9-10
10
3.5B
0
0.5
6
7-8
10
3.5B
0
0.5
8
5-5.5
10
3.5B
0
0.5
10
3-3.5
10
3.5B
-1
0.5
12
2-2.5
10
5.0B
-4
0.5
14
1.5-2
10
5.0B
-6
0.5
16
0.8-1
10
5.0B
-8
0.5
18
0.7-0.8
10
5.0B
-9
0.5
20
0.6-0.7
10
5.0B
-11
0.3
25
0.4-0.5
10
5.0B
-13
0.3
30
0.2-0.25
10
5.0B
-15
0.3
Aluminum Alloy
1
40-45
8000
N2
12
2.0S
0
0.8
2
25-30
12
2.0S
-1
0.5
3
22-25
12
2.0S
-1
0.5
4
12-15
12
2.0S
-2
0.5
5
8-10
14
2.5S
-3
0.5
6
6-7
14
2.5S
-3
0.5
8
3.5-4
14
2.5S
-4
0.5
10
2-2.5
14
5.0B
-5
0.5
12
1.6-2
16
5.0B
-5
0.5
14
1-1.2
16
5.0B
-6
0.5
16
0.8-1
16
5.0B
-7
0.5
18
0.7-0.8
16
5.0B
-8
0.5
20
0.5-0.6
16
7.0B
-9
0.3
25
0.4-0.5
16
7.0B
-10
0.3
30
0.2
18
7.0B
+7
0.3
Brass
1
30-40
8000
N2
12
2.0S
0
1
2
25-27
12
2.0S
-1
0.5
3
15-18
12
2.0S
-1
0.5
4
10-11
12
2.0S
-2
0.5
5
7-8
14
2.5S
-3
0.5
6
6-6.5
14
2.5S
-3
0.5
8
2.5-3
14
2.5S
-4
0.5
10
1-1.5
14
5.0B
-5
0.5
12
0.8-1
14
5.0B
-5
0.5
14
0.7-0.8
16
5.0B
-8
0.5
16
0.6
16
5.0B
-11
0.3
Copper
1
25-30
8000
O2
14
2.0S
-0.5
1
2
16-20
14
2.0S
-1
0.5
3
12-14
14
2.0S
-2
0.5
4
7-8
12
2.0S
-2
0.5
5
4-5
12
2.5S
-3
0.5
6
2.5-3
12
2.5S
-3
0.5
8
1-1.5
12
3.0S
-4
0.5
10
0.5-0.7
12
4.0S
-5
0.5
Raycus 10000W Laser Cutting Table
Material
Thickness [mm]
Speed [m/min]
Power [W]
Gas
Pressure [bar]
Nozzle [mm]
Focus [mm]
Cutting Height [mm]
Mild Steel
1
40-45
10000
N2/Air
12
1.5S
0
1
2
35-40
12
2.0S
0
0.5
3
25-30
13
2.0S
0
0.5
4
18-20
13
2.5S
0
0.5
5
13-15
13
2.5S
0
0.5
6
10-12
13
2.5S
0
0.5
8
7-8
13
3.0S
-1
0.5
10
3.5-4.5
13
4.0S
-3
0.5
Mild Steel
10
2-2.3
6000
O2
0.6
1.2E
+6
0.8
12
1.8-2
7500
0.6
1.2E
+7
0.8
14
1.6-1.8
8500
0.6
1.4E
+7
0.8
16
1.4-1.6
9500
0.6
1.4E
+8
0.8
20
1.2-1.4
10000
0.6
1.6E
+8
0.8
22
1.0-1.2
0.7
1.8E
+9
0.8
25
0.5-0.65
0.7
1.8E
+10
0.8
30
0.3-0.35
1.3
1.8E
+11
1.2
40
0.2
1.5
1.8E
+11.5
1.2
Stainless Steel
1
45-50
10000
N2
10
2.0S
0
1
2
35-40
12
2.0S
0
0.5
3
25-30
13
2.0S
0
0.5
4
18-20
12
2.0S
0
0.5
5
12-15
15
2.5S
0
0.5
6
8-9
8
3.5B
0
0.5
8
5-6
7
5.0B
0
0.5
10
3.5-4
5
5.0B
-1
0.5
12
2.5-3
6
6.0B
-4
0.5
14
2-2.5
6
7.0B
-6
0.3
16
1.6-2
6
7.0B
-8
0.3
18
1.2-1.5
14
5.0B
-9
0.5
20
1-1.2
6
7.0B
-11
0.3
25
0.5-0.6
6
7.0B
-13
0.3
30
0.25
10
7.0B
+7
0.3
40
0.15
15
7.0B
+9
0.3
Stainless Steel
1
45-50
10000
Air
10
2.0S
0
1
2
30-35
10
2.5S
0
0.5
3
20-25
10
2.5S
0
0.5
4
18-20
10
3.5B
0
0.5
5
15-17
10
3.5B
0
0.5
6
8-10
10
3.5B
0
0.5
8
6-7
10
3.5B
0
0.5
10
5-6
10
3.5B
-1
0.5
12
4-4.5
10
5.0B
-4
0.5
14
2.5-3
10
5.0B
-6
0.5
16
1.8-2
10
5.0B
-8
0.5
18
1.2-1.5
10
5.0B
-9
0.5
20
1-1.2
10
5.0B
-11
0.3
25
0.5-0.6
10
5.0B
-13
0.3
30
0.25-0.4
10
5.0B
-14
0.3
Aluminum Alloy
1
45-50
10000
N2
12
2.0S
0
0.8
2
25-30
12
2.0S
-1
0.5
3
20-25
12
2.0S
-1
0.5
4
18-20
12
2.0S
-2
0.5
5
14-16
14
2.5S
-3
0.5
6
8-9
14
2.5S
-3
0.5
8
5-6
14
2.5S
-4
0.5
10
4-4.5
14
5.0B
-5
0.5
12
1.6-2
16
5.0B
-5
0.5
14
1.2-1.5
16
5.0B
-5
0.5
16
1-1.2
16
5.0B
-5
0.5
18
0.8-1
16
5.0B
-5
0.5
20
0.6-0.8
16
7.0B
-5
0.3
25
0.5-0.6
16
7.0B
-5
0.3
30
0.25-0.45
18
7.0B
+7
0.3
40
0.15-0.2
18
7.0B
+8
0.3
Brass
1
35-40
10000
N2
12
2.0S
0
1
2
22-27
12
2.0S
-1
0.5
3
15-20
12
2.0S
-1
0.5
4
12-15
12
2.0S
-2
0.5
5
10-11
14
2.5S
-3
0.5
6
6-7
14
2.5S
-3
0.5
8
4-5
14
2.5S
-4
0.5
10
3.5-4
14
5.0B
-5
0.5
12
1.6-2
14
5.0B
-5
0.5
14
0.8-1
16
5.0B
-8
0.5
16
0.5-0.7
16
5.0B
-11
0.3
Copper
1
25-30
10000
O2
14
2.0S
-0.5
1
2
16-20
14
2.0S
-1
0.5
3
12-15
14
2.0S
-2
0.5
4
8-10
12
2.0S
-3
0.5
5
5-6
12
2.5S
-4.5
0.5
6
3.5-4
12
2.5S
-5
0.5
8
1.5-2
12
3.0S
-6
0.5
10
0.5-0.7
12
4.0S
-8
0.5
Raycus 12000W Laser Cutting Table
Material
Thickness
[mm]
Speed
[m/min]
Power [W]
Gas
Pressure [bar]
Nozzle
[mm]
Focus [mm]
Cutting Height [mm]
Mild Steel
1
50-60
12000
N2/Air
12
1.5S
0
1
2
40-45
12
2.0S
0
0.5
3
30-35
13
2.0S
0
0.5
4
20-26
13
2.5S
0
0.5
5
15-18
13
2.5S
0
0.5
6
10-13
13
2.5S
0
0.5
8
7-10
13
3.0S
-1.5
0.5
10
5-6.5
13
4.0S
-3
0.5
Mild Steel
10
2-2.3
6000
O2
Positive focus
0.6
1.2E
+6
0.8
12
1.8-2
7500
0.6
1.2E
+7
0.8
14
1.6-1.8
8500
0.6
1.4E
+7
0.8
16
1.5-1.6
9500
0.6
1.4E
+8
0.8
20
1.3-1.4
12000
0.6
1.6E
+8
0.8
22
0.9-1
0.7
1.8E
+9
0.8
22
1-1.2
0.7
1.4SP
+11
0.5
25
0.7-0.9
0.7
1.8E
+11
0.8
25
0.8-1
0.7
1.5SP
+12
0.5
30
0.4-0.5
1.3
1.8E
+11
1.2
30
0.7-0.8
0.8
1.5SP
+12
0.5
40
0.25-0.3
1.5
1.8E
+11.5
1.2
Mild Steel
12
3-3.5
12000
O2
Negative focus
1
1.6SP
-10
1.5
14
3-3.2
1
1.6SP
-10
1.5
16
2.8-3
1
1.6SP
-12
1.5
20
2-2.3
1.2
1.6SP
-12
1.5
25
1.1-1.3
1.3
1.8SP
-14
1.5
30
0.9-1
1.4
1.8SP
-14
1.5
Stainless Steel
1
50-60
12000
N2
10
2.0S
0
1
2
40-45
12
2.0S
0
0.5
3
30-35
13
2.0S
0
0.5
4
23-27
12
2.0S
0
0.5
5
15-18
15
2.5S
0
0.5
6
13-15
8
3.5B
0
0.5
8
8-10
7
5.0B
0
0.5
10
6.5-7.5
5
5.0B
-1
0.5
12
5-5.5
6
6.0B
-4
0.5
14
3-3.5
6
7.0B
-6
0.3
16
2-2.3
6
7.0B
-8
0.3
18
1.3-1.5
6
7.0B
-9
0.5
20
1.2-1.4
6
7.0B
-11
0.3
25
0.7-0.9
6
7.0B
-13
0.3
30
0.25-0.3
10
7.0B
+7
0.3
40
0.15-0.2
15
7.0B
+8
0.3
Stainless Steel
1
50-60
12000
Air
10
2.0S
0
1
2
40-45
10
2.5S
0
0.5
3
30-35
10
2.5S
0
0.5
4
25-30
10
3.5B
0
0.5
5
16-19
10
3.5B
0
0.5
6
14-17
10
3.5B
0
0.5
8
9-11
10
3.5B
0
0.5
10
7-8
10
3.5B
-1
0.5
12
5.5-6
10
5.0B
-4
0.5
14
3.5-4
10
5.0B
-6
0.5
16
2.2-2.4
10
5.0B
-8
0.5
18
1.3-1.6
10
5.0B
-9
0.5
20
1.2-1.5
10
5.0B
-11
0.3
25
0.7-1
10
5.0B
-13
0.3
30
0.3-0.4
10
5.0B
-14
0.3
Aluminum Alloy
1
45-50
12000
N2
12
2.0S
0
0.8
2
30-35
12
2.0S
-1
0.5
3
20-25
12
2.0S
-1
0.5
4
18-20
12
2.0S
-2
0.5
5
14-16
14
2.5S
-3
0.5
6
10-12
14
2.5S
-3
0.5
8
6-8
14
2.5S
-4
0.5
10
4-6
14
5.0B
-5
0.5
12
2-3
16
5.0B
-5
0.5
14
1.5-2.5
16
5.0B
-5
0.5
16
1.3-2
16
5.0B
-5
0.5
18
1-1.6
16
5.0B
-5
0.5
20
0.8-1.2
16
7.0B
-5
0.3
25
0.5-0.7
16
7.0B
-5
0.3
30
0.4-0.5
18
7.0B
+7
0.3
40
0.25-0.3
18
7.0B
+8
0.3
Brass
1
35-45
12000
N2
12
2.0S
0
1
2
30-35
12
2.0S
-1
0.5
3
18-22
12
2.0S
-1
0.5
4
15-18
12
2.0S
-2
0.5
5
12-15
14
2.5S
-3
0.5
6
8-10
14
2.5S
-3
0.5
8
5-7
14
2.5S
-4
0.5
10
4-5
14
5.0B
-5
0.5
12
1.8-2
14
5.0B
-5
0.5
14
1.2-1.4
16
5.0B
-8
0.5
16
0.8-1
16
5.0B
-11
0.3
Copper
1
25-30
12000
O2
5
2.0S
-0.5
1
2
20-25
5
2.0S
-1
0.5
3
16-18
6
2.0S
-2
0.5
4
10-12
8
2.0S
-3
0.5
5
6-8
8
2.5S
-4.5
0.5
6
4-5
8
2.5S
-5
0.5
8
2-2.5
10
3.0S
-6
0.5
10
1-1.2
12
4.0S
-8
0.5
Raycus 15000W Laser Cutting Table
Material
Thickness
[mm]
Speed
[m/min]
Power [W]
Gas
Pressure [bar]
Nozzle [mm]
Focus [mm]
Cutting Height [mm]
Mild Steel
1
50-60
15000
N2/Air
10
1.5S
0
1
2
45-48
10
2.0S
0
0.5
3
30-38
12
2.0S
0
0.5
4
26-29
12
2.5S
0
0.5
5
20-23
12
2.5S
0
0.5
6
17-19
12
2.5S
0
0.5
8
10-12
12
3.0S
-1
0.5
10
7-8
13
4.0S
-1
0.5
12
5-6
13
4.0S
-2
0.5
14
4.5-5.5
13
4.0S
-6
0.5
16
3-3.5
13
5.0B
-8
0.5
Mild Steel
10
2-2.3
6000
O2
Positive focus
0.6
1.2E
+6
0.8
12
1.8-2
7500
0.6
1.2E
+7
0.8
14
1.6-1.8
8500
0.6
1.4E
+7
0.8
16
1.5-1.6
9500
0.6
1.4E
+8
0.8
20
1.3-1.4
12000
0.6
1.6E
+8
0.8
22
1-1.2
15000
0.7
1.8E
+9
0.8
22
1.2-1.3
0.7
1.4SP
+11
0.5
25
0.8-1
0.7
1.8E
+10
0.8
25
1.2-1.3
0.7
1.5SP
+12
0.5
30
0.6-0.7
0.8
1.8E
+11
1.2
30
0.75-0.85
0.8
1.5SP
+12
0.5
40
0.3-0.35
1.5
1.8E
+11.5
1.2
50
0.2-0.25
1.6
1.8E
+11.5
1.8
60
0.18-0.2
1.8
1.8E
+12
2
Mild Steel
12
3.2-3.5
15000
O2
Negative focus
1
1.6SP
-10
1.5
14
3-3.2
1
1.6SP
-10
1.5
16
3-3.1
1
1.6SP
-12
1.5
20
2.5-2.8
1.2
1.6SP
-12
1.5
25
1.6-1.9
1.3
1.8SP
-14
1.5
30
1.2-1.3
1.4
1.8SP
-14
1.5
35
1-1.2
1.4
2.0SP
-15
1.5
Stainless Steel
1
50-60
15000
N2
10
2.0S
0
1
2
45-50
12
2.0S
0
0.5
3
35-38
13
2.5S
0
0.5
4
25-29
12
2.5S
0
0.5
5
18-22
15
2.5S
0
0.5
6
15-18
8
3.5B
0
0.5
8
10-12
7
5.0B
0
0.5
10
8-9
5
5.0B
-1
0.5
12
6-7
6
6.0B
-4
0.5
14
4-4.2
6
7.0B
-6
0.3
16
2.6-2.8
6
7.0B
-8
0.3
18
2-2.3
6
7.0B
-9
0.5
20
1.8-2
6
7.0B
-11
0.3
25
1-1.2
6
7.0B
-13
0.3
30
0.6-0.7
10
5.0B
-15
0.3
40
0.3-0.4
15
7.0B
+8
0.3
50
0.2-0.25
15
8.0B
+9
0.3
Stainless Steel
1
50-60
15000
Air
10
2.0S
0
1
2
45-50
10
2.5S
0
0.5
3
35-38
10
2.5S
0
0.5
4
25-29
10
3.5B
0
0.5
5
18-22
10
3.5B
0
0.5
6
15-18
10
3.5B
0
0.5
8
10-12
10
3.5B
0
0.5
10
8-9
10
3.5B
-1
0.5
12
6-7
10
5.0B
-4
0.5
14
4-4.5
10
5.0B
-6
0.5
16
2.9-3.1
10
5.0B
-8
0.5
18
2.2-2.4
10
5.0B
-9
0.5
20
1.9-2.1
10
5.0B
-11
0.3
25
1.2-1.4
10
5.0B
-13
0.3
30
0.8-1
10
5.0B
-15
0.3
40
0.4-0.5
12
6.0B
-15
0.3
50
0.2-0.4
12
8.0B
-16
0.3
Aluminum Alloy
1
48-52
15000
N2
12
2.0S
0
0.8
2
35-38
12
2.0S
-1
0.5
3
25-27
12
2.0S
-1
0.5
4
20-22
12
2.0S
-2
0.5
5
15-17
14
2.5S
-3
0.5
6
12-14
14
2.5S
-3
0.5
8
8-9
14
2.5S
-4
0.5
10
5-7
14
5.0B
-5
0.5
12
2.5-3.5
16
5.0B
-5
0.5
14
2-3
16
5.0B
-5
0.5
16
1.5-2.5
16
5.0B
-5
0.5
18
1.3-1.8
16
5.0B
-5
0.5
20
0.8-1.2
18
7.0B
-5
0.3
25
0.5-0.7
18
7.0B
-5
0.3
30
0.4-0.5
20
7.0B
-7
0.3
40
0.25-0.3
20
7.0B
+8
0.3
50
0.2-0.25
20
8.0B
+9
0.3
Brass
1
38-40
15000
N2
12
2.0S
0
1
2
32-37
12
2.0S
-1
0.5
3
20-24
12
2.0S
-1
0.5
4
16-19
12
2.0S
-2
0.5
5
13-16
14
2.5S
-3
0.5
6
9-11
14
2.5S
-3
0.5
8
6-8
14
2.5S
-4
0.5
10
5-6
14
5.0B
-5
0.5
12
2-2.2
14
5.0B
-5
0.5
14
1.4-1.6
16
5.0B
-8
0.5
16
1.2-1.3
18
5.0B
-11
0.5
18
1-1.2
18
5.0B
-11
0.5
20
0.6-0.7
18
6.0B
-12
0.3
Copper
1
25-30
15000
O2
5
2.0S
-0.5
1
2
20-25
5
2.0S
-1
0.5
3
18-20
6
2.0S
-2
0.5
4
12-14
8
2.0S
-3
0.5
5
8-9
8
2.5S
-4.5
0.5
6
6-7
8
2.5S
-5
0.5
8
2.5-3.5
10
3.0S
-6
0.5
10
1.5-2
12
4.0S
-8
0.5
Raycus 20000W Laser Cutting Table
Material
Thickness
[mm]
Speed
[m/min]
Power [W]
Gas
Pressure [bar]
Nozzle
[mm]
Focus [mm]
Cutting Height
[mm]
Mild Steel
5
23-28
20000
N2/Air
8
3.0S
0
0.5
6
18-20
8
3.0S
-0.5
0.5
8
14-16
8
3.0S
-1
0.5
10
9-12
8
3.5S
-1.5
0.5
12
8-10
8
3.5S
-2
0.5
14
6-8
8
4.0S
-3
0.5
16
5-6
8
5.0S
-4
0.5
18
3.2-4
10
6.0S
-6
0.5
20
2.7-3.2
10
6.0S
-8
0.5
Mild Steel
10
2-2.3
6000
O2
Positive focus
0.6
1.2E
+8
0.8
12
1.8-2
7500
0.6
1.2E
+9
0.8
14
1.6-1.8
8500
0.6
1.4E
+10
0.8
16
1.5-1.6
9500
0.6
1.4E
+11
0.8
20
1.3-1.4
12000
0.6
1.6E
+12
0.8
22
1.2-1.3
20000
0.7
1.8E
+12.5
0.8
22
1.4-1.5
0.7
1.4SP
+13
0.5
25
1.2-1.4
1.0
1.5SP
+13
0.4
30
1.2-1.3
1.2
1.5SP
+13.5
0.4
40
0.8-0.9
1.4
1.5SP
+14
0.4
50
0.3-0.5
1.6
1.8E
+13
2
60
0.2-0.25
1.6
1.8E
+13.5
2
70
0.18-0.2
1.7
1.8E
+13.5
2
80
0.12-0.15
1.8
1.8E
+14
2
Mild Steel
12
3.2-3.5
20000
O2 Negative focus
1
1.6SP
-10
1.5
14
3-3.2
1
1.6SP
-10
1.5
16
3-3.1
1
1.6SP
-12
1.5
20
2.8-3
1.2
1.6SP
-12
1.5
25
2.4-2.6
1.3
1.8SP
-14
1.5
30
1.7-1.9
1.4
1.8SP
-14
1.5
35
1.4-1.6
1.4
2.0SP
-15
1.5
40
1-1.2
1.5
2.5S
-15
1.5
45
0.8-0.9
1.6
2.5S
-17
1.5
Stainless Steel
1
50-60
20000
N2
8
2.0S
0
1
2
50-60
8
2.0S
0
0.5
3
40-45
8
2.5S
0
0.5
4
30-35
8
2.5S
0
0.5
5
22-24
8
3.0S
0
0.5
6
18-22
8
3.5B
0
0.5
8
13-16
8
5.0B
-1
0.5
10
10-12
8
5.0B
-1.5
0.3
12
8-10
8
6.0B
-2
0.5
14
6-8
8
6.0B
-4
0.3
16
5-6
8
6.0B
-5
0.3
18
3.2-4
8
6.0B
-6
0.3
20
3-3.2
12
6.0B
-7.5
0.3
25
1.5-2
12
7.0B
-12
0.3
30
1-1.2
12
7.0B
-16
0.3
40
0.5-0.8
16
7.0B
-16
0.3
50
0.2-0.3
16
8.0B
+11
0.3
60
0.15-0.2
20
8.0B
+11
0.3
70
0.1-0.13
20
8.0B
+11
0.3
80
0.08-0.1
20
8.0B
+11
0.3
90
0.05-0.06
20
8.0B
+11
0.3
100
0.04-0.05
20
8.0B
+11
0.3
Stainless Steel
1
50-60
20000
Air
8
2.0S
0
1
2
50-60
8
2.5S
0
0.5
3
40-45
8
2.5S
0
0.5
4
30-35
8
3.5B
0
0.5
5
22-24
8
3.5B
0
0.5
6
18-22
8
3.5B
0
0.5
8
13-16
10
3.5B
0
0.5
10
11-13
10
3.5B
-1.5
0.3
12
9-11
10
5.0B
-4
0.3
14
7-9
10
5.0B
-6
0.3
16
6-7
10
5.0B
-7
0.3
18
3.5-4.5
10
5.0B
-8
0.3
20
3.5-4.5
10
5.0B
-9
0.3
25
1.8-2.5
10
5.0B
-13
0.3
30
1.4-1.6
10
5.0B
-17
0.3
40
0.5-0.8
16
7.0B
-16
0.3
50
0.2-0.3
16
8.0B
-18
0.3
60
0.15-0.2
20
8.0B
-20
0.3
70
0.1-0.13
20
8.0B
-25
0.3
Aluminum Alloy
1
55-60
20000
N2
8
2.0S
0
0.8
2
40-45
8
2.0S
-1
0.5
3
30-35
10
2.5S
-1
0.5
4
25-30
12
2.5S
-2
0.5
5
18-20
14
3.0S
-3
0.5
6
16-18
14
3.0S
-3
0.5
8
10-12
14
3.5S
-4
0.5
10
9-10
14
3.5S
-5
0.5
12
5-6
16
5.0B
-6
0.3
14
4-5
16
5.0B
-7
0.3
16
3-4
16
5.0B
-7
0.3
18
2-3
16
5.0B
-7
0.3
20
1.5-2
18
6.0B
-7
0.3
25
1-1.2
18
6.0B
-7.5
0.3
30
0.8-1
20
7.0B
-7.5
0.3
40
0.5-0.8
20
7.0B
-9
0.3
50
0.4-0.6
20
8.0B
-9
0.3
60
0.2-0.3
20
8.0B
-9
0.3
Brass
1
40-45
20000
N2
12
2.0S
0
1
2
35-40
12
2.0S
0
0.5
3
28-30
12
2.0S
0
0.5
4
19-22
12
2.5S
0
0.5
5
18-19
14
2.5S
0
0.5
6
12-15
14
3.0S
0
0.5
8
8-10
14
3.0S
0
0.5
10
7-8
14
5.0B
-1
0.3
12
2.5-3.5
14
5.0B
-2
0.3
14
2-2.5
16
5.0B
-3
0.3
16
1.5-2
18
5.0B
-3
0.3
18
1.2-1.5
18
5.0B
-4
0.3
20
0.8-1
18
6.0B
-5
0.3
Copper
1
25-30
20000
O2
5
2.0S
0
1
2
25-30
5
2.0S
0
0.5
3
20-25
6
2.0S
0
0.5
4
16-18
8
2.5S
-1
0.5
5
10-12
8
2.5S
-1
0.5
6
8-10
8
3.0S
-2
0.5
8
4-6
10
3.0S
-3
0.5
10
2-3.5
12
3.5S
-4
0.5
12
2-2.5
12
3.5S
-5
0.5
Raycus 30000W Laser Cutting Table
Material
Thickness
[mm]
Speed
[m/min]
Power
[W]
Gas
Pressure
[bar]
Nozzle
[mm]
Focus
[mm]
Cutting Height
[mm]
Mild Steel
5
22-30
30000
N2/Air
8
3.0S
0
0.5
6
18-22
8
3.0S
-0.5
0.5
8
14-16
8
3.0S
-1
0.5
10
12-14
8
3.5S
-1.5
0.5
12
10-12
8
3.5S
-2
0.5
14
8-10
8
4.0S
-3
0.5
16
8-8.5
8
5.0S
-4
0.5
18
5.5-6.5
10
6.0S
-6
0.5
20
4.5-5.5
10
6.0S
-8
0.5
25
2.8-3.2
10
6.0S
-12
0.5
Mild Steel
10
2-2.3
6000
O2 Positive focus
0.6
1.2E
+8
0.8
12
1.8-2
7500
0.6
1.2E
+9
0.8
14
1.6-1.8
8500
0.6
1.4E
+10
0.8
16
1.6-1.8
9500
0.6
1.4E
+11
0.8
20
1.5-1.6
12000
0.6
1.6E
+12
0.8
22
1.4-1.5
18000
0.7
1.4SP
+13
0.5
25
1.2-1.4
18000
1.0
1.5SP
+13
0.4
30
1.2-1.3
19000
1.2
1.5SP
+13.5
0.4
40
0.9-1.1
20000
1.4
1.5SP
+14
0.4
50
0.6-0.8
30000
1.6
1.8SP
+14
0.4
60
0.2-0.25
1.6
1.8E
+13.5
2
70
0.18-0.2
1.7
1.8E
+13.5
2
80
0.12-0.15
1.8
1.8E
+14
2
Mild Steel
12
3.2-3.5
30000
O2 Negative focus
1
1.6SP
-10
1.5
14
3-3.2
1
1.6SP
-10
1.5
16
3-3.1
1
1.6SP
-12
1.5
20
2.8-3
1.2
1.6SP
-12
1.5
25
2.6-2.8
1.3
1.8SP
-14
1.5
30
2.2-2.6
1.4
1.8SP
-14
1.5
35
1.4-1.6
1.4
2.0SP
-15
1.5
40
1-1.4
1.5
2.5S
-15
1.5
45
0.8-0.9
1.6
2.5S
-17
1.5
Stainless Steel
1
50-60
30000
N2
8
2.0S
0
1
2
50-60
8
2.0S
0
0.5
3
40-50
8
2.5S
0
0.5
4
35-40
8
2.5S
0
0.5
5
25-30
8
3.0S
0
0.5
6
22-25
8
3.5B
0
0.5
8
18-22
8
5.0B
-1
0.5
10
13-16
8
5.0B
-1.5
0.3
12
10-12
8
6.0B
-2
0.5
14
8-10
8
6.0B
-4
0.3
16
7-8
8
6.0B
-5
0.3
18
6-7
8
6.0B
-6
0.3
20
4-5
12
6.0B
-7.5
0.3
25
2-2.5
12
7.0B
-12
0.3
30
1.2-2
12
7.0B
-16
0.3
40
0.6-0.8
16
7.0B
-16
0.3
50
0.2-0.3
16
8.0B
+11
0.3
60
0.15-0.2
20
8.0B
+11
0.3
70
0.1-0.13
20
8.0B
+11
0.3
80
0.08-0.1
20
8.0B
+11
0.3
90
0.05-0.06
20
8.0B
+11
0.3
100
0.04-0.05
20
8.0B
+11
0.3
Stainless Steel
1
50-60
30000
Air
8
2.0S
0
1
2
50-60
8
2.5S
0
0.5
3
40-50
8
2.5S
0
0.5
4
35-40
8
3.5B
0
0.5
5
25-30
8
3.5B
0
0.5
6
22-25
8
3.5B
0
0.5
8
18-22
10
3.5B
0
0.5
10
14-18
10
3.5B
-1.5
0.3
12
12-14
10
5.0B
-4
0.3
14
10-12
10
5.0B
-6
0.3
16
8-9
10
5.0B
-7
0.3
18
6-7
10
5.0B
-8
0.3
20
5-6
10
5.0B
-9
0.3
25
2.5-3
10
5.0B
-13
0.3
30
1.5-2
10
5.0B
-17
0.3
40
0.8-1
16
7.0B
-16
0.3
50
0.2-0.3
16
8.0B
-18
0.3
60
0.15-0.2
20
8.0B
-20
0.3
70
0.1-0.13
20
8.0B
-25
0.3
Aluminum Alloy
1
55-60
30000
N2
8
2.0S
0
0.8
2
40-45
8
2.0S
-1
0.5
3
30-35
10
2.5S
-1
0.5
4
25-30
12
2.5S
-2
0.5
5
18-25
14
3.0S
-3
0.5
6
18-20
14
3.0S
-3
0.5
8
15-18
14
3.5S
-4
0.5
10
12-15
14
3.5S
-5
0.5
12
10-12
16
5.0B
-6
0.3
14
8-10
16
5.0B
-7
0.3
16
6-8
16
5.0B
-7
0.3
18
3-4
16
5.0B
-7
0.3
20
2-3
18
6.0B
-7
0.3
25
1.5-2
18
6.0B
-7.5
0.3
30
0.8-1
20
7.0B
-7.5
0.3
40
0.5-0.8
20
7.0B
-9
0.3
50
0.4-0.6
20
8.0B
-9
0.3
60
0.2-0.3
20
8.0B
-9
0.3
Brass
1
40-45
30000
N2
12
2.0S
0
1
2
35-40
12
2.0S
0
0.5
3
28-30
12
2.0S
0
0.5
4
20-25
12
2.5S
0
0.5
5
18-20
14
2.5S
0
0.5
6
15-18
14
3.0S
0
0.5
8
10-15
14
3.0S
0
0.5
10
8-10
14
5.0B
-1
0.3
12
5-8
14
5.0B
-2
0.3
14
3-5
16
5.0B
-3
0.3
16
1.5-2
18
5.0B
-3
0.3
18
1.2-1.5
18
5.0B
-4
0.3
20
0.8-1
18
6.0B
-5
0.3
Copper
1
25-30
30000
O2
5
2.0S
0
1
2
25-30
5
2.0S
0
0.5
3
20-25
6
2.0S
0
0.5
4
18-20
8
2.5S
-1
0.5
5
15-18
8
2.5S
-1
0.5
6
10-15
8
3.0S
-2
0.5
8
6-10
10
3.0S
-3
0.5
10
2-3.5
12
3.5S
-4
0.5
12
2-2.5
12
3.5S
-5
0.5