Are you looking to learn more about pipe flanges and their various types? Look no further!
In this comprehensive article, we dive deep into the six basic types of pipe flanges, from the flat welding flange to the integral flange. We explore their principles, characteristics, and implementation, providing valuable insights into their design, performance, and applications.
Whether you're a seasoned professional or just starting out in the industry, this article is sure to captivate your interest and expand your knowledge of pipe flanges.
So, grab a cup of coffee and settle in for an informative and engaging read!
Flat Welding Flange
Flat welding flange refers to a type of flange that is connected to a container or pipeline using a fillet weld. It belongs to the category of arbitrary flanges. When designing, it is verified according to the integral or loose type flange, depending on the integrity level of the flange ring and the straight cylinder section connection. The flange ring is available in two types: with neck and without neck.
Compared with the welding neck flange, the flat welding flange has a simpler structure and lower material cost, but its stiffness and sealing performance are inferior. Flat welding flanges are widely used in the connection of medium and low pressure containers and pipelines.
Principles and Characteristics
The issue of flat welding flange has always been a topic of concern as it relates to the production cost or economic benefits of companies and enterprises. Therefore, the sealing principle of flat welding flange is constantly being improved and perfected.
However, the main design flaw of flat welding flange is that it cannot guarantee zero leakage. This is due to its design deficiency: the connection is dynamic, and periodic loads such as thermal expansion and fluctuations will cause movement between the flange faces, affecting the function of the flange and ultimately compromising its integrity, resulting in leakage.
No product can be completely without defects, but companies try to minimize the shortcomings of their products. Therefore, when producing flat welding flanges, the company strives to improve the product's performance as much as possible to maximize its effectiveness.
The characteristics of flat welding flange are that it not only saves space and reduces weight, but more importantly, it ensures that the joint will not leak and has good sealing performance.
The reason why the compact flange size is reduced is because the diameter of the sealing element is reduced, which will reduce the cross-sectional area of the sealing surface.
Secondly, the flange gasket has been replaced by a sealing ring to ensure the matching of sealing surfaces. As a result, only a small amount of pressure is required to tighten the sealing surfaces.
As the required pressure decreases, the size and number of bolts can also be correspondingly reduced, resulting in a new product that is small in size and light in weight (reducing the weight of traditional flanges by 70% to 80%).
Therefore, flat welding flange is a relatively high-quality flange product that reduces both quality and space and has played an important role in industrial applications.
The sealing principle of flat welding flange is that the two sealing surfaces of the bolts squeeze the flange gasket and form a seal, but this also leads to the destruction of the seal. In order to maintain the seal, a huge bolt force must be maintained, which means that the bolts must be made larger.
And larger bolts require larger nuts, which means that larger bolts are needed to create conditions for tightening the nuts. However, the larger the bolt diameter, the more the applicable flange will bend, and the only solution is to increase the wall thickness of the flange portion. The entire device will require a huge size and weight, which becomes a special problem in offshore environments because weight is always the main concern.
Moreover, fundamentally, flat welding flange is an ineffective seal, which requires 50% of the bolt load to squeeze the gasket, leaving only 50% of the load to maintain pressure.
Weld Neck Flange
Weld neck flange is a type of pipe fitting that refers to a flange with a neck and a circular pipe transition, which is welded to the pipe for connection.
Weld neck flanges are not easily deformed and provide good sealing, making them widely used in various applications. They have corresponding requirements for rigidity and elasticity, as well as a reasonable reduction in thickness for the welding transition.
The distance between the weld and the joint face is large, which protects the joint face from being deformed by the welding temperature. They have a relatively complex tapered structure and are suitable for pipelines or high-temperature, high-pressure, and low-temperature pipelines that experience significant fluctuations in pressure or temperature.
They are typically used for connecting pipelines and valves with PN greater than 2.5 MPa, and are also used for conveying expensive, flammable, and explosive media.
Socket Weld Flange
Socket weld flange refers to a type of flange where the end of a pipe is inserted into a step inside the flange, and then welded on the inside and outside of the pipe end. There are two types, one with a neck and one without.
The socket weld flange with a neck has good rigidity, small welding deformation, and better sealing performance, and can be used in occasions where the pressure is between 1.0~10.0MPa. The type B flange used in containers also belongs to the socket weld flange, and is used in occasions where high sealing requirements are needed.
When designing, the socket weld flange can be checked according to the integral flange method.
Slip-on Flange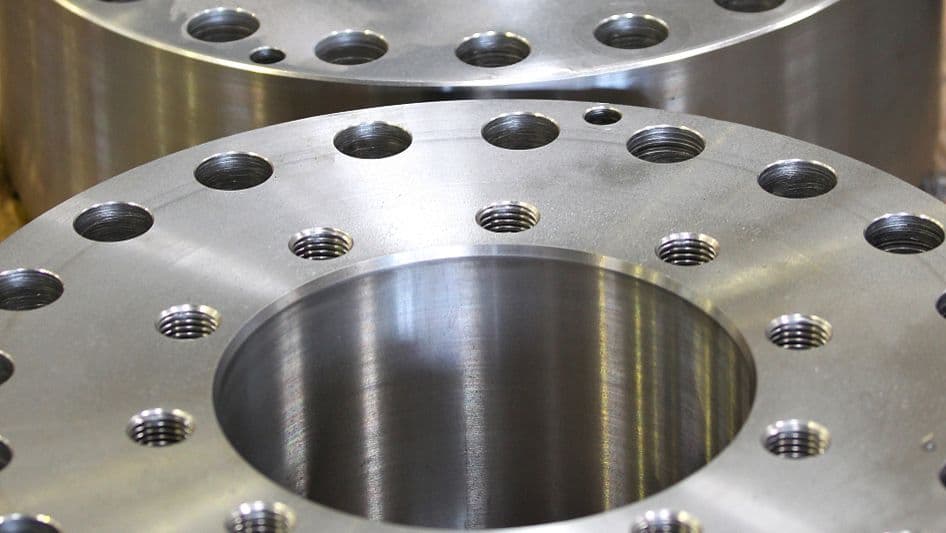 Slip-on flange refers to a type of flange that slips over the end of a container or pipeline. Flanges are components used to connect shafts together, primarily for connecting pipes; there are also flanges used on equipment inlet and outlet connections for connecting two pieces of equipment.
Slip-on flanges belong to the loose-type flange category. The protruding edge can be made by flanging, direct turning, or welding a separate ring.
The advantage of slip-on flanges is that they do not generate additional torque on the container or pipeline when the flange deforms, making them easy to manufacture and allowing them to be made from different materials than the container or pipeline, which can help save expensive metals.
The disadvantage is that the flange thickness is relatively large. Slip-on flanges are suitable for situations where the container or pipeline is lined with brittle materials and the pressure is not high.
Threaded Flange
A threaded flange refers to a type of flange that is connected to a pipeline using threads. During the design process, it can be treated as a loose flange.
The advantage of this type of flange is that it does not require welding, and the additional torque produced by the flange deformation on the cylinder or pipeline is minimal.
However, the disadvantage is that threaded flanges have a greater thickness, which makes them more expensive. Threaded flanges are suitable for connecting high-pressure pipelines.
Implementation Principle
Threaded flanges are a type of non-welded flange where the inner hole of the flange is machined into a pipe thread and connected with a threaded pipe to achieve a connection.
Compared with welding flanges such as slip-on flanges or butt-welded flanges, threaded flanges have the advantage of being easy to install and maintain. They can be used on pipelines where welding is not allowed. Alloy steel flanges have sufficient strength, but they are not easy to weld or have poor welding performance, so threaded flanges can be used instead.
However, it is not recommended to use threaded flanges in conditions where the pipeline temperature changes rapidly or the temperature is above 260℃ or below -45℃ to avoid leakage.
Integral Flange
"Integral flange" is a type of flange connection method and is a type of neck-welded steel pipe flange. The material used for integral flanges includes carbon steel, stainless steel, and alloy steel, among others. In various domestic standards, "IF" is used to indicate integral flanges. They are commonly used in high-pressure pipelines and are typically manufactured through casting processes.
In terms of flange types, "IF" is used to represent integral flanges. The sealing surface of integral flanges is generally raised face (RF), but if used in environments with high fire, explosion, or hazard risks, other types of sealing surfaces such as male-and-female (MFM) or tongue-and-groove (TG) can be chosen instead of RF.
How can we distinguish neck-welded flanges and integral flanges?
Both neck-welded flanges and integral flanges use welding as their joining method and have a long neck. How can we distinguish neck-welded flanges and integral flanges from their appearance and usage?
In terms of appearance, the end of an integral flange is thicker than that of a neck-welded flange. Except for PN1.6MPa and DN450 or above, the inner diameter of an integral flange is the same as its nominal diameter. The neck of an integral flange is higher, and its wall thickness is relatively thicker, which can be seen clearly by referring to the standard of neck-welded flanges.
In terms of usage, an integral flange is a type of flange that is connected to equipment such as valves, where the flange and the valve are an integral whole, not connected by welding. Integral flanges are commonly used in equipment manufacturing and are seldom used in pipeline design.
On the other hand, neck-welded flanges are used in conjunction with equipment such as valves and pumps, and are welded directly to the pipeline. The end interface size of neck-welded flanges is consistent with the outer diameter and wall thickness of the corresponding pipeline, making it suitable for direct welding connection.