In today's rapidly evolving manufacturing landscape, industrial robots have become an indispensable asset for businesses looking to gain a competitive edge. But with so many brands and models available, choosing the right robot for your specific needs can be a daunting task.
That's where this source article comes in. It provides an in-depth analysis of the top four industrial robot manufacturers in the world: FANUC, KUKA, ABB, and YASKAWA Electric.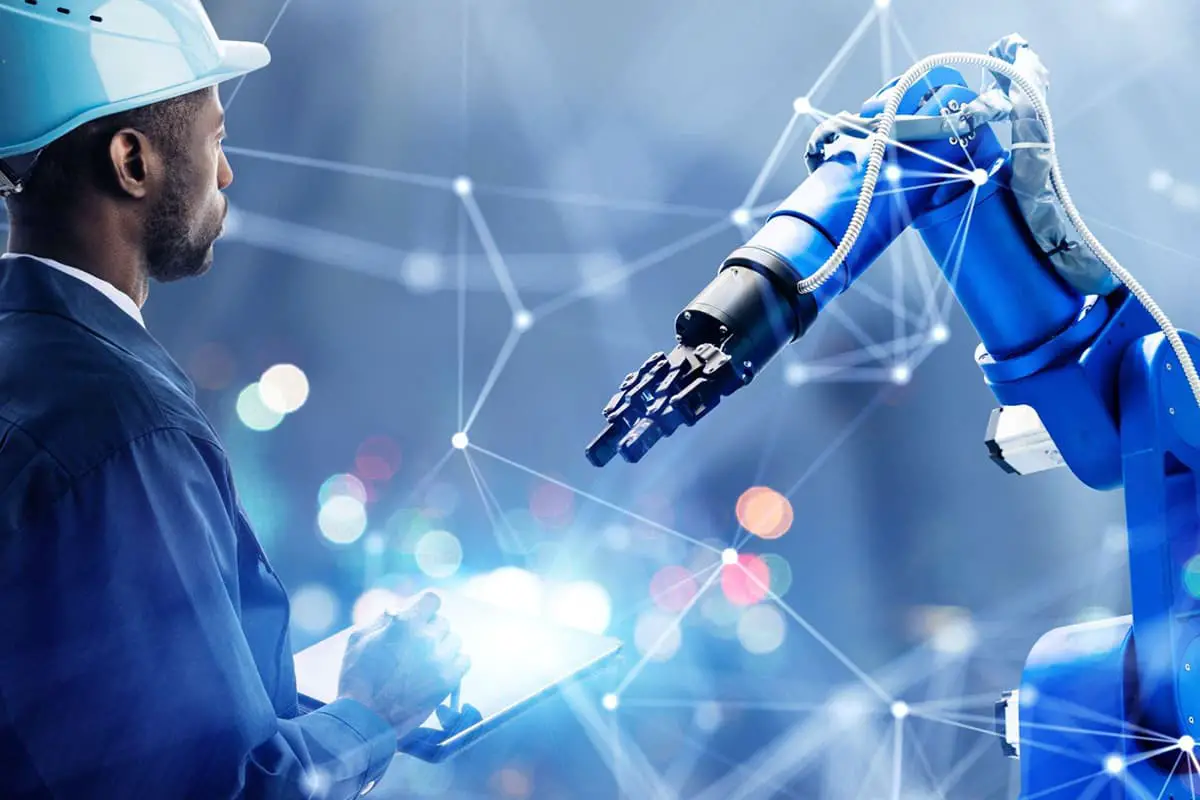 These four brands dominate the Asian market, with a combined market share of over 70% in China's robotics industry. Each brand has its unique strengths and weaknesses in various technical areas, making it essential to have a deep understanding of their products to make an informed decision.
For example, ABB excels in control systems, KUKA specializes in system integration and on-body production, FANUC is a leader in CNC systems, and YASKAWA is renowned for its expertise in servo motors and motion controllers.
I. Best Industrial Robots Manufacturers
Whether you're in the automotive industry, electronics, or logistics handling, this source article has got you covered. It provides detailed information on each brand's core areas of expertise, technology, and domestic market analysis, helping you make an informed decision when choosing the right industrial robot for your business needs.
So, if you're looking to enhance your manufacturing capabilities, read on to discover the top industrial robot manufacturers in the world.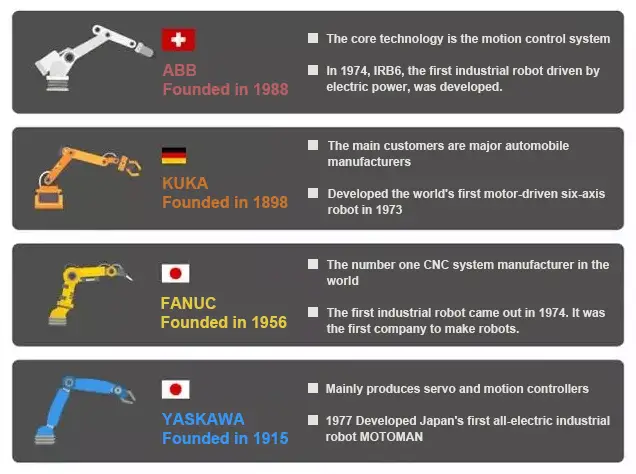 | Company | Country | Business | Advantage | Application |
| --- | --- | --- | --- | --- |
| KUKA | Germany | Welding equipment, robot body, system integration, logistics automation | KUKA, known as the 'purest' robotics company, has its core customers in the automotive industry including Mercedes-Benz and BMW, and serves a wide range of industries in high-end manufacturing. Its robots use an open operating system and North America is its largest market globally. | Automotive Manufacturing |
| ABB | Switzerland | System integration business offerings include power products, power systems, low voltage products, discrete automation, motion control, and process automation. | The powerhouse of motors and automation equipment, ABB boasts exceptional advantages, robust system integration capabilities, and superior core technology in motion control. China has become the company's second-largest market globally. | Electronic and electrical, logistics handling |
| FANUC | Japan | CNC system, automation, robot | FANUC focuses on the field of CNC systems and is known for its standardized programming and user-friendly operation. The company has the ability to produce core components in-house, which leads to strong profitability, except for the reducer. | The automotive industry, electrical and electronic |
| YASKAWA | Japan | Electric motor equipment, motion control, servo motor, robot body | Japan's first company to produce servo motors, YASKAWA is a typical integrated robotics enterprise with close coordination among its various business departments. The company's key components, such as servos and controllers, are self-sufficient and cost-effective. | Electronic and electrical, transportation |
1. ABB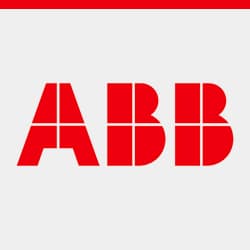 Country: Switzerland
Founded: 1988
About the company:
ABB, headquartered in Zurich, Switzerland, is a renowned company operating in five key areas: power products, discrete automation, motion control, process automation, and low voltage products. It is known for its expertise in power and automation technology and places a strong emphasis on the robustness of its robots. ABB is recognized for the accuracy of its six-axis robots, even if its single-axis speed may not be the fastest.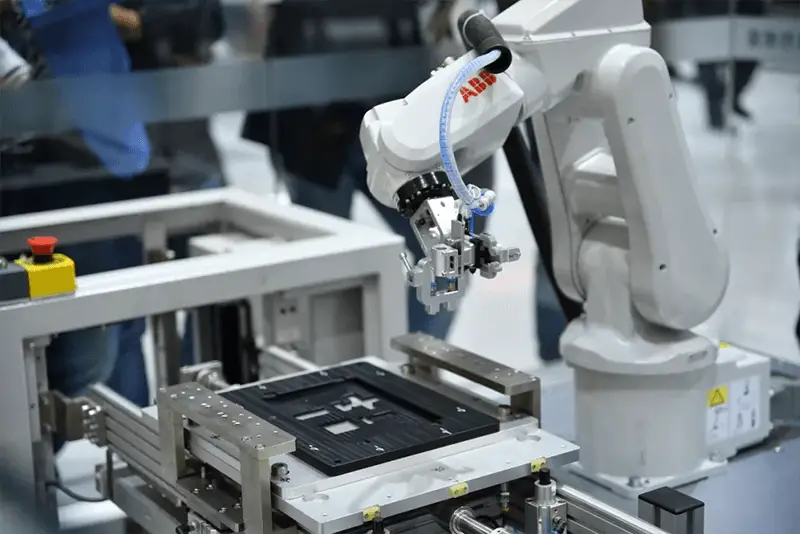 Core areas
ABB is renowned for its expertise in motion control technology, which is the core and most challenging aspect of robots. The company's strength in this area enables it to improve the performance of its robots in terms of precision, speed, cycle time, programmable design, and more, resulting in improved production quality, efficiency, and reliability.
Technology: algorithms are best but slightly more expensive
ABB, headquartered in Zurich, Switzerland, is a well-known company for its expertise in power and automation technology. It operates in five major business areas, including power products, discrete automation, motion control, process automation, and low voltage products. The company's core strength lies in its motion control systems, which are considered the most challenging aspect of robotics.
With its motion control technology, ABB enhances the performance of its robots by improving path precision, motion speed, cycle time, programmable design, and more, resulting in improved production quality, efficiency, and reliability. The company's control cabinet comes equipped with Robot Studio software, allowing for 3D simulation and online functionality. It also supports a variety of industrial bus interfaces and can communicate with different welding and cutting power supplies, as well as PLCs, from different brands. The control cabinet offers adjustable parameters, including current, voltage, speed, and oscillation, enabling the creation of complex oscillation trajectories.
However, ABB robots equipped with high-standard control systems are known to be expensive and the company has one of the longest lead times among the four major brands. Despite this, ABB prioritizes overall robot design and quality, making it a popular choice for those seeking reliable and high-quality robots.
It's worth mentioning that ABB started with inverters and is widely used in power stations and inverter stations in China.
Domestic market analysis
ABB's strategy in China emphasizes partnerships with key players in the 3C home appliance industry, such as Huawei, Changhong, and Topstar. These partnerships highlight the significance of the 3C industry to ABB and the companies' role as leaders and trendsetters in the industry.
Going forward, ABB's products will increasingly incorporate advanced technologies such as artificial intelligence, connectivity, and big data. The company is focusing more on applications and is strengthening its relationships with system integrators to enhance the development of integrated solutions.
2. KUKA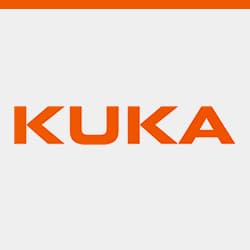 Country: Germany
Founded: 1898
About the company:
KUKA, founded in Augsburg, Germany in 1898, initially focused on interior and urban lighting. However, it quickly expanded into other areas. Its primary customer base is the automotive industry, and KUKA is dedicated to providing advanced automation solutions for various industrial processes, including brain surgery and radiography in hospitals.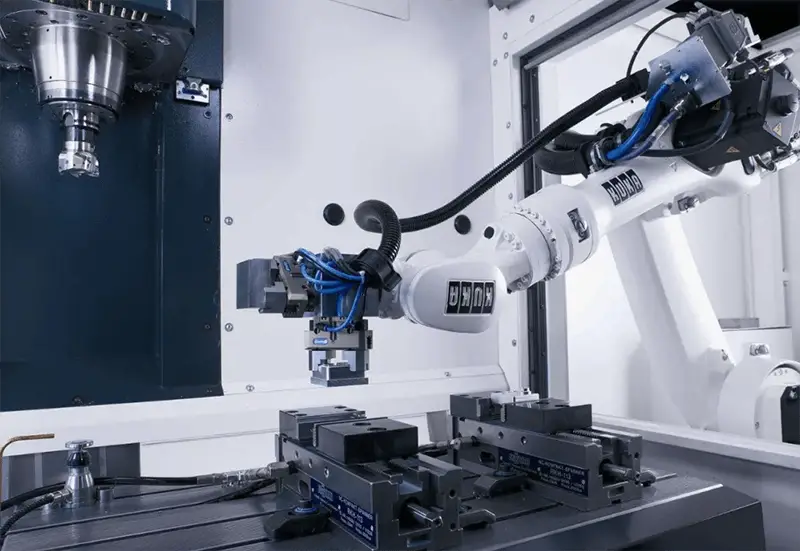 Core areas
KUKA robots are widely used across a range of industries including automation, metal processing, food, and plastics. They are utilized for tasks such as material handling, processing, spot welding, and arc welding.
Technology: simple to operate, but high failure rate
The acquisition of KUKA by Midea was successful. In the robotics industry, KUKA is often compared to BMW, while ABB is considered a Mercedes-Benz. Although both brands offer high-end products, KUKA robots have a higher rate of return compared to ABB, FANUC, and other brands. However, some reports suggest a higher frequency of failures with KUKA robots.
Despite this, KUKA has a strong domestic sales presence due to its ease of secondary development. The user-friendly man-machine interface makes it possible for people with little to no technical background to learn to operate the robot in just one day, which is not the case with Japanese robots that have more complex control system keyboards and a steeper learning curve.
It's worth noting that KUKA excels in the field of heavy-duty robots. Among robots weighing 120 kilograms or more, KUKA and ABB have the largest market share. When it comes to heavy-load robots weighing 400-600 kilograms, KUKA leads in sales.
Domestic market analysis
KUKA is currently expanding its local services in China and exploring new regions in the southwest. The company is also focusing on the automotive equipment sector in the future. The acquisition of KUKA by Midea has made a lasting impact on both brands and the market's response. It will be exciting to see the combined impact of Midea and KUKA in the future.
3. FANUC
Country: Japan
Founded: 1956
About the company:
FANUC was founded in 1956 and introduced its electro-hydraulic stepper motor just three years later. As microelectronics, power electronics, and computing technology rapidly advanced in the 1970s, FANUC decided to pivot from its successful electro-hydraulic stepper motor products. In 1976, the company successfully developed a CNC system and later teamed up with Siemens to create a high-level CNC system. Today, FANUC is recognized as one of the world's leading companies in the design and manufacture of CNC systems.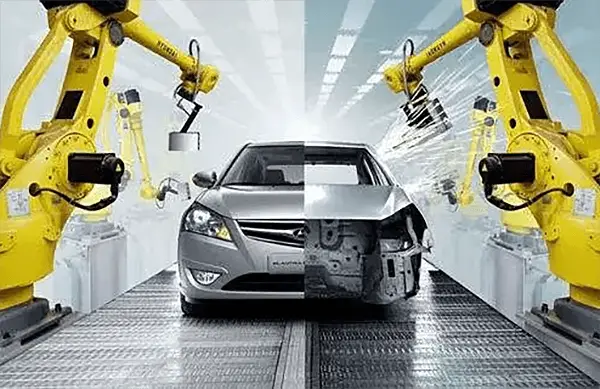 Core areas
ANUC is a globally recognized professional manufacturer of CNC systems. Its industrial robots are unique in comparison to those of other companies, characterized by their convenient process control, smaller base size for the same type of robot, and distinctive arm design.
Technology: very high accuracy, but not overload
FANUC is a globally recognized professional manufacturer of CNC systems, and its industrial robots stand out from those offered by other companies. The company's journey in CNC systems started in 1956 when a group of innovative Japanese technologists established a research team in response to the advent of the 3C era. Their efforts resulted in the development of highly precise industrial robots, with reports indicating that FANUC's multi-functional six-axis small robots have repeatable positioning accuracy of ±0.02mm.
FANUC's industrial robots are unique in their convenient process control, smaller base size for the same type of robot, and innovative arm design. Additionally, the company has integrated blade compensation, a feature used in CNC machine finishing, into its robots, enabling them to perform inward cuts during the finishing process. This cannot be achieved without secondary development in YASKAWA robots.
While FANUC is well-known for its accuracy, it has limitations in terms of robot stability. If its robots operate at full load and reach 80% speed, an alarm will be triggered, indicating limited overload capacity. As a result, FANUC excels in light-load, high-precision applications, which explains the success of its miniaturized robots (weighing less than 24 kilograms).
Domestic market analysis
FANUC's strategy is distinct from others as it focuses on entering markets with high demand, particularly the Chinese market which has significant growth potential. In China, 55% of FANUC's industrial robot sales are used in the general manufacturing industry, with the top three industries being home appliances, logistics, and electrical and electronics. FANUC is currently the largest robot brand in terms of total market sales, relying on an open market approach instead of relying on the sales of a few large customers.
4. YASKAWA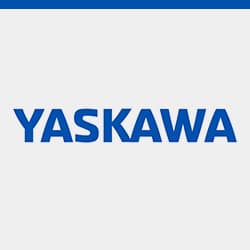 Country: Japan
Founded: 1915
About the company:
Founded in 1915, YASKAWA is Japan's largest industrial robotics company and is headquartered in Kitakyushu Island, Fukuoka. In 1977, the company made history by developing and producing Japan's first fully electrified industrial robot, utilizing its own motion control technology. Since then, YASKAWA has continued to innovate and develop various automated robots for tasks such as welding, assembly, painting, and handling, solidifying its position as a leader in the global industrial robot market.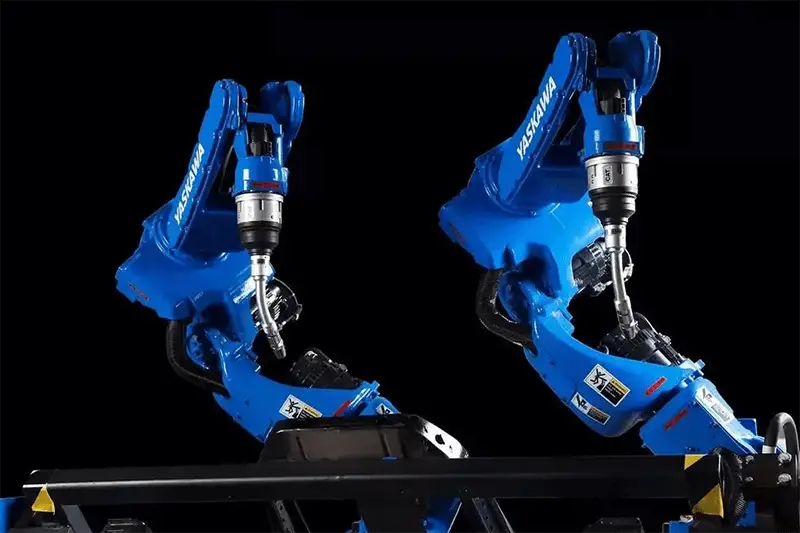 Core areas
YASKAWA is a leading producer of servo and motion controllers, which are essential components for manufacturing robots. The company has designed and manufactured a variety of automated robots for tasks such as welding, assembly, painting, and handling.
YASKAWA's core industrial robotics offerings include spot and arc welding robots, paint and processing robots, LCD glass plate transfer robots, and semiconductor chip transfer robots. Additionally, YASKAWA was one of the pioneers in introducing industrial robots into the semiconductor production industry.
Technology: good stability, but slightly less accuracy
With nearly a century of expertise in electric motor technology, YASKAWA has a global market dominance in the production of AC servo and inverter products. In 1977, the company made history by developing Japan's first fully electric industrial robot, focusing on maximizing the motor's inertia for increased stability and load handling capabilities. As a result, YASKAWA robots can operate at full speed and load without triggering an alarm and can even handle overload operation. This makes YASKAWA a popular choice in heavy-duty robotics applications, such as the automotive industry. However, compared to FANUC robots, YASKAWA robots have a lower level of precision. If precision is a requirement, customers tend to choose FANUC. However, YASKAWA offers a clear price advantage, with lower prices compared to the other major brands and a high price-performance ratio. For instance, YASKAWA's welding robots with welding kits are priced between 130,000-140,000 and the company adopts a mass production approach, unlike Panasonic's robots.
Domestic market analysis
Recently, YASKAWA has been actively expanding its presence in the domestic market through the construction of new robotics centers, increased investment in factories, and the formation of a joint venture with the United States to accelerate the localization of its services.
There is a large demand for robots in China and the United States is a significant player in the home appliance industry, providing YASKAWA with opportunities for growth in sales.
Despite challenges in the Japanese market for its service robots, particularly in the medical robotics sector, YASKAWA remains optimistic about the potential for new growth in the domestic service robot market.
As the market becomes increasingly competitive, it is becoming more common for major robotics companies to seek partnerships with larger application-based companies. This trend is expected to continue in the future.
5. Epson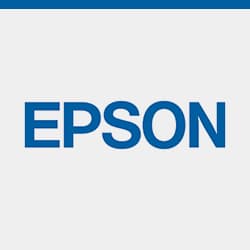 Country: Japan
Founded: 1942
About the company:
Seiko Epson Corporation, founded in May 1942 and headquartered in Suwa, Nagano, Japan, is a well-known advanced company in the digital imaging field globally.
The Epson Group is committed to providing innovative digital imaging technologies and solutions to its customers through a culture of innovation and creativity that enhances its overall value as a company.
In recent years, the company has established production and R&D facilities in 32 countries across five continents and has business and service outlets in 57 countries around the world.
With 94 companies globally, the Epson Group employs over 72,000 people worldwide.
Epson China:
Seiko Epson Corporation has been present in China since the 1980s and has gone through three phases of development: trade exchanges, investment and factory construction, and expansion. Over the past 40 years, Epson has built a comprehensive network of manufacturing, sales, and service facilities.
Epson (China) Co., Ltd. was established in 1998, with its headquarters located in Beijing and twelve branches across the country. The regional headquarters is responsible for managing Epson's investments and business development in China.
Epson's operations in China primarily consist of information technology products such as printers, scanners, projectors, electronic components, and industrial robots. These products are popular among Chinese consumers due to their high quality, energy efficiency, and environmentally friendly features.
6. Yamaha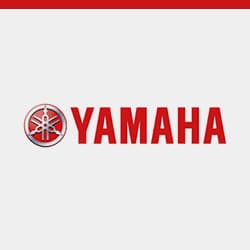 Country: Japan
Founded: 1955
About the company:
Yamaha Engine Co., Ltd., established on July 1, 1955, is a professional manufacturer of motorcycles. Since 1960, the company has expanded its product line to include motorboats, outboard engines, and automobile engines.
Yamaha Engine Co., Ltd. has been ranked among the top 500 companies in the world several times. With factories and operating institutions worldwide, the company invested $1 billion in the Zizhu Science Park in Minhang District, Shanghai in 2006 to establish Yamaha Engine Trading (Shanghai) Co., Ltd., which primarily sells Yamaha products manufactured in China to overseas markets.
In 2006, Yamaha Engine intensified its research and development of the Yamaha Electric Bicycle and has recently begun selling it across all provinces in China. In addition to its motorcycle business, Yamaha Engine has diversified into other industries, including the boat business, power product business, automobile engine business, intelligent chemical plant equipment business, aviation business, and PAS business, extending its reach from land to sea and even to the sky.
Today, Yamaha Engine Co., Ltd. is not only involved in the motorcycle industry but also in a variety of other industries.
7. Kawasaki
Country: Japan
Founded: 1896
About the company:
Kawasaki Heavy Industries began producing industrial robots in Japan in 1969, marking the start of commercial mass production of these machines. With over 50 years of experience in the field of robotics technology, Kawasaki uses advanced methods to continuously develop high-quality and first-class industrial robots and provide high-value added projects and services.
The Robotics Business Department, based in Akashi, Japan, has offices and service centers throughout the country to support customers with technical assistance. Kawasaki's subsidiaries and dealers in overseas markets are also dedicated to meeting the sales, service, and engineering needs of their customers.
In 2006, Kawasaki Robotics (Tianjin) Co., Ltd. was established in the Tianjin Economic and Technological Development Zone in China and is fully owned by Kawasaki Heavy Industries. It is responsible for sales, after-sales service (maintenance, repair, etc.), and technical support of Kawasaki's industrial robots in China.
Kawasaki robots are used in various industries, including logistics, beverages, food, fertilizers, solar energy, and coal tiles. The company offers a wide range of palletizing and handling robots, as well as professional after-sales services and advanced technical support tailored to meet the specific needs of their customers' workshops.
In addition, Kawasaki has a well-stocked inventory of parts, ensuring timely delivery of required accessories to customers. The company also has display spraying robots, welding robots, and testing rooms for spraying, providing customers with various related services.
8. Nachi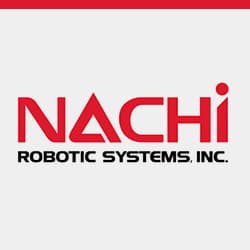 Country: Japan
Founded: 1928
About the company:
Nachi is a comprehensive manufacturing company that produces a wide range of products, from raw materials to machine tools. With its expertise in machining, unmanned robots, bearings, hydraulic parts, and other functional components, Nachi has made significant contributions to the growth of the manufacturing industry.
The company is dedicated to enhancing its product line with high precision and powerful features, and to strengthening its brand. As a hub for manufacturing, sales, and technical engineering services, Nachi has established the "Nachi China Business Center."
Nachi BUERYUE (Shanghai) Trading Co., Ltd., Nachi's core subsidiary in China, provides world-class products and services to the Chinese manufacturing sector and conducts business operations. The Zhangjiagang Base, which is set to be completed next year, will feature an exhibition hall, the Nachi Galaxy China, displaying Nachi products and their industrial chains.
In addition to precision cutting tool grinding services, Nachi's manufacturing plants also produce cutting tools, ball bearings for automobile air conditioners, hydraulic motors and stations, and functional parts for automobile drive systems.
Nachi is continuously exploring ways to establish and grow its Chinese business. Nachi (China) Co., Ltd. is a wholly-owned subsidiary of the Japanese company located in Shanghai, with its main factory located in Toyama, Japan.
Since its establishment in 1928, Nachi has adhered to the philosophy of "contributing to the growth of the world's manufacturing industry" and continuously combined its core technologies to drive research and development. Today, Nachi's main products include bearings, cutting tools, machine tools, hydraulic equipment, automatic production robots, special steel, ultra-precision machinery for the IT industry, and environmental systems.
Nachi operates a Tokyo News Agency and has production bases in North America, South America, Europe, Asia, and Greater China, as well as permanent representative offices and sales outlets globally. This enables the company to stay up-to-date with market trends and provide prompt services to customers worldwide.
Nachi has established a trading company and production factory in Jiading, Shanghai, and is seeking talented individuals from the community to join its growing team. The company offers competitive salaries, benefits, and opportunities for personal development based on the candidate's experience and capabilities.
9. Estun
Country: China
Founded: 1993
About the company:
Estun Automation, listed on the Shenzhen Stock Exchange with stock code 002747, was founded in 1993. The company operates according to the principles of "integrity, focus, and co-growth" and is dedicated to independently researching and developing core technologies, in order to establish a strong foundation for the company's globalization and become an internationally respected enterprise.
Thanks to its focus on the full automation ecosystem, its R&D investment of around 10% of its annual revenue, and the strong support of the global resource platform established through international expansion, Estun has successfully developed three core businesses: industrial automation products, industrial robot products, and industrial digital products.
As one of the first Chinese companies to independently develop AC servo systems, the industrial automation product line offers a complete range of AC servo systems, frequency converters, PLCs, touch screens, visual products, and motion control systems, along with motion control solutions that feature the Trio control system and intelligent unit products that integrate robots. These solutions cater to customers' automation needs, from single-axis to single-machine to complete units.
The industrial robot product line has grown rapidly with the support of the company's independent core components, offering a comprehensive series of specifications, mainly comprising of six-axis robots with a load capacity range of 3kg to 600kg and over 54 types. These robots serve a variety of industries, including new energy, welding, metal processing, 3C electronics, engineering machinery, aerospace, and more.
In 2021, Estun entered the field of industrial intelligence and digital manufacturing, offering customers remote access platforms for automation equipment and digital value-added services, including equipment data acquisition and edge computing, operation monitoring, process quality monitoring, and digital management services to improve production efficiency and material consumption control.
Becoming an international Chinese enterprise is Estun's core development strategy. In addition to subsidiaries in Hubei, Guangdong, and Shanghai, the company has wholly-owned or holding companies abroad, including Trio in the UK, Cloos in Germany, M.A.i in Germany, an Italian Research and Development Center, and Barrett in the US. Estun's welding robots and rehabilitation robots have a leading position in the world, providing a strong foundation for the company's international development strategy.
In the future, Estun will continue to prioritize creating value for customers and helping them grow, focusing on industry-specific solutions and featured products, serving prominent customers in the industry, making full use of the company's motion control + robot synergies, and providing more competitive integrated automation solutions for the industry. The company will forge its own unique development path.
10. Mitsubishi
Country: Japan
Founded: 1921
About the company:
The Mitsubishi Electric Group offers a diverse range of high-quality products and services for various needs, including home, office, factory, and social infrastructure. Its business philosophy, "One Mitsubishi Electric," aims to contribute to a better future for China and the creation of a better society.
To achieve this goal, the Mitsubishi Electric Group is committed to promoting its "One Mitsubishi Electric" initiative, which seeks to enhance its overall strength in China. In the future, the company will continue to listen to its customers' needs and leverage its advanced technology and products to support the growth and development of Chinese society.
Mitsubishi Electric (China) Co., Ltd. (MEC), the Chinese head office of Mitsubishi Electric Co., Ltd., was established in 1997. MEC is responsible for formulating and executing China's strategy, as well as managing enterprise risk, accounting and finance, human resources, public relations and publicity, legal affairs, information security, intellectual property, environmental protection, IT, production technology, research and development, and providing comprehensive support to group companies in China.
The company operates with a principle of "attention to the site and quick action," which emphasizes understanding the situation on the ground and making rapid decisions and taking appropriate measures to respond.
Business Areas:
Industrial Automation:
AC asynchronous motors
Gear reducers
Programmable controllers (Q-PLC, FX-PLC, L-PLC)
Human-machine interfaces (HMI)
Tension control systems
Power distribution control products
Motion controllers and servo control systems
Numerical control systems
Laser processing machines
Electric discharge processing machines
Industrial robots
Industrial sewing machines
Mitsubishi energy-saving data collection servers
Comprehensive categories.
Power Equipment:
Transformers
Transformer cooling equipment
Switches
Protection and control devices
Power generation equipment
Power distribution metal switchgear
Intelligent substation solutions
And others.
Electromechanical Products for Rail Transit Vehicles:
Mechanical and electrical products for rail transit vehicles.
Society & Public System:
Water treatment systems
Emergency power supply systems
Others.
Elevator & Escalator:
Air conditioning cooling and heating systems.
Household Air Conditioners:
Household central air conditioners
Multi-connected/commercial air conditioners (CITYMULTI, Power Multi, Mr. SLIM, etc.)
Multi-connected/commercial air conditioners (chillers)
Multi-connected/commercial air conditioners (variable frequency refrigerators CoolMulti)
Total heat exchangers
Ventilation equipment Lossnay
Small compressors.
Imaging Equipment:
DLP rear projection display walls
Multimedia data projectors
Diamond Vision LED display systems
Large-size public LCDs
Desktop displays
Thermal sublimation printers.
Print Image Sensing:
Thermal print heads/contact image sensors.
Semiconductor & Devices:
Power devices
Microwave RF optical devices/optical modules.
Other Products:
Environmental information systems
Solar power generation systems
Regenerative braking
Air jet dryers
Comprehensive document management system ManedgeLeader
Visual energy saving
Other products.
III. Selecting a Reliable Partner
Company Reputation
When choosing an industrial robot manufacturer, it is important to consider the company's reputation in the industry. A well-established manufacturer with a history of successful projects and satisfied clients is more likely to provide reliable and efficient robotic solutions. Conduct thorough research on potential manufacturers, checking for industry awards, certifications, and client testimonials. This can provide valuable insights into the quality of their services and products.
Technical Support
Another crucial factor is the level of technical support available from the manufacturer. A strong technical support team can be invaluable in ensuring smooth operations and addressing any issues that may arise during the implementation of robotic solutions. Look for manufacturers that offer comprehensive training, documentation, and after-sales support to ensure seamless integration of their solutions into your operations. Additionally, assess their response time and availability to promptly address any issues that may arise.
Price vs Quality
Lastly, consider the balance between cost and quality when selecting an industrial robot manufacturer. While affordability is important, it should not compromise the performance and durability of the robots. A higher upfront investment in a quality product can lead to long-term savings in maintenance and operational costs.
Compare the specifications of different robotic solutions
Evaluate the materials and manufacturing processes used
Consider the warranty and service plans offered by the manufacturers
Choosing a reliable partner for industrial robot manufacturing requires a careful assessment of multiple factors, such as reputation, technical support, and the balance between price and quality. By conducting thorough research and considering these aspects, companies can make informed decisions and select the right partner to meet their automation needs.