Numerical Control System (NCS) is a shorthand for digital control system. It was developed in parallel with computers and is used to control automated processing equipment.
Initially, it was composed of electronic tubes and relay circuits to form a specialized controller with computational capabilities, known as Hardware Numerical Control (Hard NC).
After the 1970s, separated hardware electronic components were gradually replaced by computer processors with higher integration, known as computer numerical control systems.
Computer Numerical Control (CNC) system uses computer to control the machining function and achieve numerical control system.
Based on the control program stored in the computer memory, the CNC system executes partial or all of the numerical control functions, and is equipped with interface circuits and servo drive devices of the specialized computer system.
It controls the action of one or more mechanical equipment by using digital, textual, and symbolic numerical instructions, usually controlling mechanical quantities such as position, angle, speed, and switching.
Components of CNC System
The CNC system comprises of a CNC program storage device (from early paper tape to magnetic rings, and from magnetic tapes and disks to the computer's hard disk), computer control host (evolving from dedicated computers to PC-based architectures), Programmable Logic Controller (PLC), spindle drive, and feed (servo) drive (including detection device), etc.
As the use of general-purpose computers gradually becomes the norm, CNC systems are becoming more software-oriented, and PLCs are replacing traditional machine tool electrical logic control devices, making systems smaller and more flexible, universal, and reliable.
They are easy to use and maintain, with the ability to implement complex CNC functions, and provide the convenience of network connection and remote communication.
The following are several common CNC systems in the CNC machine tool market.
1. FANUC CNC System
FANUC corporation of Japan is known to be the most powerful enterprise for research, design, manufacture, and sales of CNC systems in the world.
As a company that possesses core technologies for the development of CNC machine tools, FANUC has not only accelerated the rapid development of CNC machine tools in Japan but has also contributed to the improvement of CNC machine tool technology worldwide.
FANUC's dominance in the market is no coincidence, as it possesses the most advanced technology in the world today.
In 1985, FANUC developed the 0 series, which has undergone continuous improvements and has captured significant markets in China. The company has greatly promoted its products through Beijing FANUC Mechatronics Co., Ltd. FANUC CNC systems are products of Fujitsu Corporation in Japan, and have a long history in the Chinese market.
There are several models of FANUC CNC systems being used, with the most widespread models being the FANUC 0, FANUC16, FANUC18, and FANUC21. Among these, the FANUC 0 series is the most popular.
2. Siemens CNC System
The Siemens CNC system is an innovative CNC system that can meet various needs. The system has a modular design, which makes it scalable and can be integrated with various products for machine tools.
Whether it is deployed for standardized lathes and milling machines as a powerful, drive-based CNC system, or as a PC-based solution, choosing this CNC system can make equipment operation more innovative and competitive.
Siemens provides a series of world-class drive technology products, including inverters, motors, reducers, geared motors, couplings, hybrid drives, motion controls, etc., covering all torque ranges, performance levels and voltage levels.
The main series of Siemens CNC systems are SINUMERIK3/8/810/820/850/880/805/802/840.
3. Mitsubishi CNC System
Mitsubishi Electric Corporation, founded in 1921, is a leading global supplier of motor products, and currently has more than 100,000 employees – an enterprise listed in Fortune Global 500.
All employees of Mitsubishi Electric Corporation are committed to becoming the best partner to customers with a global and future-oriented development perspective. In order to make our CNC system a powerful assistant to customers, we will make unremitting efforts.
The Mitsubishi CNC system generally includes: M700V series, M70V series, M70 series, M60S series, E68 series, E60 series, C6 series, C64 series, and C70 series.
Among them, the M700V series is a high-end product with a completely nanometer control system, high precision and high-quality machining, supports 5-axis linkage, and can process workpieces with complex surface shapes.
In 2015, Mitsubishi CNC systems launched the M80 and M800 series to replace the original M70 and M700 series.
4. HEIDENHAIN CNC System
William Heidenhain founded a metal etching factory in Berlin, Germany in 1889. Since the mid-1970s, the HEIDENHAIN company has become an important manufacturer of machine tool CNC systems and drive systems.
HEIDENHAIN China is committed to upholding the HEIDENHAIN tradition and the purpose of the company in China.
The TNC numerical control system with HEIDENHAIN's dialogue format programming language has become a standard system in the European mold industry.
HEIDENHAIN provides a full range of absolute and incremental rotary encoders, linear scale rulers, and angle encoders.
Their CNC systems for machine tools (milling machines, mill-turning machining centers, and machining centers) have a complete product line and rich functions.
Machine tool control can be up to 18 axes. Klartext dialogue programming can be used for workshop programming. They are also suitable for out-of-machine programming and automation production applications, making them an ideal choice for simpe to high-speed milling applications.
5. REXROTH CNC System
Bosch Rexroth is dedicated to providing safe, precise, efficient, and cost-effective transmission and control technology for various machinery and system equipment.
With global application experience, Rexroth develops innovative products and customizes integrated solution systems to customers in every sub-market, such as for walking machinery, machinery applications and engineering, factory automation, and renewable energy.
Since entering the Chinese market in 1978, Bosch Rexroth has established production bases in Beijing, Wujin, and Xi'an, with approximately 3,500 employees.
REXROTH CNC systems include IndraMotion MTX performance, a highly efficient CNC system, IndraMotion MTX standard, a universal CNC system, and IndraMotion MTX micro, a micro CNC system.
6. NUM CNC System
More than ten years before the widespread user recognition of CNC systems in 1961, NUM had already developed its first CNC system and introduced it to the market in 1964, positioning NUM as a pioneer in global CNC system suppliers.
The hardware production factory for NUM CNC systems is located in Italy. We control the development and manufacture of core products (including drivers and motors) in the CNC system to ensure that we can continuously improve the overall performance of the CNC system.
NUM CNC systems include FS152i, FS153i, and FS192i, and the control panel is equipped with an integrated PC with various performance levels for selection.
7. Fagor CNC System
Fagor Automation is a subsidiary of the Mondragon Corporation, the 10th largest group company in Spain and the largest in the Basque region, currently employing over 74,000 people.
Fagor Automation has rich experience in researching and manufacturing CNC systems and measurement systems, with a powerful software development capability and a rich product line, able to provide customized solutions tailored to customer needs.
Based on the support of powerful functional components, the Fagor CNC system can equip any demanding machine tool equipment. It can provide complete industrial control solutions for high-end machining centers and turning centers.
The dialogue programming function specifically solves the problem of programming small-batch workpieces, with high-speed and high-precision features, nanometer-level resolution control can highlight the high technological content of the machine tools, and it also has special functions or special applications for specific uses such as laser cutting machine tools.
8. MAZAK CNC System
Yamazaki Mazak (China) Co., Ltd. is the China headquarters of Yamazaki Mazak Corporation and is responsible for the unified management of all business in China, including production, sales, and service.
MAZAK is the world's leading machine tool manufacturer, offering comprehensive solutions that include composite machining, 5-axis machining, milling, turning, CNC systems, and automation, all supported by advanced technology.
The 7th generation CNC system from MAZAK provides a new software and hardware configuration to achieve excellent high-speed, high-precision, and high-quality processing.
The smooth and pleasant operation experience and process management, as well as richer intelligent functions are also provided. It can respond to the intelligent platform of the Internet of Things era, making it easy to achieve intelligent factories.
9. HNC CNC System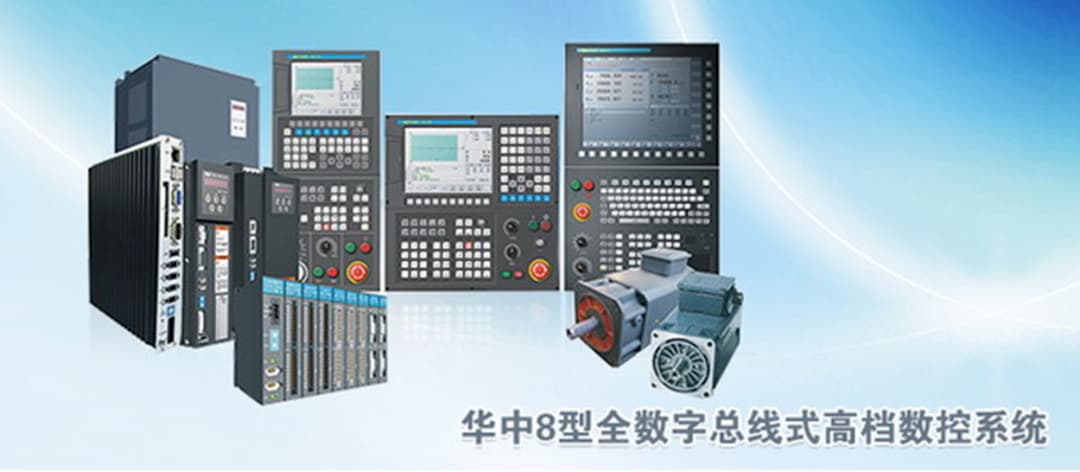 HNC CNC systems have independent intellectual property rights, with high, medium, and low three levels.
On the basis of previous technical accumulation, the company has integrated research and development tasks of three national key projects, aiming at the highest level of foreign high-end CNC systems.
The performance indicators of the servo drive and spindle drive devices with independent intellectual property rights have reached international advanced levels, and more than hundreds of independently developed five-axis linkage high-end CNC systems have been successfully applied in the fields of automobiles, energy, and aerospace.
HNC has developed more than 60 kinds of special CNC systems, which are applied in textile machinery, woodworking machinery, glass machinery, and injection molding machinery.
10. GSK CNC System
Guangzhou CNC Equipment Co., Ltd. (GSK) was established in 1991 and has gone through entrepreneurship, innovation, and creation.
GSK is the first batch of high-tech enterprises and a leading domestic provider of complete intelligent equipment solutions. It is known as the CNC industry base in southern China.
GSK can provide users with machine tool CNC systems, servo drives, servo motors, CNC machine tool chain marketing, machine tool CNC engineering, automatic control systems, industrial robots, precision CNC injection molding machines, and CNC training colleges, providing users with a full range of intelligent manufacturing process solutions.
11. SYNTEC CNC System
SYNTEC Corporation was established in 1995 and is a professional PC-based digital controller manufacturer.
It has long been focused on the development of machine tool CNC systems and hardware technology and is committed to expanding the market on both sides of the Taiwan Strait. It has now become one of the most influential and potential controller brands in the Asia-Pacific market.
SYNTEC products cover CNC systems for lathes and milling machines, as well as industrial machinery controllers. With high-tech innovation, value-added applications, and perfect after-sales service, SYNTEC has earned the trust of customers.
In addition to machine tool controllers, in recent years, products have been extended to high-end spindle servo solutions, linear motors, and direct-drive motors.
The products cover CNC systems for lathes, milling machines, industry-specific equipment, automation products, robotic arm CNC systems, servo products, and laser products.
12. LNC CNC System
Advantech LNC Technology Co., Ltd. was founded in October 2000 with a capital of NT$ 600 million. It is a company with a scale of 300-400 employees.
After many years of hard work, it has become the first CNC system brand in the Chinese area, covering various high-end cutting machine tool CNC systems, punch press CNC systems, plastic machine CNC systems, robotic arm CNC systems, automation control systems, energy-saving control systems, spindle motor and needle motor controller, etc.
13. KND CNC System
Beijing KND CNC Technology Co., Ltd. (KND), established in 1993, is a high-tech enterprise engaged in the research and development, production, sales, and service of CNC systems and industrial automation products.
So far, the company has developed multiple series and dozens of CNC systems, and has launched various special machine controllers, drivers, motors, and other supporting products, to meet the diverse application requirements of single-axis control machinery in the machine tool industry, CNC lathes , CNC milling machines, machining centers, and special machinery, providing customers with a wide range of choices.
14. LYNUC CNC System
Shanghai Lynuc CNC Technology Co., Ltd. is a high-tech enterprise integrating research and development, manufacturing, sales, and service. The company is committed to high-end CNC systems, intelligent software development, and the integration and application of CNC equipment and linear motors.
The LYNUC CNC system has been committed to five-axis and five-linkage CNC systems and linear motor control, continuously enriching product sequences and improving product performance according to market demand.
The LYNUC CNC system can be applied in various types of machine tools, demonstrating its excellent control capabilities. Successful applications include 3-meter five-axis machining centers, five-axis drilling and tapping machines, dispensers, five-axis tooth carving machines, engraving machines, tool grinders, spline grinders, reamer grinders, 6-meter gantry, machining centers, CNC drilling and tapping machines, and CNC milling and engraving machines.
15. HAAS CNC System
HAAS is committed to providing users with a powerful and reliable CNC system to achieve a perfect combination with machine tools. The HAAS CNC system is tailor-made for HAAS machine tools and continuously optimized without relying on third-party NC suppliers.
For many years, the industry has been committed to developing the best CNC system hardware and software. On this basis, the new generation of HAAS turning centers integrates more innovative content.
To ensure smooth and accurate motion control, all axes of the HAAS turning center use the next-generation digital servo motor and high-resolution encoder. With significant innovations in software and motor control, the performance of the machine tool is even more outstanding.
16. DELTA CNC System
The DELTA CNC system solution takes into account important technical indicators of machine tools such as speed, accuracy, surface finish, etc., providing reliable and stable machining performance for high-speed tapping and carving applications. It is an indispensable tool for mold production or machining and manufacturing of mechanical parts.
The DELTA CNC system provides high-performance motion control, rich human-machine interface functions, user-friendly operation, and high stability, meeting the needs of high-speed cutting.
Its architecture has good flexibility, making it easy to install and maintain. The milling machine CNC system, lathe CNC system, and general-purpose CNC system can be widely used in various industrial machinery, automation, and other fields.
DELTA has designed and developed four CNC system product lines: NC300A-MI-A, NC300A-MS-A, NC310A-MS-A, and NC311A-MS-A.
17. JINGDIAO CNC System
Beijing Jingdiao CNC System is an open-type CNC system that conforms to the mainstream standards of the industry. Its basic concepts are basically consistent with other CNC systems, and its basic functions and human-machine interface interaction have a high degree of similarity and compatibility with the most widely used domestic CNC systems.
The Beijing Jingdiao CNC system is based on a PC-Based system architecture, using an embedded industrial control computer and the Windows XP Embedded operating system platform.
It uses En3D as the CNC software and is most suitable for high-speed machining with small cutting tools. It has a leading level in multi-axis linkage, in-machine measurement, machine vision and other functions in China.
18. GNC CNC System
Dalian Guangyang Science and Technology Group is a prominent backbone enterprise group in China's intelligent manufacturing and high-end CNC fields, composed of high-tech enterprises such as Guangyang Technology and Kede CNC.
The group provides a series of high-end five-axis linkage CNC machine tools and their high-end CNC systems, key functional components, sensing and detection devices, permanent magnet synchronous motors, and other high-end CNC products, Intelligent manufacturing products such as cast iron bed bodies, automated hydraulic systems, digital production lines, industrial field controllers, industrial Internet of Things big data platforms, and flexible manufacturing services.
The Dalian Guangyang GNC62 CNC system uses the high-speed CNC fieldbus GLINK with a 100Mbps fiber optic medium, which has high-speed real-time point-to-point transmission function and multi-axis linkage and multi-channel control technology.
It can support up to 8 channels and 128 axes of synchronous control and also supports dual-axis synchronous drive control, high-speed and high-precision control functions.
19. LT CNC System
Shenyang Zhongke CNC Technology Co., Ltd. is mainly engaged in the development, production, and sales of CNC technology, servo drive technology, information technology, robot technology, intelligent technology, digital workshop technology, and products.
The company takes independent innovation and leading the perfect combination of CNC and machinery as its mission and is committed to becoming a top-notch enterprise in the CNC field and an outstanding provider of overall CNC technology solutions.
The LT CNC system includes five-axis linkage CNC systems, two, three, and four-axis linkage CNC systems, and specialized CNC systems; 200V, 400V servo drives, tool holders, and spindle motors.