What is hexagonal steel bar?
Hexagonal steel is a kind of section steel, also known as hexagonal bar, which is a bar with regular hexagon section.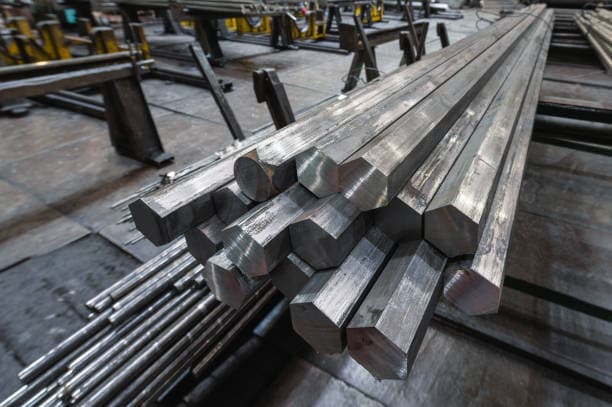 Hexagonal Bar Weight Calculator
According to dimension, shape, weight and allowable deviation of hot rolled steel bar (GB / t702-2008), the opposite edge distance of hot-rolled hexagonal angle steel is 8mm ~ 70mm.
Generally, it can be delivered according to actual weight or theoretical weight in the market.
You can use the following hexagonal weight calculator to calculate the weight of hexagonal steel.
Hexagonal Bar Weight Chart
Opposite side width
(mm)
Sectional area
(cm2)
Weight
(kg/m)
8
0.5542
0.435
9
0.7015
0.551
10
0.866
0.68
11
1.048
0.823
12
1.247
0.979
13
1.463
1.15
14
1.697
1.33
15
1.948
1.53
16
2.217
1.74
17
2.49
1.96
18
2.806
2.2
19
3.126
2.45
20
3.464
2.72
21
3.822
3
22
4.191
3.29
23
4.581
3.59
24
4.993
3.92
25
5.412
4.25
26
5.847
4.59
27
6.313
4.96
28
6.79
5.33
30
7.794
6.12
32
8.868
6.96
34
10.01
7.86
36
11.22
8.81
38
12.51
9.82
40
13.86
10.88
42
15.27
11.99
45
17.54
13.77
48
20
15.66
50
21.64
16.99
53
24.33
19.1
56
27.15
21.32
58
28.13
22.08
60
31.18
24.5
63
34.37
26.98
65
36.59
23.7
68
40.04
31.43
70
42.23
33.3