Are you tired of struggling to determine the weight of wire rods? Do you find it difficult to understand the different types and varieties of wire rods available in the market? Look no further, as we have the solution to all your wire rod-related problems.
Our comprehensive guide on wire rods provides you with all the necessary information you need to know about this essential material.
From the different types of wire rods available to the calculation of their weight, we have got you covered.
Our expert insights and advice will help you choose the right wire rod for your specific needs. We promise to make your wire rod selection process hassle-free and efficient.
With our user-friendly wire rod weight calculator and detailed wire rod weight chart, you can easily determine the weight of wire rods and select the perfect one for your project.
Don't let the complexities of wire rods hold you back. Let us help you make the right choice and get started on your project today. Keep reading to learn more!
What is wire rod?
Wire rod typically refers to small diameter round steel that is coiled. The diameter of the wire rod falls within the range of 5-19 mm (typically 6-9 mm), with its lower limit being the minimum size of the hot-rolled steel section.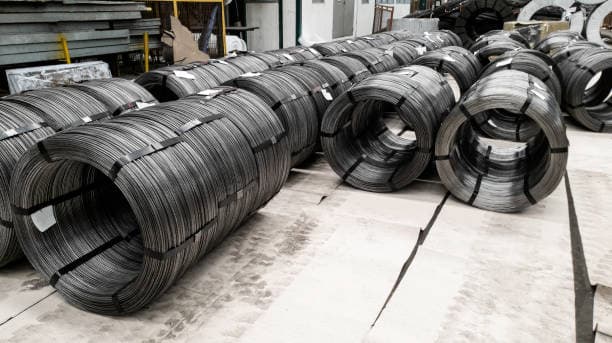 Types of wire rod
There are numerous varieties of wire rod. Low carbon steel wire rod is commonly referred to as soft wire rod, while medium and high carbon steel wire rod is known as hard wire rod. The wire rod is primarily used as the raw material for wire drawing, but can also be utilized directly as building materials and processed into mechanical parts.
Stainless steel wire rod is used for the production of stainless steel wire, spring wire, upset wire, and wire rope. With advances in production technology, special shaped wire rods such as square, hexagonal, and fan-shaped have emerged, the upper limit of diameter has been increased to 38 mm, and the coil weight has risen from 40-60 kg to 3000 kg.
The development of new post-rolling heat treatment technology has significantly reduced the oxide scale on the surface of the wire rod, improving its microstructure and properties.
Wire Rod Weight Calculator
According to national standards, hot-rolled plain round steel bars, also known as wire rods with round cross-sections and smooth surfaces, include HPB235 and HPB 300. National standards allow for wire rods to be delivered based on either actual weight or theoretical weight, but it is generally delivered based on actual weight in the market.
Wire rods are divided into high-speed wire rods and ordinary wire rods, but the calculation formula is the same. The wire rod weight calculator can be used to determine the weight of wire rods.
Related Tool: Steel Weight Calculator
Wire Rod Weight Chart
| | | | |
| --- | --- | --- | --- |
| Diameter | Weight (kg/m) | Diameter | Weight (kg/m) |
| 5.5 | 0.186 | 13 | 1.04 |
| 6 | 0.222 | 14 | 1.21 |
| 6.5 | 0.26 | 15 | 1.39 |
| 7 | 0.302 | 16 | 1.58 |
| 8 | 0.395 | 17 | 1.78 |
| 9 | 0.499 | 18 | 2 |
| 10 | 0.617 | 19 | 2.23 |
| * 11 | 0.746 | 20 | 2.47 |
| 12 | 0.888 | 21 | 2.72 |
| 22 | 2.98 | 63 | 24.5 |
| * 23 | 3.26 | * 65 | 26 |
| 24 | 3.55 | * 68 | 28.5 |
| 25 | 3.85 | 70 | 30.2 |
| 26 | 4.17 | 75 | 34.7 |
| * 27 | 4.49 | 80 | 39.5 |
| 28 | 4.83 | 85 | 44.5 |
| * 29 | 5.18 | 90 | 49.9 |
| 30 | 5.55 | 95 | 55.6 |
| * 31 | 5.92 | 100 | 61.7 |
| 32 | 6.31 | 105 | 68 |
| * 33 | 6.71 | 110 | 74.6 |
| 34 | 7.13 | 115 | 81.5 |
| * 35 | 7.55 | 120 | 88.8 |
| 36 | 7.99 | 125 | 96.3 |
| 38 | 8.9 | 130 | 104 |
| 40 | 9.86 | 140 | 121 |
| 42 | 10.9 | 150 | 139 |
| 45 | 12.5 | 160 | 158 |
| 48 | 14.2 | 170 | 178 |
| 50 | 15.4 | 180 | 200 |
| 53 | 17.3 | 190 | 223 |
| * 55 | 18.6 | 200 | 247 |
| 56 | 19.3 | 220 | 298 |
| * 58 | 20.7 | 250 | 385 |
| 60 | 22.2 |   | |