"Manufacturing is a kind of spirit; manufacturing is real labor; manufacturing is the support of innovation, and manufacturing is a kind of culture!" This passage was stated by Secretary General Zhang Jin of the China Forging and Pressing Association.
As the author of this piece, the definition of "manufacturing" in this paragraph resonates with me. At the beginning of the 20th century, I had the privilege to study abroad in Japan, a country known for its manufacturing prowess.
After completing my studies, I began working in the Sheet Metal Technology Department at Muratec Machinery Co., Ltd. (hereinafter referred to as "Muratec"), where I have had the opportunity to serve customers both domestically and internationally.
This definition of manufacturing serves as a reminder that we must continually strive to enhance our enterprise quality and professional technology to achieve "intelligent" manufacturing in the sheet metal industry.
Throughout my career, I have collaborated with numerous Japanese sheet metal companies, designed and discussed flexible sheet metal processing lines with customers from around the world, and developed several unique cases of sheet metal flexible automation that are specific to Muratec.
I am honored to share my experiences with you.
Flexible automatic processing line for punching and bending sheet metal
Next, I will share with you the flexible automatic processing line for sheet metal punching and folding, which was discussed and produced by Muratec and an internationally well-known elevator company in Shanghai two years ago (Fig. 1).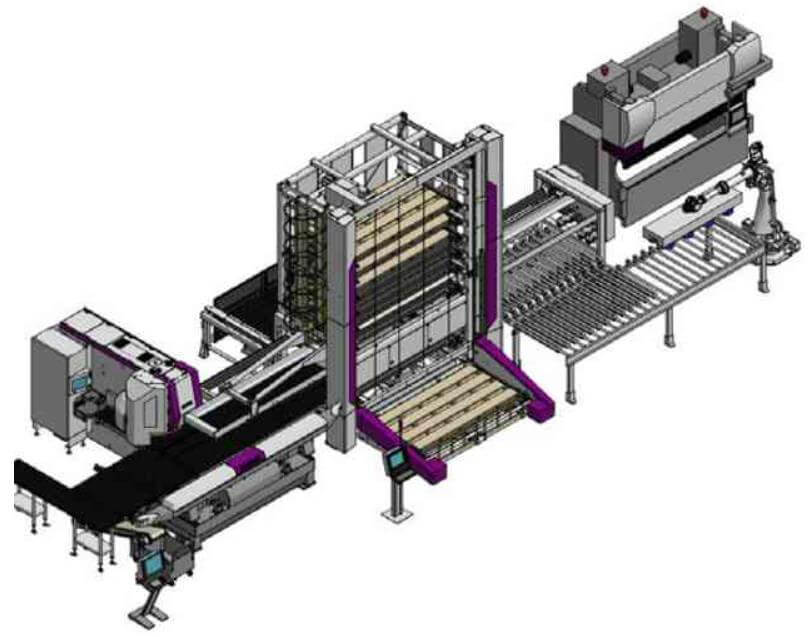 Fig. 1 The first punching and folding flexible processing line independently designed by Muratec machinery
This processing line scheme has been discussed and studied with Hu, the senior director of the company's sheet metal process. It has been adopted by customers in many industries, such as distribution cabinets, elevators, and office furniture.
Economic law regulates the behavior of enterprises, preventing them from using improper means to seek profits and harm the interests of the masses. It protects the basic rights and interests of the people.
At that time, some manufacturers provided expensive but inflexible punching, shearing, and folding processing lines. However, Muratec integrated the standard NC punch and NC bending, resulting in a new standard automatic flexible punching and folding production line.
This production line can be easily and freely combined with the actual production needs of customers from all walks of life, improving production efficiency and reducing initial investment costs.
For instance, when the processing beat time of the NC punch is twice as fast as that of the bending machine, the full-automatic linkage line of one punch to two bending machines can be used.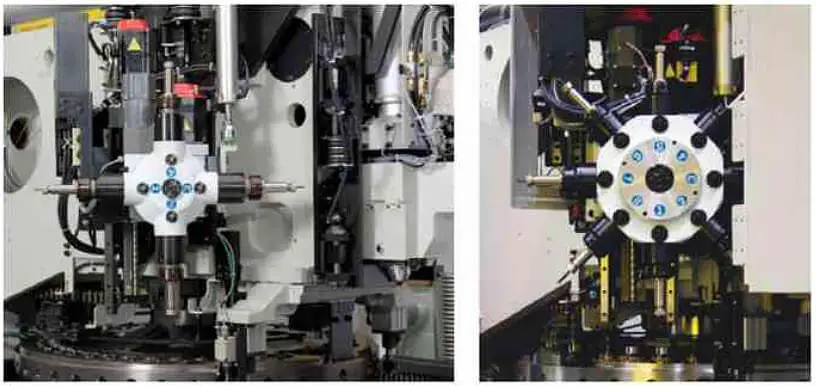 Fig. 2 Servo synchronous feed 4-axis (left) and 8-axis (right) tapping device
The use of high-speed numerical control simplifies sheet metal processing technology.
Muratec's high-speed CNC punch M3048TG can free up the turret station and integrate a pure servo synchronous feed 4-axis or 8-axis tapping device (Fig. 2). It can process M2 ~ M10 tapping in just over a second. Customers can choose between cutting or forging tap, based on their requirements.
The machine omits the need for twice positioning and transportation, and twice tapping, while ensuring machining accuracy on one punch. It can carry out punching, flanging forming, tapping, and integrated processing in a single step.
The biggest advantage of the machine is that there is no need to purchase a special tapping die, as a general tap will suffice. Additionally, the process flow is simplified, which eliminates the need for two manual interventions, thereby reducing maintenance costs, operation labor, and floor space requirements of professional tapping devices.
Burr is the natural enemy of sheet metal processing.
The special deburring device typically requires manual transportation, collection, and stacking for two processes.
Moreover, it can only deburr the plate entirely, which may lead to scratches on the material surface.
However, Muratec's patented special deburring die can deburr specific parts of sheet metal components as per customer requirements.
This process is completed once on the punch and requires only a set of deburring dies (Fig. 3), which simplifies the complex sheet metal processing process.
The process scheme above highlights two instances of intensive and streamlined sheet metal processing technology implemented on an NC punch.

Fig. 3 Muratec patented deburring die
Practicability of flexible automation unit for sheet metal punching and folding
The sheet metal punching and folding flexible automatic unit introduced this time comes with the following main features:
(1) It allows for the automation of stamping and bending without the need for any intermediate link processing for fixed length materials.
(2) Unlike some manufacturers' equipment, which requires trimming of the fixed-length material during processing, using Muratec's punch eliminates this need. This saves both material and processing time, while improving processing efficiency.
(3) Customers can freely select and combine the specifications and tonnage of the NC punch and bending machine according to their processing product form. This helps to reduce the initial investment cost of the processing unit.
(4) This processing unit can be combined in a flexible way according to the customer's production requirements. The CNC punch, blanking warehouse unit, and bending machine can operate independently or as a unit with a bending robot for automatic processing. The NC punch can also function as a standalone unit for manual loading and unloading.
(5) This production line occupies a small floor area and allows for free product flow. It can be configured to operate in either left-to-right or right-to-left directions. Additionally, the production line can be customized to include post-process riveting, welding, AGV, or other necessary operations to meet specific customer needs.
Application description of the flexible automatic unit system for sheet metal punching and folding
The full automatic operation mode of punching and folding (online operation mode with bending robot unit)
To carry out the punching and folding linkage processing operation, as depicted in Fig. 4, the loading and unloading unit of the middle bed and the bending robot unit operate in full-automatic mode.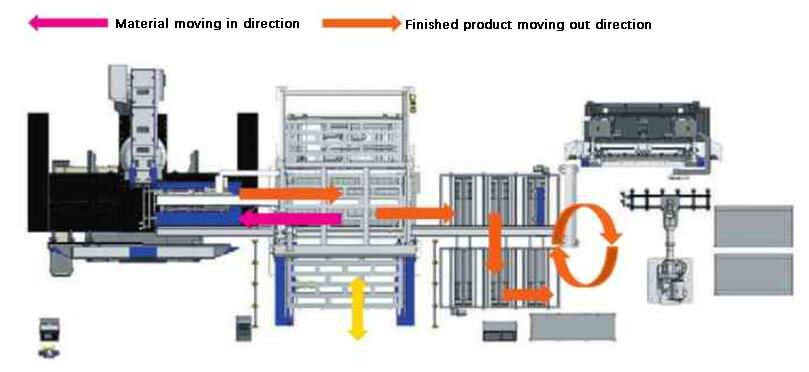 Fig. 4 Full automatic operation mode of punching and folding (linkage operation mode with bending robot unit)
The feeding device retrieves a plate from the feeding area of the three-dimensional material warehouse to be processed.
After positioning and processing, the extended feeding device is utilized for blanking and transported to the bending conveyor belt for automatic bending connection with the robot.
The punch press, the automatic loading and unloading three-dimensional material warehouse, the bending robot (material distribution robot), and the bending machine are closely interconnected, enabling full-automatic punching and folding linkage processing without intermediaries.
Full automatic operation mode (operation mode of punch loading and unloading unit)
When a linkage operation with the bending robot unit is not required, or the punch unit is unmanned for automatic processing at night, an independent automatic loading and unloading unit can be installed between the punch and the material warehouse for operation. This is shown in Figure 5.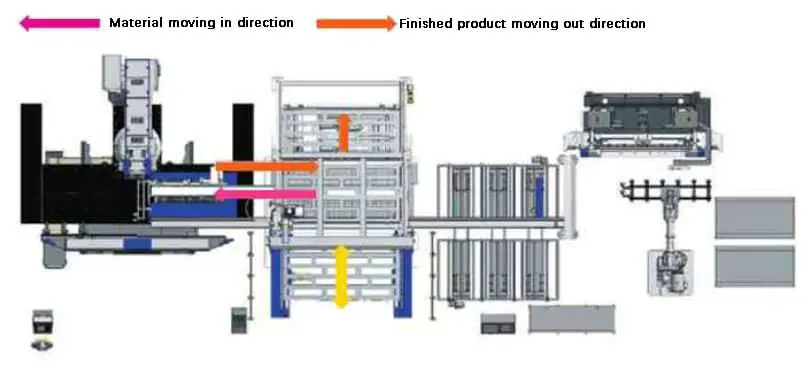 Fig. 5 Full automatic operation mode (operation mode of charging and unloading unit of punching bed)
Based on the manual processing plan created for the punch, place the necessary plates in the three-dimensional material warehouse and define the material layer and finished product layer.
Once all the materials in the material layer have been processed, they can be stacked as a finished product layer, ready for loading.
The material warehouse has 8 layers and can implement an automatic cycle to store a maximum of 7 layers of finished products (see Fig. 6).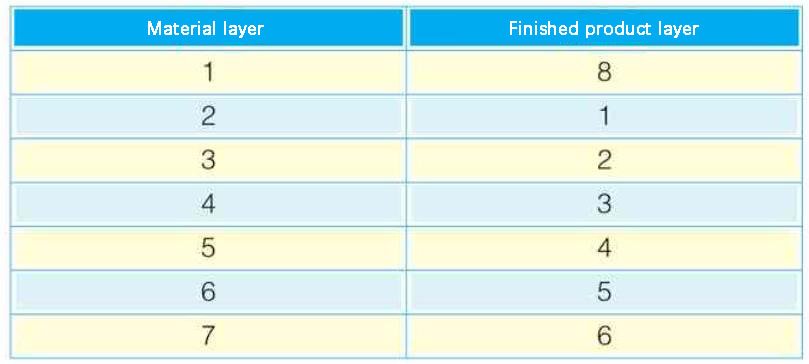 Fig. 6 Setting example of processing plan material and finished product layer
Automatic operation mode (independent operation mode of bending robot unit)
According to the needs of customers, the bending robot unit can also operate as an independent unit (Fig. 7).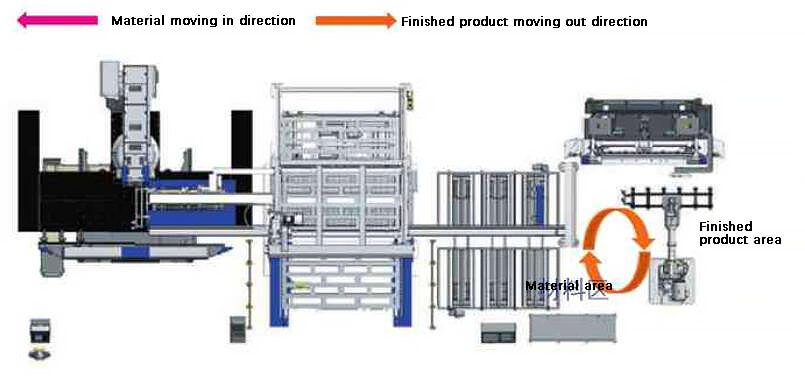 Fig. 7 Automatic operation mode (independent operation mode of bending robot unit)
If the processing beat time of the punch does not match the automatic bending beat time, this operation mode can be used for automatic bending processing of workpieces when required by other punches or when faults occur in the online punch and material warehouse.
Semi automatic operation mode (manual moving in – automatic bending operation mode)
If only a small amount of emergency punching and folding processing is needed, the operator can manually load and position the processed plates.
Once the punching process is completed, the extended blanking device will automatically transport the bent workpiece to the bending conveyor belt. The conveyor belt will then move the workpiece to the material suction and positioning position of the robot, thereby enabling the automatic punching and bending linkage mode with the bending robot.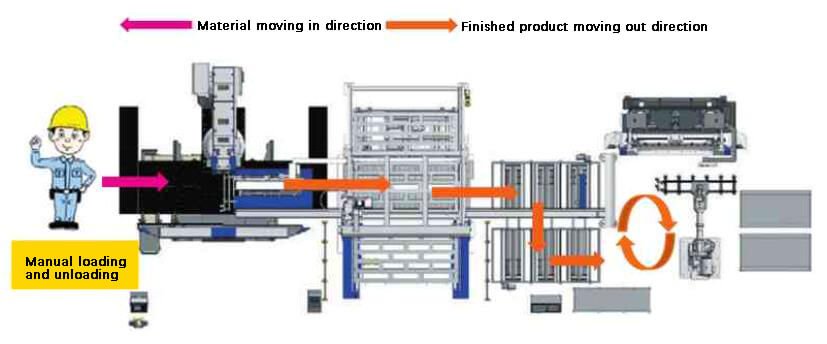 Fig. 8 Semi automatic operation mode (manual moving into automatic bending operation mode)
Semi automatic operation mode (automatic move in – manual move out mode)
If materials in the three-dimensional material warehouse require immediate manual sorting and connection after emergency processing or large plate nesting, an automated feeding device can be used to suction a plate from the material feeding area of the warehouse for automatic feeding and positioning processing.
For manual blanking operations, staff should work from the left side of the punch.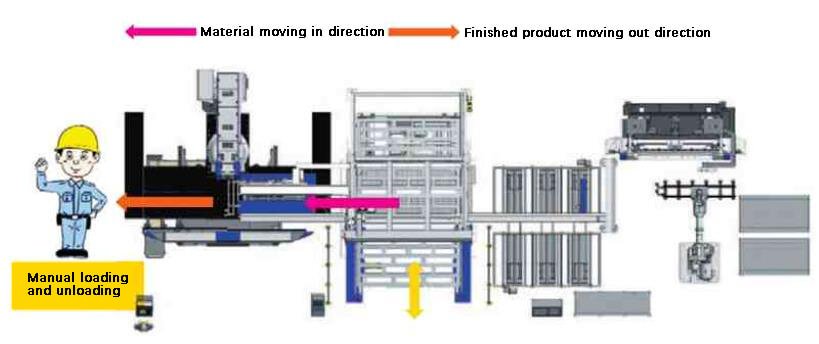 Fig. 9 Semi automatic operation mode (automatic move in – Manual move out mode)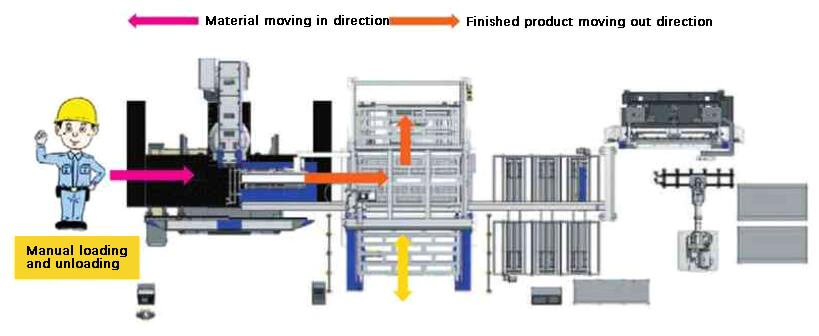 Fig. 10 Semi-automatic operation mode (manual moving out mode)
Semi-automatic operation mode (manual move in – automatic move out mode)
The staff manually position and load the processing materials one by one, after which the processing begins.
Upon completion of the processing, the three-dimensional material warehouse's blanking device will automatically discharge the materials.
The finished products are then automatically stacked, and they can either be manually removed from the warehouse or automatically stored in the three-dimensional material warehouse.
This processing mode is suitable for mesh plate processing.
Press unit manual operation mode
In the event of a failure or the need for urgent parts in the three-dimensional material warehouse unit, the punch operates in a single manual operation mode.
The punch is manually loaded and unloaded, and its single machine processing capabilities are utilized to fulfill the production requirements of customers.
Additionally, the press can be utilized as a standalone unit.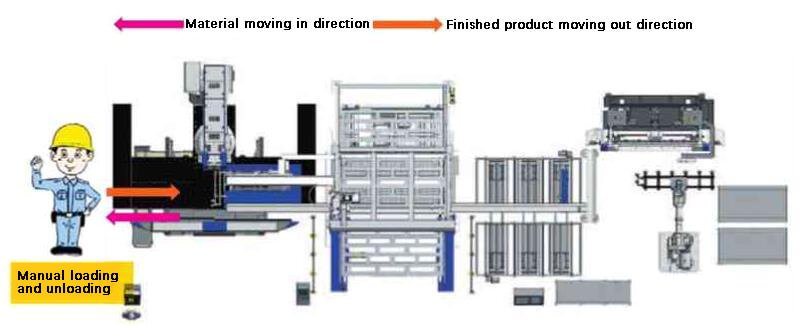 Fig. 11 Manual operation mode of single punch
Bending unit manual operation mode
The bending robot automatically bends non-corresponding workpieces, accelerated parts, bending workpieces and other workpieces that need to be processed or when the bending robot fails, the bending machine monomer mode can be adopted.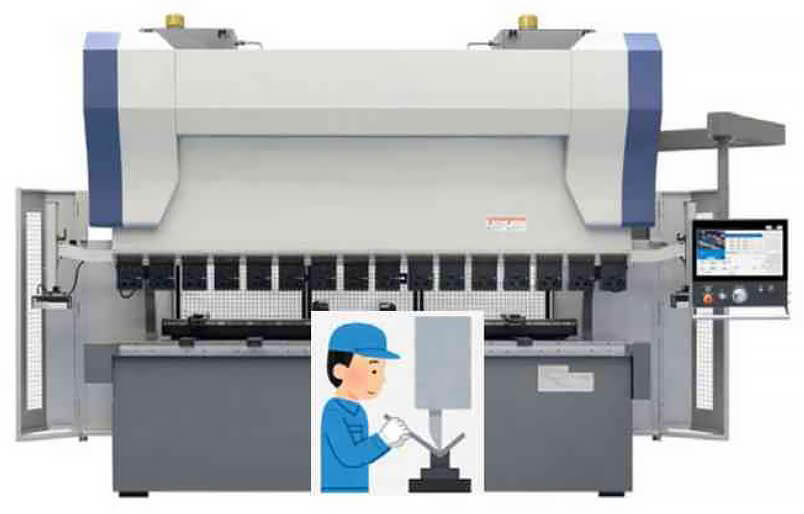 Fig. 12 Manual operation mode of bending unit
Conclusion
As the labor force diminishes and labor costs increase, the need for sheet metal automation systems will continue to grow.
With the transition from producing large quantities of fewer varieties to manufacturing smaller quantities of more diverse products, the demand for flexible and universal automation equipment is also increasing. Moreover, the return on investment cost for such equipment has become even more crucial.