The German government has consistently placed great significance on the strategic significance of the machine tool industry and has been actively promoting it in various ways, with a particular focus on the fusion of theory and practice, scientific experimentation, and both basic and applied technology research.
According to the German Machine Tool Association, the future trends in machine tool technology will be defined by personalization, automation, and efficiency.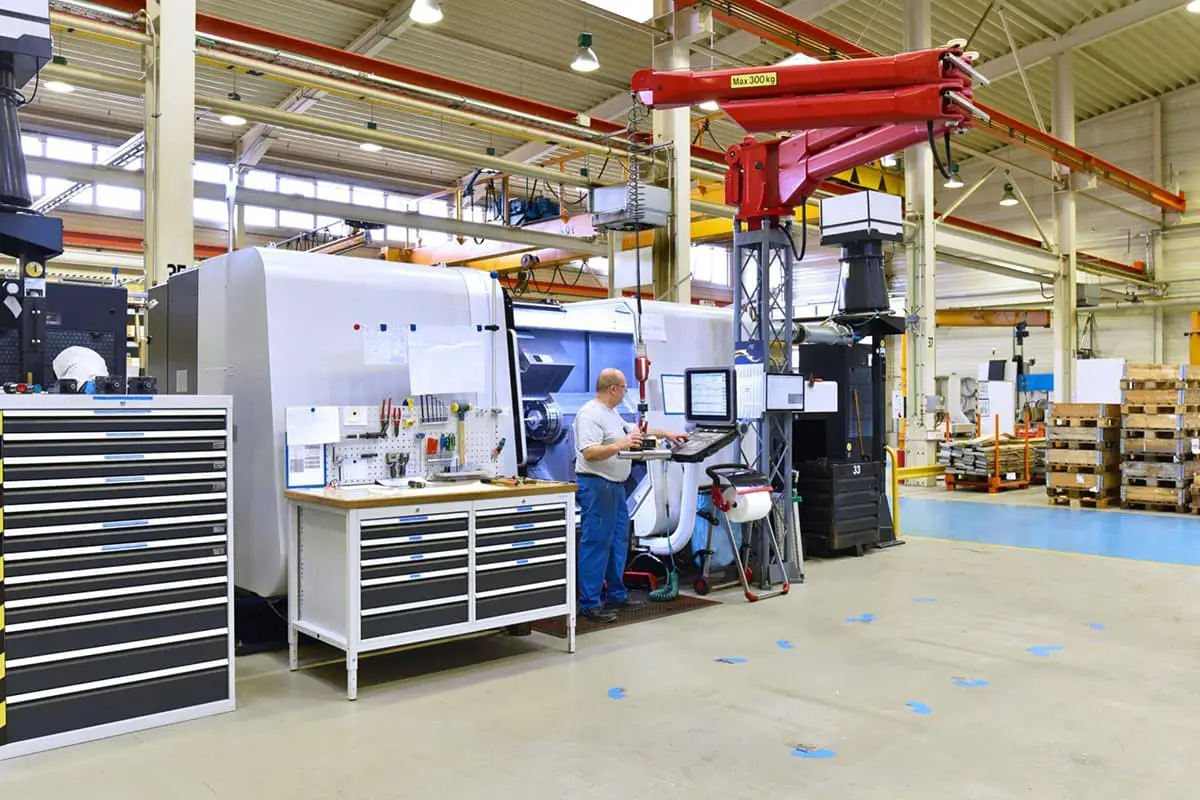 Top Machine Tool Companies in German
Below is a list of the top German machine tool companies:
1. Gildemeister
The Gildemeister Group is a leading global producer of metal cutting machines, with a focus on "Machine Tools," "Services," and "Software Solutions.
As the largest manufacturer of metal cutting equipment in the world, the Gildemeister Group encompasses the three brands of DECKEL, MAHO, and GILDEMEISTER.
This success is driven by the company's ongoing commitment to innovation and the constant improvement of production and logistics at its ten plants throughout Europe.
The Gildemeister Group's subsidiaries utilize DMG Vertriebsand ServiceGmbH as a unified entity for sales, service, and marketing on a global scale. The company currently has a presence in over 50 countries and all major industrial nations.
In 2002, the Gildemeister Group acquired a foreign-owned machine tool manufacturing plant in Shanghai in order to better serve its Chinese customers. In January 2003, the group completed its first factory outside of Europe in Shanghai.
The Shanghai factory produces the latest CNC milling machines and CNC lathes in the machine tool industry and offers a broad range of optional features to meet the needs of various customer applications.
Dr. Kapisa, President of the Gildemeister Group, believes that China will soon become the world's largest market for machine tools.
2. TRUMPF Group
The TRUMPF Group is a world-renowned company in the field of manufacturing technology, founded in 1923 and with a rich history of over 80 years.
Based in Ditzingen, near Stuttgart, Germany, the TRUMPF Group is a global leader in industrial lasers and laser systems technology and markets.
In light of the rapid growth of the Chinese market, the TRUMPF Group has been investing in China since 2000, establishing four production enterprises in Taicang, Jiangsu Province, and Dongguan, Guangdong Province, which produce CNC sheet metal processing machines and medical equipment.
With over 80 years of machine tool production experience at its headquarters in Ditzingen, Germany, the TRUMPF Group is one of the world's leading companies in manufacturing technology. Currently, it has seven subsidiaries in China, two of which are manufacturing companies.
The establishment of TRUMPF (China) Co., Ltd. marked the introduction of the TRUMPF Group's main products into China for the first time. The company plans to gradually develop, produce, and sell all types of TRUMPF brand CNC machine tools in China, starting with the TRUMPF TruLaser 3030 series CNC flat laser cutting machine. After the market has stabilized, local development and research will be conducted gradually to better meet the needs of the Chinese market.
From sheet metal and material processing machines to laser technology, electronics, and medical technology, the TRUMPF Group is leading the technology trend through continuous innovation. The company is setting new technical standards and working to bring new products to the public.
TRUMPF (China) Co., Ltd. is responsible for sales and after-sales service support for TRUMPF global products in China. It has sales and after-sales service locations in cities such as Shanghai, Beijing, Dongguan, Chengdu, and more, as well as spare parts warehouses in Shanghai, Shenzhen, and Taicang. Currently, there are over 2,000 machine tools installed in China.
3. Schuler
The Schuler Group has a rich history that dates back to 1839 when Louis Schuler founded a blacksmith shop in Göppingen, Germany. Since 1852, the company has been producing metalworking machines. Today, the Austria-based Andritz-Group holds a majority stake in Schuler.
As a global leader in the metal forming industry, Schuler provides machines, lines, molds, process technology, and services for the entire metalworking sector. Its customers include automotive manufacturers and suppliers, as well as corporate enterprises in industries such as forging, household equipment, packaging, energy, and electrical. The company is also a market leader in foundry technology, offering system solutions to the aerospace and rail industries. Additionally, Schuler caters to manufacturers in the appliance industry and home appliances.
Schuler's highly-qualified technical service staff is available to meet service-related requirements in the United States and Canada. The company is involved in the design and development of high-pressure forming parts, and the design of new high-pressure forming equipment and dies, as well as the production and trial manufacture of dies for high-pressure forming. The company also has the capability to produce its in-series high-pressure molded products.
At the Schuler production line in Canton, approximately 600,000 pieces are produced per year in a series of high-pressure molded products. The ServolineL, manufactured by Schuler, is the fastest stamping line in the world, with a speed of up to 23 strokes per minute. Equipped with a chip loader, crossbar robot, and tail line system, the ServolineL features a compact design with high energy efficiency, excellent flexibility, and low unit cost.
This year, Schuler introduced a new generation of press automation with 50% weight reduction and 20% higher dynamics and energy efficiency. The crossbar robot was designed from a six-axis industrial robot, with two additional axes added for controlling the robot arm and horizontal drive. As a result, the robot's maneuverability, flexibility, and yield have been significantly improved. The new crossbar robot is also equipped with a process data interface, making it ready for the Industry 4.0 era, and its intelligent networking capabilities make it an analytical tool for monitoring processes and reporting errors.
In conclusion, the crossbar robot 4.0 plays an important role in ensuring continuous high throughputs, making it ideal for future stamping line machines.
4. Emag
The history of Emag dates back to 1867 when it was established as a cast iron and machine tool manufacturer in Bautzen, Saxony. After being rebuilt in 1952, the company settled between the cities of Stuttgart and Ulm near Salah and began manufacturing lathes. In the 1980s, Emag became successful in the production of highly automated CNC lathe units, which are sold globally and used in various industries.
In 1992, Emag introduced the world's first inverted lathe, which features a spindle that performs the loading and unloading and travels while the tool holder is fixed. Emag offers its customers a range of machines and production systems for the machining of discs, shafts, and housings, including lathes, grinding machines, hobbing machines, laser welding machines, and machining centers.
Emag's advanced technology in intelligent automation helps customers to simplify their equipment, increase production efficiency, and reduce costs. Emag's machine tools and production systems cater to a wide range of industries, including the petroleum industry, automobile manufacturing and its associated industries, machinery manufacturing, and the aerospace industry.
The Leipzig-based company, Emag Leipzig Machine Tool Co., Ltd., became part of the Emag Group and has combined the technology and expertise of both companies to produce machine types based on the Emag series. Emag's innovative processing technology, which incorporates reverse thinking, has established the company's leadership in the industry.
Today, Emag is the world's leading manufacturer of inverted vertical machines, and its efforts in the development of a new inverted vertical multifunctional production center have cemented its position in the industry.
5. Korber Schleifring
The Schleifring Group is a subsidiary of the German Korber Group, which comprises three business units: paper machinery, tobacco machinery, and machine tools. Over the years, the Machine Tool Group has acquired several of the world's leading grinding machine manufacturers, including STUDER, BLOHM, MAEGERLE, JUNG, SCHAUD, MIKROSA, EWAG, and WALTER.
The Schleifring Group has a presence in several countries, including Germany, the United States, and Europe, and its products are distributed globally. The products were introduced to China in the 1960s and today, over 3,000 products have played a significant role in the production of automobiles, motorcycles, aviation, aerospace, ships, weapons, and more. Approximately a third of Schleifring machines are used in military industrial systems.
As an international, efficient, and reliable partner, the Schleifring Group offers the best technical and economic solutions for high-precision machining. The company primarily serves customers with high precision grinding needs and caters to industries such as the automotive industry, tool industry, turbine manufacturers, tool and die makers, medical technology, machine tools, watch industry, and aviation. Its major markets are Western Europe, China, and North America.
The Schleifring Group has a subsidiary in China, Korber Schleifring Machine Shanghai Co, Ltd (KSMS), which has a production plant of 16,000 square meters in Shanghai. KSMS has over 200 employees nationwide and branches in Beijing, Chongqing, Guangzhou, and Wuxi. The company holds a prominent position in the Chinese grinding machine market and offers innovative technology in the field of surface forming, internal and external circular grinding, and tool grinding.
Schleifring offers a range of flat and profile grinding, internal and external circular grinding, and tool grinding machines for various applications in industries such as aerospace, automotive and auto parts manufacturing, and heavy industry. The company's annual production has been increasing at an average rate of 50 percent and to date, Schleifring has supplied over 100,000 grinding machines globally, helping customers not only solve process problems but also bring significant economic benefits.
6. Index
Index was founded in 1914 by Herman Hahn, and the production of the turret lathe began in the same year. He was a hard-working entrepreneur from the Swabian region who was known for his creative ideas and strict adherence to quality as a cornerstone. Over the next forty years, more than 20,000 automatic lathes were sold, laying the foundation for Index's outstanding reputation worldwide.
In 1975, Index started producing multi-spindle automatic lathes, and a few years later, the company entered the CNC technology market, quickly establishing itself as a pioneer. After the death of the founder's son, Eugenhahn, 85% of the company's shares were donated to a foundation. In 1992, Index introduced a new generation of products based on modular components for turning and milling composite centers. In 1997, the company acquired Trauber Lathe Manufacturing from Rijnbach-Fesz, and it became an independent subsidiary within the Intertek Group.
To this day, Index follows a strategy of two brands for one company. The company's strength lies in its ability to develop the best solution for each customer. With its subsidiary Trombel, the group offers complete machining of turned workpieces through its broad range of products, including single-piece production for mass production.
Index and Trombel have chosen Germany as their main production location, and the important core components of the machines are also manufactured in-house. Confident and highly trained employees are the guarantee of high-quality machines, and their attention to detail in the machine-building process reflects this.
As China's industry continues to rapidly develop, the demand for high-end CNC machines will also continue to grow. In April 2001, the company established a joint venture with Dalian Machine Tool Group, and for the past seven years, it has been in the spotlight. With the management of experienced German managers at the Dalian joint venture, the Dalian Index Machine Tool Company has been able to continuously acquire the advanced machine tool production and manufacturing processes of the Index Group.
7. Heller
HELLER was founded in 1894 in Nillingen, Germany. With an annual sales of €592 million, 60% of which comes from the automotive industry that caters to manufacturers of buses, trucks, and agricultural machinery, while the remaining 40% is from mechanical engineering, power generation, mold making, and aerospace.
HELLER's machine tools include horizontal machining centers, 5-axis machining centers, milling/turning centers, flexible manufacturing systems, crankshaft and camshaft machines, and more. HELLER offers a full range of services, from single machines to €150 million turnkey manufacturing systems, including new machines, full service agreements, and machine retrofits.
HELLER is one of the three largest partners in the global market, particularly in the field of crankshaft machining and light-duty drive systems. A new, small, lightweight crankshaft machining machine has been developed to fill the gap in the lower end of the internal and external milling process. The company's double-wire arc spraying technology has successfully solved the problem of coating engine cylinder holes and has now been put into operation in the German production line for crankcase manufacturing.
HELLER's fifth machine tool production base, the Changzhou plant in China, is part of the company's efforts to build an international production network and optimize its value-added chain. The aim is to offer global customers quality "Made in HELLER" solutions at competitive prices.
HELLER has introduced the industry-leading CP80005 axle turning and milling machining center, which meets all industry standards and sets a new benchmark in terms of process size. With a working area of 1250mm x 1200mm x 1400mm (X, Y, Z) and a pallet size of 800mm x 800mm, it is capable of milling workpieces up to 2000kg, 1250mm in diameter, and 1400mm in height in one station, as well as reliable and efficient turning.
HELLER's sales and service points in China have increased from 2 to 5, with locations in Beijing and Shanghai. The opening of the new plant in Changzhou will complete HELLER's existing equipment and facilities in China, including application engineering, a technical center established in 2009, and a local spare parts warehouse, marking the initial establishment of a complete Chinese localized value-added chain for HELLER.
8. Chiron
Chiron was founded in 1921 and is located in Tuttlingen, Germany, approximately 100 km from Stuttgart. The company specializes in high-speed, high-efficiency, high-precision, and high-quality vertical machining centers, bar profile machines, and other specialized machines for high-speed production. Chiron's product range covers small batch 5-axis machining to large-scale high-precision production.
Chiron employs over 800 people at its headquarters in Germany and has subsidiary or representative offices in the United States, the United Kingdom, France, Australia, and China. The company serves customers in 54 countries and regions worldwide, selling around 1,000 machines annually and generating a turnover of 200 million euros. Chiron is now the largest, fastest, and most technologically advanced vertical machining center manufacturer in Europe.
For small and medium series production, Chiron offers a 5-axis universal milling machine, featuring a robust balanced column bed with CNC oscillating milling heads (MILL series). Another option is a bed-length machining center with two machining spaces that can be rotated in a pendulum-reverse fashion, suitable for medium series production. For high-volume production, single or double spindle machines with integrated workpiece changers are also available. Chiron's flexible processing range is designed for efficient, high-volume production with minimal operator involvement.
Chiron's customers come from a variety of industries, including automotive component manufacturing, instrumentation, aerospace, textile machinery, tobacco machinery, watches, medical-surgical instruments, printing machinery, computer manufacturing, and more. The company has extensive experience in the manufacture of automotive parts and is recognized by leading automotive manufacturers such as Mercedes-Benz, BMW, Volkswagen, Fiat, Ford, General Motors, Peugeot, and Renault, as well as major parts suppliers like Delphi, Bosch, RONAL, and Visteon. In 2004, Chiron and Bosch placed an order for over 300 machining centers under one sales contract.
9. Grob
The German company GROB was founded in 1926 in Munich and is headquartered in Mindelheim, Germany. GROB is a leading manufacturer of machine tools, offering everything from standard machines to complex production systems, cutting lines, and fully automated assembly lines.
GROB specializes in turnkey engineering of engine components and provides global system integration services, incorporating different processes, technologies, resources, and cultures. To extend its leading technology to all cutting areas, GROB engineers have developed a five-axis machining center that has gained widespread market acceptance.
The company's expertise in G-module technology and its experience in the automotive industry have been applied successfully to the design and layout of the G350 and G550 models. Innovations such as hydraulic-free machines and turning centers quickly became popular in the highly competitive general-purpose machines market, and the G350 and G550 soon became market leaders in their class.
In June 2012, GROB Machine Tools (Dalian) Co., Ltd., the fourth plant of the GROB Group, was officially opened in the new district. With the successful launch of its first machine the previous year, GROB aims to bring its cutting-edge technology to China and produce high-precision, high-speed machines in its Dalian factory, with a goal of producing one machine per week.
It is also known that GROB Group invested an additional 10 million euros in the Dalian plant.
10. HAIMER
HAIMER was founded in 1977 in Igenhausen, Germany and specializes in the production of high-precision dynamic balancing toolholders, tool special dynamic balancing machines, toolholder heat shrinkage machines, 3D edge finders, and alignment instruments. The company is known for developing and producing products of high precision and quality, many of which are leaders in their respective fields and recognized worldwide.
HAIMER uses fully automated and flexible production lines to ensure the quality and output of its products, thereby reducing the purchasing costs for its users. In 2005, HAIMER Asia Pacific was established in Hong Kong to serve the Southeast Asian and Mainland China markets. The company also established a large inventory center in Hong Kong to provide fast delivery within 24 hours to customers in the Asia Pacific region.
In 2008, HAIMER (Shanghai) Trading Co., Ltd., a branch of HAIMER Mainland China, was established to improve the service quality in Mainland China. The company has set up a Haimer product technology demonstration center and training center, and has established a standard product inventory to better support and serve its Chinese customers.
In addition to HAIMER, there are also a number of well-known German companies such as Rofin-Sinar, Siemens, Niles-Simmons, Autania, Kasto, DSTechnologie, and WaldrichCoburg.
Frequently Asked Questions
What are the top German CNC machine brands?
Some of the top German CNC machine brands include DMG MORI, TRUMPF, GROB-WERKE, and INDEX-Werke. These companies are known for their high-quality and innovative CNC machines, offering reliable and precise solutions for various industries.
Which German milling machine manufacturers are most prominent?
Among the most prominent German milling machine manufacturers are DMG MORI, HERMLE, WALDRICH COBURG, and FRITZ WERNER. These companies provide a diverse range of milling machines, from compact models to large-scale industrial solutions, ensuring high precision and efficiency.
What machinery is predominantly produced by German companies?
German companies predominantly produce machinery for the automotive, aerospace, mechanical engineering, and energy sectors. Their product range includes CNC machine tools, milling machines, lathes, grinding machines, and sheet metal processing equipment, among others.
Who are the major European machine tool manufacturers?
Major European machine tool manufacturers include DMG MORI (Germany), GF Machining Solutions (Switzerland), FANUC (Japan, with factories in Europe), and Biesse Group (Italy). These companies offer a diverse range of machine tools and technologies catered to various industries.
Which German heavy machinery companies are leading the market?
Leading German heavy machinery companies include Liebherr, KOMATSU, WIRTGEN, and ZF Friedrichshafen. They specialize in manufacturing construction equipment, mining machinery, and components for industrial applications, providing reliable and efficient solutions for heavy-duty tasks.
What are the top global CNC machine manufacturers?
Some of the top global CNC machine manufacturers include Haas Automation (USA), DMG MORI (Germany), FANUC (Japan), and Mazak Corporation (Japan). These companies are renowned for their high-quality CNC machines, technological innovations, and commitment to customer satisfaction.