Maybe you are a manufacturer of the press brake.
Maybe you are a sheet metal processing factory and now you need to buy a press brake.
You may wondering how big press brake do I need? And you urgently need to quickly calculate the required bending tonnage.
By using the press brake tonnage calculator (also known as bending load calculator) below we have made for this purpose, you only need to enter the sheet metal thickness, the bending length and our recommended vee opening width, the calculator will show the required bending force.
Of course, if you want to know exactly how the tonnage of the press brake is calculated, you can refer to this article.
It details how to get the required press brake tonnage in three different ways.
Let's start by using the press brake tonnage calculator that we have made for you.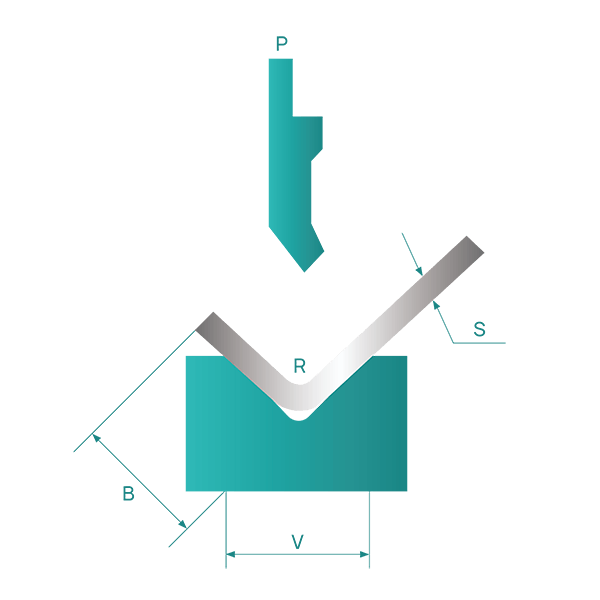 The recommended V-opening width of the bottom die
| S | 0.5-3mm | 3-8mm | 9-10mm | >12mm |
| --- | --- | --- | --- | --- |
| V | 6*S | 8*S | 10*S | 12*S |
Press brake tonnage calculator
You can use the following press brake tonnage calculator to calculate the required bending force for your sheet metal bending.
The unit has both metric and imperial.
New tonnage calculation method
If the width-to-thickness ratio V/S is not equal to 9 and the radius-to-width ratio is not equal to 0.16, the above calculator will no longer be applicable.
Please check the new method for calculating the bending force of a press brake machine.
The following bending force calculator should be used.

Inner R formula
The following formula can be used to calculate the press brake bend radius:
R=5*V/32
Min bend edge size B (mm)
| | | | | | | |
| --- | --- | --- | --- | --- | --- | --- |
| 165° | 135° | 120° | 90° | 60° | 45° | 30° |
| 0.51×V | 0.55×V | 0.58×V | 0.71×V | 1×V | 1.31×V | 1.94×V |
Press brake tonnage chart
The following press brake tonnage chart can help you get the required bending force easily.
Regarding how to use the chart, you can refer to this post.
See also:
Data of V, R, B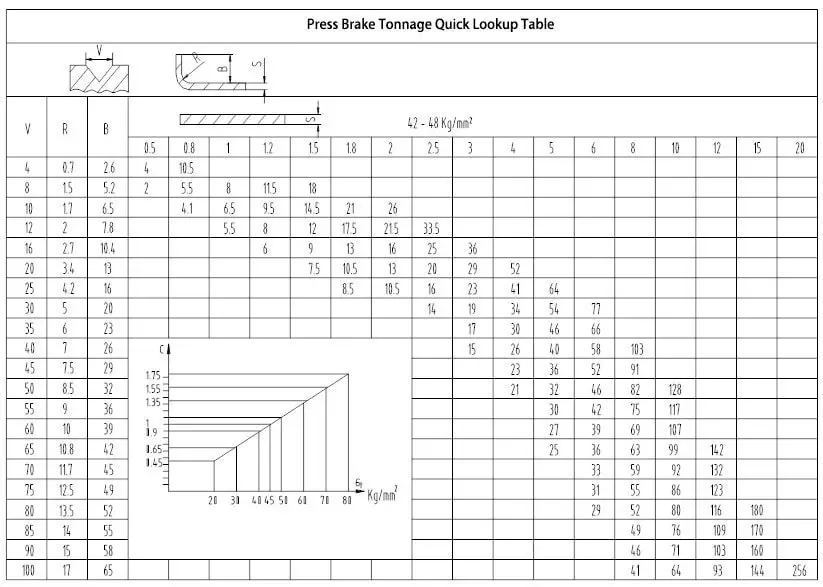 Below press brake tonnage chart is from Amada: